OK, we got a little ahead of ourselves. The much-anticipated draft weekend fireworks fizzled among the stifling heat in Dallas, but I have some good news for devout followers of the NHL's silly season.
There's still hope.
Team executives walked off the draft floor predicting a busy stretch in the leadup to July 1. There were varying theories on why things fell quiet at American Airlines Center – from the market being held up by the pending decisions of John Tavares and Ilya Kovalchuk, to teams holding their first-round picks closer than usual because they were used on players exempt from the upcoming Seattle expansion draft, to league parity making it tougher to find the right fit in a trade partner. But many still believe a transactional earthquake is building.
It all revolves around Tavares, who has started meeting suitors in Los Angeles. He's sitting down with some big spenders who have big ideas, and if Toronto, San Jose or Boston fail to land No. 91, they'll quickly set their sights elsewhere. We can also confirm that Tampa and Dallas will meet with Tavares in Los Angeles this week, with Lou Lamoriello hanging around there, too, just in case. And there'll be a couple phone conversations with others.
[relatedlinks]
There are some significant names available on the trade market. Bigger than even the free-agent class with John Carlson now returning to Washington and Tavares still very open to a reunion with the New York Islanders.
Other dominoes will fall once he's decided where he'll take his talents. They were wobbling at various points of the weekend, but largely stayed upright beyond the Flames-Hurricanes megadeal and the Philipp Grubauer trade between Colorado and Washington.
"It was interesting. It seemed like [Friday] afternoon there was going to be a lot of stuff happening all at once," Leafs GM Kyle Dubas said Saturday. "It seems like it's just waiting for everything to unleash in the next couple days. Depending on who's available and who's not on July 1, I think you're going to see trades come very fast and be more of a frenzy.
"But we'll see. I think everyone's just kind of sitting and waiting and being patient."
Here are five reasons why the folks at NHL Central Registry might want to stay close to their phones in the days ahead:
1. The Carolina Hurricanes want a shakeup
The Hurricanes aren't done. After adding another right-shot weapon to their blue-line in Dougie Hamilton, the likelihood of a deal involving Justin Faulk went up considerably. He's just 26 with a manageable $4.833-million cap hit the next two seasons (albeit with $6-million owed in actual salary) – the kind of player rarely dealt in today's NHL.
Then there's winger Jeff Skinner, who drew serious trade interest from Los Angeles before it managed to reach an agreement with Kovalchuk over the weekend. He's scored 89 goals over the past three seasons and will become an even bigger target once other top-six forward options start flying off the board.
Asked specifically about Skinner on Saturday afternoon, Hurricanes GM Don Waddell replied: "Lots of talk. I'll go talk to the other 30 teams out here."
[snippet id=3816507]
Carolina is in the market for goaltending and in the mood to consider just about anything other than a deal involving Sebastian Aho.
The influence of new owner Tom Dundon is starting to take hold in Raleigh. He wants a serious shakeup. After nine seasons without a playoff game, the organization needs one.
2. The Erik Karlsson saga
With Carlson off the market, the list of available defencemen got thin in a hurry.
Mike Green, Toby Enstrom, Calvin de Haan, Jack Johnson, Ian Cole and Roman Polak are among the available free agents. Faulk can be had by trade, as mentioned above.
But there is no one within two area codes of Erik Karlsson in terms of potential impact, which is why the Ottawa Senators captain remains an intriguing figure. Now, it's going to take a haul to make it happen (including taking the $30-million left on Bobby Ryan's contract along with him). But the potential market for the 28-year-old Swede is much wider than it was at the trade deadline – with teams freed up from the salary cap concerns that handcuff them during the season.
Plus, we couldn't help but notice Saturday's draft floor tete-a-tete between Sens GM Pierre Dorion and George McPhee of the Vegas Golden Knights. They've had a dialogue on Karlsson stretching back for months.
It'll continue.
3. Ryan O'Reilly
They say the only way to find a big-minute, tough-matchup centre is through the draft. They say you never get those players in free agency or via the trade market.
"They" clearly haven't been speaking with the Buffalo Sabres, who are having active discussions about moving Ryan O'Reilly.
This one comes with an expiry date since O'Reilly is due a $7.5-million bonus payment on July 1. He can be had in the meantime. The one piece of good news about his contract is that even with that bonus he's due to earn an average of $6.5-million over the next five years – $1-million less than the actual cap hit on the deal.
Beyond Tavares, the top UFA centre options are Paul Stastny and Tyler Bozak. O'Reilly is more productive than either of them: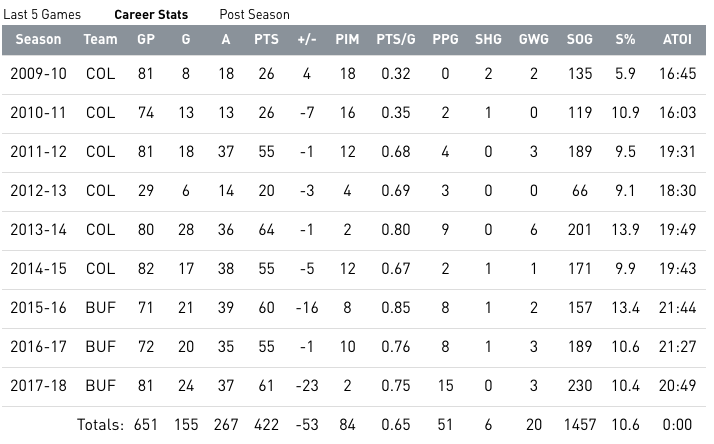 Watch out for Montreal to continue trying to make this happen.
4. The Breadman
Jarmo Kekalainen spoke frankly at the NHL draft about having to do what's best for the Columbus Blue Jackets. In this case, he was acknowledging that it might mean trading dynamic winger Artemi Panarin one year out from free agency.
Panarin has been remarkably consistent since coming over from the KHL three years ago. His goal totals: 30, 31 and 27. His point totals: 77, 74 and 82.
That places him 15th among NHL goal-scorers over that span and leaves him seventh in points. We're talking about a superstar. A superstar that Columbus is incentivized to trade since his agent Dan Milstein recently informed the team that he's currently unwilling to enter talks on an extension.
He's younger than Max Pacioretty and Phil Kessel – two other dynamic wingers who can be had by trade – and would welcome a move out of town.
Word is that Panarin would prefer to play in a bigger market.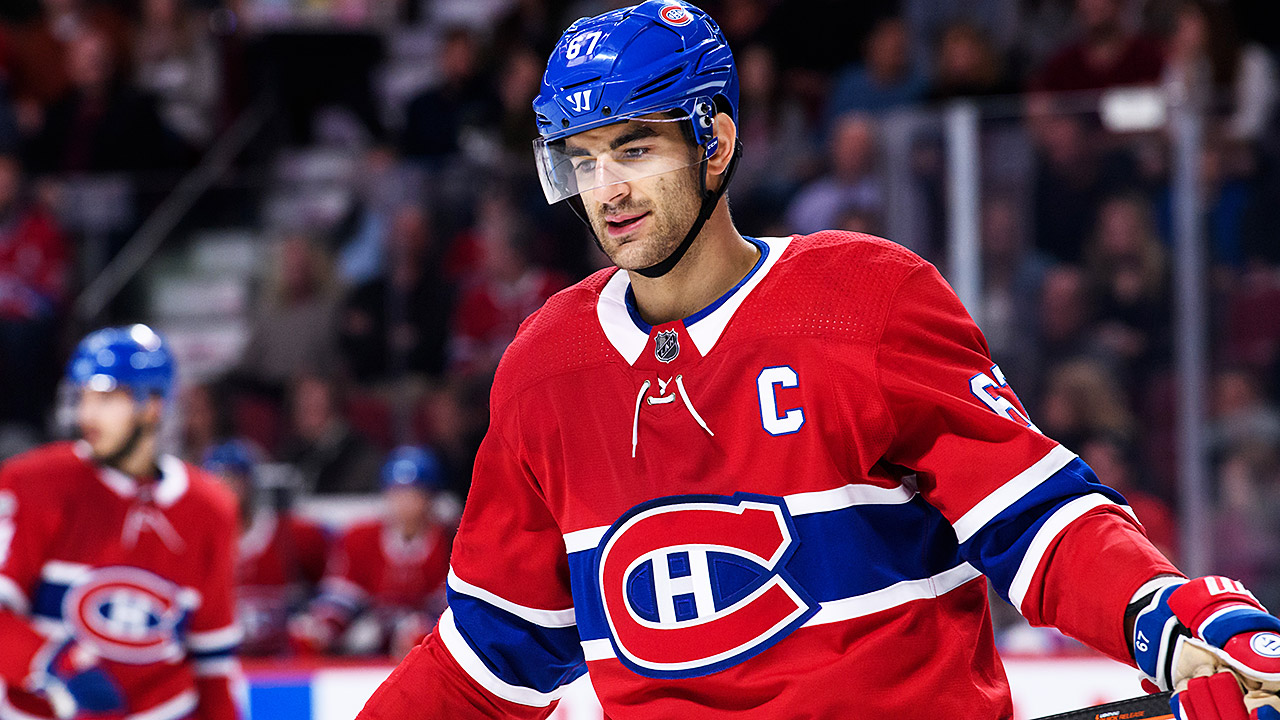 5. Cap Space
There's money to be spent. When you scan the homepage of invaluable resource capfriendly.com, it's fascinating to see how much cap space some teams have:
• Vegas ($30.975-million)
• N.Y. Rangers ($29.45-million)
• Toronto ($24.679-million)
• Detroit ($21.869-million)
• San Jose ($18.842-million)
• St. Louis ($16.617-million)
To spotlight but a few. Each intends to try and make use of it.