The Washington Capitals have re-signed John Carlson to a $64 million, eight-year contract that allows the Stanley Cup champions to keep the do-it-all defenceman.
Carlson will count $8 million against the salary cap through the 2026-27 season. General manager Brian MacLellan announced the deal Sunday.
"John has been an exceptional and consistent player for our franchise and has blossomed into being one of the top defencemen in the NHL," MacLellan said. "Defenceman like John are a rare commodity in our League and, at 28 years of age, we feel he is just entering his prime. As a right-handed defenceman, John plays in all key situations and has contributed greatly to our team's success on the special teams. We are pleased for both parties to have come to an agreement."
That's not necessary for the 28-year-old who has made the Washington area his home and wanted to stay if there was a fit. The Capitals got the cap space necessary to re-sign Carlson by trading veteran defenceman Brooks Orpik and backup goaltender Philipp Grubauer on Friday night at the NHL draft.
Carlson outperformed his last deal that paid him just under $4 million a season and was at his best in a contract year. He led all defencemen with 68 points in the regular season and 20 in the playoffs to help Washington win the Metropolitan Division and then the Stanley Cup.
The contract makes Carlson the second-highest-paid player on the Capitals behind Alex Ovechkin.
[relatedlinks]
Carlson averaged about 25 minutes a game all season, stepping up early when top-pairing defenceman Matt Niskanen missed time with injury and playing an important role on the power play and penalty kill on the Cup run.
"His value is immense," goaltender Braden Holtby said. "You can see that, how much he meant to our team in this run. As far as growth, I think he's grown steadily but I think he's been pretty good for a long time. He's been really good for a long time. I think this year it just showed through a bit more because we just forced him to play more."
Carlson has been a mainstay on the Capitals' blue line since 2010-11. The 2008 first-round pick has 333 points in 608 regular-season games and 55 points in 100 playoff games.
"I've always thought he was one of the better defencemen that I've ever played with," winger T.J. Oshie said. "This year, he elevated that quite a bit. In my eyes, he's got to be a top-three or top-five defenceman in the league. You see what he does- he doesn't do a lot of things that are really flashy, so maybe he doesn't get the highlight-reel things that other guys do, but defensively, he rarely ever gets beat."
Re-signing Carlson was just the first move on MacLellan's summer checklist. He's attempting to re-sign trade-deadline pickup Michal Kempny before Carlson's defence partner can become an unrestricted free agent July 1, and he needs to negotiate new contracts for restricted free agent forwards Tom Wilson and Devante Smith-Pelly.
"We're trying to sign Kempny," MacLellan said Friday. "We're trying to sign Wilson as an RFA and then make some decisions after that."
There's also the matter of replacing Barry Trotz as coach after he resigned and joined the New York Islanders. Associate coach Todd Reirden, who was a finalist for the Flames' head job two years ago, is the heavy front-runner, though MacLellan wanted to sit down and formally interview him this week first.
"I think you still need to go through an interview process and ask the right questions," MacLellan said. "I just want to clarify on what he's thinking system-wise and how he's going to handle certain players."
It helps his case that Reirden coached the defenceman and had a hand in the development of Carlson, Niskanen, Kempny and Dmitry Orlov.
"The players all know him, they're comfortable with him," MacLellan said. "He'll have a good feel for personalities, how to motivate people and so forth."
June 24, 2018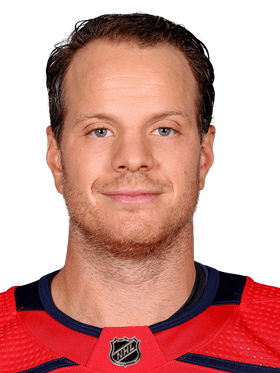 ---
SIGNED BY
Washington Capitals
SALARY CAP HIT
$8 million