Antti Niemi set a Canadiens' franchise record, the Jets got revenge against the Golden Knights, Shea Weber tied Scott Stevens on the all-time career goals list for defencemen, David Perron kept his point streak alive and the Anaheim Ducks gruelling losing streak continued.
Here are five things we learned in the NHL on a Tuesday featuring 10 games on the schedule.
Stream over 500 NHL games blackout-free, including the Flames, Oilers, Leafs and Canucks. Plus Hockey Night in Canada, Rogers Hometown Hockey, Scotiabank Wednesday Night Hockey and more.
Niemi sets a Canadiens' franchise record
As surprising as this may be, despite being in existence for over a century, the Montreal Canadiens still have records that are broken on rare occasions.
Tuesday marked one of those occasions, as goaltender Antti Niemi became the latest player to enter the Canadiens' storied history books after stopping an incredible 52 shots in his team's drubbing of the Florida Panthers.
The 52-save performance is the highest save total by a Canadiens goalie in a regular season home game. Jeff Hackett and Carey Price both held the previous record with 49-save outings, terrific performances that were carried out 15 years apart.
For those wondering, Price and Wayne Thomas share the franchise record for most saves in a game, either at home or on the road, with 53.
Jets get semblance of revenge vs. Golden Knights
After being eliminated by Vegas in last season's Western Conference final, Winnipeg had to wait quite some time for revenge.
Well, the Jets were able to get the sour taste of elimination at the hands of the Golden Knights out of their system, picking up a 4-1 win over the defending Western Conference champions.
Laurent Brossoit was a key factor in the decisive victory, recording a franchise-record 26 saves in the second period.
Brossoit's strong outing helped the netminder improve to 6-0-1 on home ice this season.
Weber ties Stevens for most career goals among defencemen
Shea Weber has been known for his ability to rifle shots into the back of opponents' nets from time to time. On Tuesday, Weber showcased his signature clapper once again, beating James Reimer to score his 196th career goal.
Weber's latest goal brought him into a tie with Hall of Fame defenceman Scott Stevens for 23rd all-time in career goals scored by a blue liner.
The Montreal Canadiens captain now sits two goals behind the only other active defenceman ahead of him on the list, Zdeno Chara, who is 21st. Brent Burns is the next closest active player behind Weber with 191 career goals.
Jeff Marek and Elliotte Friedman talk to a lot of people around the hockey world, and then they tell listeners all about what they've heard and what they think about it.
Perron cannot be stopped
David Perron continued his torrid play of late, extending his point streak to 12 games.
The 30-year-old did so by firing home his 17th goal of the season, surpassing his goal total from last season with the Golden Knights in just 44 games.
Perron's point streak is the longest by a Blues player since Alex Steen had a point in 13 consecutive contests back in 2013.
While 12 straight games with a point is certainly impressive, Perron has a long way to go before closing in on the Blues' franchise-best point streak of 25 straight games set by Brett Hull in 1991-92. Hull also owns the second-longest point streak in franchise history at 20 games, which was accomplished in 1989-90.
The Ducks just can't buy a win
After a red-hot stretch that saw them win nine of 10 games from Nov. 27 to Dec. 17, the Anaheim Ducks now find themselves stuck in a nightmare.
Anaheim's franchise-long losing streak reached a whopping 12 games after falling 3-1 to the Detroit Red Wings Tuesday night.
You'd have to go way back to 1996 to find the franchise's second-longest losing streak, which at eight games pales in comparison to the slide the Ducks currently are on.
A lot has changed between now and then, as Ron Wilson was the Ducks' head coach, and the club was still calling itself the Mighty Ducks of Anaheim.
Oh, and the team still donned a version of this awesome logo back then: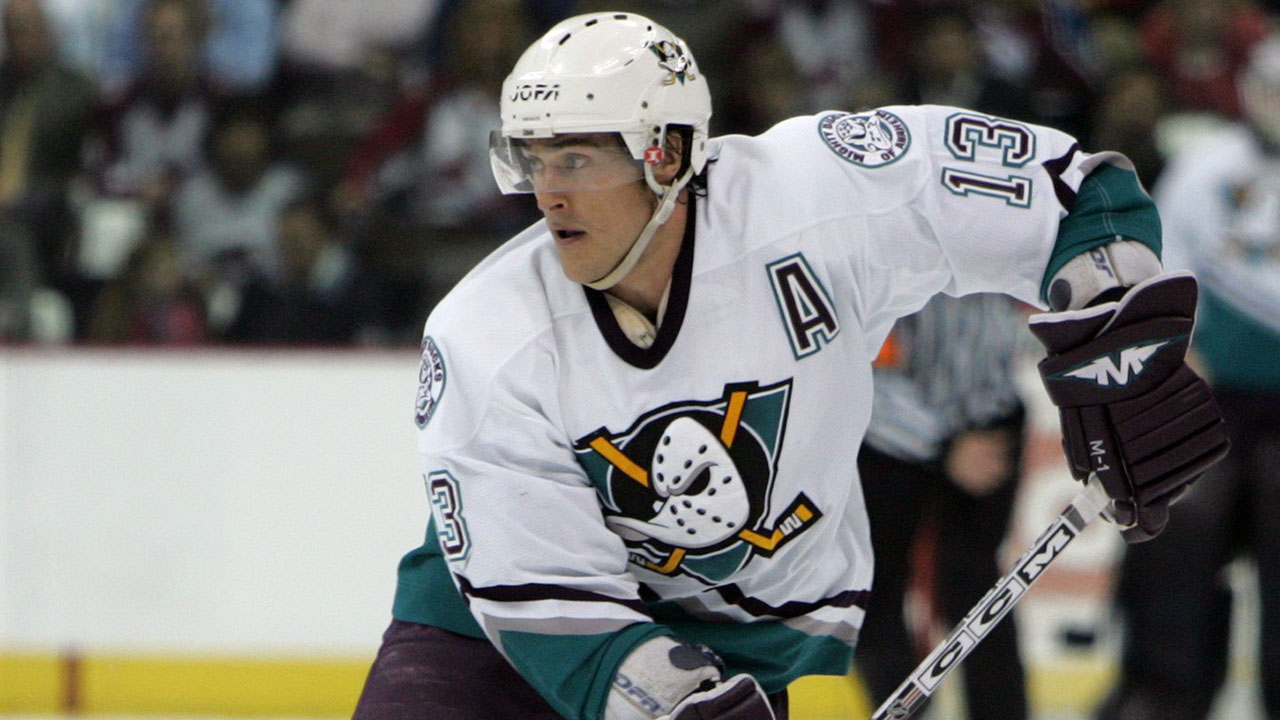 The Ducks' next chance to snap out of their prolonged rut comes on Thursday, when they take on the Minnesota Wild.
Honourable mention: The Tampa Bay Lighting are still taking the league by storm (no pun intended), improving to 19-2-1 over their past 22 games.