When it comes to evaluating performance at both a player and team level, it's important to try and keep an eye on the big picture. There's a reason why you hear people preach the importance of sample size – hockey is such a volatile game by nature that a few unexpected bounces here or there can dramatically change the outlook. But in the long-term, things have a funny way of eventually evening out.
A great example of that can be seen in individual shooting percentages. While there are a few outliers on either extreme that are uniquely predisposed to bucking the trend, most players typically hover around a fairly steady league average baseline. Now, each season there will be plenty of guys who run either supremely hot or cold, making themselves look better or worse than they are. It's our job to suss out who those players are, whether their production is real or not, and whether they'll be able to keep it going.
To try and identify those regression candidates let's start with the players who have drawn the short end of the stick, having their production this season submarined by uncharacteristically poor shooting luck compared to their career norms. To do so, I've gone ahead and compared how many more goals each individual player would've scored this year if they'd converted their opportunities at the same rate at which they'd done so over the past three seasons. (all data plucked from the invaluable Corsica database):
| Player | Actual Goals | Expected Goals | Difference |
| --- | --- | --- | --- |
| Corey Perry | 18 | 33.90 | +15.90 |
| Riley Sheahan | 0 | 12.19 | +12.19 |
| Patrice Bergeron | 21 | 32.92 | +11.92 |
| Jordan Eberle | 16 | 27.01 | +11.01 |
| Derick Brassard | 13 | 23.89 | +10.89 |
| Tyler Seguin | 26 | 36.67 | +10.67 |
| Jonathan Toews | 19 | 29.43 | +10.43 |
| Gustav Nyquist | 12 | 22.35 | +10.35 |
| Tyson Barrie | 6 | 15.77 | +9.77 |
| Mike Cammalleri | 10 | 19.75 | +9.75 |
| Boone Jenner | 16 | 25.73 | +9.73 |
| Joe Pavelski | 29 | 37.25 | +8.25 |
| Chris Kunitz | 9 | 17.19 | +8.19 |
| Mats Zuccarello | 15 | 23.07 | +8.07 |
| Anze Kopitar | 12 | 20 | +8 |
| Patrick Kane | 34 | 41.67 | +7.67 |
| Brendan Gallagher | 10 | 17.20 | +7.20 |
| Johnny Gaudreau | 18 | 25.14 | +7.14 |
Poor Riley Sheahan. At the risk of going back to the well for a thousandth time and turning this into yet another rant about how poorly run the Detroit Red Wings have been this season, it's truly unfathomable that Sheahan (in all of his historically inept offensive glory) has been used more frequently than Andreas Athanasiou (who is sandwiched between Nikita Kucherov and Jeff Carter in five-on-five goals) this season. Not that it would've changed the course of their disastrous campaign in any tangible way, but this is the kind of mysterious stuff that keeps a nerd like myself up at night.
Corey Perry is on pace to have his least productive individual season since his sophomore campaign a decade ago, back when he was playing ~12 minutes a night. While I'd be alarmed that a 32-year old whose best days are behind him is still owed nearly $35 million over the next four seasons, he's got far more left in the tank than his counting stats may currently indicate – he's seventh in expected goals this year, between John Tavares and Sidney Crosby.
I'm willing to bet on the nine years worth of data suggesting Perry is an above average finisher who does a lot of his damage from the home plate area around the net, rather than overreact to the 80 games this season.
There's been some consternation about Jordan Eberle's apparent struggles and lack of offensive production, but similar to Perry it's just a simple question of small sample versus big picture. What are you willing to believe more: the 14.1 per cent shooting on over 1,000 shots spanning six seasons prior to this year, or the 8.2 per cent shooting on less than 200 shots this season?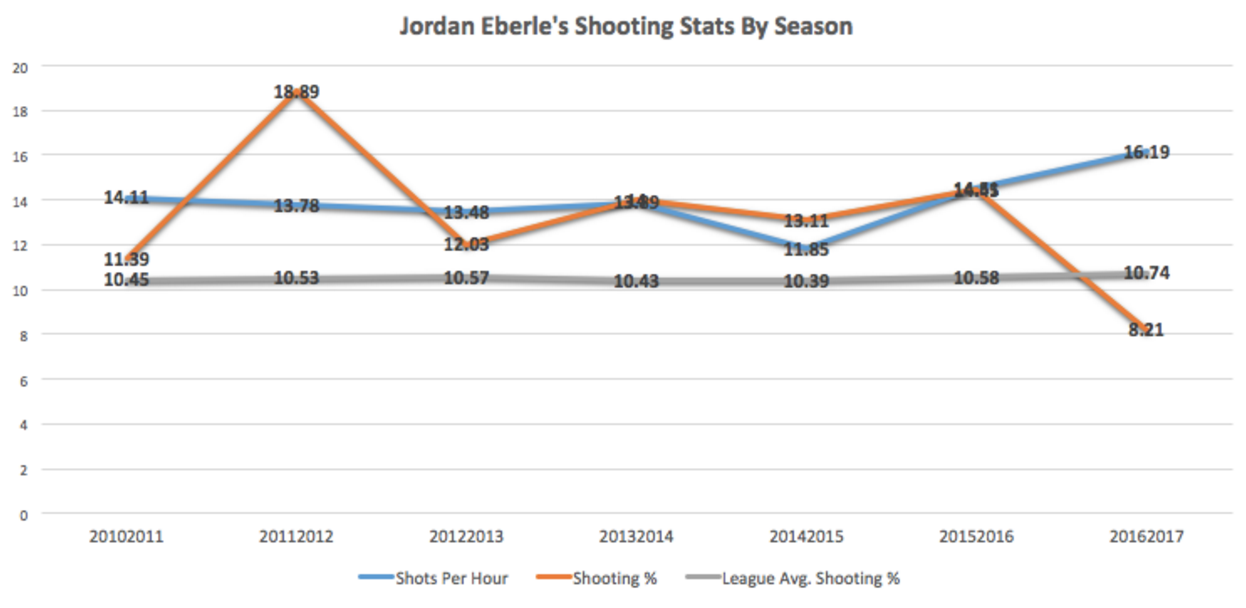 I imagine the fact that Anze Kopitar is due for better luck next season won't be much consolation to the Kings or their fans at this point, after they missed out on the post-season for the second time in three years even though they were one of the league's most dominant five-on-five shot share teams. While I do believe the team has a legitimate issue with shooting talent throughout the lineup that should suppress their expected ability to convert all of those shots into goals, Kopitar's ability to do so hasn't really been an issue prior to this season.
Even though the years and miles are starting to add up on his odometer, I'd fully expect him to bounce back to his career norms in 2017-18, which even if it's worth an extra six or seven goals would be a massive shot in the arm for a team that desperately needs offence wherever it can get it.
Let's switch gears and take a quick look at the guys who have found themselves on the more fortunate end of the spectrum:
| Player | Actual Goals | Expected Goals | Difference |
| --- | --- | --- | --- |
| Rickard Rakell | 32 | 16.60 | -15.40 |
| T.J. Oshie | 33 | 18.25 | -14.75 |
| Mark Scheifele | 31 | 18.55 | -12.45 |
| Michael Grabner | 26 | 14.59 | -11.41 |
| Mikael Granlund | 25 | 14.06 | -10.94 |
| Anders Lee | 31 | 20.31 | -10.87 |
| Nazem Kadri | 32 | 21.38 | -10.62 |
| Marian Hossa | 26 | 15.58 | -10.42 |
| Eric Staal | 26 | 17.36 | -9.64 |
| Patrick Maroon | 27 | 17.46 | -9.54 |
| Sidney Crosby | 43 | 33.87 | -9.13 |
| Cam Atkinson | 34 | 24.91 | -9.09 |
| Marcus Johansson | 23 | 14.56 | -8.44 |
| Artem Anisimov | 22 | 13.91 | -8.09 |
| Evander Kane | 27 | 19.09 | -7.91 |
| Paul Byron | 22 | 14.28 | -7.72 |
| Patrik Berglund | 22 | 14.34 | -7.66 |
There are two common player types popping up on this list: the ones who get to play next to star players, and the young up-and-comers.
While it's possible that the former group will continue to do better than expected as long as they keep their current gigs, they're a scary bet moving forward because of how reliant their success is on their surroundings. That's to say the goals will keep coming for Patrick Maroon as long as Connor McDavid and Leon Draisaitl are carving out space and delivering the puck to him.
I'm willing to give the latter group more wiggle room because it's a distinct possibility there's been a fundamental change in skills, and how they did in past years isn't reflective of how they'll do now that they're either in or entering a different stage of their careers. Even if Rickard Rakell isn't this good, he's clearly on an upward trajectory and the Ducks should be thrilled about the long-term contract they got him to bite on prior to this explosion.
[snippet id=3317857]
Mikael Granlund is similarly an immensely fascinating name. It's fair to be tempering expectations for him because a) he's riding some fortunate percentages, and b) he's never done anything like this before. But it's equally fair to wonder whether there's something more intrinsic about his game that's lending itself to cooking these results. Ryan Stimson has done a great job highlighting some potential explanations. Granlund is someone who warrants closer monitoring before making any sort of definitive proclamations about what type of player he really is.
For our purposes here, T.J. Oshie is the name that really stands out because of his place on the list and his specific individual circumstances. He's been living a charmed life this season and the timing of everything coming together for him has been absolutely impeccable.
He's set to hit the unrestricted free agent market for the first time in his career this summer and considering he's now on the wrong side of 30 it'll likely be the best opportunity he'll ever have to maximize his earning power by cashing in long-term.
While both Oshie and the Capitals have their eyes fixated on finally getting over the post-season hump at the moment, it's awfully difficult not to take a bigger picture view of things in wondering where he'll wind up.
Wherever that happens to be, there's no way he'll ever have it better than he does right now. There's an argument to be made that he's had the cushiest gig in the league this season, riding shotgun with Nicklas Backstrom and Alex Ovechkin at both five-on-five and on the top power play unit. He's spent nearly 80 per cent of his minutes at 5-on-5 with Backstrom and in the rare occasion where he hasn't been with him, Oshie's had to settle for playing with Ovechkin and Evgeny Kuznetsov.
A common sight in Capitals games this season has been the kind of prolific puck movement exemplified below that eventually culminates right in Oshie's wheelhouse as he waits in a prime scoring region.
While he certainly deserves some love for making the most of those opportunities, the lion's share of credit for his success belongs to his linemates. Or more specifically, some combination of a) Backstrom's prolific playmaking abilities to get him the puck in the ideal shooting spot, regardless of how narrow the window to put the pass through is, and b) the extra space created by the gravitational pull that Ovechkin has on the opposing defence whenever he's on the ice.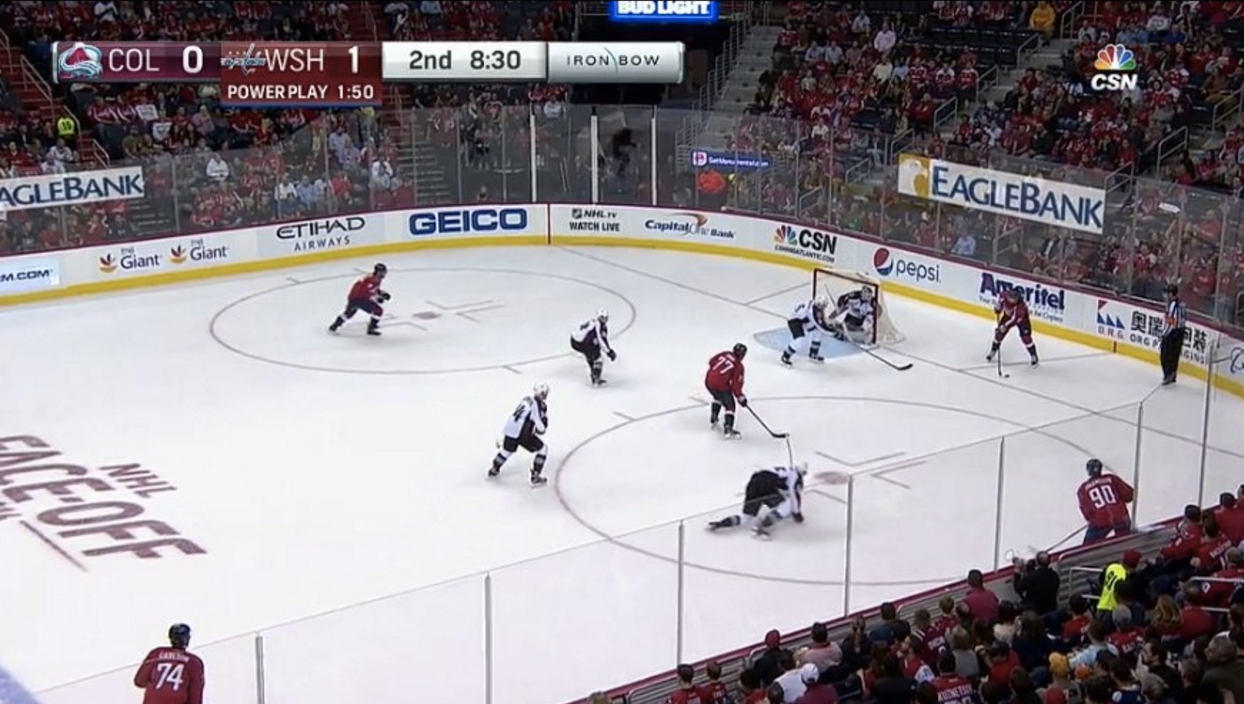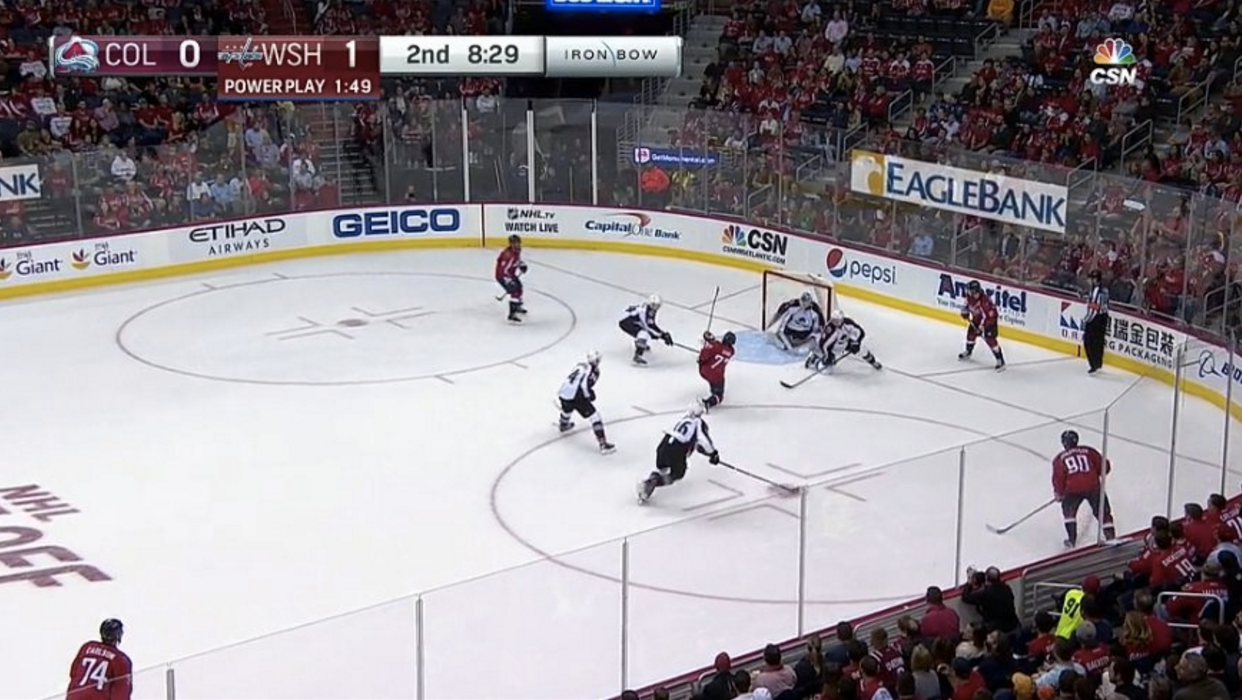 From the Capitals' perspective, it shouldn't be all that difficult to slot someone else in – whether it's an internal option like Andre Burakovsky being elevated to a bigger role or an incoming free agent – without the results changing all that dramatically.
Given what the Capitals have to spend on the rest of their roster and what Oshie should earn this summer, someone else will likely be left paying the tab, after they look at the superficial success Oshie had this year and convince themselves he'll keep it up in the future.
Even though Oshie will still retain some value as a top-six winger when he reverts back to what he was prior to this season (hovering around 20 goals and 50 points), it'll wind up falling well short of his price tag and the attached expectations, making him just the latest in a long line of big money free agents that resulted in near-instant buyer's remorse.
[relatedlinks]