• Building rosters for maximum fun
• Panarin gets in over Toews
• Is Shattenkirk a better ASG fit than Subban?
On Wednesday we went through the Eastern Conference and picked all-star teams for the Atlantic and Metropolitan divisions with one thing in mind: fun. Today, we're going to tackle the two Western divisions in the same way, aiming solely for what would make the All-Star Game the most fun to watch based on each player's performance this season.
The rules are simple — we're ignoring defensive play in order to maximize offence, and we want each team in the division to have at least one representative. As always, fan-voted-in captains are automatically on the teams, and injured players who have been ruled out are out.
We'll be using even-strength statistics to look at which players should make the teams.
Central Division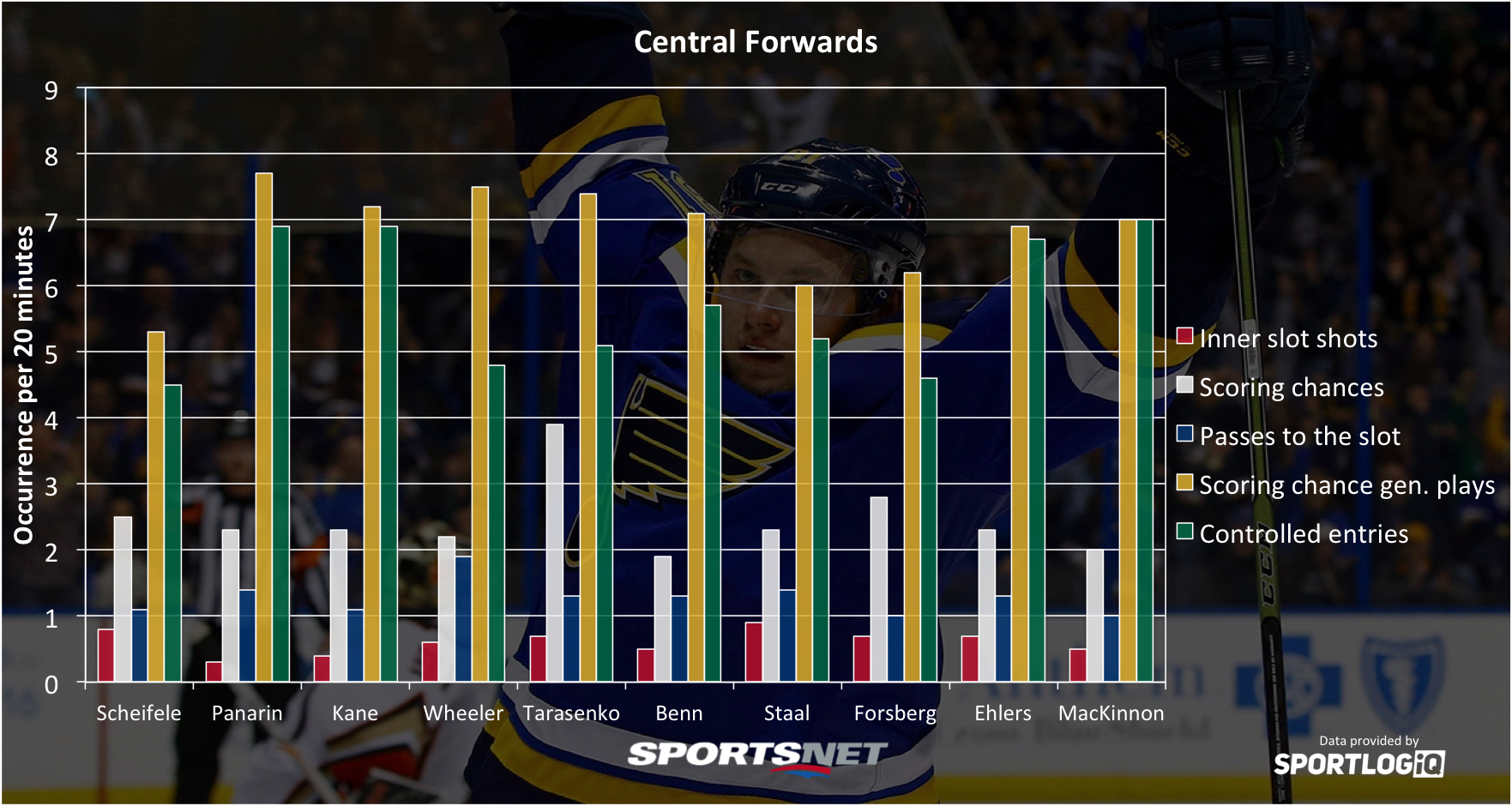 [sidebar]
Gunning for the most offence possible, the first choices you have to make from the Central division are possibly the most dynamic duo in the NHL the last two seasons: Patrick Kane and Artemi Panarin. The two play with essentially the same style and effectiveness, though so far this year Panarin has actually been producing even more chances to score.
Next up you have to have the division's best goal scorer in Vladimir Tarasenko. And though he hasn't been producing scoring chances at a high rate this year, I don't think you can do much better than Jamie Benn to play with him, adding speed, playmaking and creativity to feed Tarasenko for great chances.
Lastly, two former Halifax Mooseheads unite for youthful exuberance and speed to burn. Nathan MacKinnon is an insanely effective transition player, and Nikolaj Ehlers is nearly as good.
P.K. Subban was voted by fans to captain this team, so he's in automatically, but he has the fun numbers to back it up as well.
The best fit for this event, though, is Blues defenceman Kevin Shattenkirk, who is all about offence and playmaking. He can carry the puck as well as anyone, and he's not afraid to take risks offensively.
[relatedlinks]
Rounding out the defence, I've got to go with Dustin Byfuglien. He isn't the skater the other guys up for the spot are, but he's a shot machine and his playmaking has been incredible this season. He's also created more scoring chances than any other defenceman in the division.
For goaltending, Devan Dubnyk is the easiest choice as the starter, but the backup is a bit tougher. His numbers have taken a hit lately, but Corey Crawford has been the biggest reason why the Blackhawks were getting so many wins this season, facing the toughest quality of shots in his career to date, so I'm going to say he deserves this one.
Pacific Division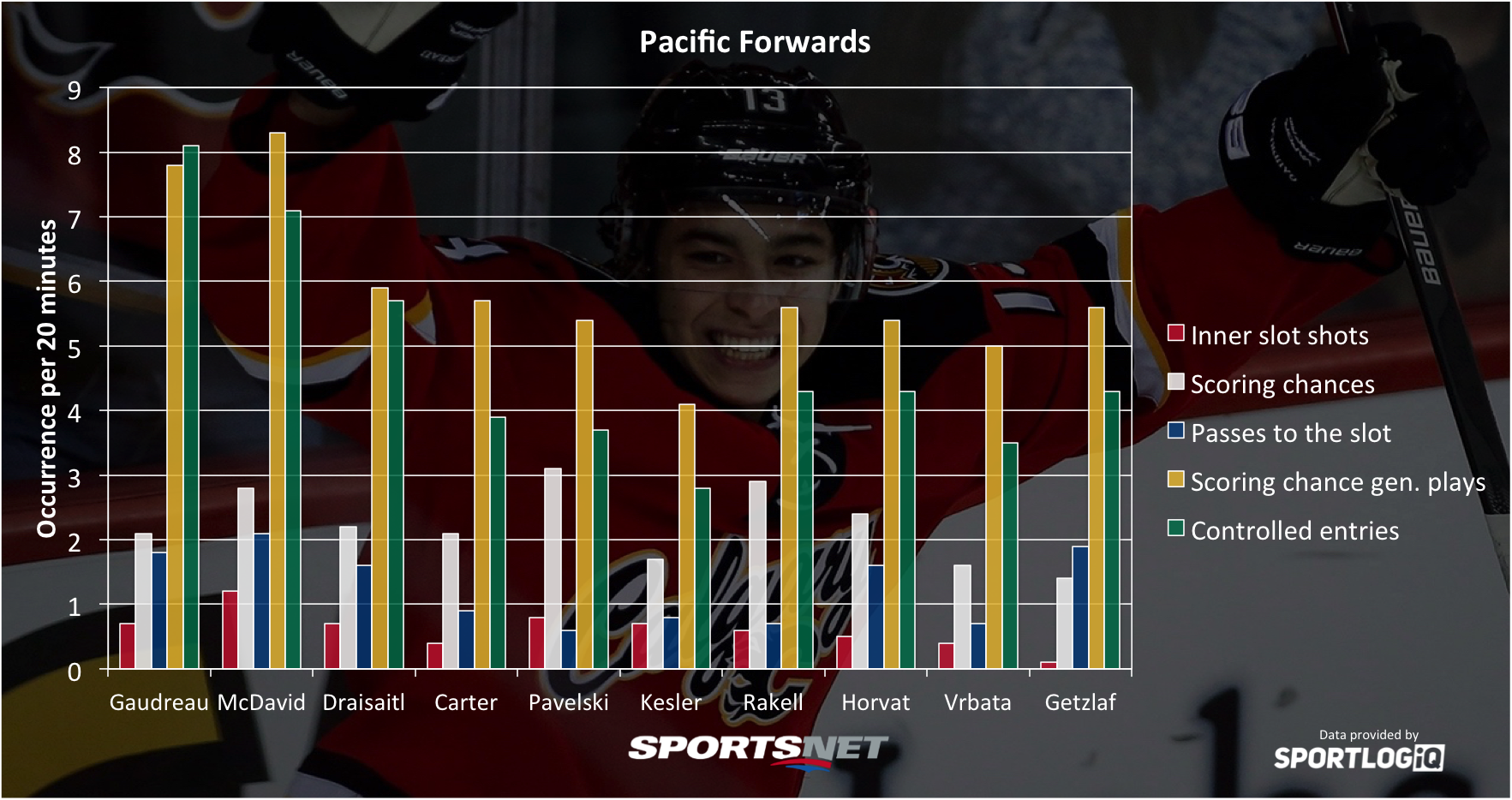 Connor McDavid was voted in as captain of his division, which is convenient because there's simply no way he wouldn't make the team. For maximum levels of fun, why not put him with the best 3-on-3 player in the NHL in Johnny Gaudreau? Have fun defending that, other divisions.
The rest of the division is a bit of a step down from those two, but that makes sense. On the second line, shooting for a combination of playmaking and scoring that could work well together, I'll go with Ryan Getzlaf and Joe Pavelski — that pairs one of the best playmakers in the NHL with the best net-front player over the last five years.
Rounding out the forward group, the combination of skating and sniping you get with Leon Draisaitl and Jeff Carter is hard to pass up. Draisaitl also has the playmaking chops to find Carter in dangerous positions.
Brent Burns is a lock here, and he may have already assured himself of a Norris Trophy come June. His offensive numbers have been mind-blowing this season, creating scoring chances like a first-line forward as a defenceman.
After getting lots of criticism early, Dougie Hamilton has been an offensive dynamo this season and easily the second-most exciting blueliner in the division after Burns. He's definitely in as well.
The last choice is a little tough and came down to four relatively equal guys. But because we need a representative from Arizona, and because Oliver Ekman-Larsson has deserved recognition for years, let's go with him.
As far as goaltending goes, the Pacific has the weakest group to choose from, but two guys stand out that make the most sense: Cam Talbot and Ryan Miller. Both their teams struggle defensively, yet they have the best save percentages in the division.
---
Based on all of the above, here are the final rosters for the Western Conference Analytics All-Star squads.