After his first few games in the NHL, it seemed like Auston Matthews was going to score at will and take the league by storm in a way that even Connor McDavid couldn't the previous year. It was an overreaction to a great couple of games.
After a 13-game goal drought where Matthews has been snake-bitten to the extreme, some pundits have questioned his scoring ability. This is also an overreaction to a small number of games.
Neither extreme is indicative of the player Matthews is going to be and we can look to statistics to find out what kind of scoring production we can expect from the 18-year-old Maple Leafs rookie.
Matthews is currently 14th in the NHL in shot attempts at even strength per 20 minutes with 6.8, and 13th in the NHL in shot attempts in all situations per 20 minutes with 7.1. Those numbers alone suggest he is trending towards being a very good goal scorer, ranking between Max Pacioretty and Tyler Seguin in all situations, and between Jeff Carter and Taylor Hall at even strength.
That's some elite company for a teenager, but we can cut things up more finely nowadays, and look at where Matthews' shots are coming from.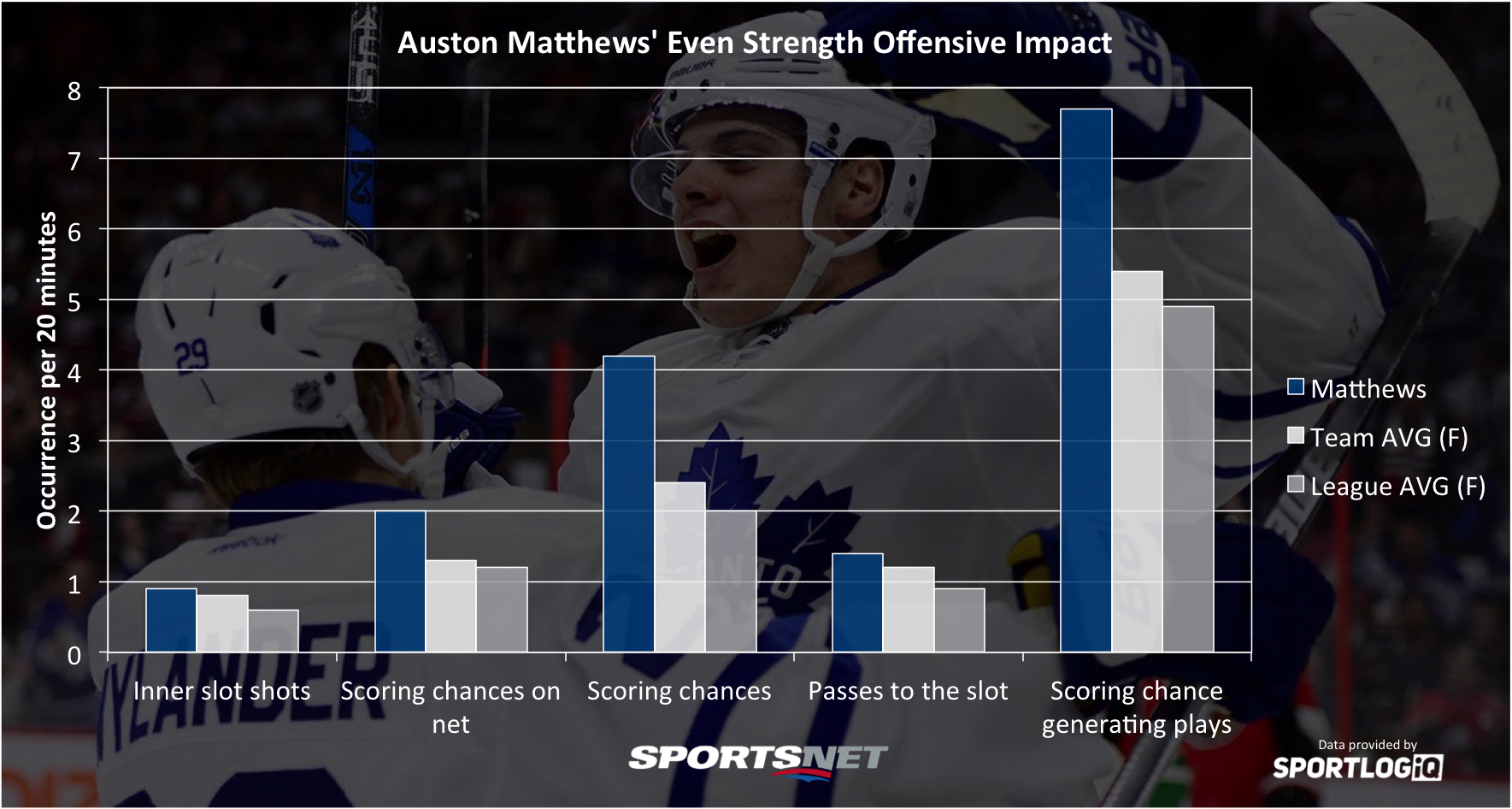 Looking at where he shoots from and the chances he creates, Matthews is obviously an elite offensive player. For context, the Maple Leafs this season have been creating scoring chances at even strength at a higher rate than any other team, so being above average for them means more than usual.
Although not as much of a standout as other areas, Matthews' ability to get shots from the inner slot is still notable, matching the numbers put up by Mark Scheifele and Jeff Skinner, two of the best even strength scoring chance producers in the NHL.
In terms of overall scoring chances on net, or simply shots from the slot, Matthews is far above team average, and comparable to Chris Kreider and Corey Perry.
Where Matthews has really shone in comparison to his peers is his shot attempts from the slot, or scoring chances. It's true that short term you want your shots on net, but when projecting long term scoring, shot attempts are actually a better metric. When it comes to producing scoring chances at even strength, only Vladimir Tarasenko and Jeff Skinner have done so at a higher rate than Matthews this season.
---
Want to stream 56 Leafs games this season? Sign up for Sportsnet NOW
---
In terms of overall scoring chance-generating plays, Matthews has performed at the same level as Evgeni Malkin, the eighth-best mark in the league.
All this is well and good, but what does it mean exactly for Matthews' goal scoring? That depends on a few factors, but what we can do is calculate what kind of goal numbers you could expect from Matthews if he is simply an average NHL shot converter, based on his shot locations.
For clarity, while the NHL has Matthews credited with 71 shots on goal this season after 19 games, SPORTLOGiQ has only credited him with 65, perhaps a bit more selective than the Leafs' official scorer.
Based on Matthews' shot selection and location so far this season, were he an average shooter, he would score on 10.8% of his shots over a full season, which based on his current shot rate, paces him for 30 goals. Again, that's assuming Matthews is an average goal scorer, and I don't believe he is.
Last season in the Swiss National A League, Matthews scored on 18.6% of his 129 shots, the sixth-highest mark of anyone in the league with 50 or more shots on goal. The Swiss league isn't the NHL, but it wouldn't be surprising at all if Matthews was a 12-14% shooter considering his talent level, which would put him in the 40-goal range. He probably won't shoot like that this year, but this is a player no one in their right mind should worry about, he's doing everything right.