It took a while for all the details to come to fruition since the trade hinged on the Toronto Maple Leafs paying Nikita Zaitsev's bonus on July 1, but now we know that the Maple Leafs have sent Zaitsev, Connor Brown and Michael Carcone to Ottawa in exchange for Cody Ceci, Ben Harpur, Aaron Luchuk, and the Columbus Blue Jackets' third round pick in 2020 that Ottawa had previously acquired.
Ceci is an RFA, but early reports indicated he may re-sign at one year with a $4.5 million cap hit, which would be the exact same cap hit as the outgoing Nikita Zaitsev. At that rate, for this season alone, the Leafs would only clear Brown's $2.1 million cap hit in this trade, if we assume Ben Harpur doesn't play for the big club.
Getting out from under Zaitsev's $4.5 million cap hit until 2024 appears the primary purpose of the trade for the Leafs, but we shouldn't make any assumptions on Ceci's future with the Leafs just yet.
[snippet ID=3322139]
Ceci was taken 15th overall in the 2012 NHL Draft by the Senators and scored 124 points in his last 133 games in junior, but he has never come close to fulfilling that scoring potential at the NHL level. At 25 years old, the book isn't completely closed on Ceci, but for the overwhelming majority of players, they are what they are by this age.
So what is Ceci? I took a bit of a look at his game around this past season's trade deadline and identified him as a player to avoid moving assets for. His differentials relative to his Senators teammates are not kind.
Zaitsev's differentials were not glamorous in his Leafs career either, but Ceci's are significantly worse over a longer period of time. It has to be pointed out that Ceci was playing tough matchup minutes, but getting pounded into the ground against quality competition doesn't mean you will produce better numbers in a more favourable situation.
Certainly in Toronto Ceci will be surrounded with more talent than he was in Ottawa, but the prospect of him playing top-four minutes should not be very enticing for Leafs fans. For his part, Dubas didn't commit to a role for Ceci.
Ceci and Zaitsev share some characteristics individually as well. Zaitsev is among the least-active defencemen in the NHL at even strength. He engages with the puck just 73.9 times per 20 minutes of ice time, whereas Ceci is slightly less active still at 72.5 engagements per 20. That ranks Zaitsev 161st of 177 defencemen to play 700 or more minutes last season, and ranks Ceci 166th.
Not being super involved in playing the puck or retrieving it isn't necessarily the death knell in a player's effectiveness. Shea Weber is a very passive defenceman for example, ranking 151st in that same category, but he boasts high success rates when he does handle the puck, and plays a positional game that puts him in the right area more often than not.
For Ceci, we can compare him to Zaitsev and the league averages for defencemen to see how he shakes out.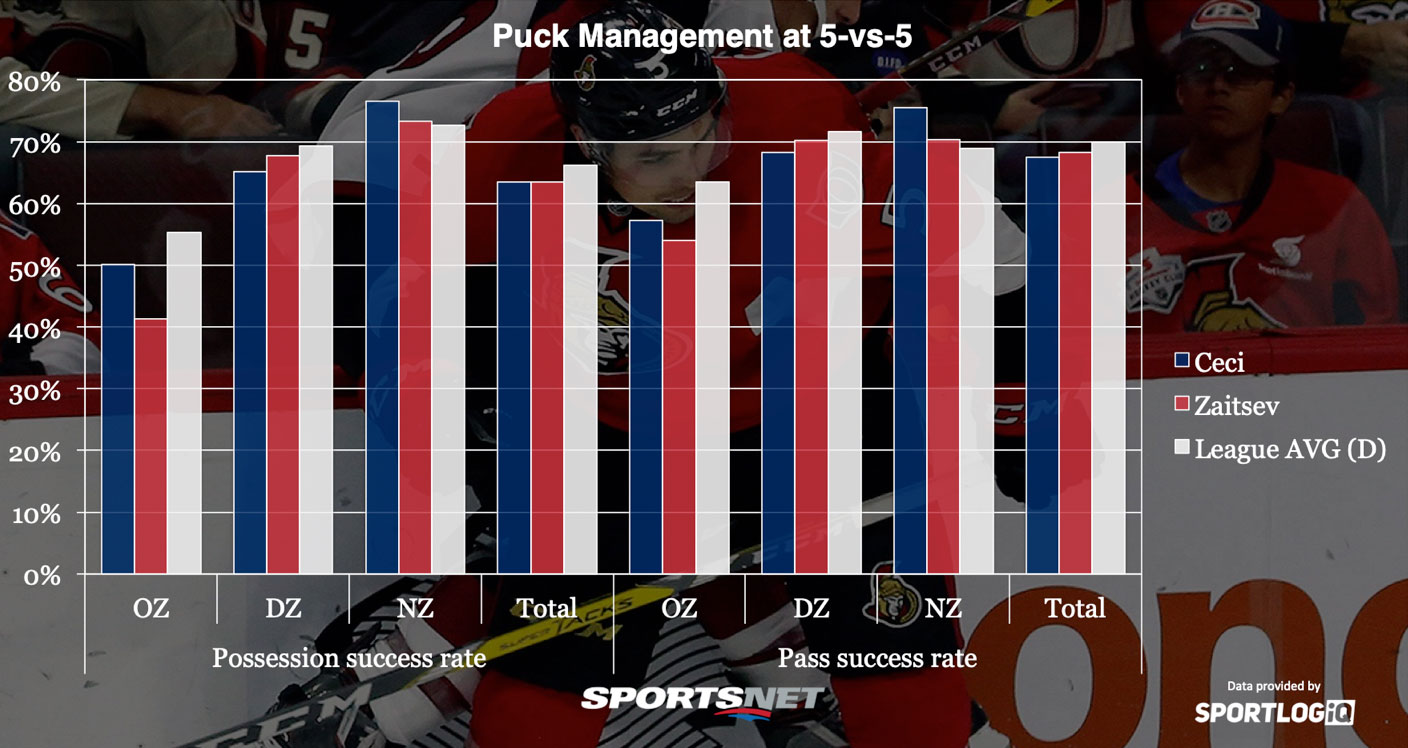 Looking at the success rates on attempted plays by both defenceman in each zone, we can see that Ceci is significantly better than Zaitsev with the puck in the offensive and neutral zones, while Zaitsev is superior in the defensive zone. Overall they both are below average puck handlers.
Looking at passes in particular, the same breakdown holds true. Zaitsev is a little better in the defensive zone, Ceci is better outside of it, and both players remain below average passers at their position.
Zaitsev has been among the least effective passers in the NHL over the past three seasons, not just with poor success rates, but with low involvement as well. However last season he was a bit more active and made significantly more passes than Ceci.
Ultimately, the way this trade looks to me is that the Leafs shedded Connor Brown for cap space and traded Zaitsev for a very similar player who is more risky, but brings a bit more offence with less term.
Essentially, a young player or the newly signed Jason Spezza will fill Brown's role at forward for cheaper, while Ceci isn't a huge downgrade on Zaitsev and they're not tethered to his contract for another five years.
The Leafs didn't get worse with this trade, at least not by a lot, and they got more flexible in the future, but is the defensive issue solved? Not by a long shot. The plan for now remains unclear.
[relatedlinks]