We're changing things up a bit in this week's Truth by Numbers solely because we're quickly approaching the NHL trade deadline. So, the Spotlight and Buy or Sell sections will be replaced by a breakdown that covers a few players who teams should be cautious about trading for.
This year's deadline boasts some excellent players who could be on the move, including stars such as Artemi Panarin and Mark Stone. But mixed in there are a few players whose reputation and perceived value around the league is far higher than the actual value they've been giving their teams. While they might still be good and can offer something, teams acquiring them need to be careful to not overpay.
[snippet ID=3322139]
BUYER BEWARE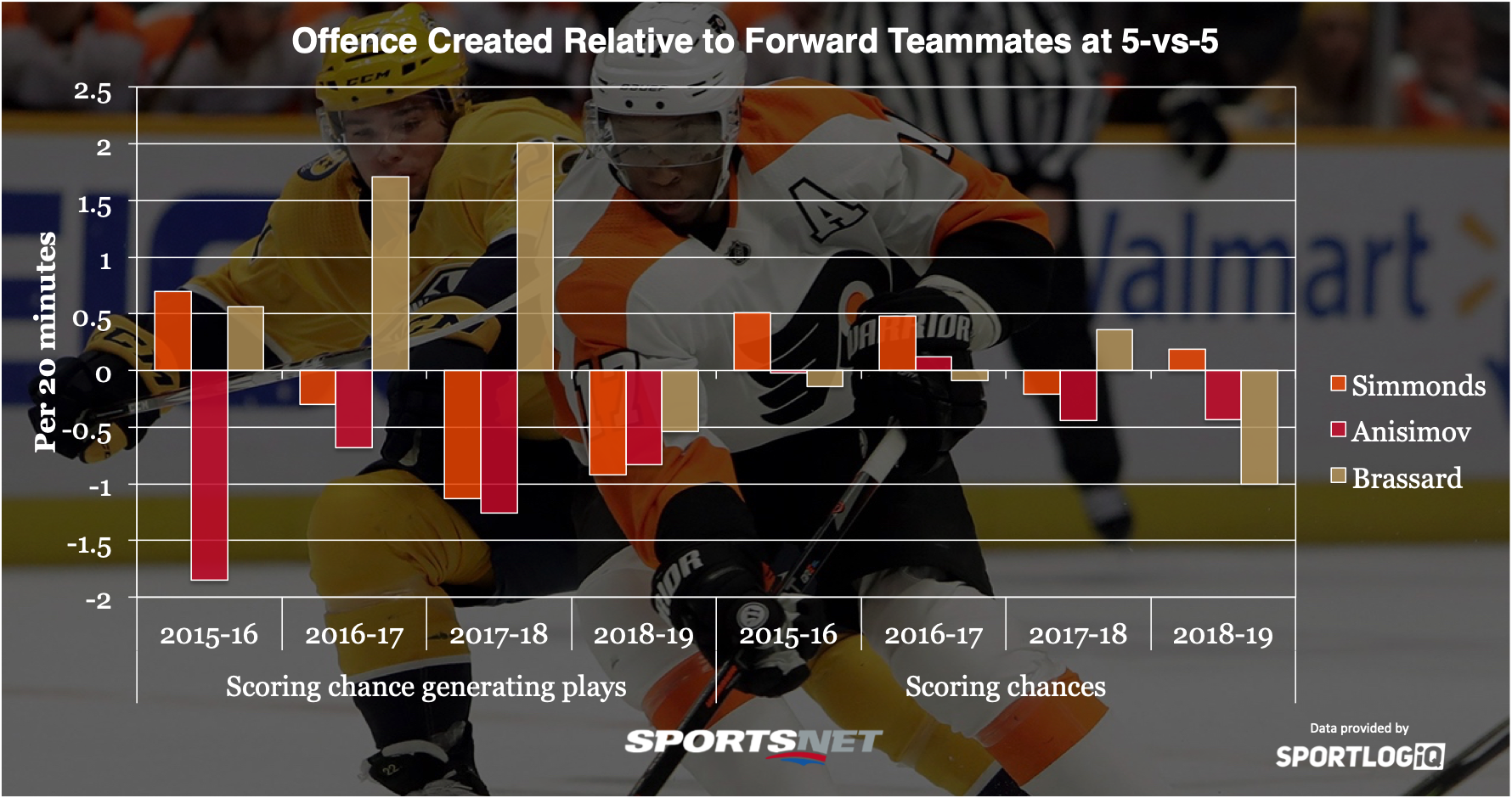 Teams who are on the hunt for offence at this year's deadline have no shortage of options, but three names appearing on trade bait lists specifically stand out to me as risky adds.
Wayne Simmonds adds a physical element and an ability to score in tight, which are a pair of skills that tend to be of greater value in the minds of general managers and coaches than it is on the ice. That isn't to say Simmonds isn't a good player, but his perceived value has been higher than his actual value for a few seasons.
Despite somewhat mediocre production this year, Simmonds has rebounded a bit after playing through last season with a variety of injuries, but for three straight seasons he's been involved in fewer scoring chances than the average Flyers forward. If Simmonds is being brought into a team as a complementary player he's not going to be bad, but the problem is the price point. The expectation is it'll cost a lot to acquire him, and I don't think it's a smart idea to trade high value assets for Simmonds at this stage of his career.
Artem Anisimov is a decent player, but if you're looking for someone to contribute offensively, you're better off looking elsewhere. His first two seasons in Chicago were fine, but as the Blackhawks have fallen off, so has his game. He was always more of a third-line centre in terms of offence, so while he's still a fine player in that role, spending major assets to expect an upgrade down the middle may be a mistake if you need a second-liner.
Derick Brassard was a phenomenal forward over a couple seasons with the Ottawa Senators, putting up some of the best playmaking numbers in the league and generating a ton of even strength offence, but since his trade to Pittsburgh he's been half the player he used to be. That's been especially true this season.
Last year he was even an above average 5-on-5 goal scorer and scoring chance producer for the first time in a while, which makes his apparent fall off the cliff all the more stark.
It's possible that in the right situation Brassard could rebound and get to his past levels of production, but for a team looking to compete in the playoffs you'd probably like to see some sign of his play picking up before you make a deal for him. So far there's nothing to suggest that big rebound is coming.
The way the analytics community talks about Cody Ceci is basically bullying, but no matter what coach Guy Boucher says about Ceci playing a shutdown role or tough minutes, it's hard to justify the level of negative impact that Ceci has on the Senators. This is crazy.
As much as Ceci is tarnished in the public forum for his poor impact on shot and shot attempt differentials, he's significantly worse at controlling passes to the slot and high-danger chances.
Over the past four years, the Senators are actually an above average even strength team when Ceci is on the bench, and among the worst teams in the league while he's on the ice. If you're looking to shore up your defence, do not trade for Cody Ceci.
THE QUESTION
Steve Dangle is so busy making Volkswagen commercials with Marc Savard that he got distracted and asked a question that has nothing to do with the Maple Leafs…
"What's up with Mika Zibanejad's hot streak? Is this a breakout season or just some good puck luck?"
Zibanejad has been a consistently good player for the past few seasons, but it's true that his offensive production has never really caught up to his underlying numbers.
Over the previous three seasons, based on the ranking project I do every off-season, Zibanejad ranked as the 35th-best centre in the NHL, which is essentially a high-end second liner. But looking at just last season, he took a huge jump both defensively and in transitioning the puck, which brought him up to the 22nd spot. If you combine that with what he's done this season it appears he's a top-line centre in the middle of his prime.
The question is: has Zibanejad taken a big step forward offensively? The big change for him over the past couple years and this one has been an increased impact on the power play. But is he actually creating more there?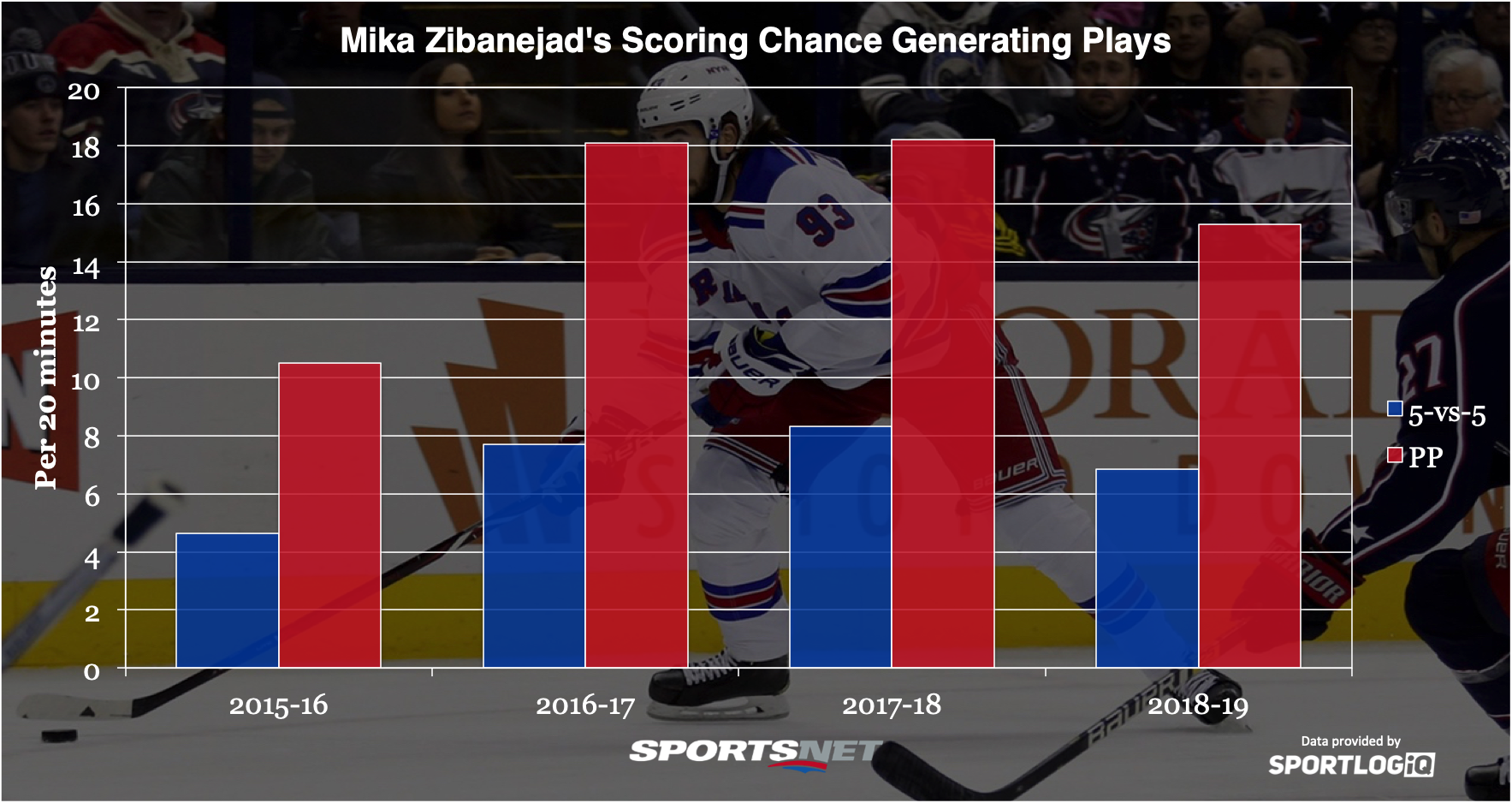 Zibanejad's involvement in scoring chances at both even strength and on the power play are both down this season, which makes it somewhat surprising that he's putting up career numbers.
I think it's fair to say that based on the amount of offence Zibanejad had been creating the past two years without getting the goals and assists he's posted this year, maybe he was due for this kind of breakout and is getting some nice regression. But overall it looks like more of a good luck year than a true breakout performance.
Even if he's not full value for the points, Zibanejad is an excellent three-zone player who is relatively underappreciated around the NHL. He's not a star, but he's absolutely a big difference maker.
[relatedlinks]