For the past several years, Dion Phaneuf has been one of the most besieged players in the NHL. Playing huge minutes on poor possession teams, often against the best opponents had to offer, Phaneuf was getting torn asunder game in and game out. In fact, the situation was so poor for Phaneuf that over the past three seasons his 42.6% Corsi ranked 145th of 150 defencemen to play 2000 or more minutes at even strength, as did his -4.1% Corsi relative to his team, according to stats.hockeyanalysis.com.
What this means is that over the past several years, Phaneuf was one of the single-largest drags on possession in the NHL, comparable to names like Andrew MacDonald, Luca Sbisa, and Eric Gryba.
Phaneuf's biggest struggle has been on the defensive side, with his team allowing 2.58 more shot attempts per 20 minutes when he's on the ice, the worst mark in the league among defencemen.
In spite of all that, Phaneuf did put up solid offensive numbers, but his production had been dropping off each year since the lockout-shortened 2012-13 season. It's possible the job he was asked to do had begun to wear on him.
This season Phaneuf's Corsi possession has skyrocketed up to 51.4%, and while he's still not above team average, he's essentially dead even. Mike Babcock's system is clearly working more in Phaneuf's favour, but how different is Phaneuf's game?
Surprisingly, this season the Toronto Maple Leafs have seen a decrease in shot attempts against, however slight, at 0.13 fewer shot attempts against while Phaneuf is off the ice than on it.
What's driving that difference though?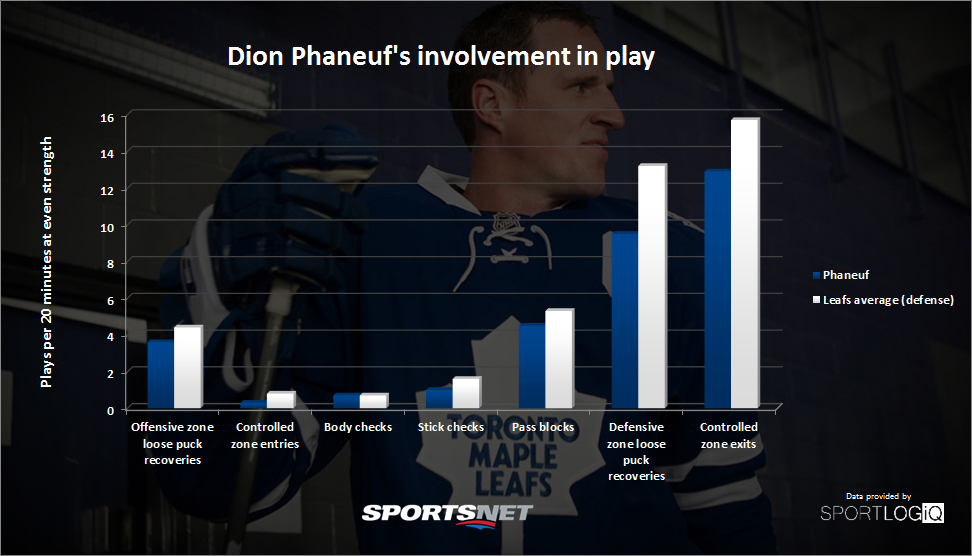 Last season, Phaneuf was one of the least-involved defencemen in the entire NHL, meaning that while he was on the ice, he was involved in very few plays offensively or defensively, on average. Only Roman Polak was involved in fewer events in the defensive zone than Phaneuf in 2014-15, and in the neutral and offensive zones, Phaneuf was the least involved overall.
Unfortunately, that trend has continued this year for Phaneuf. He is below team average in almost every kind of play with and for the puck.
To put some context into Phaneuf's numbers, Sportlogiq has tracked 225 NHL defencemen this year at even strength. Among those players Phaneuf ranks 198th in controlled zone exits, 216th in defensive zone loose puck recoveries, 165th in successful pass blocks, and 202nd in successful stick checks per 20 minutes played at even strength. What this means is that Phaneuf is struggling to get the puck away from his opponents, struggling to acquire loose pucks, and, on top of it all, struggling to exit the defensive zone.
Phaneuf is still a solid defenceman on the physical side, but successful body checks – where a hit actually takes possession away from an opponent – are such a small part of the game, that it isn't helping him much.
So where is all the improvement coming from? There isn't much in Phaneuf's play that suggests he's the driver of it, and with small samples being what they are, it may be tough to know for sure. However, the most likely scenario is that playing over half of his ice time with Jake Gardiner is a big source of the improvement, as Gardiner is a known possession driver and a very highly involved player.
The book isn't closed on Phaneuf as a player, and there's still a chance Mike Babcock can get him back to what he used to be, or at least closer to it, but Phaneuf needs to be more involved. As it stands now, even Roman Polak is recovering more loose pucks in the defensive zone, and exiting the defensive zone with control more often than Phaneuf.
The Maple Leafs need more from him.