With trade rumours swirling yet again around Dougie Hamilton, does any of it have to do with him struggling this season or is it something else? In Dallas, Tyler Seguin has scored six goals in his past five games, but has anything changed in the way he's been playing since CEO Jim Lites called out him and Jamie Benn in December?
That, plus handing out mid-season awards in this week's column.
SPOTLIGHT PERFORMANCE
Another season, another Dougie Hamilton trade rumour, another series of articles trying to figure out what Hamilton is and why so many coaches have been hesitant to trust him.
Breaking down Hamilton by the numbers over the summer using three years' worth of data, I came to the conclusion that he was the 25th-best defenceman in the league over that time, which makes him a lower tier No. 1. However, in his last two years with the Flames he was closing in on the top-10 range.
Hamilton's level of play was extraordinarily high despite getting less ice time than you would expect for a player of his caliber. This season is more of the same. Hamilton is averaging less than 20 minutes per game, which sounds very low until you look at how Carolina deploys its defencemen.
With five legitimate top-pairing blueliners on their roster, only Jaccob Slavin and Justin Faulk play over 20 minutes and Hamilton is third at 19:37 per game. In that context it doesn't seem like there's a trust issue, though you could argue Hamilton is underused. Still, even though he's a star player, he's also the new guy on a blue line full of veteran Hurricane defencemen, so it's not surprising that he would get less ice time than some of the other top guys there.
What has been talked about critically is Hamilton's poor goal differential this season, so is he actually playing poorly?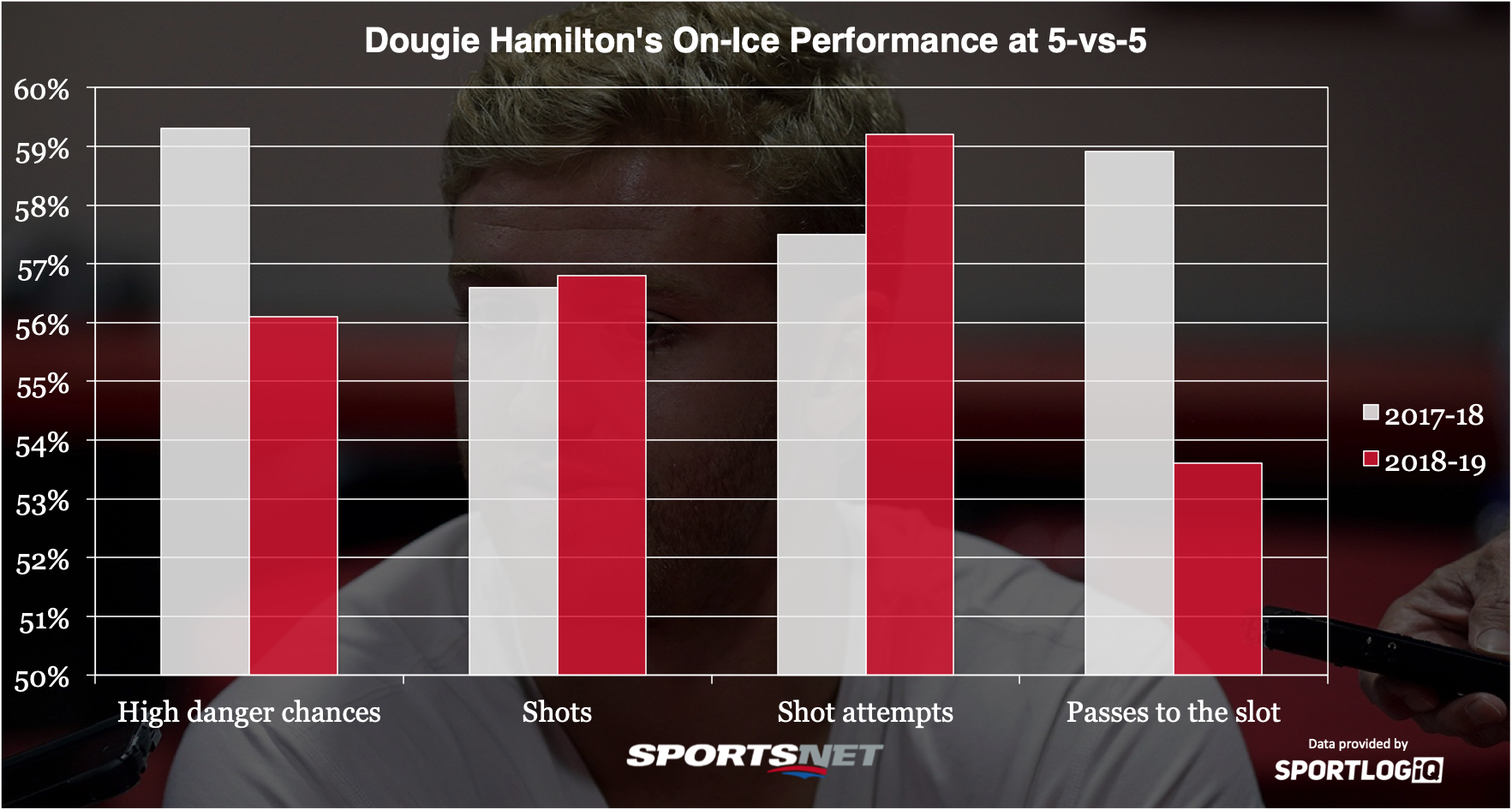 Hamilton hasn't been quite as strong as he was last season overall, but he's still performed very well so far. It's worth noting that while the Hurricanes have a plethora of really good defencemen, none of them are at Mark Giordano's level. So when you look at Hamilton's raw differentials from last season they're a little inflated due to playing with one of the best defencemen in the NHL over the past 10 years or so.
Speculation has been heating up that Hamilton could be on the move again and I think part of the reason for that is he's been extremely unlucky this season, with a 95.9 PDO at 5-on-5.
Should the Maple Leafs be chasing a Hurricane?
January 07 2019
But on top of that poor luck, Hamilton's play has indeed been falling off a bit recently. Over the past couple of weeks, the Hurricanes have been getting just 40 per cent of the high danger chances when Hamilton is on the ice, and fewer than 35 per cent of the passes to the slot.
Whether there's a bit of a crisis of confidence or just a mid-season lull in his play, if the Hurricanes are planning to move on from Hamilton it seems to me this would be a terrible time to move him.
THE QUESTION
This week Steve Dangle didn't focus on the Leafs. Instead he had a question about a ghost of Maple Leafs past: Tyler Seguin. Seguin has been on fire lately, which coincidentally started after critical comments made by Dallas Stars CEO Jim Lites, so Steve asks…
"Did Jim Lites calling out Tyler Seguin actually get him playing differently?"
We're dealing with a pretty small sample size since the angry public comments from Lites were reported on December 28, but we're not talking about whether something is sustainable or not, only if anything has changed since then.
That's easy enough to figure out, especially since the dig at Seguin was about his shooting locations and goal scoring.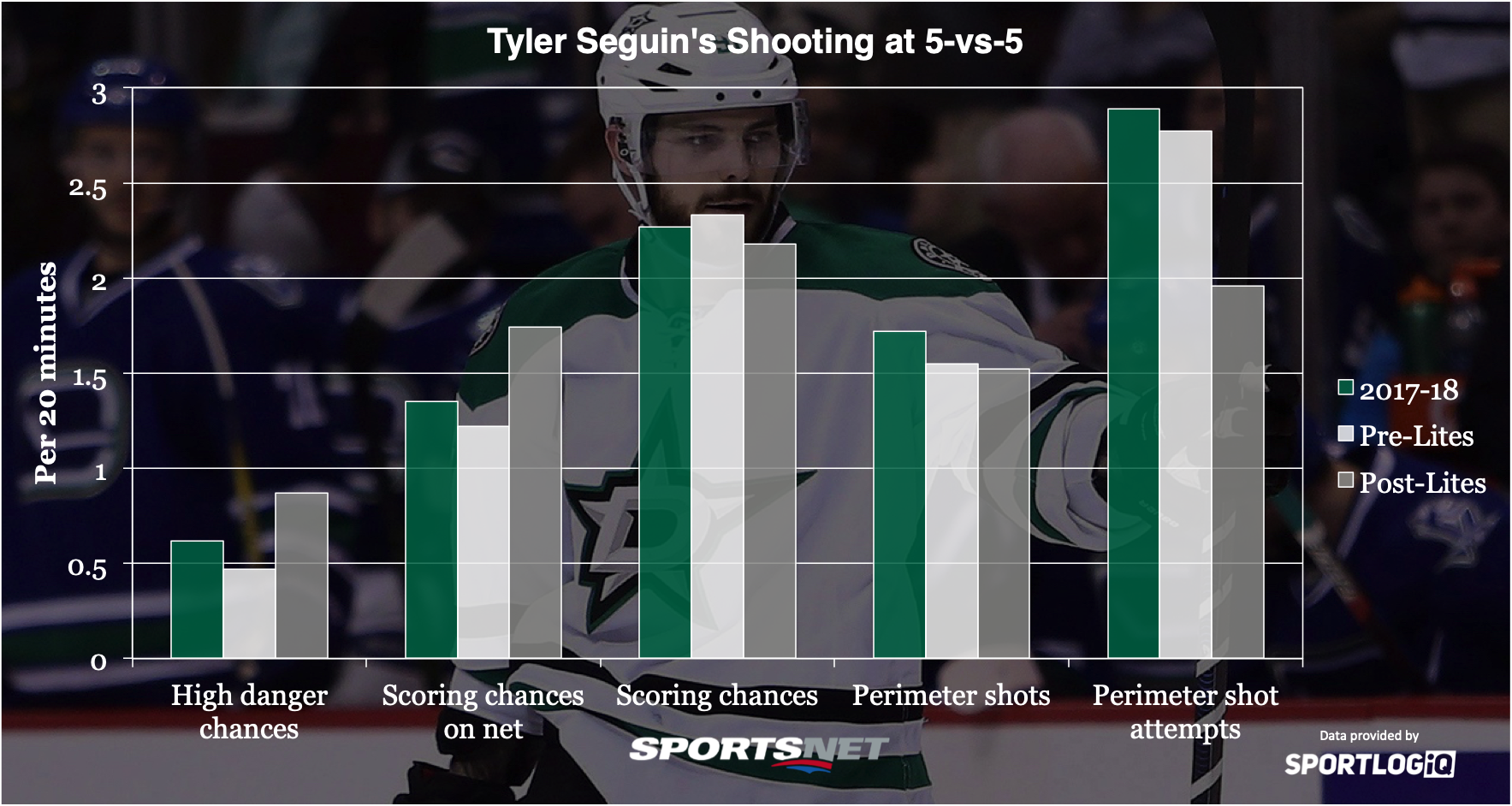 Including last season's numbers as a baseline, you can see there isn't much difference between his 2017-18 shot production and what he was doing before getting called out by the CEO. However, he had been getting fewer of his shot attempts from the slot on net, as more of them were being missed or blocked.
It's apparent that Seguin's shots on goal have changed since Lites' comments. He's shooting less often overall, but the one's he is taking are coming from closer to the net and hitting the target far more often. He's seen a big drop in shots from the perimeter.
There could be a concerted effort from Seguin to drive to the middle of the ice more, but his shot attempts from the slot have actually gone down so it looks more like very convenient, but random variance to me. Seguin was due for a hot streak.
BUY OR SELL
Sportsnet has asked me to do some quick hits on who I would give the major NHL awards to as of the halfway mark of the season:
• Calder Trophy: Elias Pettersson with no real competition. There are lots of good rookies in the NHL this season, but only one who is already a star player.
• Selke Trophy: Mikko Koivu. Second in the NHL in successful defensive plays and loose puck recoveries per minute played, among the best high danger and pass to the slot differentials in the league and plays tough minutes. Bergeron missing time is a factor.
• Jack Adams Award: Jon Cooper. Once in a while we should reward the coaches who are able to get the best out of a great team every year, instead of the comeback teams. Cooper is clearly crushing it in Tampa Bay.
• Norris Trophy: Mark Giordano has been leading by example, bringing the Flames to the top of their division and the Western Conference. He's been phenomenal offensively and defensively. He really doesn't look like he's aging.
• Vezina Trophy: John Gibson is the only reason the Ducks are in the playoff hunt and not at the bottom of the standings. They're the first team since the 2013-14 Sabres to get fewer than 40 per cent of the high danger chances at 5-on-5.
• Hart Trophy: I don't think you can deny Connor McDavid this year; the Oilers are just so abysmal without him on the ice. Edmonton is closer to the playoffs than last year, and he's been even better than he was a year ago. McDavid is doing everything a player could possibly do to drag that team forward. If a team has to be in the playoffs to get your vote, I'd go with Gibson here, too.