After three poor shooting percentage seasons in a row, a lot of people thought Eric Staal was no longer an impact player. Somewhere in his mind, he must have thought so too, because as a 6-foot-4 centre with a career that wasn't too far off from a point-per-game average, Staal in 2016 signed for just $3.5 million per season on a three-year contract with the Minnesota Wild.
Maybe he really wanted to go to Minnesota, but given what free agents usually command, even after an off year, the term and salary were extreme bargains for the Wild. And it looks even better today: Staal posted 65 points last season and in 2017-18 he's up at a point-per-game and 36 goals after 67 games.
Staal is Minnesota's sixth-highest paid forward, and 10th-highest paid player, and yet here he is garnering Hart Trophy buzz for a spectacular season.
Staal is 11 points up on the next-highest scorer on the Wild (Mikael Granlund) and is 17th in league scoring, but is that enough to make him an MVP candidate? Staal's dominance on his own team is nowhere close to the 31-point gap between Taylor Hall and the next-highest scoring New Jersey Devil, or the 27-point gap between Anze Kopitar and the second-best Los Angeles King. So in order to make a case for Staal to be the MVP, you're going to have to go beyond point production.
In the spirit of that, let's compare Staal to three other major Hart Trophy candidates in Nikita Kucherov, Taylor Hall, and Anze Kopitar.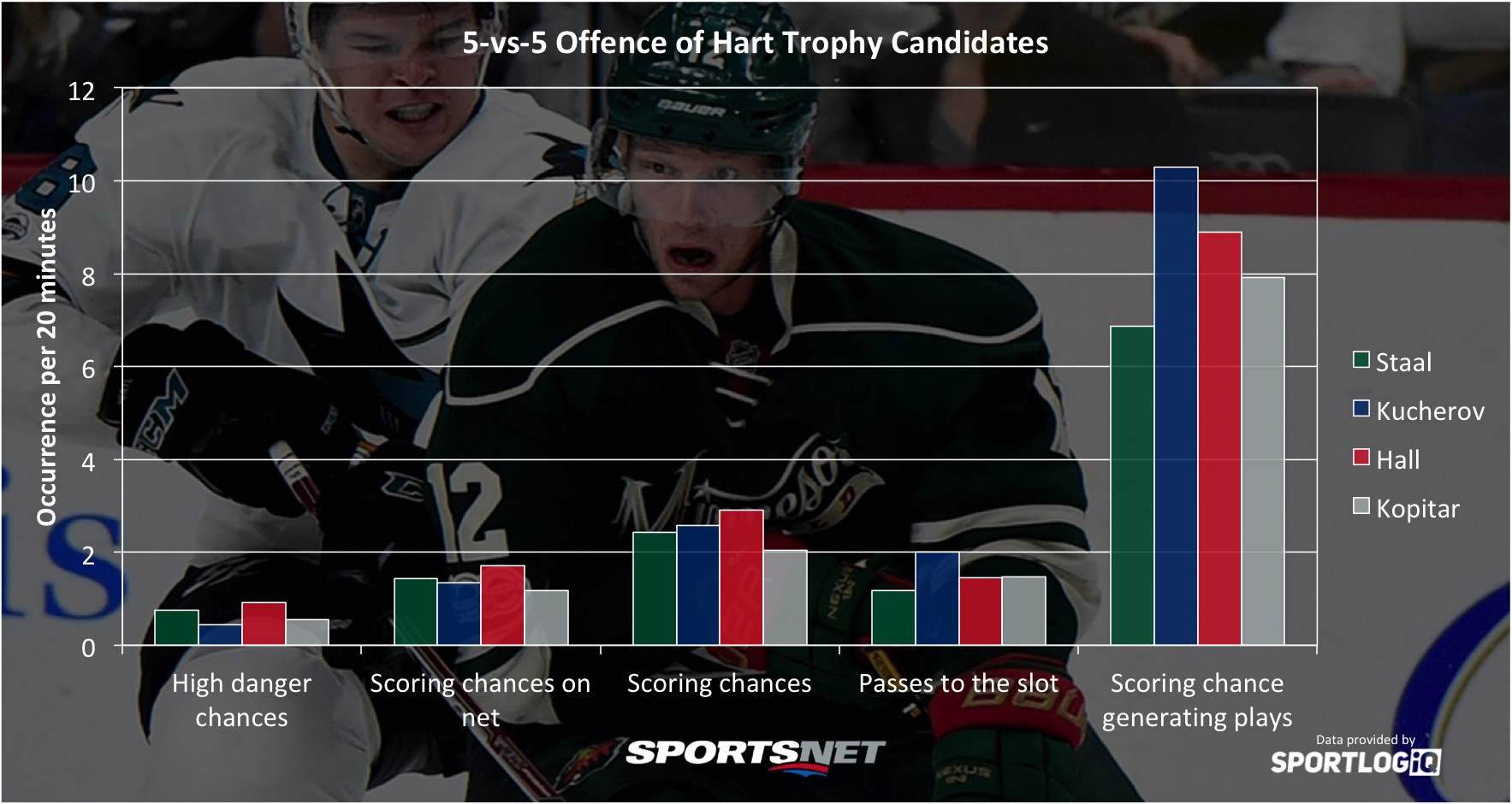 Offensively, Staal compares surprisingly well to the field, regularly getting high quality shots that have led to his team-leading 36 goals, 23 of which have come at even strength. He doesn't have the pure shooting skill of Kucherov, who is able to sacrifice some distance in his shots because he's so quick and deadly with the puck, and Staal's also not as aggressive with the puck as Hall, but he's still got excellent underlying numbers behind his goal scoring.
When it comes to playmaking, though, Staal falls off the pace, connecting on the fewest passes to the slot, and creating the fewest scoring chances for his teammates among this group — though he still creates at a first-line rate, so don't think he isn't valuable.
But if we look beyond just offence, is Staal's impact on his team's performance when he's on the ice enough to keep him in Hart consideration?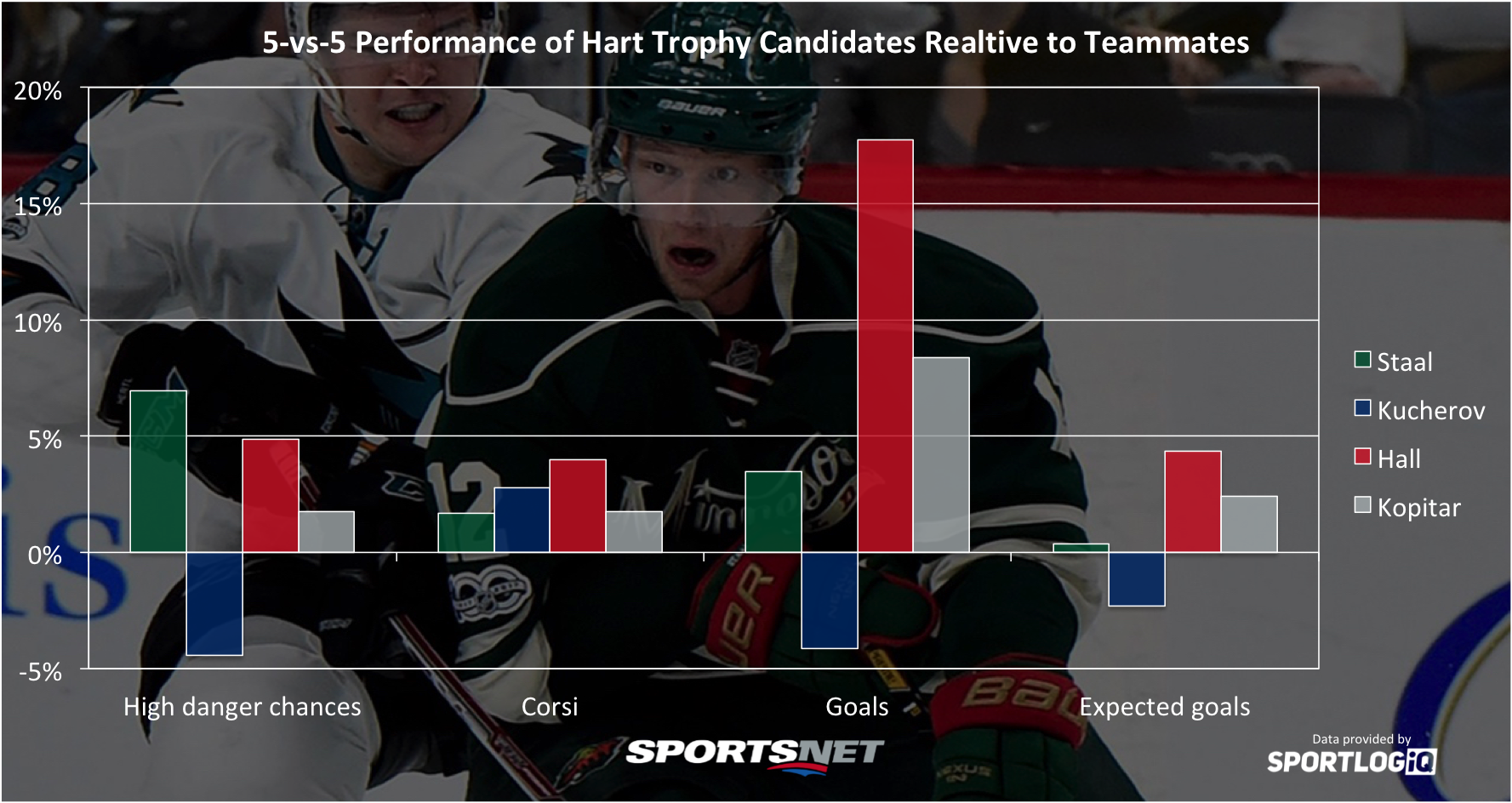 The biggest surprise looking at relative team performance statistics for these players is that Kucherov's teammates actually do better in high danger chances, goals, and even Corsica's expected goals model when he's not on the ice. That's seriously shocking, and for me, kicks him right out of the Hart conversation. Stellar offensive totals are great, but if your team isn't better with you on the ice than off, you can't be the league's most valuable player.
Staal, for his part, has a phenomenal impact on high danger chances, with the Wild controlling 60 per cent of them while he's on the ice, but looking at the rest of the categories, I don't think he's in the same tier as Taylor Hall or Anze Kopitar.
Hall and Kopitar aren't just dominant in all areas for team performance — you have to remember they're also the singular offensive engines on their teams, with 31 and 27 more points than the next-highest scorers.
Hall has had the bigger even strength impact this season, but Kopitar is also the Kings' shutdown forward and will likely have a good argument for the Selke Trophy once again. For me, it's down to those two in the MVP race, and it's extraordinarily tight.
You can't take anything away from Staal this season or last and he is arguably the most valuable player in the NHL relative to his salary outside of players on entry-level deals like Connor McDavid. But I don't think he's quite at the Hart Trophy level.
[relatedlinks]