With four losses in their first seven games, it hasn't been the same storybook start for the Vegas Golden Knights. This time last year they were 6-1-0 en route to a fairytale season that saw them reach the Stanley Cup Final.
Everyone knew there was some magic in the air last year. Vegas' attacking style built around speed and a bunch of forwards who were given the biggest roles they'd ever had put teams on their heels from Day 1.
But although they were pretty fortunate with how things turned out, they were a legitimately good team as well. Vegas outshot their opponents and moved the puck well in the offensive zone while doing a decent job defending in front of Marc-Andre Fleury.
Their one weakness last season was that they struggled to record high danger chances — Vegas preferred to set up more often in the high slot and dominate teams where there's a little more space. You could say they lacked a bit of net front presence.
This season is a very small sample, but let's look at how the Golden Knights are playing now compared to last season.
Shockingly, Vegas looks like a much better team across the board this season, which should worry some folks if they can get their mojo back.
Last season Vegas' goaltending was right around league average thanks to Fleury's injuries that caused a lot of goalie turnover, but they also scored on 8.86 per cent of their shots at 5-on-5, and 9.06 per cent of their shots overall. Those both ranked sixth in the league, which doesn't sound too crazy until you realize a bunch of players had to have career years to make it happen — they were an expansion team after all.
[snippet ID=3322139]
The biggest example of that was with William Karlsson, who scored 43 goals after averaging just 7.5 the previous two full seasons of his career.
More than tripling your career shooting percentage and scoring 70 per cent of your career goals in one season is about as crazy of an outlier as it gets. This season Karlsson didn't score his first goal until his seventh game, but what do his underlying scoring numbers look like compared to past seasons?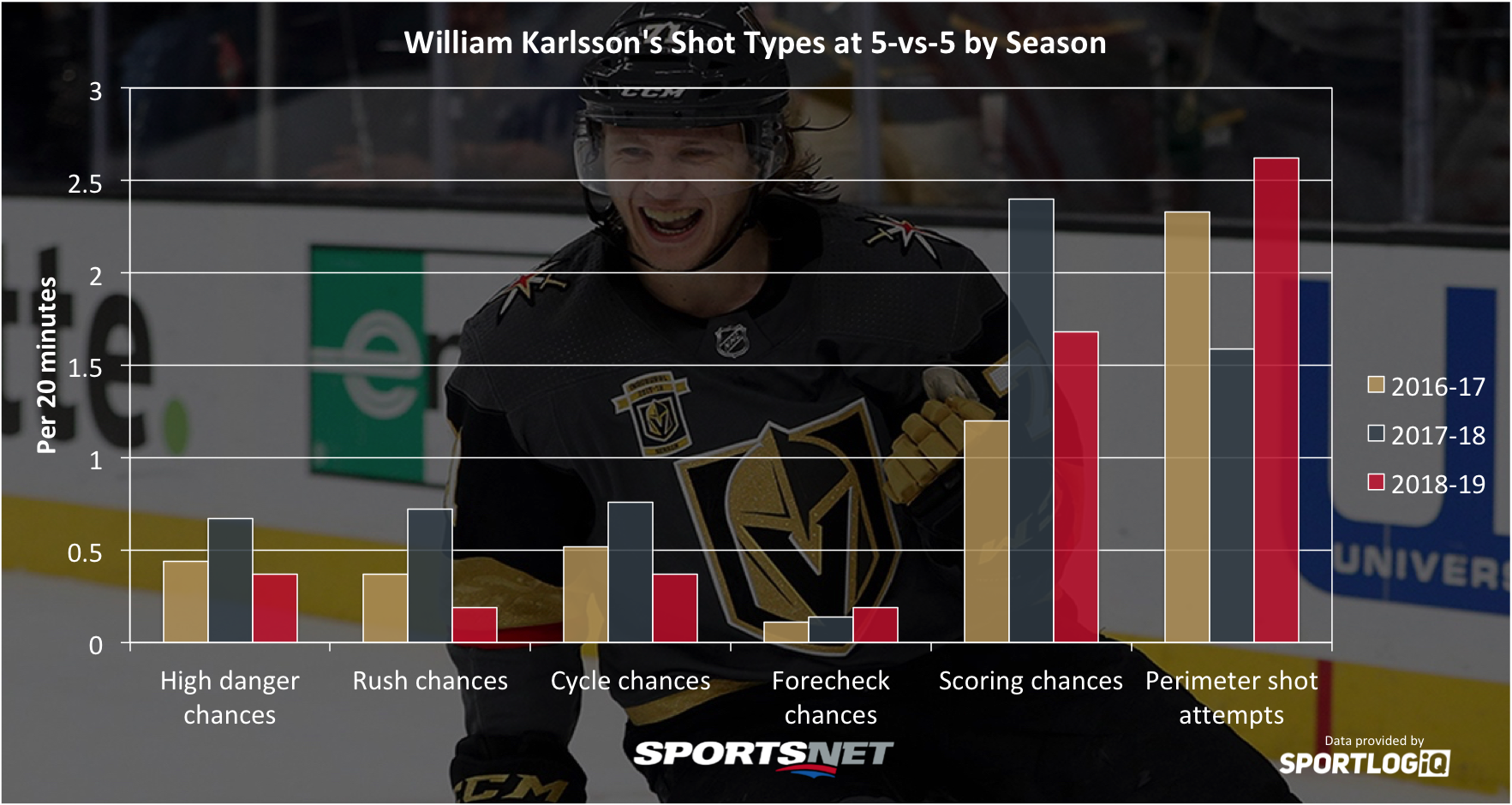 After a big jump up in his shooting last season, Karlsson appears to be falling into old habits. On average he's shooting from six feet further out from the net than last season and is far too willing to shoot from outside the slot.
And here's the other thing about Karlsson's shooting percentage last season: even if every single shot he took was from the high danger area, his 23.4 shooting percentage would still be higher than league average. And while he was a decent scoring chance producer, he was by no means in the same realm as Alex Ovechkin, Vladimir Tarasenko, or other players who score around 40 goals per season.
Overall last season Karlsson ranked 56th in total scoring chances, and 80th in high danger chances. Those are still the numbers of a strong goal scorer, and a top-line shooter in the NHL, but not a 40-goal guy.
And therein lies the problem for Vegas this year. They weren't that lucky by the traditional metric of PDO, but several of their players – including Fleury — had to have career years to put up average percentages.
Vegas is a fast, hard-working team that has a lot of depth, but Karlsson's normal level of performance might be closer to 25 goals. And despite an across the board improvement in play so far this season, even if the Golden Knights keep it up they're unlikely to hit the heights they did last year.
They should be a playoff team, and these early-season scoring troubles where they're converting less than six per cent of their shots at 5-on-5 are likely a blip, but Vegas is a team that could end up on the bubble.
[relatedlinks]