When news broke that Erik and Melinda Karlsson had filed an order of protection against Mike Hoffman's long time girlfriend Monika Caryk based on accusations of months of cyber bullying and online harassment, there was no doubt that the Senators were going to lose any Hoffman trade.
However, even before the news about the order of protection broke, there were rumours of turmoil between the Karlsson and Hoffman families going around, and based on a few people I talked to in different markets, it wasn't just known in Ottawa.
Unfortunately for GM Pierre Dorion and the Senators, who no doubt mismanaged this situation, they were stuck in an unenviable position. Even if they do trade Erik Karlsson, the situation with Hoffman was too toxic to allow to continue, so they had to make a trade, and now every team was aware of the situation.
[snippet id=3816507]
No matter what the off-ice situation was, Hoffman has been one of Ottawa's best players for years now, scoring 22 or more goals in each of the past four seasons, and averaging almost 59 points per 82 games over that time.
At the start of the 2017-18 season I had him ranked as the sixth-best left winger in the league out of those who had played 2000-plus minutes at 5-on-5 over the previous three seasons. He was ranked so highly due to his above average play without the puck and in transition, and borderline elite level offensive contributions on a team without much firepower.
Losing a player like that was always going to hurt the Sens, but in a situation where you're going to get pennies on the dollar, it's even worse. So the question then is how much of a downgrade were they forced to take?
For the sake of argument, let's pretend Cody Donaghey and Julius Bergman, two 22-year-old AHL level defencemen, are equivalent assets, and we'll ignore the fifth- and sixth-round draft picks exchanged in the deal because the value is comparable. That essentially makes the trade Mike Hoffman for Mikkel Boedker. We can ignore the subsequent trade by San Jose and Florida because it doesn't directly impact the Senators, so how big of a drop off is there from Hoffman to Boedker?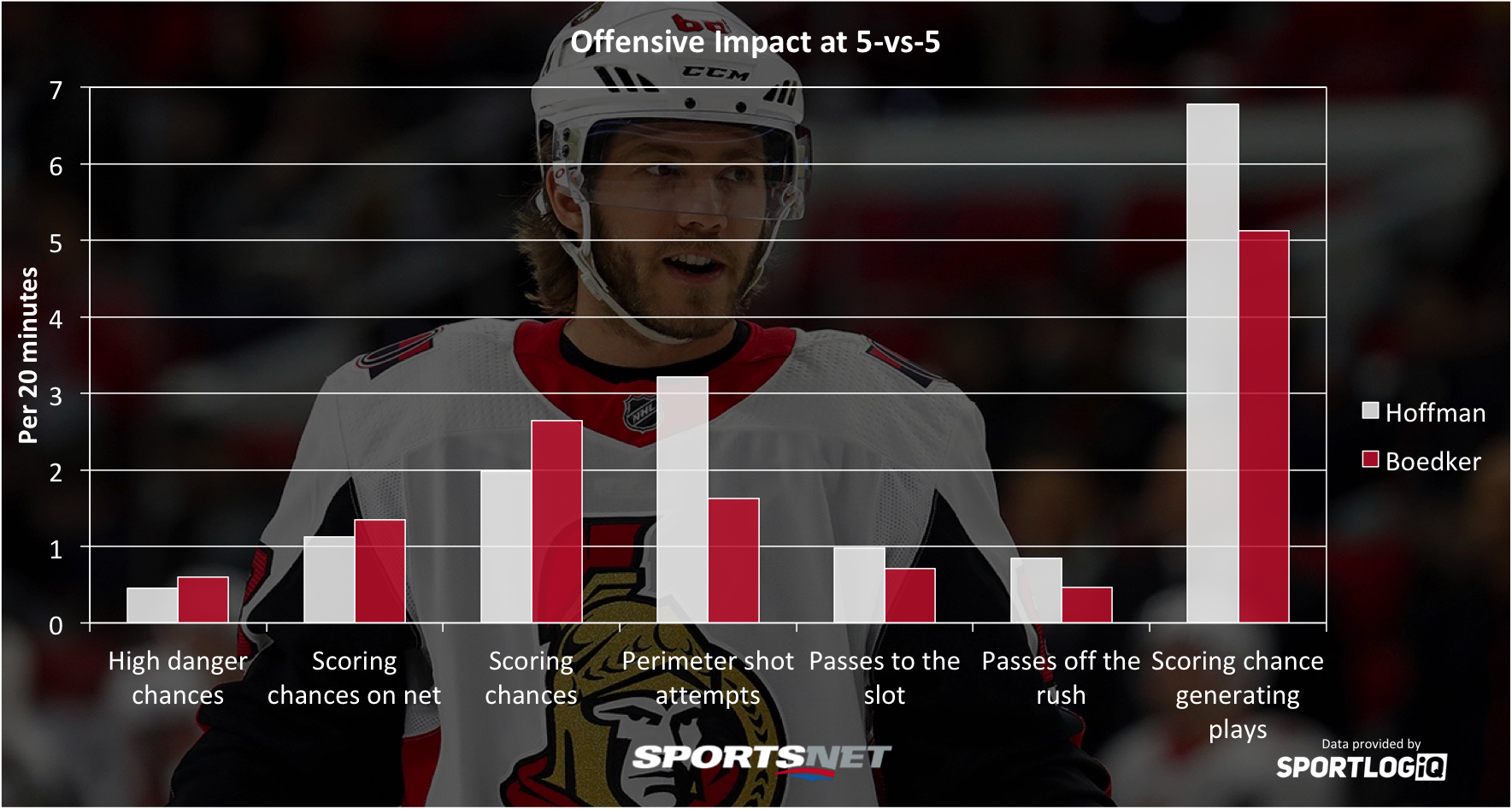 On the surface of breaking down these two players, it doesn't look to be as bad of a deal for Ottawa as the reaction would make you think, but there are several layers of context that need to be added to the above graph.
The first layer is that the Senators last season were the worst team in the NHL at generating scoring chances at 5-on-5, while the Sharks were top-10, so while Hoffman's raw scoring chance numbers were lower, a good portion of that was due to the team he played on, and the team Boedker played on.
Another bit of context is that Hoffman has never really been a high quality shot producer in terms of location; his best skill is his ability to score from a distance with consistency. Of players with that skill set, Hoffman shoots from further out than most — in fact he shoots from further out than any big goal scorer except for Patrik Laine, yet Hoffman scores at an above average rate anyway.
Boedker did a good job getting in tight to the net last season, but he doesn't shoot often enough in total to be a big goal scorer, with his career high being just 19 scored way back in 2013-14.
[snippet id=3317857]
On top of Hoffman being a better goal scorer despite taking poorer quality shots, he is also a vastly superior playmaker, recording more passes to the slot, passes off the rush, and creating scoring chances for his teammates at a top-line rate despite playing on a team that rarely created chances overall.
In terms of playmaking, Boedker is a below average NHL player, which means that unless he has a huge shooting percentage year to compensate for his low shot totals, he's a third line offensive player.
The Senators were up against a wall with this trade, but to downgrade in talent this severely while also giving up the higher draft pick is extremely confusing. The only thing that might be a saving grace for the Senators is that Boedker skates like the wind, much like Matt Duchene. Perhaps they're going for a team speed approach like Vegas did last year?
[relatedlinks]