Last year around this time, with the help of some smart people, I posted a series of articles ranking the top 20 NHL players at each position over the previous three seasons. We're going to do the same thing this year, but change it up fairly significantly as well.
Like last year, the list will be limited to players who have participated in 2000-plus 5-on-5 minutes over the past three seasons in order to get an adequate sample size of play to draw from.
This is a complicated task that requires outside input, and whenever I take on a project this large I like to rely a little on people smarter than myself. The framework of the rankings is built on the input I got last year from Dom Luszczyszyn, Steve Burtch, and Jonathan Willis, while this year I received additional input from Luszczyszyn again and Dominic Galamini, as well as the ideas of smart people like Manny Perry and Tyler Dellow.
Statistics for this project were collected from Sportlogiq, Natural Stat Trick, Puck IQ, Hockey Reference, NHL.com, and Luszczyszyn's Game Score database. Each statistic was individually weighted in categories, scored as a percentile from the highest score at the position in order to award an overall to each player.
This year for all forward positions I adjusted the categories slightly, taking five points from transition play and adding it to offence, while adding a new category for difficulty of minutes played that is applied as a multiplier to all categories. As such, the highest theoretical score would now be 125 points instead of 100 if a player were to be the best in the NHL at every single statistic, while playing the toughest minutes in every category in the difficulty matrix. But since no one scores that high, practically we'll keep the numbers out of 100 even after the adjustment. Because wingers have less defensive responsibility than centres, the breakdown is 60 points for offence, 25 for transition play, and 15 for defensive play.
Also new this year is weighting season scores by how recent they are, using the same breakdown as Galamini does with his HERO charts; 22.2 per cent for 2014-15, 33.3 per cent for 2015-16, and 44.5 per cent for 2016-17.
Here are the statistics used in each category:
For offence: 5-on-5 and power play goals, primary assists, secondary assists, scoring chances, high-danger scoring chances, scoring chances generated for teammates, shot attempts, passes to the slot completed, penalties drawn, and on-ice goals for relative to teammates per 60 minutes, and offensive zone pass completion rate.
For transition play: 5-on-5 outlet passes, stretch passes, controlled carries out of the defensive zone, neutral zone passes, controlled entries into the offensive zone per 60 minutes, Corsi, and Corsi relative to teammates, and pass completion rates relative to teammates in the defensive and neutral zones.
For defence: 5-on-5 and shorthanded loose puck recoveries by zone, pass blocks, stick checks, body checks, penalties taken, on-ice goals-against relative to teammates, on-ice shot attempts against relative to teammates per 60 minutes, and turnover rates relative to teammates by zone.
For difficulty of minutes played: Puck IQ's competition-faced percentages, Game Score's quality of competition, Game Score's quality of teammates, PDO, offensive zone starts percentage, 5-on-5 time-on-ice, and overall time-on-ice.
With all that information out of the way, let's get to the rankings. This year we're adding a few extra, doing the top 23 at each position. For the left wing position, 80 players qualified.
23. Gabriel Landeskog
Difficulty Matrix: 1.17/1.25
Offence: 28.35/60 | Transition: 17.45/25 | Defence: 10.74/15
Total: 56.54/100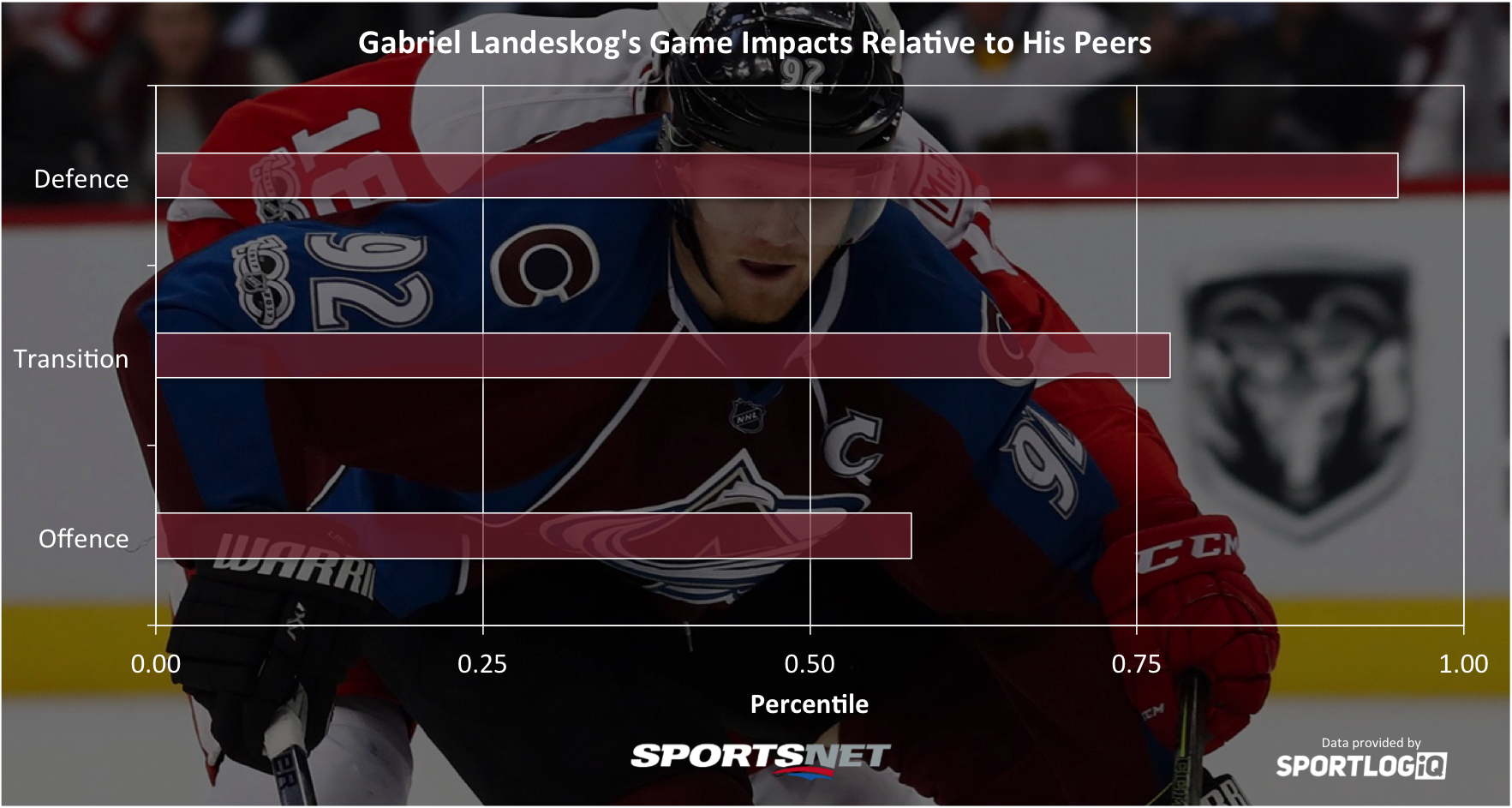 Landeskog's offensive numbers declined for a third-straight season, which lead many to believe he's no longer the player he looked like he would be when he broke into the league. But how much of that decline is on him is debatable when you look at the gloomy situation the Colorado Avalanche are in.
Even with his offensive game disappearing, Landeskog remains an extremely strong transition and defensive player, one of the best wingers in the NHL without the puck. It's tough to see sometimes because the Avs have been such a mess, but Landeskog is a puck recovery demon, and relative to his teammates he's incredibly safe with the puck on his stick. If Colorado ever improves, he's going to be a big part of it.
22. Andre Burakovsky
Difficulty Matrix: 1.10/1.25
Offence: 31.60/60 | Transition: 16.80/25 | Defence: 8.45/15
Total: 56.85/100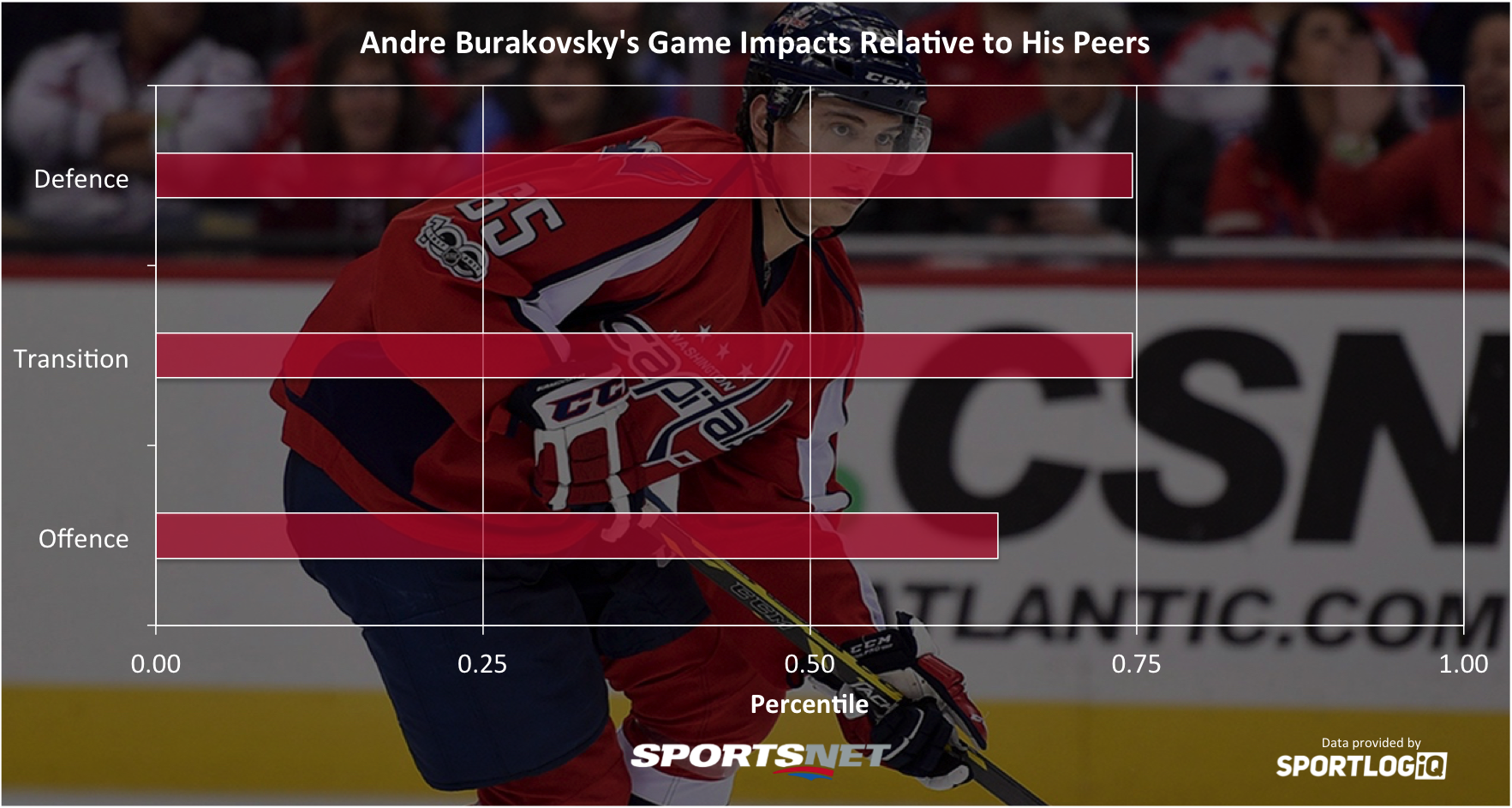 Everyone seems to be predicting a big offensive breakout for Burakovsky, and if that's the case he's going to be shooting up the rankings next year, because he's already a legitimately great player. He may not have the eye-popping raw numbers yet, but he's been consistently strong offensively in a limited role, while his transition and defensive games take leaps each year.
Burakovsky's lone weakness seems to be a high turnover rate in the neutral zone, which may be a result of him trying to do a little too much at times, but that's also a product of being young. If he can simplify his game just a little bit while maintaining his creativity, Washington will have yet another dynamite young player.
21. James Neal
Difficulty Matrix: 1.14/1.25
Offence: 36.64/60 | Transition: 13.25/25 | Defence: 8.39/15
Total: 58.27/100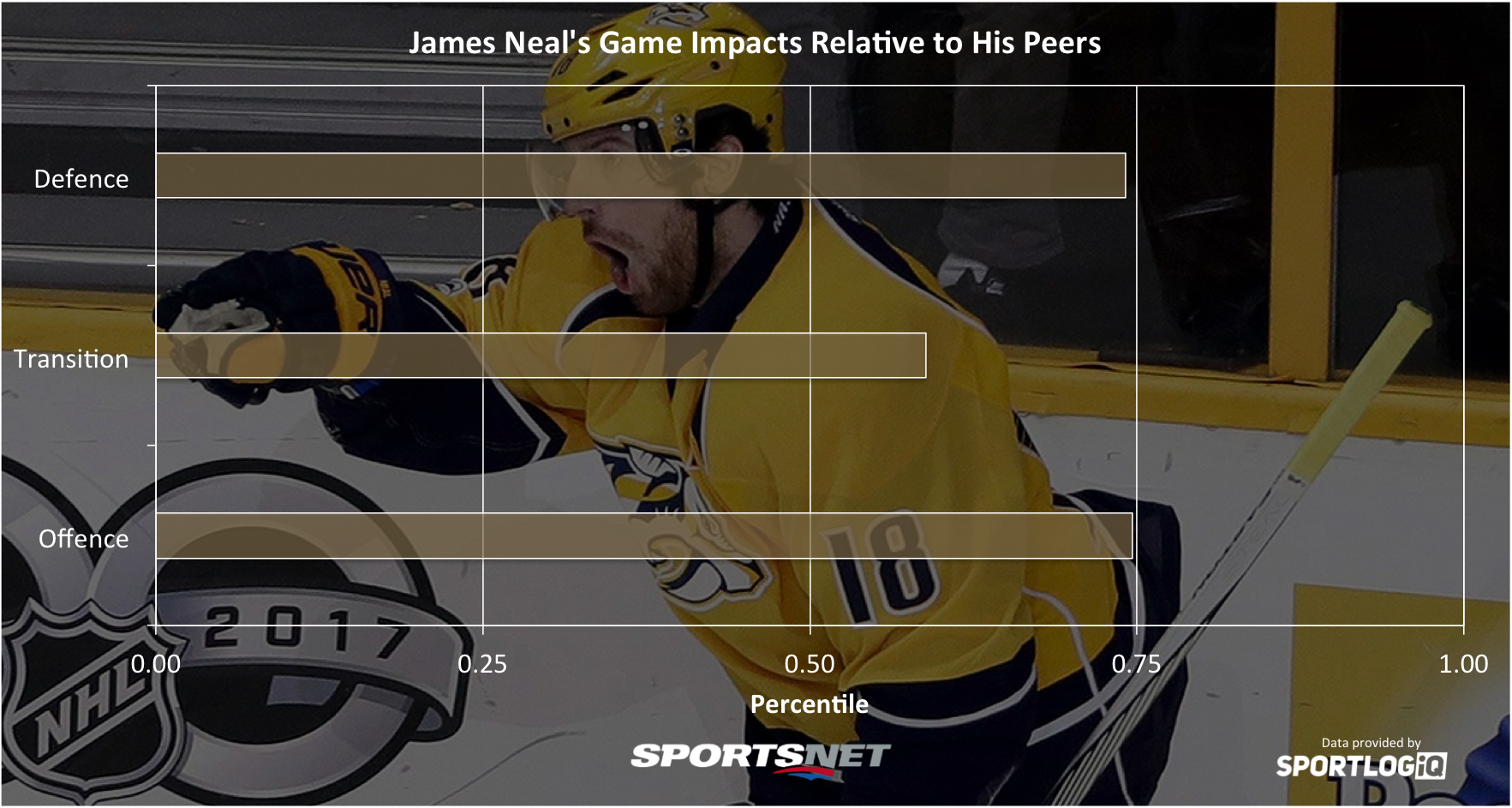 James Neal has the reputation of a fairly one-dimensional sniper, but he's surprisingly strong on the defensive side of the puck — his biggest strength is rarely turning the puck over in the defensive zone. The first Vegas Golden Knight to make the rankings, Neal should be the cornerstone of their attack.
There are a few worrying things about Neal, as year-over-year he's been declining in each area of the game, but he remains a wicked finisher when the puck gets to him in the right spots, and although his shot attempts have been falling off, his scoring chances haven't. Neal remains most deadly on the power play, where the Predators will likely miss him the most.
20. Ondrej Palat
Difficulty Matrix: 1.14/1.25
Offence: 34.61/60 | Transition: 15.40/25 | Defence: 8.49/15
Total: 58.50/100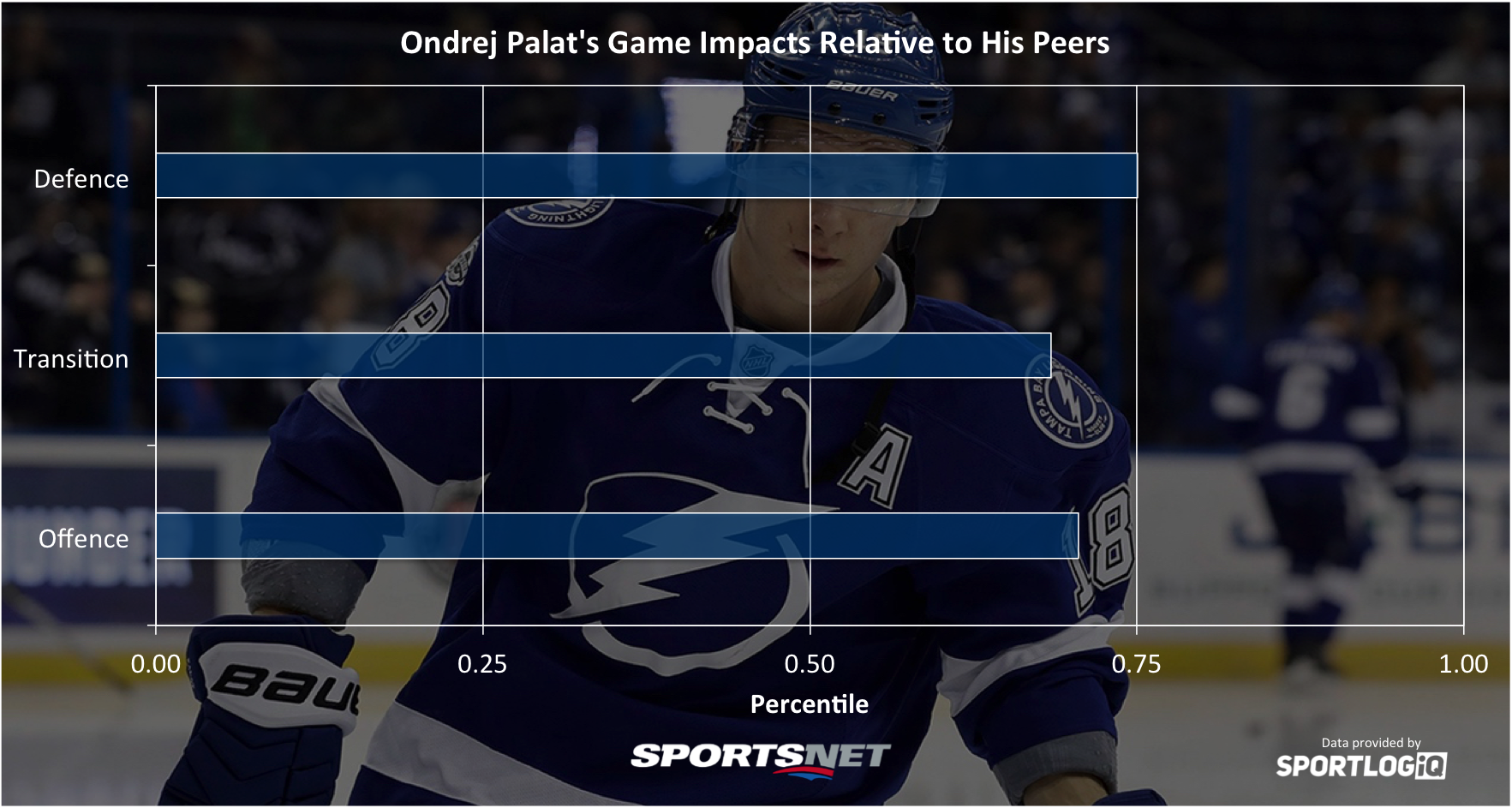 Palat dropped a bit from last year's ranking, but part of the reason for that is competition among left wingers is very strong. Palat is a do-everything sort of player: he can play shutdown minutes against top lines, he can run your transition game, and he can punish opposing teams with slick skill in the offensive zone.
With all the injuries and changes in Tampa Bay the past couple years, Palat has stayed very consistent. He hasn't cracked 20 goals in the past three years, but his impact on goals for his team is very strong.
19. Jaden Schwartz
Difficulty Matrix: 1.16/1.25
Offence: 32.63/60 | Transition: 17.46/25 | Defence: 9.71/15
Total: 59.81/100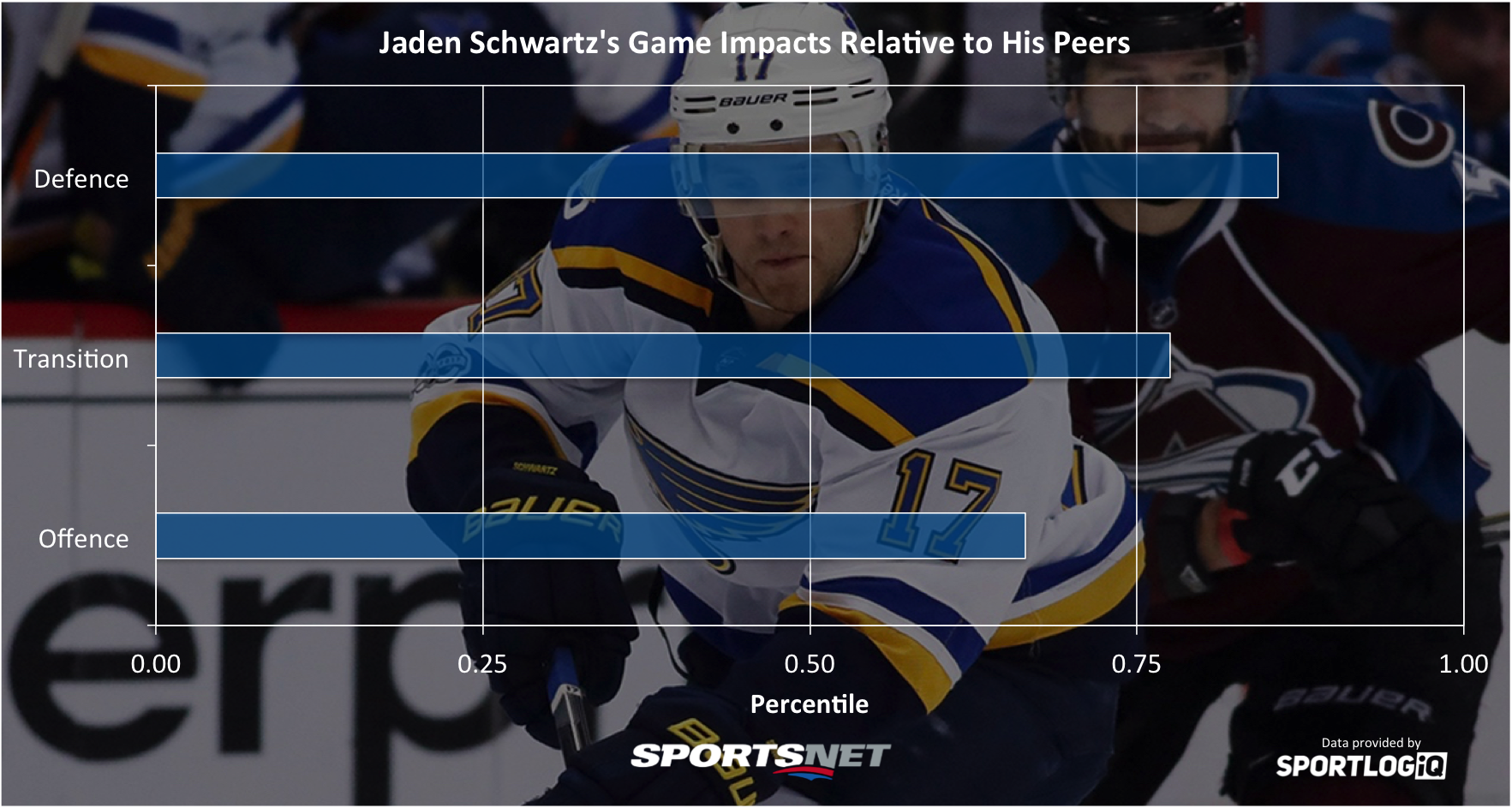 Schwartz is another player who dropped considerably from last year's rankings, mostly due to greater focus on awarding points for direct offence instead of transition play for forwards. That slight alteration mixed with a slight drop in his goal totals the past couple years was enough to drop him down 10 spots.
Schwartz has seen a big increase in his defensive impact recently, becoming more aggressive defending opposing puck carriers and stripping the puck off them more effectively to send play the other direction.
18. Daniel Sedin
Difficulty Matrix: 1.18/1.25
Offence: 33.95/60 | Transition: 16.67/25 | Defence: 9.52/15
Total: 60.14/100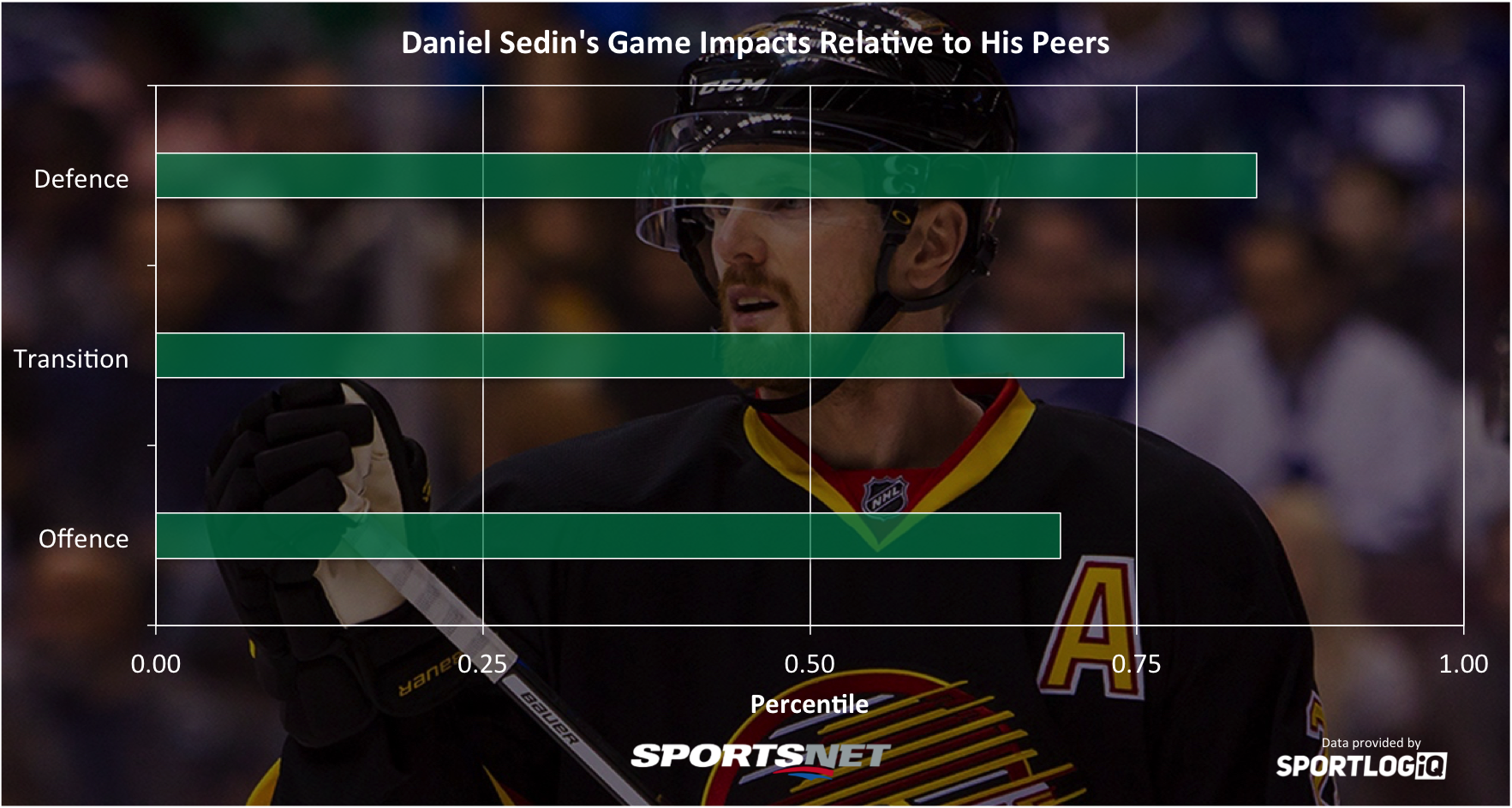 The Sedins aren't what they were, but you're fooling yourself if you don't think these guys are still great. Even with all the turmoil in Vancouver the twins keep playing their own way and getting results.
What's most impressive to me about Daniel are his defensive numbers, which are spectacular without playing enough shorthanded to get any credit for it. As you might expect from a Sedin, the biggest impact he has on his team's defensive results is when he has the puck on his stick, as he's among the league's safest passers, and very rarely turns the puck over in his own zone.
17. Henrik Zetterberg
Difficulty Matrix: 1.20/1.25
Offence: 33.45/60 | Transition: 18.73/25 | Defence: 9.49/15
Total: 61.67/100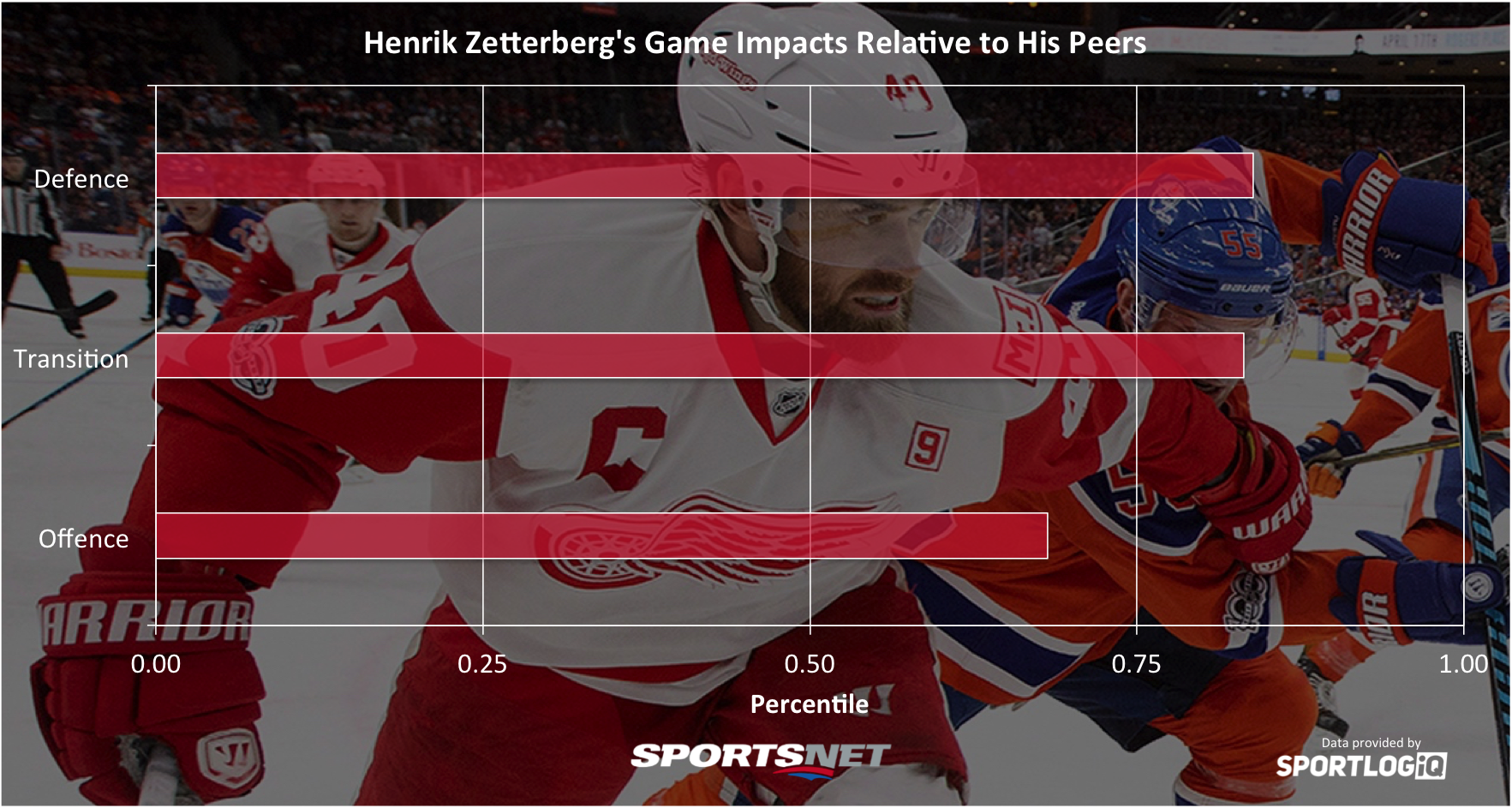 A year ago Zetterberg looked like he might be in steep decline, and his goal scoring has been for several years now, but a bounce-back season of high-level playmaking and 200-foot play has him looking like a younger player.
Zetterberg improved in all areas of the game year-over-year despite the Red Wings taking a step back, perhaps a sign of a healthy season that has been eluding him for a while. Intelligence is what drives his game these days, making smart decisions at the blue lines and through the neutral zone, paired with high pass success rates and low turnover rates despite playing the second-toughest minutes of any winger in the game over the past three years. Hank's job ain't easy.
16. Nikolaj Ehlers
Difficulty Matrix: 1.14/1.25
Offence: 37.23/60 | Transition: 17.63/25 | Defence: 7.37/15
Total: 62.23/100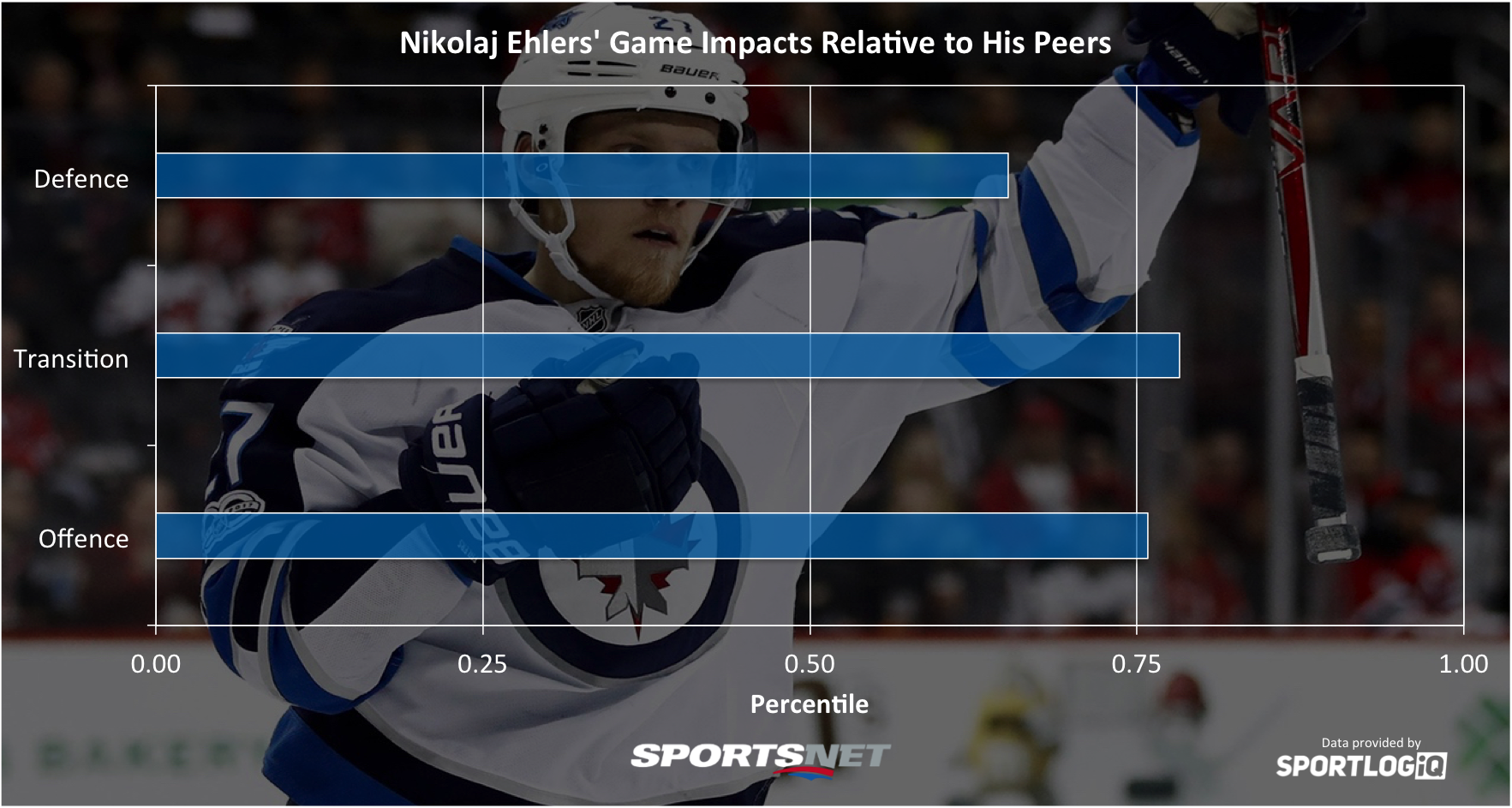 Maybe he's in the shadow of his incredible linemates in Winnipeg, but don't sleep on Nikolaj Ehlers, who has quickly become an excellent player in his own right. Ehlers is one of the most effective wingers in the game at bringing the puck up the ice with control, and once he gets there he's nearly equally talented at putting the puck in the net, or on a teammate's stick in scoring position.
Young players often leave a bit to be desired on defence, but Ehlers is already very strong without the puck, using his speed to chase down loose pucks, and he's a great passer in all zones once he has it.
15. James van Riemsdyk
Difficulty Matrix: 1.13/1.25
Offence: 42.36/60 | Transition: 11.58/25 | Defence: 8.74/15
Total: 62.68/100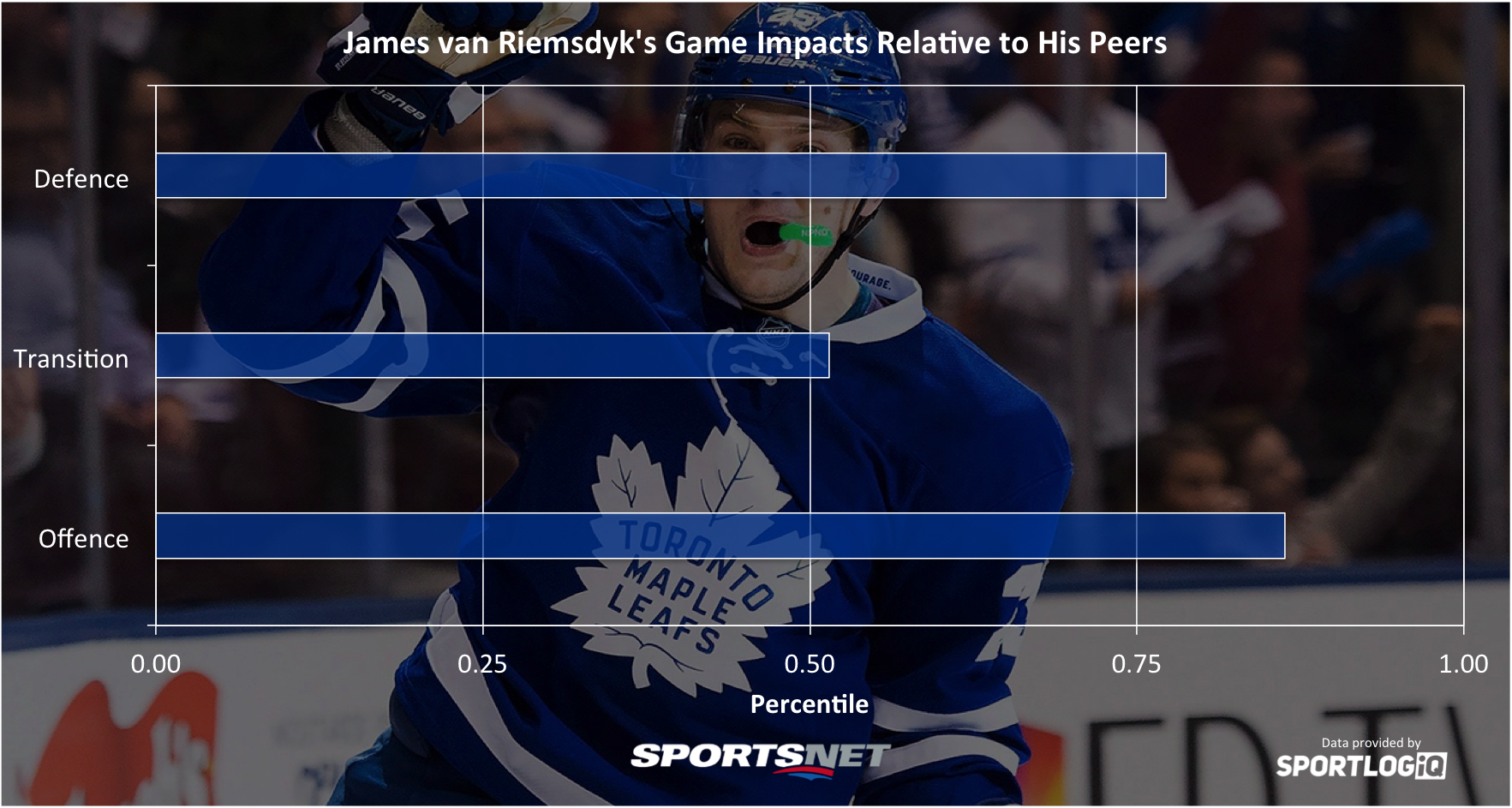 Lots of people consider James van Riemsdyk a defensive liability, but without the puck he's actually quite strong, using his size and physicality to win battles in all three zones. Where he really struggles is transitioning the puck out of the defensive zone, which can lead to a lot of time hemmed in defending. He doesn't turn the puck over much in the defensive zone, because he prefers to just lob it into the neutral zone, which opponents then recover and resume the attack more often than not.
Whatever his struggles in transition, though, a bit of support from teammates goes a long way to help take advantage of where van Riemsdyk does most of his damage: the net-front. Whether it's roofing pucks from in tight, banging home rebounds, or smart little passes to open teammates around the crease, he's a goal machine.
14. Tomas Tatar
Difficulty Matrix: 1.15/1.25
Offence: 34.80/60 | Transition: 18.38/25 | Defence: 9.96/15
Total: 63.14/100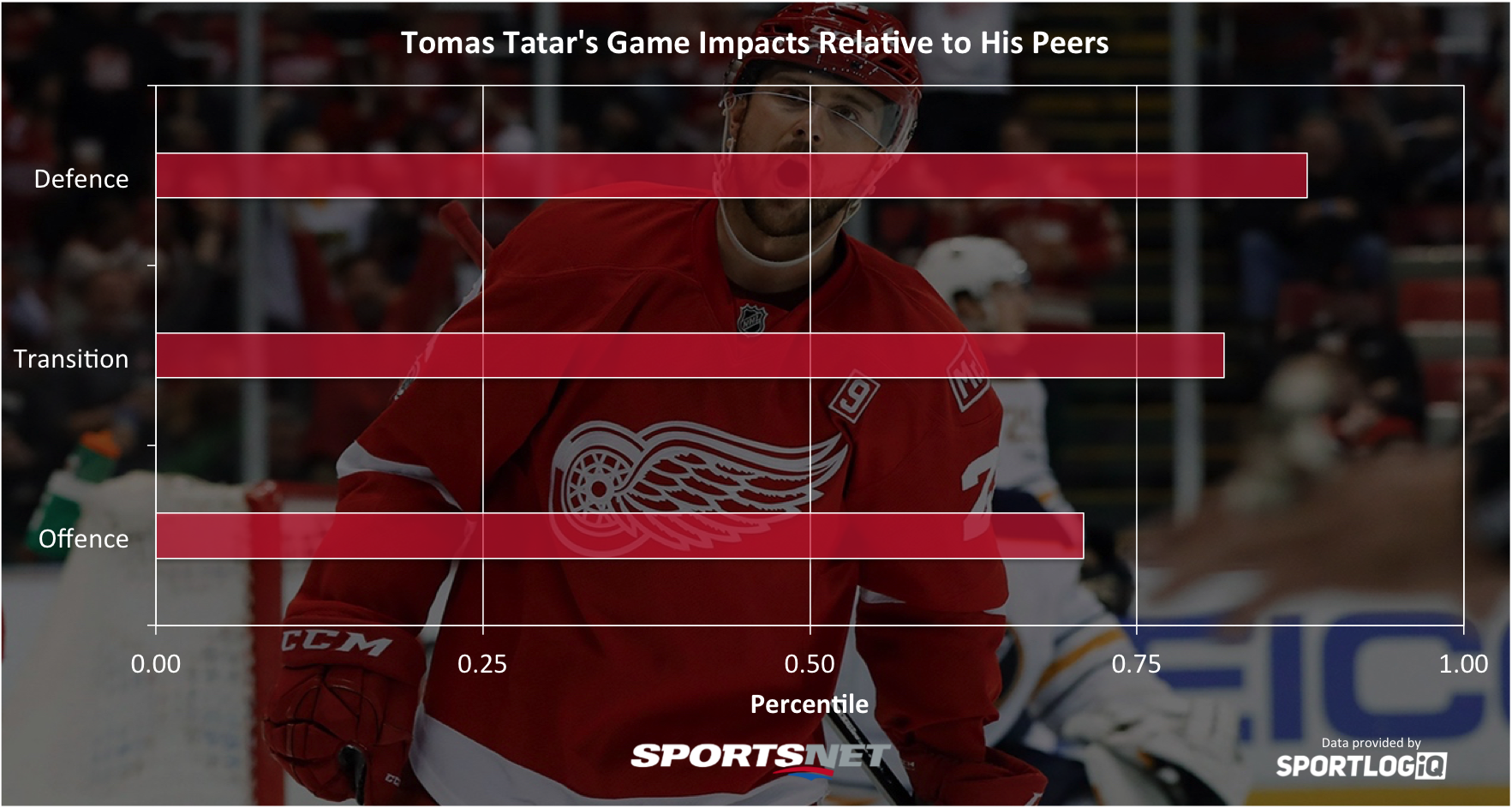 A big drop for Tatar in the rankings has more to do with other players excelling than him struggling. His offensive numbers have fallen a little bit the past two seasons, but Detroit as a team has fallen off too, so I doubt he shares much of the blame there. Even still, he recorded his third-straight 20-goal season last year, and remains an excellent two-way player.
A strong passing game and balanced defensive style with strong positioning allows Tatar to put up stellar defensive results relative to his teammates and limits the amount of time he spends defending.
13. Alex Ovechkin
Difficulty Matrix: 1.14/1.25
Offence: 47.34/60 | Transition: 12.86/25 | Defence: 4.10/15
Total: 64.31/100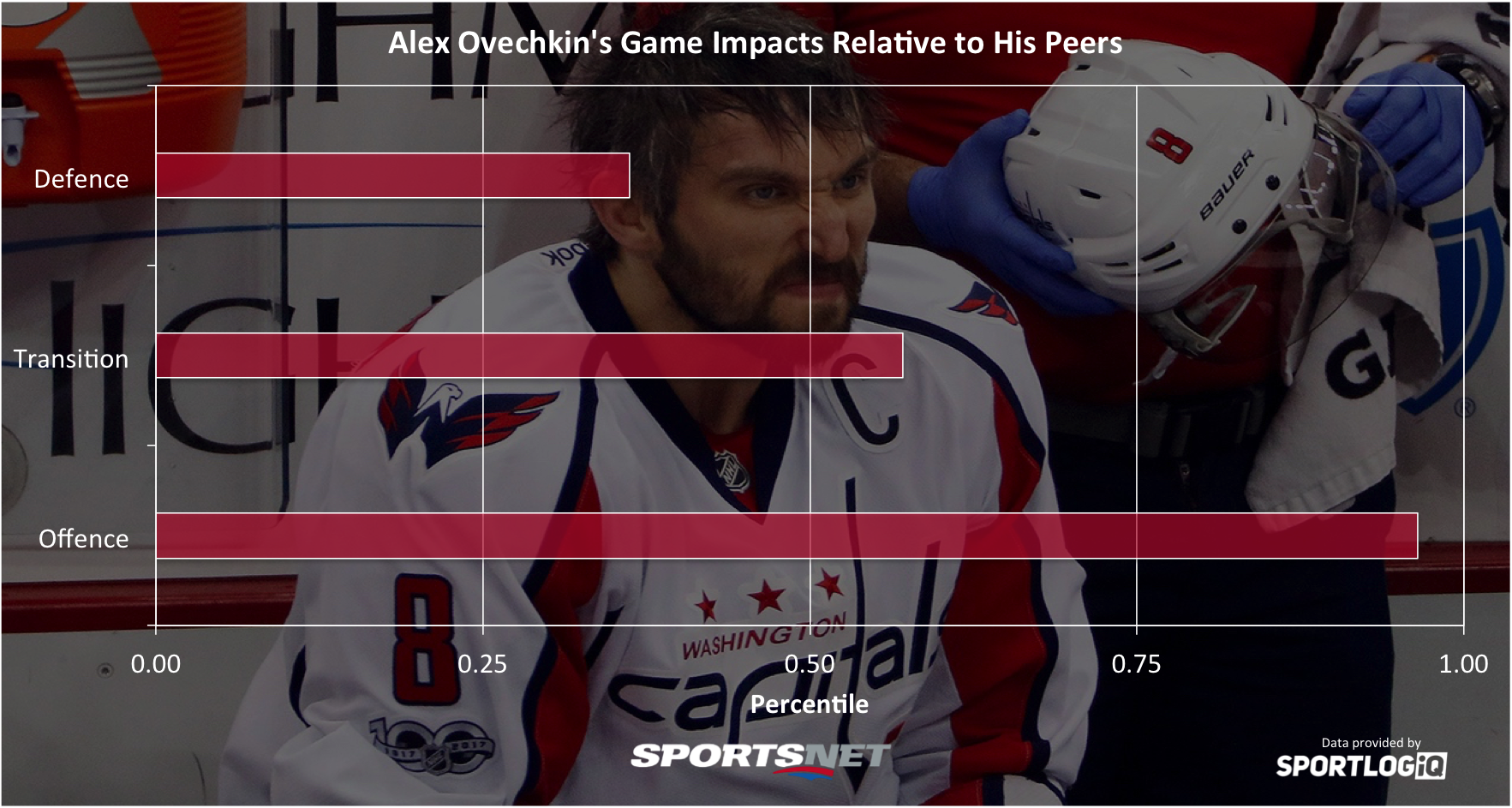 There was a time when Ovechkin was an amazing transition player, but his game seems to be declining there. Add to that the fact he's really rough around the edges defensively, and you get a player who is among the elite of the elite offensively, but no longer what he was at his peak.
Everyone knows what Ovechkin's strengths are, where he's going to shoot from, and how often his team will look to find him, but he still gets open almost every time. That's probably a more important talent than even his shot is, and he's got an elite one of those too.
12. Chris Kreider
Difficulty Matrix: 1.15/1.25
Offence: 37.31/60 | Transition: 17.89/25 | Defence: 9.89/15
Total: 65.09/100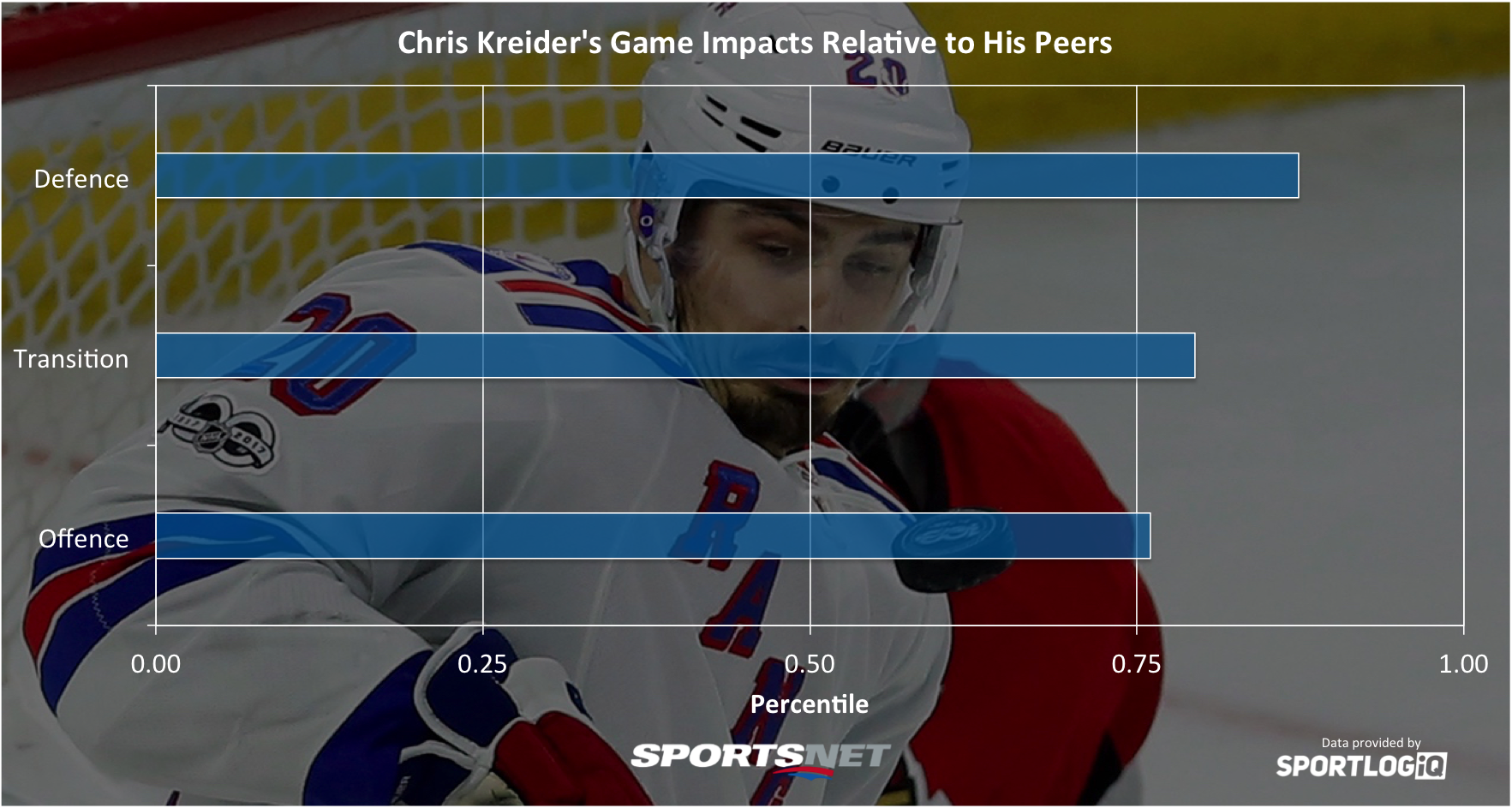 Last season was a big step forward for Kreider, as he established himself as much more than a second line option for the Rangers by focusing on getting into scoring positions far more often, leading to a huge increase in even-strength scoring.
At the same time, Kreider took steps in his defensive and transition games, using his size and speed more to his advantage than any other time in his career. After some inconsistency early on, Kreider seems to have developed into what the Rangers always envisioned he would become: a dominant power forward.
11. Jeff Skinner
Difficulty Matrix: 1.18/1.25
Offence: 49.08/60 | Transition: 11.56/25 | Defence: 4.48/15
Total: 65.12/100

Skinner is the ultimate in elite, one-dimensional players. He struggles to get to the offensive zone, but once he's there he's an offensive wizard. Because Skinner's Hurricanes have struggled to score so much the past few years, I don't think many people recognize just how dangerous he's been on offence.
His career-high 37 goals last season didn't lead the league, but considering how little help he got on offence, you really have to be impressed by him. Skinner is a high-danger scoring chance machine, on par with the most dangerous scorers in the league such as Vladimir Tarasenko and Auston Matthews. Just don't ask him to play defence.
10. Brandon Saad
Difficulty Matrix: 1.16/1.25
Offence: 38.19/60 | Transition: 17.81/25 | Defence: 9.65/15
Total: 65.65/100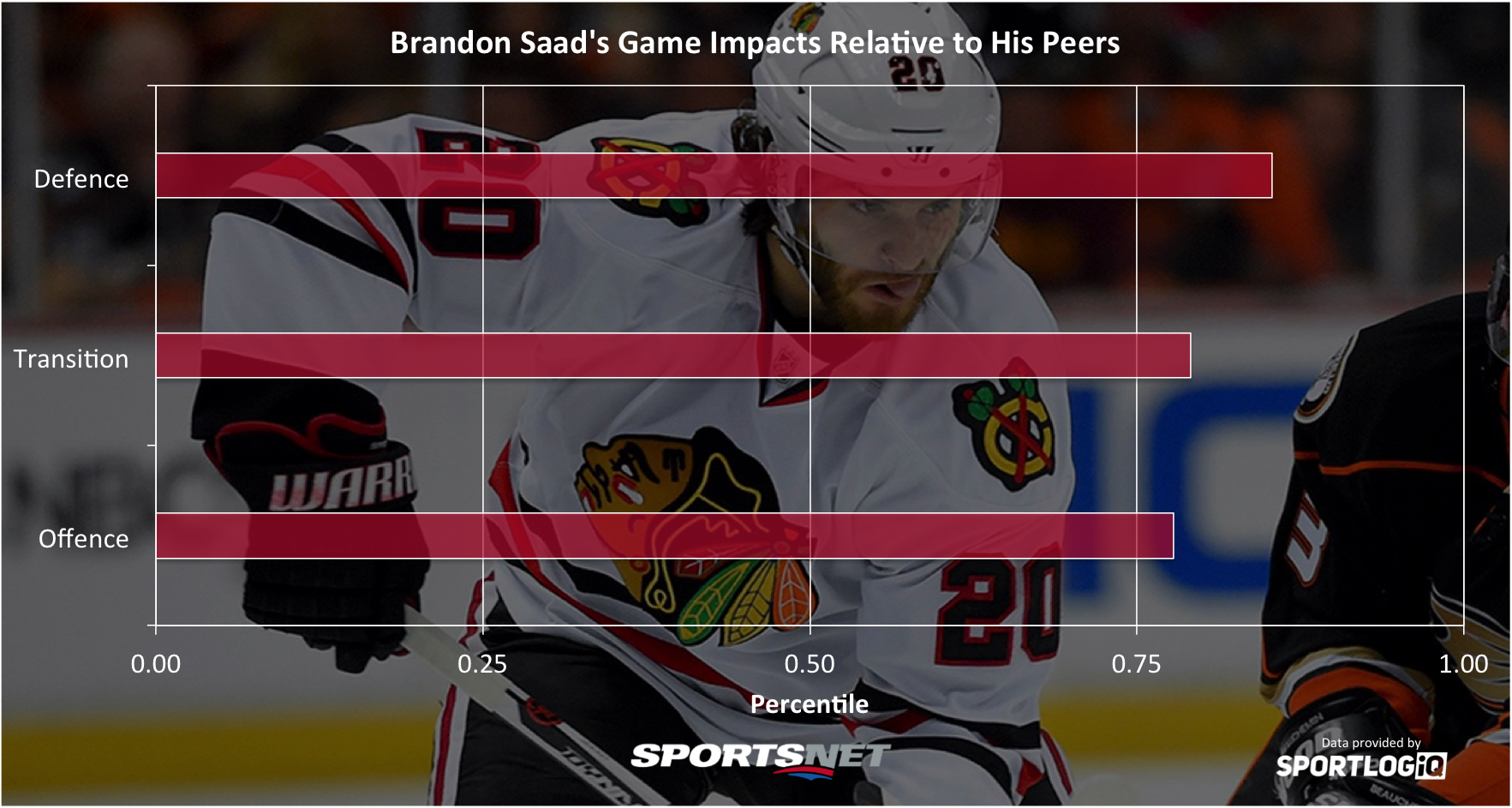 Heading back to where it all began this season, Saad has established himself as one of the NHL's most versatile wingers, following in the footsteps of his mentor of sorts, Marian Hossa.
Saad is a dangerous scorer and playmaker, but what sets him apart from his peers is a general skill level in all areas with no real weakness, and the fact that from the beginning of his career it was drilled into him to make smart decisions with the puck. Should he end up on a line with his old buddy Jonathan Toews, expect to see a bounce-back year from the centre as well.
9. Jonathan Huberdeau
Difficulty Matrix: 1.14/1.25
Offence: 39.30/60 | Transition: 19.67/25 | Defence: 7.65/15
Total: 66.62/100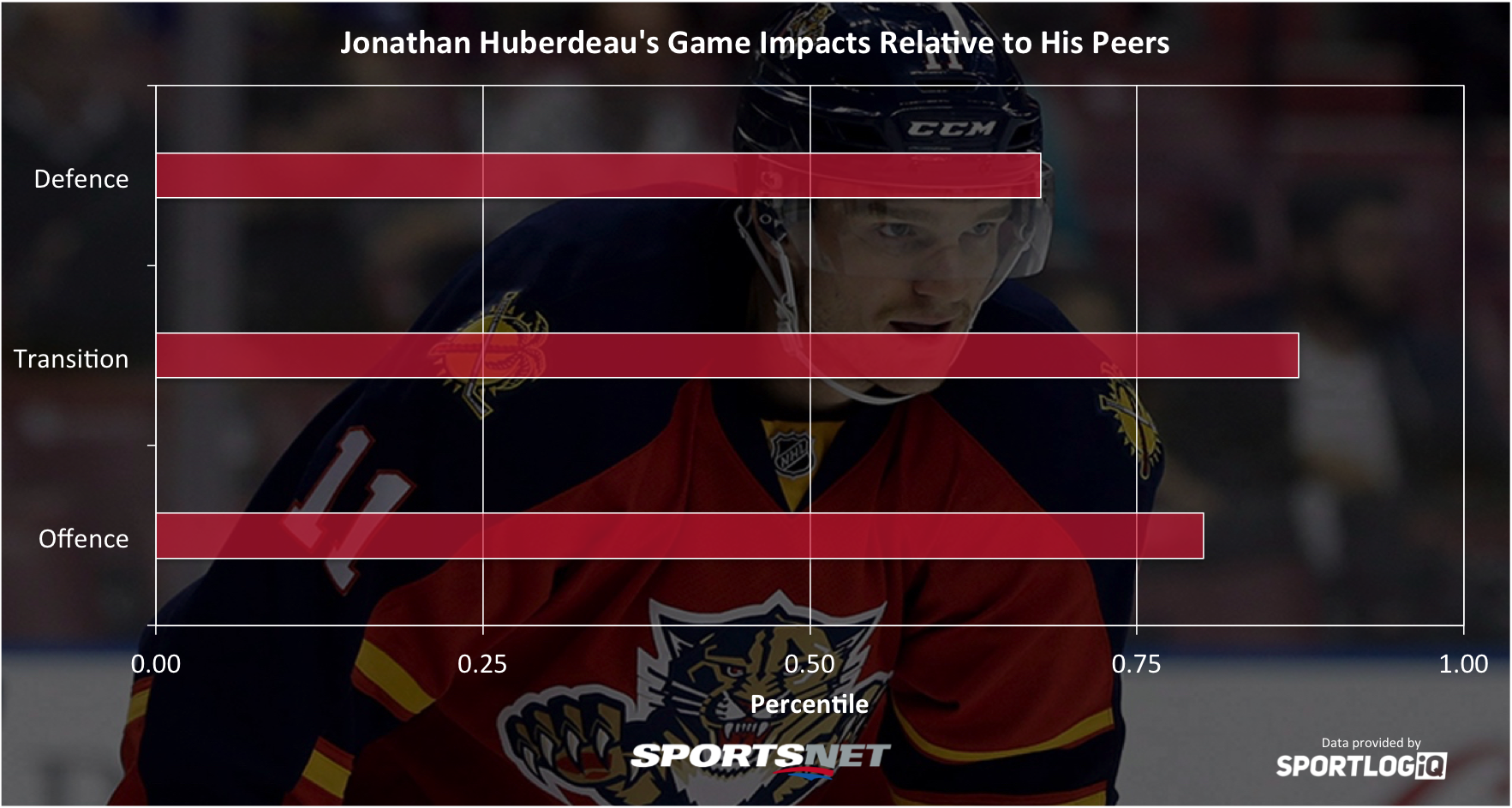 It's sort of tough to get a good read on Huberdeau between the injuries and playing almost exclusively with elite linemates, but his personal contributions to that line are nothing to shake your head at.
Huberdeau is excellent through the neutral zone and a remarkably consistent playmaking threat in the offensive zone. His goal-scoring prowess from junior hasn't really translated fully to the NHL yet, but if it does, the Panthers will have a heck of a player on their hands. He's already locked up for six more years for below market value, too.
8. Johnny Gaudreau
Difficulty Matrix: 1.17/1.25
Offence: 41.58/60 | Transition: 18.83/25 | Defence: 6.29/15
Total: 66.69/100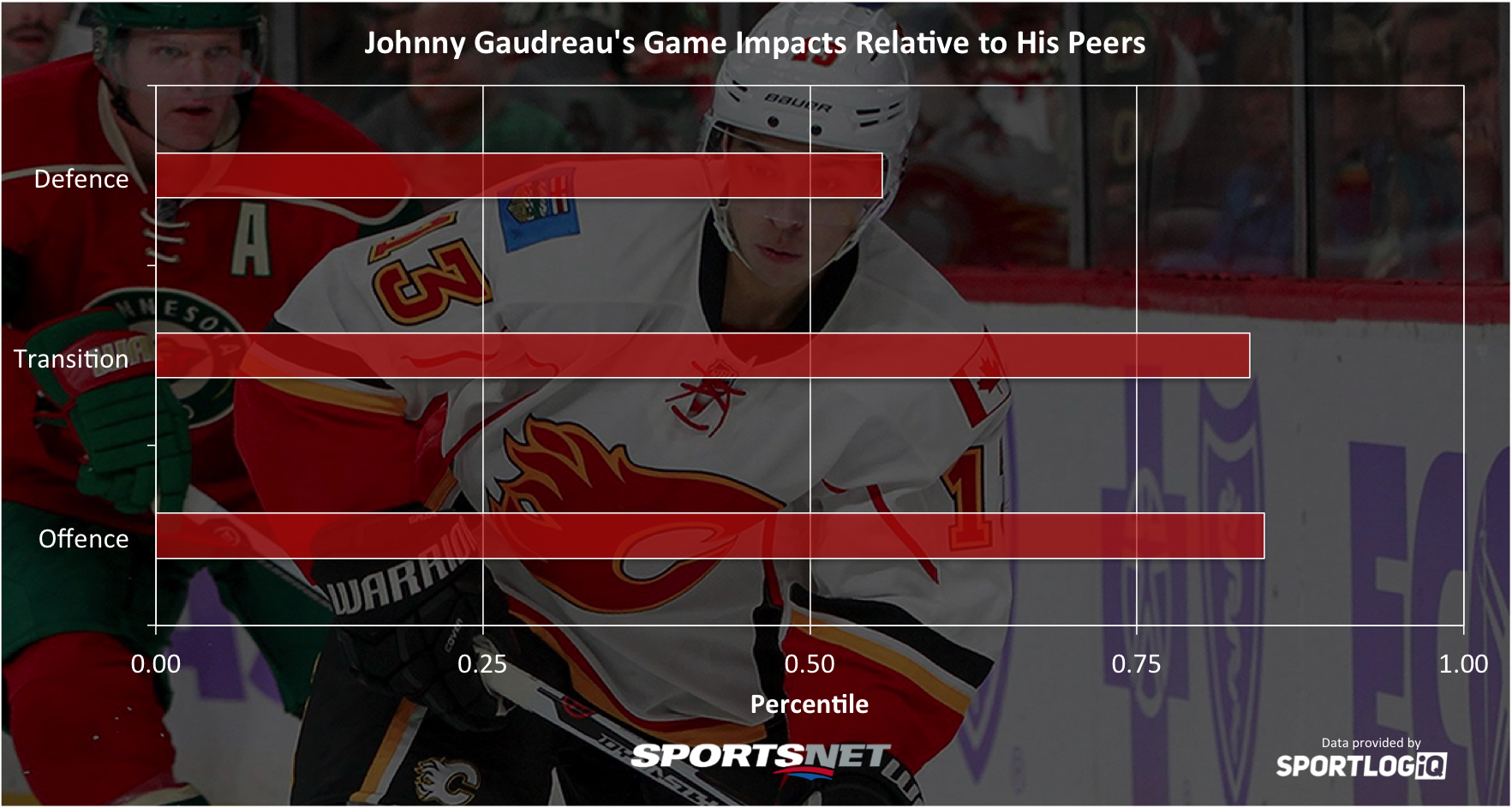 Despite a tough season last year, made tougher by a high frequency of slashes to the wrist, Gaudreau maintains his exact placing from last year with a slight improvement to his defensive game, while taking on tougher minutes as well.
The only player in the league who might be as slick as Gaudreau with the puck is Patrick Kane, and if you notice in Kane's breakdown in the right wingers article, their profiles look pretty similar. Kane is a bit more refined, which makes sense for an older player, but Gaudreau may still get better, and he's already a game-breaker.
7. Filip Forsberg
Difficulty Matrix: 1.13/1.25
Offence: 42.29/60 | Transition: 16.19/25 | Defence: 8.56/15
Total: 67.35/100

Adding some new stats and weightings to this formula cut down Forsberg's transition score a little bit, so he drops from second to seventh despite elite-level offence and an improvement on defence.
Forsberg is as versatile as it gets on the attack, though it will be interesting to see if his role on the power play changes this year in Nashville now that James Neal is gone and Ryan Ellis is injured, perhaps pushing the Predators to run two power play waves of four forwards and one defenceman. If Forsberg can break out on the power play, he should have a career year.
6. Mike Hoffman
Difficulty Matrix: 1.15/1.25
Offence: 46.21/60 | Transition: 15.67/25 | Defence: 8.03/15
Total: 69.90/100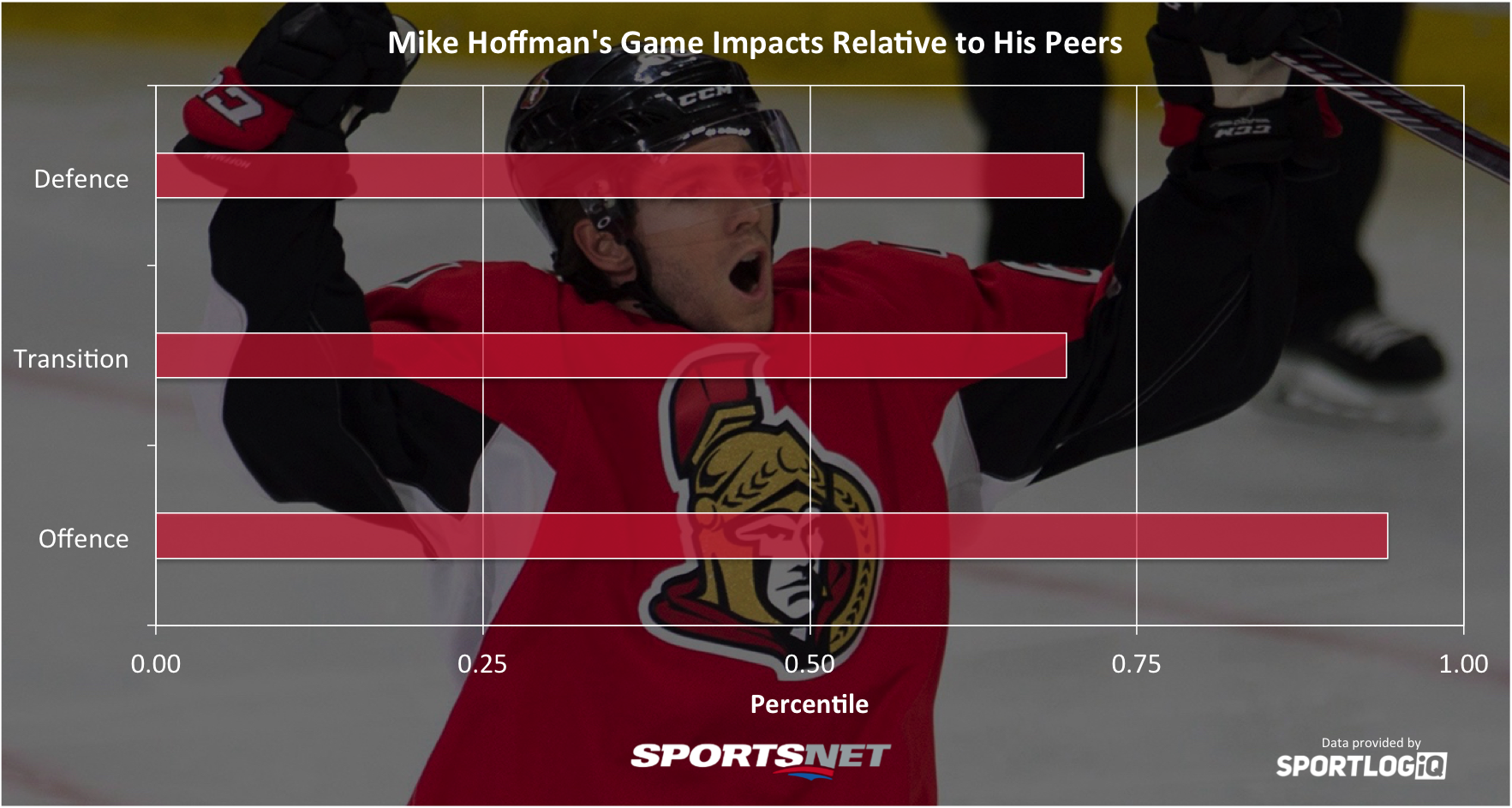 For whatever strange reason, Hoffman was held back in Ottawa for years, and really struggled to get the ice time he deserved. He's by no means elite in transition or without the puck, but he's way above average and legitimately good in both areas, while possessing elite offensive skills.
Hoffman has one of the most deceptive and dangerous shots in the game, with the capability of scoring from a distance that most players don't have. He's a phenomenal playmaker as well, and deadly on the power play. He's a major reason why a top-heavy team like the Senators was able to make it so far last season.
5. Max Pacioretty
Difficulty Matrix: 1.19/1.25
Offence: 46.60/60 | Transition: 15.67/25 | Defence: 9.52/15
Total: 71.80/100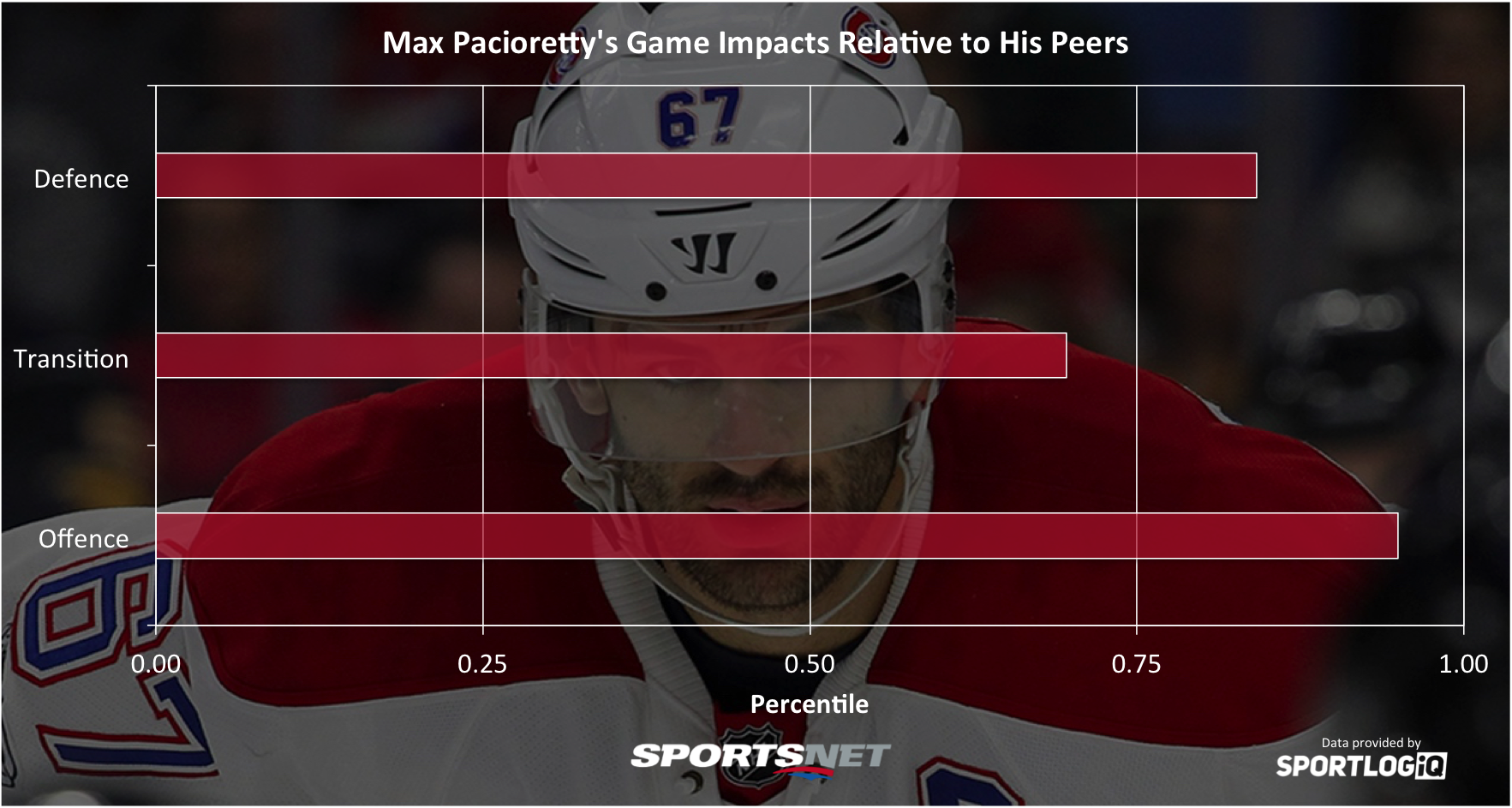 Pacioretty drops two spots from last year largely due to the addition of more detailed passing statistics, which happens to be his main weakness. In the offensive zone he's not shy when it comes to playmaking, and can make some great passes through and to the slot, but everywhere else on the ice his passes are very sloppy, which leads to a lot of broken plays in the neutral zone especially.
Offensively and defensively, though, Pacioretty is among the best in the NHL, leading the Canadiens in almost every category for forwards, especially when it comes to winning puck battles and loose pucks. He's one of the most effective fore-checkers in the NHL, and can score off the rush and off the cycle with equal effectiveness.
4. Jamie Benn
Difficulty Matrix: 1.16/1.25
Offence: 44.37/60 | Transition: 16.74/25 | Defence: 10.72/15
Total: 71.82/100

Some nagging injuries and a disorganized Dallas Stars team took a chunk out of Benn's transition game last season, which dethroned him from the top spot. Still, he remains one of the most effective players in the game with and without the puck.
Like everyone on the Stars, Benn had some turnover troubles in the defensive and neutral zones last season, but he compensated with aggressive defensive positioning and extremely precise play in the offensive zone. Under Ken Hitchcock, I would expect Benn to get back to his peak in a hurry.
3. Artemi Panarin
Difficulty Matrix: 1.16/1.25
Offence: 43.95/60 | Transition: 22.52/25 | Defence: 8.91/15
Total: 75.37/100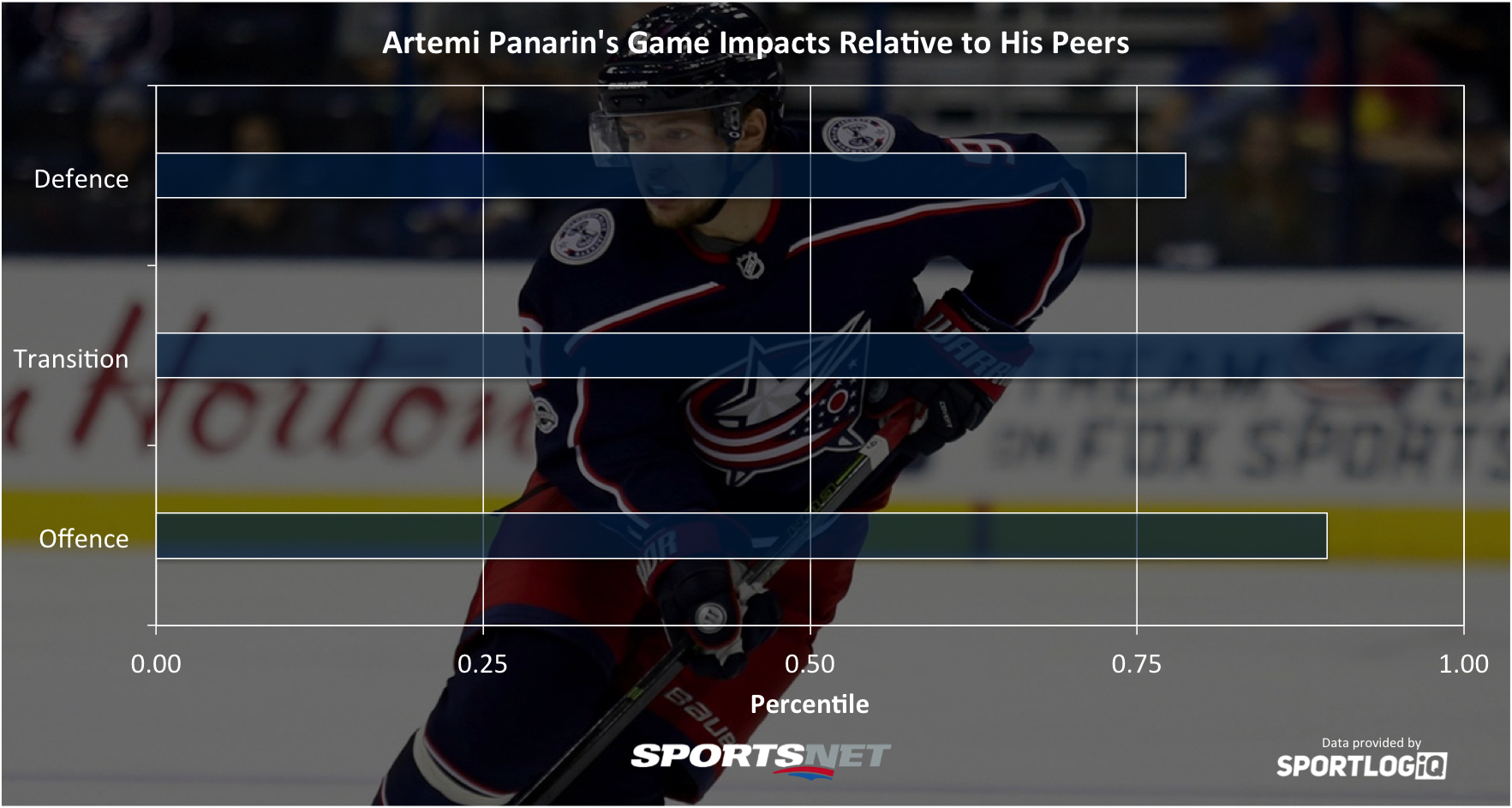 Like his former teammate Kane was for the right side of the ice, Panarin is the transition master on the left. How unfair was that for other teams to have to face the two best puck-rushing wingers in the league on the same line? And how easy was Artem Anisimov's job at centre?
Panarin is much like Kane in that he's a versatile attacker who can kill you with playmaking or scoring, and he can dangle to open up space for his linemates. There isn't much weaknesses in his game, but I do wonder how well he will do away from his perfect match. The Blue Jackets are about to find out.
2. Taylor Hall
Difficulty Matrix: 1.21/1.25
Offence: 43.69/60 | Transition: 22.51/25 | Defence: 9.61/15
Total: 75.81/100

There are a lot of people who are under the impression that Hall had a bad season in his first year in New Jersey, to which I say… 'Huh?' You've got to look past just points on a page to get to a player's true value, and last year Hall was what he always has been: an elite, play-driving winger who's strong in all aspects of the game and is able to produce without much talent around him.
A bit of bad luck in the percentage may have held his raw totals down, but the difference for New Jersey when Hall was on the ice versus when he was off was unreal. The amount of scoring chances he generates for his teammates was in the same stratosphere as Connor McDavid and Sidney Crosby last year. He doesn't have the refined finishing ability of those two, but he's a rare winger you can build a team around, if you're not incompetent at every other position. Did I mention he also played the toughest minutes of any winger for the past three seasons? The guy is a stud.
1. Brad Marchand
Difficulty Matrix: 1.13/1.25
Offence: 47.92/60 | Transition: 20.06/25 | Defence: 8.67/15
Total: 76.65/100

Somewhere along the line Marchand went from annoyingly talented pest to elite player. Learning from Patrice Bergeron didn't hurt, but I don't want to take anything away from Marchand here.
Two years ago Marchand turned the offence up to 11 and never looked back. Now he's setting career highs like it's nobody's business, while continuing his penchant for scoring important goals and driving opponents bonkers. You may not love the way Marchand gets things done, but it's undeniable that he's the driving force behind the Bruins' offence.
[relatedlinks]