In his most recent 31 Thoughts column Elliotte Friedman noted that the Vancouver Canucks were a "stealth team" to acquire defenceman Noah Hanifin from the Carolina Hurricanes.
Hanifin is an interesting player, because due to his draft position (fifth overall in 2015) he's the most talked-about defenceman on the Hurricanes at a national level. But in terms of play and usage, he's clearly fourth on the Canes' depth chart behind Jaccob Slavin (22:35), Justin Faulk (22:16), and Brett Pesce (20:54), averaging 18:52 per game.
Friedman on Canucks' interest in Canes' Noah Hanifin and if he's worth seventh overall
May 29 2018
That ice time allotment may be the reason why many speculate Hanifin could be a player the Hurricanes are willing to move on from. Or, it could be a combination of that and the presence of other talented young blueliners in the organization, such as Haydn Fleury and Jake Bean. The thinking goes that if Hanifin is destined to be their fourth-best blueliner, he may have more organizational value as a trade piece to help them find more offence.
Logistically the idea that Hanifin could be on the move makes sense, but there a few components to consider. It matters a lot what the Canucks would be willing to give up for Hanifin, but that's a topic for insiders. What I'm interested in is what the Canucks need, and what Hanifin actually brings to the table from an on-ice perspective.
Vancouver clearly needs some talent on the back end, but overall they're consistently in the middle of the pack in terms of their defencemen's involvement in the offence and successfully transitioning the puck up the ice, so it's not as dire a need as many would believe. The one outlier they have is on zone entries, something defencemen are rarely responsible for, but an area the Canucks struggle in at all positions.
With that said, middle of the pack gets you nowhere in this league, so an upgrade wouldn't be unwelcome. So what does Hanifin bring to the table?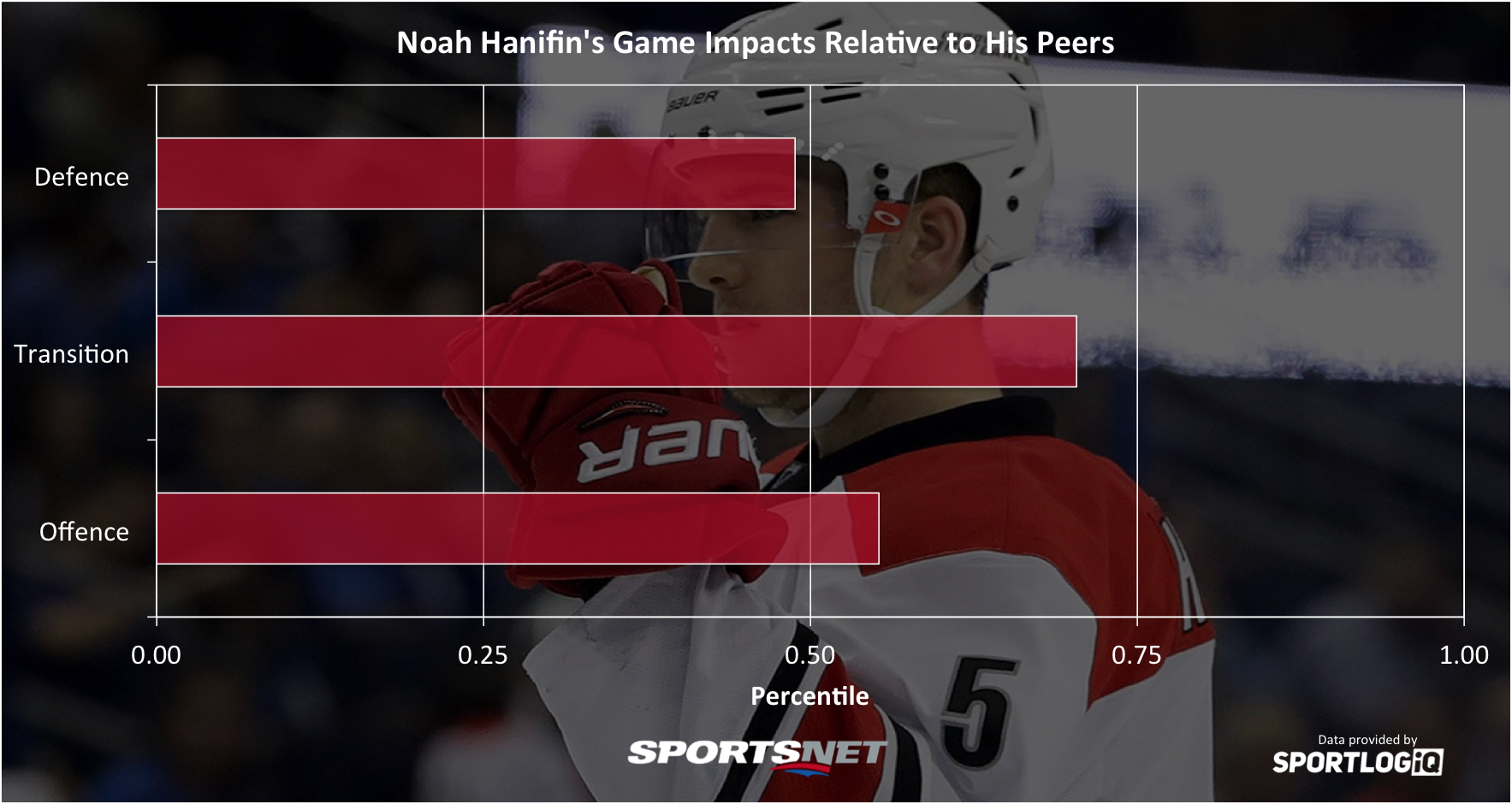 Coming into this season and using the ranking project I did for Sportsnet, Hanifin ranked 79th of 163 eligible defencemen, which would slot him as a decent No. 3 on most teams. His main strength was his transition game, which isn't surprising considering he's a great skater.
This season Hanifin clearly took a step forward, posting career highs in goals and points on an offensively challenged team, and finishing with positive relative possession numbers at 5-on-5.
So where exactly is Hanifin improving, and what are the strengths that drive his strong transition game? Let's delve into his numbers relative to his peers on the Hurricanes over the past two seasons.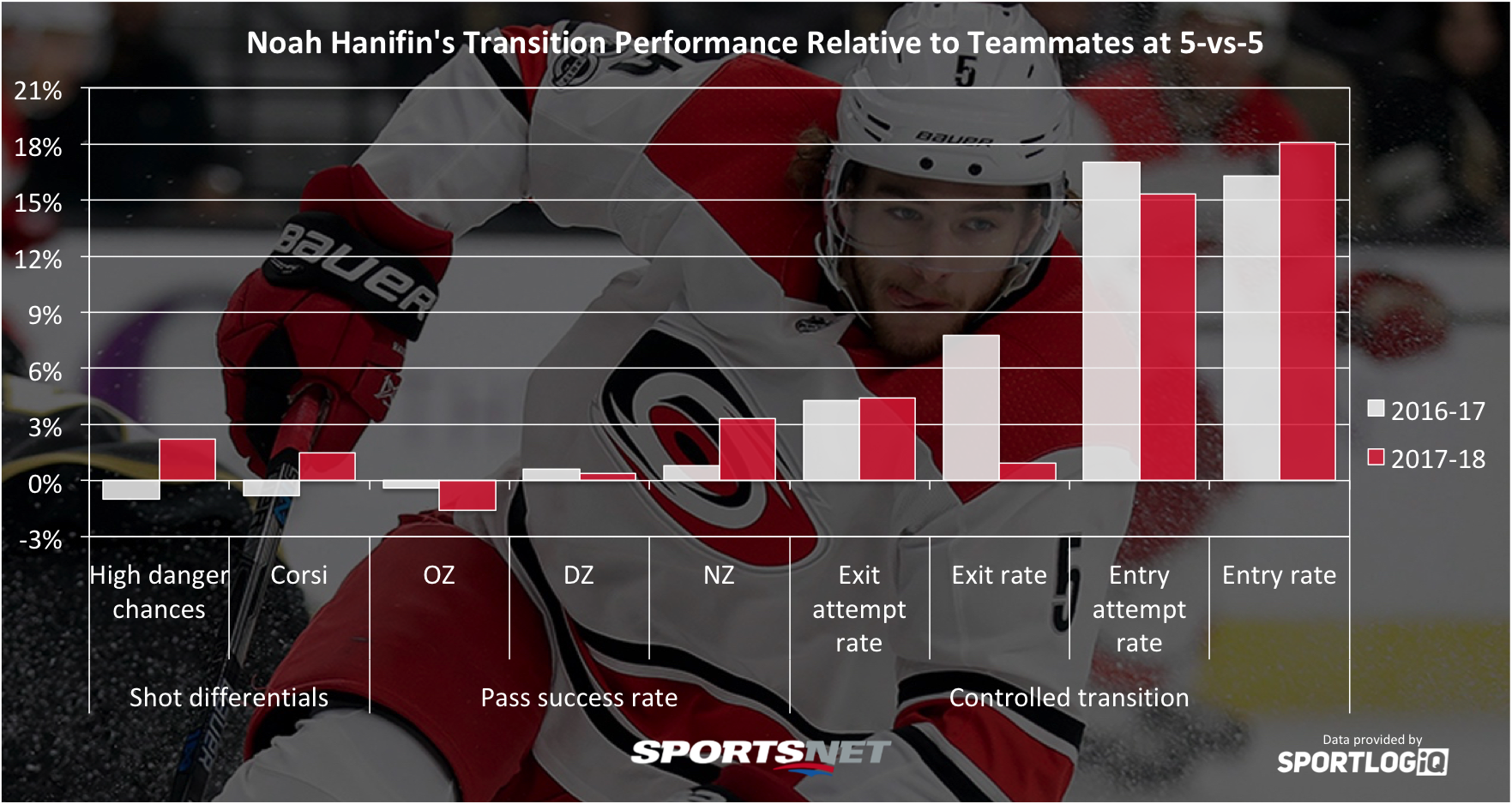 Hanifin was a positive in on-ice high danger chance differential and shot attempt differential relative to teammates for the first time in his three-year career. It looks like he's starting to get into a groove navigating the NHL in his 20s after treading water a little bit in his teens.
He remains a bit of a risky passer in the offensive zone, but in the defensive and neutral zones he's trustworthy with the puck on his stick. In fact, he took a big step in the neutral zone this year.
When transitioning between zones, Hanifin is one of the most infrequent puck dumpers in the league, preferring to skate with it on his stick or find a teammate with a pass. He failed a bit more frequently on his controlled exit attempts this season, which dropped his controlled exit rate, but you can see in the attempt rate that the process is still strong.
Dimitri Filipovic provides entertaining and thoughtful dialogue about the game of hockey with an analytical edge. Not as nerdy as it sounds.
Where Hanifin stands out to an absurd degree is in his controlled entries. He is a huge outlier among defencemen with his ability to gain the blue line, and his unwillingness to just settle for a dump-and-chase. Defencemen who lead the rush aren't very common in the NHL, so having one guy who can do it can really change a team's attacking strategy, just as the Predators do with Roman Josi.
It's interesting to me that Hanifin stands out in this particular area where the Canucks are weak, because one thing the numbers can't really show you directly at the moment is the impact a player like Hanifin has on their teammates in gaining the offensive zone.
When teams know they have to game plan for a rushing defenceman who's great on entries, it can open up extra lanes for forwards to gain the line more effectively. Hanifin's controlled entries in total aren't extraordinarily high, he averages only about one per game, but that threat of entry allows other players to become threats as well. This can cause a cascading effect that leads to a lot more attacks off the rush, an area that both Stanley Cup finalists excel at this year.
I don't think Hanifin has been the player his draft pedigree suggests he could be yet, so moving a big package for him would be a risk for the Canucks. But he's just 21 years old and already trending to be a top-pair defenceman with a relatively rare skillset.
At the very least, it looks like a strong fit.