Everyone knew Jacob Trouba's future was going to be the first shoe to drop for the Winnipeg Jets this off-season. And while there was a lot of expectation he would be traded, that wasn't a sure thing until the Jets made the move and sent him to the New York Rangers in exchange for a first round pick — their own that they sent to the Rangers for Kevin Hayes in February — and Neal Pionk.
When I looked at the questions facing the Jets this off-season, the conclusion I came to was that Trouba was a top-pairing blueliner, but ideally a team's No. 2 to maximize his talent. He rated as a first pairing defenceman offensively and defensively while playing tough minutes, but closer to an average second-pair defenceman in transition play.
This season represented a significant step forward for Trouba. The 25-year-old played first pairing minutes with Josh Morrissey as the Jets' prime matchup duo all season long, and his underlying numbers took a step in the right direction as well.
While the Jets as a whole performed less impressively than last season, Trouba and Morrissey were the backbone that held the team together. They still earned home ice in the playoffs, but fell just short of a second-straight 100-point season.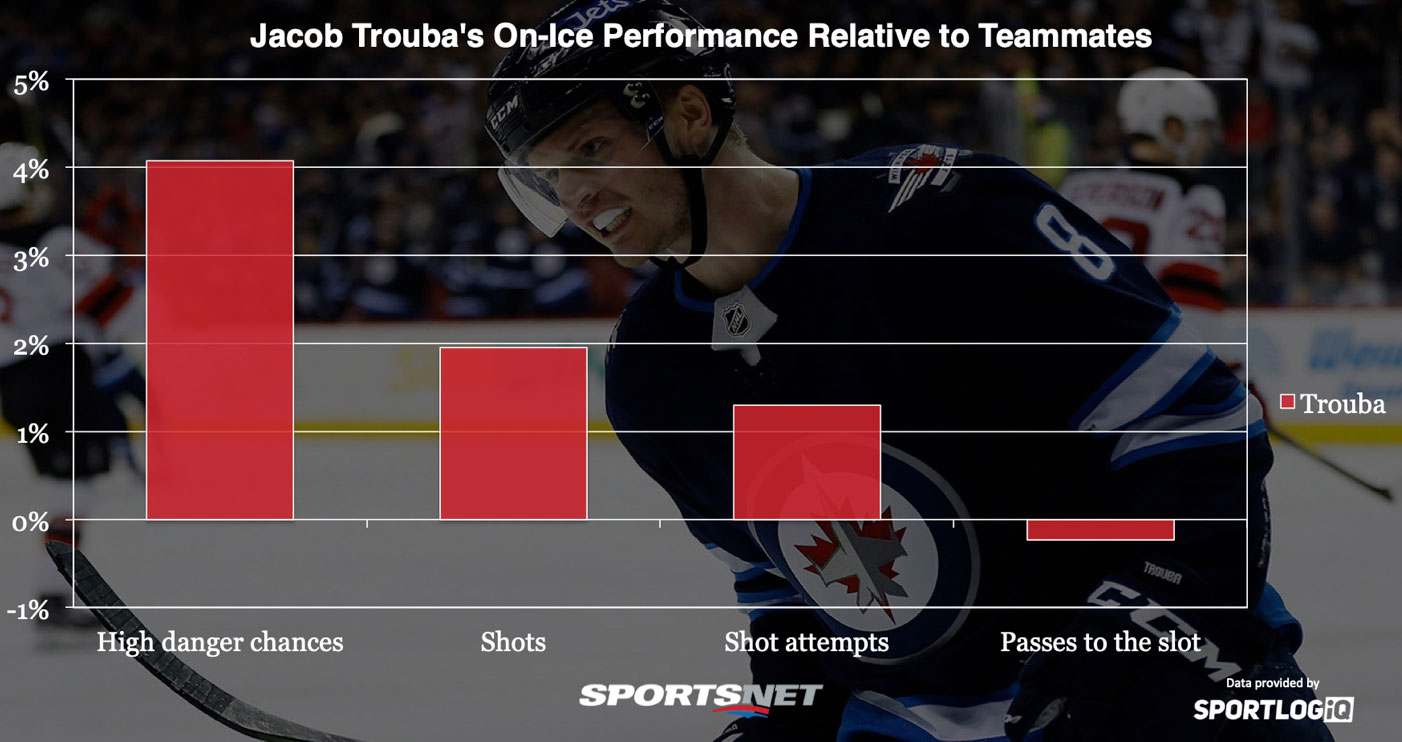 Comparing how the Jets performed with Trouba on the ice to when he was off, the impact on high danger chances was massive, and the impact on shots and shot attempts was strong as well.
The one area where Trouba didn't have a positive impact was on pass to the slot differential, but it's important to go into detail there because it's a bit of a tricky statistic.
For one, the Jets' most dominant area as a team is controlling dangerous passes at 5-on-5. While Trouba was on the ice they controlled 53.1 per cent of those passes, and yet he was still a "negative" impact player there. But there's a reason for that.
As I've mentioned before, this is a statistic where quality of competition is a big factor. It's fairly common for defencemen who play tough matchups to be on the slightly negative side here despite strong performance, because high-end players generate far more dangerous passes than lower-end players.
This is one reason why some highly talented lines can outscore their expected goals based on the shot locations they generate on a consistent basis, like the Mark Scheifele and Blake Wheeler combo, to keep things related to the Jets.
Senior Writer Ryan Dixon and NHL Editor Rory Boylen always give it 110%, but never rely on clichés when it comes to podcasting. Instead, they use a mix of facts, fun and a varied group of hockey voices to cover Canada's most beloved game.
So all this said, yes Trouba was slightly in the negatives in pass to the slot differential last season, but the context of that is very important. He remains a top-pairing defenceman in both offensive and defensive impact.
The one question I have with him on the Rangers is how well will he adjust to life without Morrissey? Morrissey's development as a top-pairing defensive defenceman has been stellar, and the chemistry those two had was excellent.
There's lots of time before rosters are set, but as currently constructed, the Rangers don't have a player in Morrissey's mould, no matter what people may think of Marc Staal. Can Trouba carry a top-pair on his own and float a lesser defenceman? That remains to be seen.
Then of course there's the other side of the deal. The Jets got a mid-range first-round pick back, which is always nice, but what does Pionk add to their roster?
If you didn't watch the Rangers a lot last season, you probably only know of Pionk from this one highlight reel goal.
When a player does something like that, the assumption is they're probably a high-end offensive player, but among the Rangers' six defencemen who played 800 or more minutes last season, Pionk was just the fifth-most involved in generating offence for his team.
He fares a bit better in transition — only Tony DeAngelo completed more transition plays per 20 minutes played than Pionk's 18.7 last season — but those completed plays came with their fair share of failed ones, including leading the Rangers in icings with nearly one every 20 minutes played, and a whopping four defensive zone turnovers every 20 as well.
Overall, when you look at his impact on the Rangers' differentials, it doesn't look great.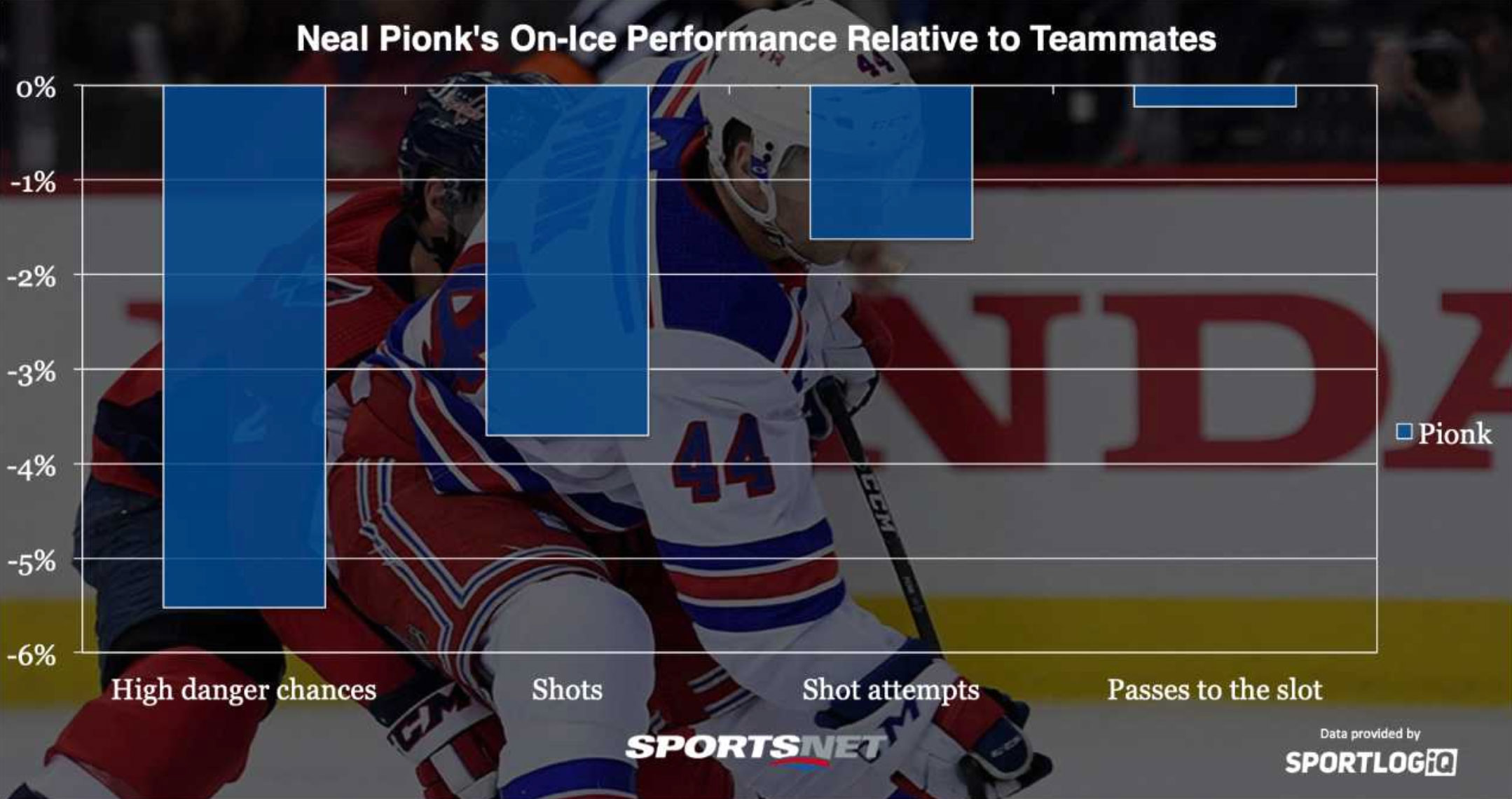 Obviously with a first-round pick in the trade and without the eventual salary increase Trouba will be taking up, it would be incredibly unfair to expect Pionk to replace Trouba in terms of impact, but in a lot of ways he looks like the opposite of Trouba.
Pionk played relatively easy minutes for the Rangers and still saw his team get dominated much more significantly while he was on the ice than off of it, which is never a great sign.
It's always a little tough to judge players on bad teams, but Pionk doesn't seem to be much more than a marginal third-pairing defenceman.
Pionk's raw skating skill and puck moving ability could be something the Jets coax into a player, but at 23 years old and turning 24 in late July, usually what you see is what you get with defencemen this age.
Overall, it's a pretty underwhelming return on Trouba, and it's tough to believe there wasn't a better deal out there somewhere, especially considering Trouba is still a restricted free agent, so teams aren't completely stuck with their backs against the wall to get a deal done right away.
Trouba's own request to go to the United States to benefit the medical career of his fiancée cut six teams out of the trade market, but probably not by much.