This piece originally appeared in the October 31, 2011 issue of Sportsnet Magazine.
Greg Burnett can't sleep. He has tossed and turned and annoyed his wife Celia all night. He climbs out of bed and goes down to his basement and flips on the light. He's in the Winnipeg Jets dressing room, or at least a reasonable facsimile: nine blue stalls with each variation of the Jets sweater represented. Photos of the team from every era line the wall—from the World Hockey Association days right through to 1996, when the franchise was relocated to Phoenix. It's 6 a.m. He pulls a vintage Jets sweater over his head, closing his eyes as if making a wish. "HULL" and "9" are stitched on the back, and beside the number is Bobby Hull's autograph in magic marker, dated 1983.
Later today, Burnett will be one of thousands decked out in his Sunday best. This, of course, being the best of Sundays for those who have longed for the return of the NHL to Winnipeg. Burnett walks up the stairs, underneath the "A" from the old Winnipeg Arena sign that his wife managed to salvage when the arena was torn down.
It's 10 hours until game time. But what's 10 hours when you've waited 15 years? Still, the morning hours are passing too slowly. Soon after Celia wakes up, he asks her if she's ready to go. She tells him to, well, get a grip. At noon she gives in. The couple, joined by Burnett's mother Donna, climb into his Chevy Uplander.
By the time Burnett arrives, Winnipeg's grey, age-worn downtown core is a rising tide of blue and white. Fans were outside the MTS Centre at dawn, committed to doing whatever it will take to land a ticket for the home opener against Montreal. Burnett and his wingers take refuge in a sports bar. Most of the patrons are wearing Jets sweaters. Some have opted for white tuxedoes. There's one guy dressed as a superhero. And there's a large drunk man shouting, "This is the resurrection!"
It's, of course, bigger than that. It's justice, hockey and Winnipeg being served.
Burnett leaves enough time to be at the arena when the doors open at 2:30. Photographers inside, hoping to capture the rush of fans the moment the gates open, look anxious; they're fully aware that they are about to stare down a stampede of face-painted buffaloes.
Burnett's seat is in the fifth row of Sec. 312. The scoreboard screen plays out goals from the Jets' glory days. He tears up. He cheers goals in the old footage as if they were playing out live in front of him.
In this long-awaited moment, it's easy for Jets Nation to presume that this is the franchise's first game. That nothing went before it. That Winnipeg fans have what they desire, while those in Atlanta lost what they didn't deserve. That the NHL's return to Manitoba will set off a celebration, and the league's passing in Georgia won't be mourned or even noticed.
To be excited about the present and the future shouldn't mean ignoring or denying the past. Just because the Thrashers' 12-year history seems forgettable doesn't mean it should be forgotten. Yes, hockey fans in other cities would struggle to name the player who best represented the Thrashers. Some would say Patrik Štefan, a centre that GM Don Waddell selected with the first-overall pick in the 1999 draft. Štefan was supposed to be a franchise player but scored only 59 goals in six seasons in Atlanta. Nothing speaks more to this failed franchise than a failed franchise player.
And fans in other cities might draw a blank when asked to recall the Thrashers' shining moment. Only 342 wins in 902 regular season games and four straight losses in the team's only playoff appearance in 2007—not exactly the stuff of highlight reels. It seemed the only time the team made any news in recent years was when their best players, Marián Hossa and Ilya Kovalchuk, couldn't be re-signed and had to be traded.
Like Winnipeg, the Thrashers' first game was met with a similar spectacle back in 1999, when newspapers heralded Atlanta a "hockey-crazed" town. It was a homecoming then, too. Atlanta fans knew what it was like to have loved and lost. Last year they loved and lost again.
And though it might be hard to believe, there was in fact a Thrashers Nation. No one could ever tell those who went to the last game in Atlanta that their team didn't mean enough to them.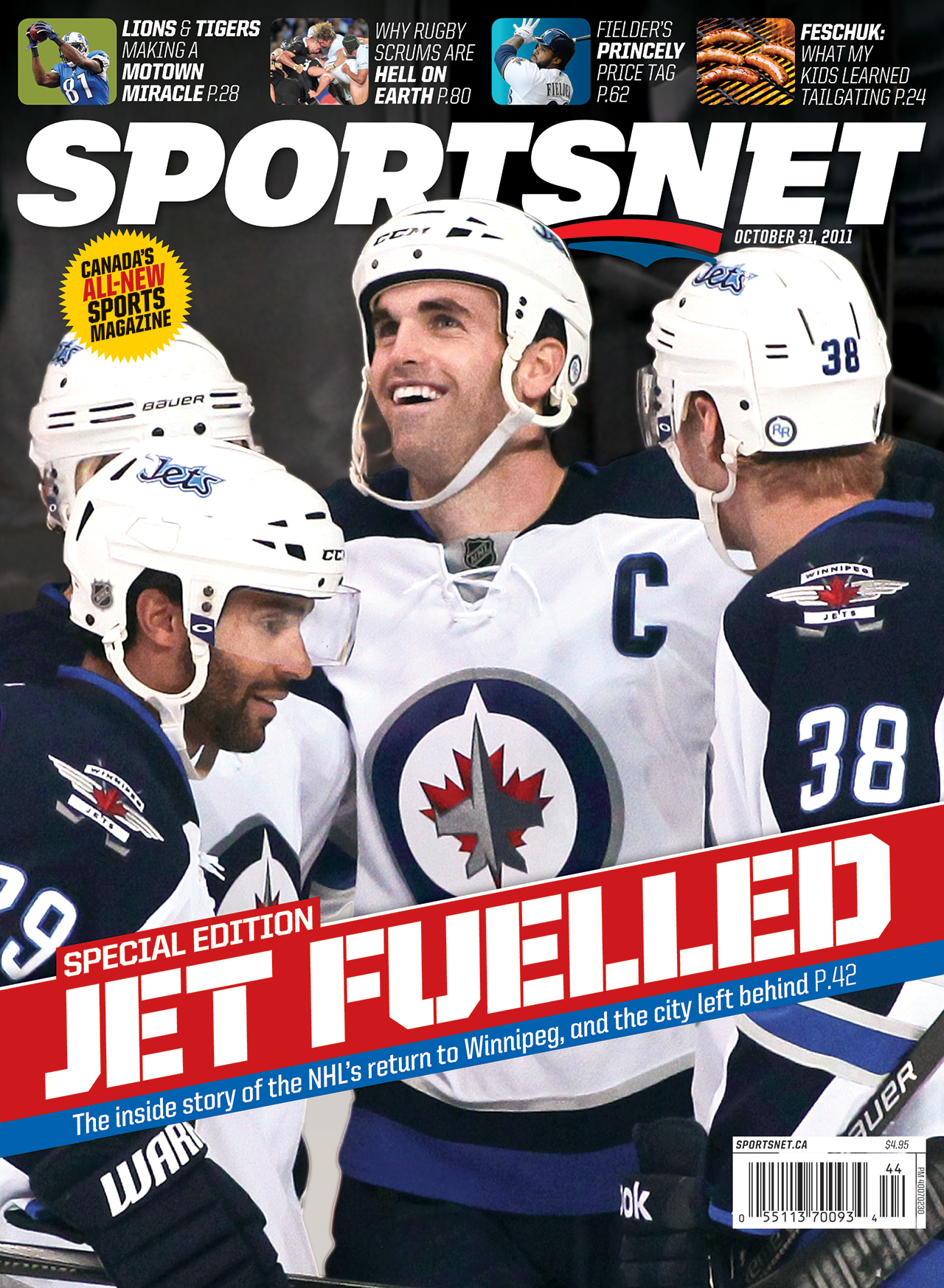 It was April 10, 2011, game No. 82. The Thrashers hosted the Pittsburgh Penguins. Half the crowd of 16,085 wore Pittsburgh sweaters. That half cheered when the Penguins scored four unanswered goals in the second period. With each goal, and every passing shift, the cheers grew louder.
Abeed Bawa sat alone in Sec. 204, behind the Thrashers goal, as the game wound down. The cheering for the Penguins annoyed him. The cheering for visiting teams in Atlanta always did. There are supposed to be advantages to playing at home, but too often, Bawa thought, the crowd didn't make the Thrashers feel like Philips Arena was their house.
It did to Bawa. After his marriage fell apart in 2005, games acted as therapy. He'd go straight from work to the rink. "I gained a sense of comfort there," he says. Wins and losses mattered less than the sense of refuge.
The 35-year-old wore a backwards Thrashers cap and the team's blue jersey. He wore his heart on his sleeve and under it, a tattoo of the Thrashers crest, inked in February. "I wanted to honour my team," he said. "To make them part of me."
Michele Zarzaca didn't have a tattoo and wasn't wearing an Atlanta sweater or cap, but everybody who played for the Thrashers considered her part of the squad. As director of team services, she helped players find homes, set up their utility bills and cellphones, found private schools for their kids, and handled immigration for newcomers. She picked up players' dogs from the vet and girlfriends from the airport. She planned the athletes' family vacations. In turn, players became devoted to her. Especially the ones who came in as teenagers, or barely in their 20s—the players who needed her help most.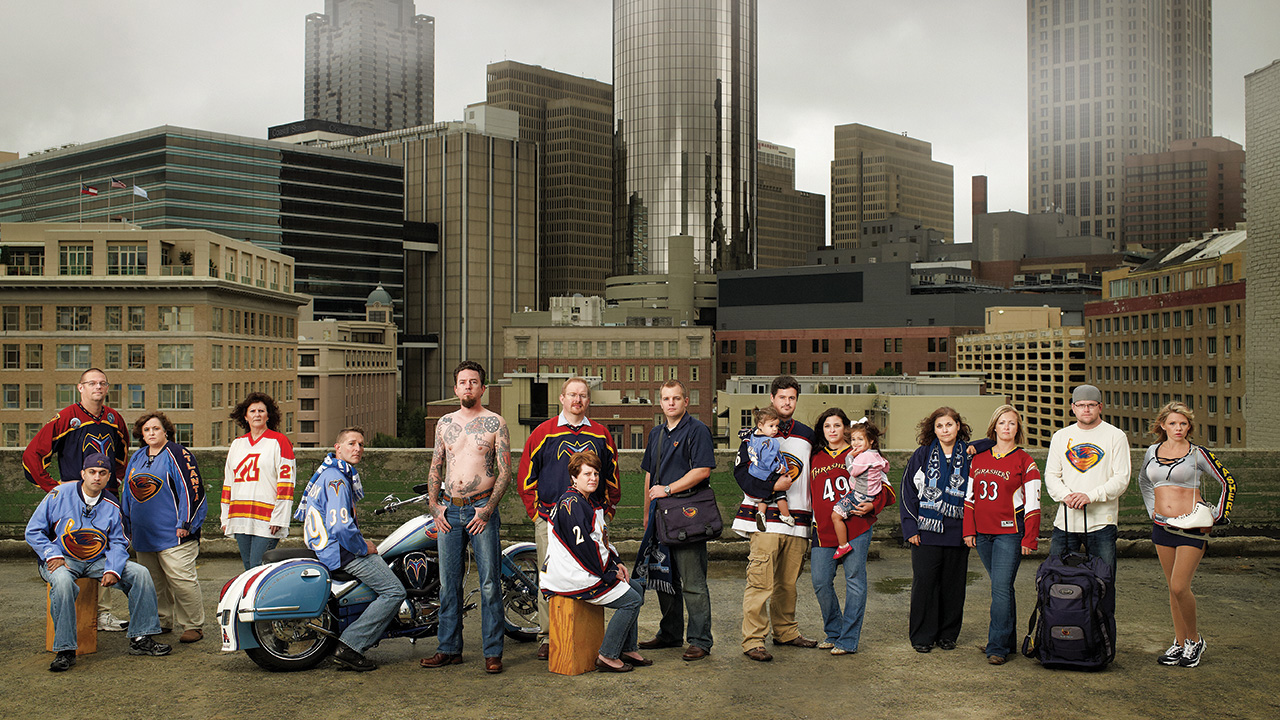 Every NHL team has a den mother, but few have been put to the test like Zarzaca was in the hours before dawn on Sept. 30, 2003. Her phone rang. It was the team's PR director, Rob Koch. He needed Zarzaca to arrange flights immediately for the families of Dan Snyder and Dany Heatley. "There's been an accident," he said frantically. Heatley's black Ferrari had crashed into a wall at 130 km/h. Snyder had been in the passenger seat and was ejected from the car, which was cut in half.
Zarzaca, then in her mid-40s, has a Georgia twang and a calming manner. That manner would be tested. She sat in the hospital with the Snyder family through the long days that followed. To distract them, they played Yahtzee and Scrabble in the waiting room while their son remained in critical condition. Heatley was in the hospital too, and Zarzaca regularly checked in on him with his parents.
Snyder never emerged from his coma and died a week later. Zarzaca organized the entire team's flight to his funeral in Elmira, Ont. Later, when Heatley was released from the hospital, Zarzaca prepared food that he could eat with a broken jaw.
Snyder used to come into her office and joke about her love of Ferraris. Her office was full of models and photos of them. "He used to tell me, 'When I get my million-dollar contract, I'm going to buy you one,'" she says. Following the accident, Zarzaca was put on antidepressants for a year. "We were a family," she says.
For some, like Andy Freeman in Sec. 115, the team offered something better than family—it saved his life. The 41-year-old, a lobbyist with the Georgia Pharmacy Association, has light red hair that sits back on his head, a goatee, and expressive eyebrows. This doppelganger for comedian Louis C.K. is a fierce defender of Thrashers fans. "We're not all ignorant hillbillies from Deliverance," he says.
On Oct. 6, 2004, two weeks after the NHL lockout began, Freeman sat in a doctor's office and was told that his kidneys were failing. Over the course of a hockey-less winter, Freeman stayed connected to a community of Thrashers fans through an online forum. They discussed the lockout, and how their team would fare when hockey returned. Freeman ended each post by asking, "Does anybody have an extra kidney they can give me?"
Doug Shaw read those posts, but never thought much about them. His wife Brandi, however, kept asking, "Is he for real?" Late in the 2005–06 season, as the Thrashers were about to miss the playoffs again, Freeman won a draw for a ride on the Zamboni. After posting online about his win, he received a reply: "Would you be wiling to trade your Zamboni ride for a kidney?"
It was the Shaws, sitting in Sec. 118. Brandi had never been able to shake the feeling that Freeman was truly in need, and she wanted to help. They met at a beer stand at the next home game. Freeman couldn't believe she was serious. "We'll never see these people again," he told his wife as they walked away. Four months later, Andy Freeman and Brandi Shaw were at the hospital having transplant surgery.
Up in the press box, Ben Wright couldn't help but think this would be the last Thrashers game he'd cover. Wright had been the team's web writer for six seasons, the bearer of news—some good, much bad, more losses than wins.
The Thrashers' players had always thought Wright was fresh out of college. The 34-year-old has a baby face, clean-shaven with round edges, soft eyes; his light brown hair always kept short and neatly swept to the side.
Wright always waited in the press box until the final horn before making the standard beat reporter's dash for the locker room. He liked to watch the entire game. As the clock counted down the final seconds of the season—a 5–2 loss—and the other reporters shuffled out, Wright stayed behind.
His mind raced. He thought about when he met his wife Meg in grad school at Wake Forest; about moving from Ottawa to Atlanta to be closer to her; about proposing to her; about landing the Thrashers job; and about settling down in one place for the first time in his life. "I got choked up a bit," he says. "This was probably it for me."
With a one-year-old son at home, Wright figured it was time to look for something more stable than being a hockey writer in a town where the sport was always on the brink.
He watched the fans streaming up the stairs toward the exits. On their way out, they'd pass shops stocked with team merchandise. Quilted Thrashers jackets were moving slowly at half price. And Thrashers clocks, once $100, were now going for $30. It wasn't advertised as a going-out-of-business sale, but it was.
In two months, Wright, like all his fellow Thrashers employees, was going to get a call from an Atlanta Spirit human resources rep to meet in an office for a chat. They'd all be let go, one by one. Some cried, some cursed. But not Wright. He went back to his desk and ate his lunch. An hour passed before a manager worked up the nerve to ask him to leave. It was a bad time to be jobless, in the middle of the Great Recession, with a second baby on the way.
Then there's Bobby Stewart, Atlanta's former equipment manager. He had spent the morning before Atlanta's final game like he did most mornings: he sharpened skates. The 61-year-old Montreal native has short brown hair, receding and parted in the middle, peaking like a roof. Rectangular glasses rest on his nose. He was wearing a navy blue Thrashers track jacket that hung off his five-foot-six frame, baggy black pants, and grey running shoes. Standard trainer's garb on game day.
Like the team's other supporters, he tried to ignore the persistent rumours that the franchise was leaving town. He kept busy by going through his two-hour skate-sharpening routine. He triple-checked equipment and sticks, hung jerseys and laid out socks.
During the game, Stewart stood next to the bench. He replaced broken sticks and handed out towels. Though the team put in a forgettable performance, the training staff made an occasion of it, posing for a picture together on the ice. It was something they had never done in 10 previous seasons. Then, back to the routine—drying skates, collecting jerseys, washing laundry. Stewart left the rink with a sinking feeling. "I knew the end was near," he says. "I just didn't think it would be this year."
More than anyone, Stewart should have been prepared. He had been the Atlanta Flames' trainer. He had seen friends left behind when the team packed up and moved to Calgary in 1980. He went along, and in '89 was fitted for a Stanley Cup ring. A decade later, he was back in Atlanta as a Day One employee with the Thrashers. Stewart thought it couldn't happen again.
In June, while the Stanley Cup playoffs again went on without the Thrashers, he watched the True North press conference from his equipment room at Atlanta's practice facility. "It sort of hit me," he recalls. "This is the end."
This past June, three trucks and a cube van came for Thrasherville. Movers carted away weight equipment, office furniture, flat-screen TVs and garbage bins. They left the half-used bottles of soap in the shower, hair gel in the bathroom, a stack of team photographs, and two boxes of Atlanta Thrashers Frosted Flakes, which had been sold during the team's first season. Stewart was also left behind this time, along with the entire training staff.
He pulled a decade's worth of team photos from his wall and tucked them into a box. The skate sharpener he spent thousands of hours over was wheeled away. He didn't help load it on the truck. "That was tougher than I thought it was going to be," he says. "We just kind of sat there and watched 12 years of our life get put on a semi-trailer."
Bobby Stewart's old skate sharpener didn't make it to Winnipeg. That unit was shipped to St. John's, the Jets' American Hockey League affiliate. In Winnipeg, there's only a faint echo of the franchise's history. A couple of fans come to the rink not in Jets sweaters but in Thrashers threads.
The Winnipeg crowd looks more homogeneous than the Thrashers' fans. It's a part of Jets history. Fans back in the '80s and '90s would all dress in white for the white-out special effect. There isn't an indoor blizzard today, but there will be someday. Being a fan in Atlanta required a hardy individuality like Abeed Bawa's, but in Winnipeg there's a willingness to be part of a community.
It's a shared passion, but not all their stories are the same. For Greg Burnett, the guy with the locker-room basement, the passion can be traced back to his mother. Back in the '70s, Donna Burnett bought season tickets to the Jets. A single mother, she hoped the team would give her a way to connect with her only son. Three decades later, she's in her Dale Hawerchuk sweater, sitting next to her son and daughter-in-law in Sec. 312, row 5, seat 7. Greg Burnett is bawling his eyes out by the time the Jets and the Canadiens line up for the opening faceoff. It's about the team but it's also about something much more than that: memories and love.
Cory Cassidy is crying too, "as hard as I did in 1996," he says. The 33-year-old health-care manager is wearing a Teemu Selänne sweater in the first row of Sec. 211. He sold popcorn as a teenager at the old Winnipeg Arena, making less than minimum wage but getting to watch the games for free. One night after his shift, he was stranded at the arena without a ride home. His dad, he would find out later, had fallen asleep on the couch. Selänne saw Cassidy sitting outside the arena in -10˚C cold and offered to give him a lift—in the red Grand Cherokee that he'd been given after breaking Mike Bossy's scoring record. That's what it was like in Winnipeg, a city small enough for fans to have a real connection to the stars.
That hasn't changed. Though attending their first Jets game and both still teenagers, Justin and Riley Derlago, over in Sec. 126, already have a tight bond with the team. That's because Mark Scheifele, the Jets' first-round draft pick last June, lives in their basement. In fact, that's where 16-year-old Riley recently took the Jets prospect to school in NHL 12 on PlayStation 3. The fans cheer loudest for Scheifele, the 18-year-old centre, when the Jets are introduced before the game. The Kitchener native started
the season, an autumn surprise. He's the only player who's distinctly and completely Winnipeg's alone, and the Derlago family can lay a greater claim to him. "He'll fit into the fabric of the family," says Gregg Derlago, their father. "We'll be there when he needs us."
There's a script for the day's events. The videos from bygone days. Presentations. The standard pyrotechnics out of the league's offices in Manhattan. An appearance by the Commissioner, Gary Bettman who, in the rarest of circumstances, draws cheers when introduced to the grateful audience. A tribute to Rick Rypien, a former member of the Manitoba Moose, a tough guy slated to play for the Jets this season who, suffering from depression, committed suicide this summer. And the game has all the dressing that goes with being a special Hockey Night in Canada broadcast.
Everything runs close to the script except for the last act, the storybook finish. The 5–1 loss to the Canadiens is as forgettable a performance as the Thrashers' final game in Atlanta. Painful giveaways by Jets defenceman Johnny Oduya lead to goals by Mike Cammalleri in the first period and Tomáš Plekanec in the second. In the second period, the Jets struggle to get a single shot on Montreal goaltender Carey Price during a 5-on-3 power play. And though a couple Canadiens are knocked out of the game with injuries, Winnipeg can't capitalize.
Scheifele led the Jets in scoring in the pre-season but he has difficulty keeping up with the pace of the game in not quite 14 minutes of ice time. There are trivial footnotes. Tim Stapleton was practically ignored when he scored the last goal for the Thrashers in Atlanta. In contrast, the fans cheer themselves hoarse and stand together when Nik Antropov scores from a goalmouth scramble in the third period for the new Jets' first goal. They will have to wait for a first victory. But they have a team again. And for now, that is enough.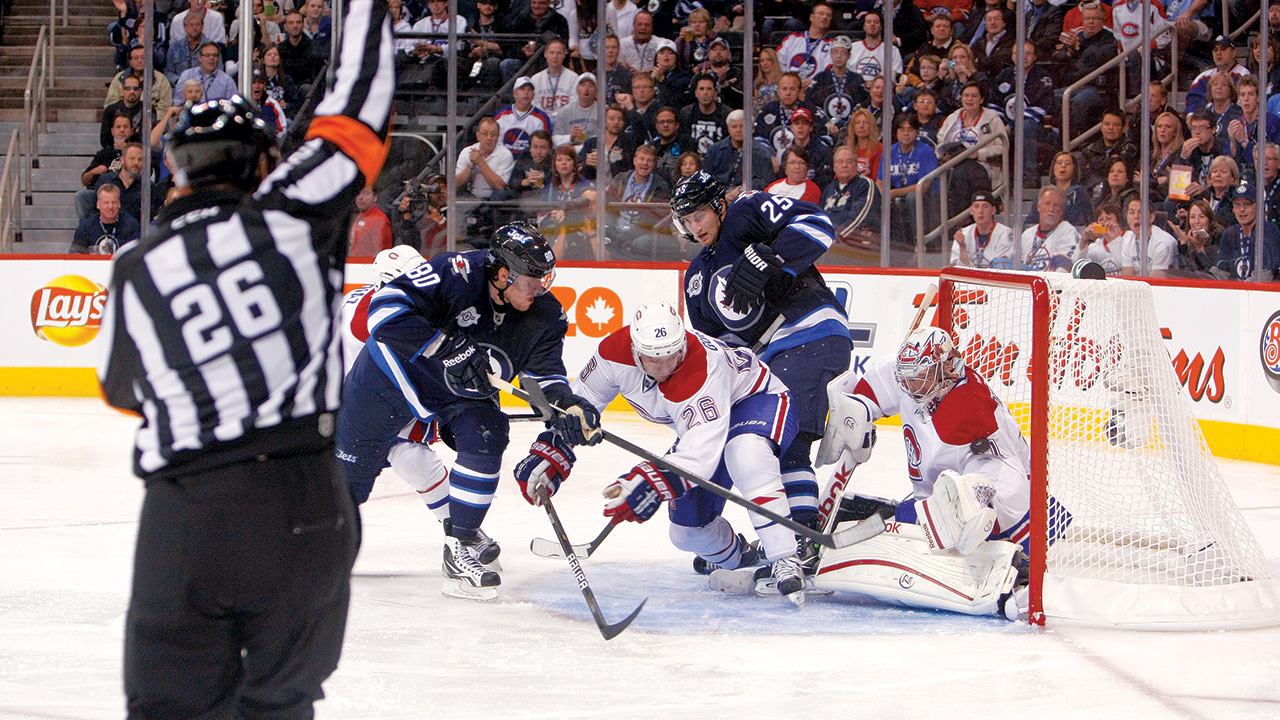 Up in the Jets press box, Tim Campbell knows what Ben Wright went through when the team left town. Campbell is the last remaining writer with the Winnipeg Free Press who covered the Jets back in the '90s. As a kid in the newspaper business, he moved from Guelph to Winnipeg to get a chance to cover an NHL team. And he had been on the beat for 10 years when the team left town. While highlights from the old days play on the big screen, he thinks, "Yeah I was there for that, yeah I covered that game." At game's end, his grey suit jacket is slung over the back of his chair and he's bent over his laptop.
Fans are chanting "Go Jets Go" and high-fiving as if their team had won. The rink has emptied by the time Campbell hits send. The lead: "Stage fright and opposing snipers shot down the Winnipeg Jets in their home-opener today." There's no false narrative that he can attach to the proceedings.
After Campbell files his story, one that Greg Burnett and thousands of others will clip and save, Jason McMaster collects the sticks of the Jets historic starting lineup. He grabs some game-used pucks and sweaters. He sets aside the gloves and stick Antropov used to score the Jets' lone goal. The equipment will be shipped to the Hockey Hall of Fame. He dries skates, takes care of the laundry, and gets each stall in precise order, like a hotel chambermaid making a bed.
As the Jets' equipment manager, McMaster went down with the crew to Georgia to help bring back what Atlanta Spirit had flogged and True North had bought. He saw how difficult it was for Stewart to watch his skate sharpener be rolled away. McMaster drove a white cube van back to Winnipeg. "They were good to us," he says. "They were top shelf."
The 28-year-old from Saskatoon had spent three years with the Manitoba Moose before heading off to Los Angeles to work as an assistant equipment manager with the Kings. The Jets' rebirth in Winnipeg offered him his dream job and a return to the Prairies. "Hopefully we'll be here forever," he says.
The players and coaches clear out of the arena. The street is dark now, and the October winds are up. Lingering fans are scattered on Portage Avenue, but the blue tide has rolled out.
At 10 p.m., drunk fans are tumbling out of downtown bars. Scheifele's getting ready for bed at the home of his new hockey family. Greg Burnett hangs his Bobby Hull sweater back on its hook in his locker-room basement. And McMaster locks the equipment-room door.
The first game back in Winnipeg was like that final game in Atlanta: anything but a classic. And like that game in Atlanta, it doesn't belong to the players. It doesn't belong to GM Kevin Cheveldayoff and coach Claude Noël, both neophytes in their NHL positions. It doesn't belong to David Thomson and Mark Chipman, even though the suits at True North are cutting the cheques. No, those on skates, behind the bench, and in the executive suite are in supporting roles. The game belongs to the fans. The Jets don't earn a point, but the fans still come away as winners. They'll all be back. There will be another day. They know, as those in Atlanta do, that it's better to have loved and lost a game than to have loved and lost the team.