One of the most common questions after Patrick Roy's late-summer departure from his position as head coach of the Colorado Avalanche was whether the club could implement a stronger structural game this season.
Roy's replacement, Jared Bednar, has a very good reputation in hockey circles as a coach who can create a structure that fits with his players, and has shown his ability to get his team to buy in.
It's impossible for the Avalanche to have completely overhauled everything they do and be a different team this early in the 2016-17 season, but are there signs of progress?
So far, the Avalanche are allowing 3.2 goals against per game (a worse GA than last season) but rank 20th in the league in that category while goals are piling up in an abnormally high-scoring October. (For comparison's sake, last season the Avalanche allowed 2.93 goals against per game, which ranked them 25th in the NHL.)
The increase in goal-scoring so early in this season might obfuscate any improvement, so while we'll look at the rate stats, we need to keep league ranks in mind as well.
Looking beyond just goals, how are the Avalanche defending overall? Last season they allowed 32.3 shots against per game (third last in the NHL) and 61.8 shot attempts against per 60 minutes (dead last).
This season, they're allowing 32.8 shots against per game (seventh-last in the league) and 57.9 shot attempts against per 60 minutes, which ranks 20th.
That shows some marginal improvement relative to the league, but let's get a little finer and look at shot quality.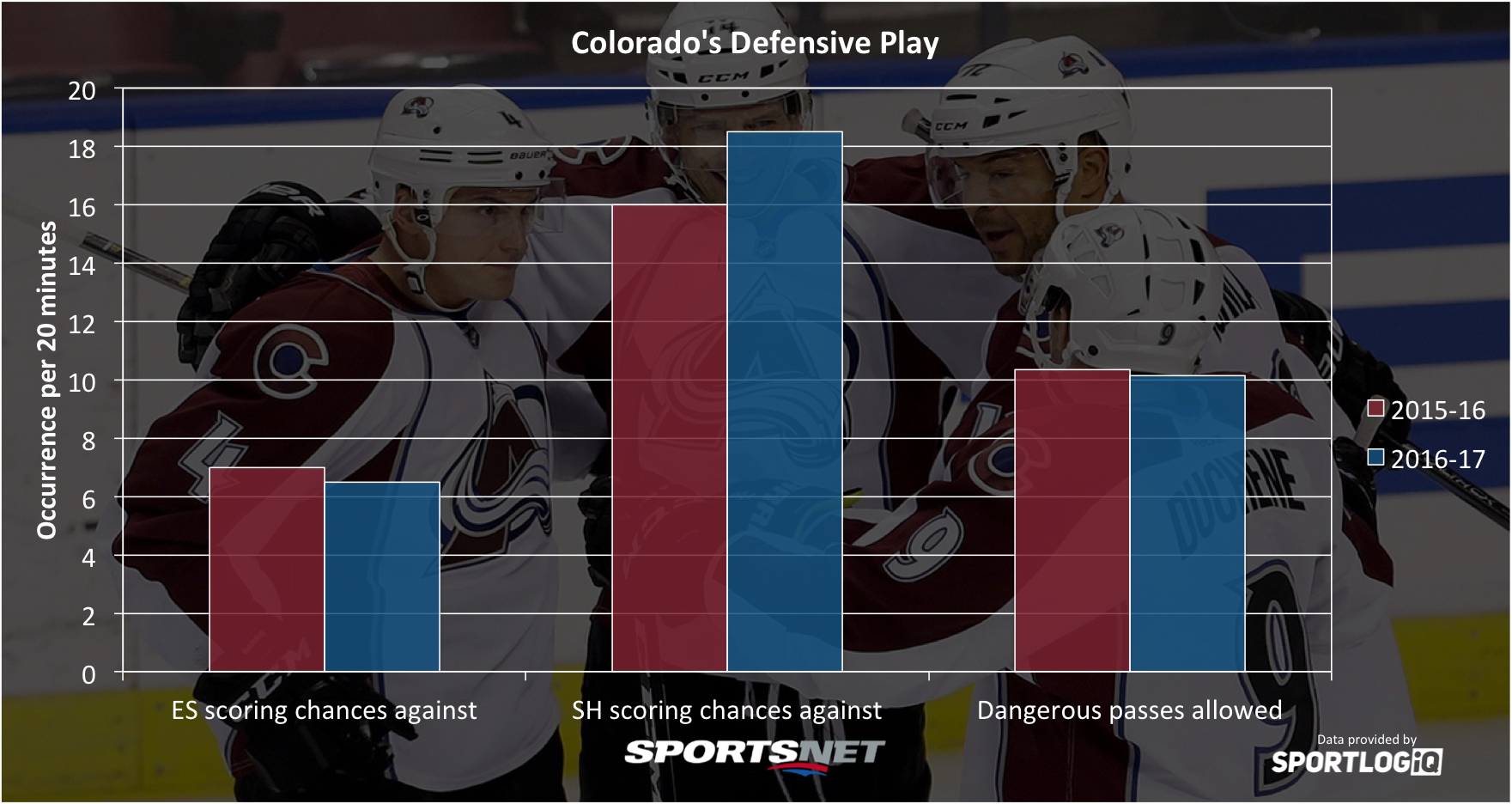 Since we're dealing with tiny samples here, all of these numbers are subject to change wildly. But like the shot rates, the quality of shots the Avalanche are allowing are dropping slightly.
Last season, Colorado allowed the most scoring chances against at even strength, the most shorthanded chances, and the fourth-most dangerous passes (passes to the slot, across the middle of the ice, and off the rush).
This season, while the improvements look marginal, the team ranks much better. Colorado is allowing the ninth-least scoring chances at even strength, seventh-most while shorthanded, and the seventh-most dangerous passes.
Obviously, not everything is rosy yet — no one is going to call the Avalanche a tough team to score on at this stage. But over the first couple weeks of the season, there does seem to be some progress being made by Bednar and his coaching staff, even without much in the way of roster improvements.
When dealing with such small samples, there's a distinct possibility that we're looking at statistical noise — or even an unsustainable run of better play from a few players that improves the team's numbers.
It's tough to know if there's anything to conclude from the numbers at this early juncture of the season, but there's a hint of something positive for the Avalanche. And that's good news for a young, exciting team.