Hockey has spat out more memorable lines than Jim Carrey (not that one), but as is the hockey way, so many of the sport's well-clicking trios have created magic under rather pedestrian nicknames.
It's a lazy tradition that reaches all the way back to the 1920s' "S Line" — Montreal Maroons forwards Nels Stewart, Babe Siebert and Hooley Smith — if not further: christening a line after the first initials of its three participants.
We had the EGG Line (New Jersey Devils Patrik Elias, Scott Gomez and Brian Gionta), the ridiculously skilled KLM Line (Soviet national stars Vladimir Krutov, Igor Larionov and Sergei Makarov), and the HEM Line (Toronto Maple Leafs Billy Harris, Gerry Ehman and Frank Mahovlich).
There's the MPH, the MVP, the PAP and the LAPD.
But when it comes to digging up the greatest hockey line nicknames, we've decided to skirt the acronym. Here are 15 of the game's best line nicknames, regardless of how great the players on the lines were themselves, although many of them were fantastic.
The Production Line: Detroit's Sid Abel, Gordie Howe and Ted Lindsay (and later Alex Delvecchio) were not only productive shooters, but they represented a city that was churning out automobiles with equal proficiency in their heyday of the late '40s and early '50s. That the line spawned a sequel in the '60s, The Production Line II Electric Boogaloo — Alex Delvecchio, Gordie Howe, Frank Mahovlich — makes it even more legit.
The Kraut Line: So what if this was a super derogatory name for three dudes from Kitchener, Ont. (or anywhere for that matter)? This was the 1930s, when people named their football franchises "Washington Redskins" and no one batted an eyelash. Canadians of German descent, the Boston Bruins' Milt Schmidt, Woody Dumart and Bobby Bauer ruled from 1936 to 1947 — except for those years they were actually serving for the Allies in World War II.
The Trio Grande: Rare is the line nickname that doesn't actually follow The ______ Line formula. In five seasons as regular linemates in the late 1970s, New York Islanders Clark Gillies, Bryan Trottier and Mike Bossy combined for 668 goals and 1,498 points. The dynasty-fueling forwards are not to be confused with these guys.
The Clydesdales Line: Three mid-'80s Chicago Blackhawks workhorses — Curt Fraser, Troy Murray and Ed Olczyk — each weighed about 200 pounds. But the moniker leaned on hyperbole: A single mature male Clydesdale can clock in up to 2,200 pounds.
The Hound Line: Not only did these three Maple Leafs — Wendel Clark, Russ Courtnall, Gary Leeman — dog the puck and hunt down the opposition, all three had skated for the Notre Dame Hounds.
The Legion of Doom: Wrestling junkies think of these guys. Comic book guys fear these villains. But hockey fans immediately think of Philadelphia Flyers Eric Lindros, John LeClair and Mikael Renberg (1994-97). In November, Lindros and LeClair were inducted into the team's Hall of Fame, and all three wore matching golf tees for this reunion interview in 2013.
The Mafia Line: Arguably the cleverest of the nicknames, the late-1970s New York Rangers unit featured a "Godfather" (centre Phil Esposito) supported by two Dons (Maloney and Murdoch) on the wings.
The French Connection: From 1972 to 1979, Sabres Gilbert Perreault, Rick Martin and Rene Robert wielded their French-Canadian flair in Buffalo. Didn't hurt that the 1971 Gene Hackman gem hit theatres in 1971. 'Twas the first R-rated film to win Best Picture at the Oscars.
That 70s Line: Gelling during the Los Angeles Kings' epic crusade to the 2014 Stanley Cup championship, teammates Jeff Carter (77), Tanner Pearson (70) and Tyler Toffoli (73) all rock defensive-line-type digits on their sweaters and have a knack for finding the back of the net. "They're effective, they're quick, and they can all make plays," says Chicago coach Joel Quenneville.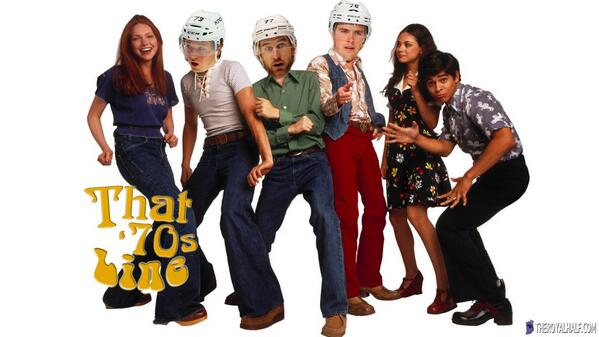 The Brothers Line: One of the many third wheels to join Vancouver's twin siblings, Daniel and Henrik Sedin, Anson Carter lit it up as the third "brother" in 2005-06, scoring 33 goals.
The Helicopter Line: We appreciate the stretched metaphor here more than the actual results. The San Jose Sharks line (circa 2011) of Joe Pavelski, Kyle Wellwood and Torrey Mitchell operated more like a helicopter than an airplane because it had no wings. All three players were career centres.
The Pony Line: Chicago Blackhawks Max Bentley, Doug Bentley and Bill Mosienko are all listed under 5-foot-10. And they are all Hockey Hall of Famers. Mosienko once scored a hat trick in 21 seconds. Seriously.
The Merlot Line: The gritty bottom three of the Boston Bruins (2011-14) insisted on not being called a fourth line. Shawn Thornton, Gregory Campbell and Daniel Paille were instead named after their burgundy-coloured practice sweaters. Merlot, unfortunately, is the fourth line of wines.
ZZ Pops: One of the most recent lines here (aside: are nicknamed lines losing favour?), New Jersey Devils Zach Parise (since moved on to Minnesota), Travis Zajac (still in Jersey) and Jamie Langenbrunner (retired) featured two forwards with Z's for initials and a relatively old guy.

Triple Crown Line: Charlie Simmer, Marcel Dionne and Dave Taylor not only scored goals at apparent will, they wore some of the greatest sweaters in the history of putting clothes on your body, and made this music video we just found and are so happy we did.