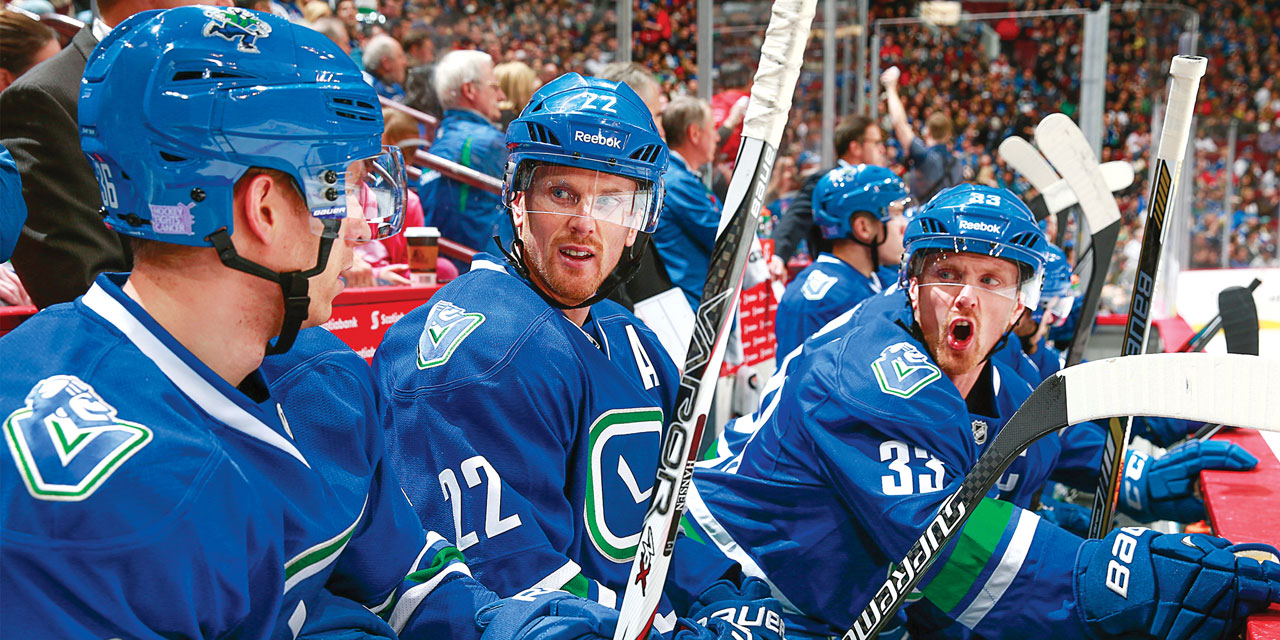 What's it like to be the third member of the Sedins' line? We asked 13 of their brothers (from other mothers) to tell us
By Naoko Asano
With right-winger Radim Vrbata enjoying success this season on the Canucks' top line, and Alex Burrows recently reuniting with Henrik and Daniel Sedin for his turn in that spot, it got us thinking: The twins' innate chemistry with each other is the stuff of legend, but what's it like being the other guy matched with Vancouver's most dynamic duo? We talked to 13 of the Sedins' linemates from throughout the twins' career(s) to find out: What are they like as teammates? As people? How hard is it to mesh with two guys who've been together since before they were born? And—most importantly—can even the Sedins' closest teammates tell them apart?
Twintroductions: The First Meeting
MARKUS NASLUND (Sedin teammate, 2000–08) Their older brothers and I played at the same local rink when I grew up [in Ornskoldsvik, Sweden]. So I saw them around. I don't know how old they would have been—between three and seven or eight years old. I remember two twins following their older brothers around.
As an adult, I saw them on the ice when I was home for the summers. And then during the 1999 World Championship I got to spend some time with them. That was the year before they came to Vancouver.
TREVOR LINDEN (2001–08) When I first met them obviously they were kids. Young boys.
TRENT KLATT (2000–03) My reaction was, They're just babies. I mean, they're not ready for this. Good grief. They were so young, and they were coming from another country. They were never separated when they were over here. They were always together. They were very shy, very quiet; they kept to themselves. But they were consummate professionals at the age of 19.
BRYAN SMOLINSKI (2006–07) I'd been playing against them for a few years. They were fairly young, fairly new to the league, but had made a huge impact, being twins. We knew about 'em, we always had to watch 'em on the opposition. Meeting them, they were very soft-spoken young men who worked extremely hard at what they do in different ways. Very similar … but different.
NICKLAS JENSEN (2012–present) The first time I met them, I was 18. It was after the draft, at the first camp that I went to. I felt welcome right away, mostly because of them. They are honestly one of the greatest—or, two of the greatest—teammates I've ever played with. They come first, and they say hi to you. They took me out for lunch. They make it easy on you to feel comfortable in the dressing room.
MIKE SANTORELLI (2013–14) They work hard, they come to the rink and create such a great atmosphere. They're both great leaders. They're really good people.
JANNIK HANSEN (2006–present) They're quiet leaders. Not the type who stand up and yell; they lead through their actions. The way they conduct themselves and obviously their play—this team follows them in every aspect.
JENSEN They work as hard off the ice as anybody, if not harder. It's pretty special to see when such good players don't take it easy and try to get better every day. It makes you realize there's so much hard work ahead of you, too, and as a young guy it helps.
ZAC DALPE (2013–14) They're the best-conditioned athletes I've ever seen. They work hard in the gym; I guess they crush all the fitness testing. It's not just God-given talent. They put the work in. That's inspiring.
LINDEN I quickly grew to have a great deal of respect for them because I could see they had a real inner toughness—they were willing to do what it took to become good players.
When you finally hit the ice with them for the first time… just try to keep up
NASLUND We had a charity game in our hometown, the NHL guys home for the summer versus Modo. Henrik and Daniel had just signed [with the Canucks], so they played with the NHL guys. We played on a line that game. They made hockey easy. They knew where to put the puck and they knew where to go on the ice. Each step looked a lot easier than it was for most players. They were able to think a couple of steps ahead.
DALPE When I got on their line, it was kind of a makeshift line during a game. I don't think we were playing very well at the time, or somebody got hurt. It was against St. Louis. I remember the game, and [John Tortorella] yelling, "Hank, Danny—" and my name. I was like, No, there's no way he's serious. I asked one of the guys, "Did he say my name?" I was a little bit nervous. I don't want to make them mad. I grew up watching these guys, so I don't want them to be all, "Oh, we gotta play with Zac?"
JASON KING (2002–04) The first time was actually my first year of pro. I got called up from the Manitoba Moose to Vancouver. I got put on a line with the twins in my first NHL game, in Dallas. On my first shift, I could see the skill and talent they had.
JENSEN My first game on their line was in San Jose, my first NHL game ever. I was 19. I got called up for two games, and I was on a line with both of them. I was a little nervous, but I probably couldn't have asked for better linemates. They're unique, how they play the game, and they've been special their whole careers. To have that chance my first game was pretty cool.
SANTORELLI I was so nervous. I think it was Calgary and I started the third period with them. Henrik gave me an unreal pass and we ended up scoring. He passed it from the middle of the ice and I was on the wing. Just an unreal pass and I shot it and scored. It was surreal. Never in my wildest dreams—I grew up watching them!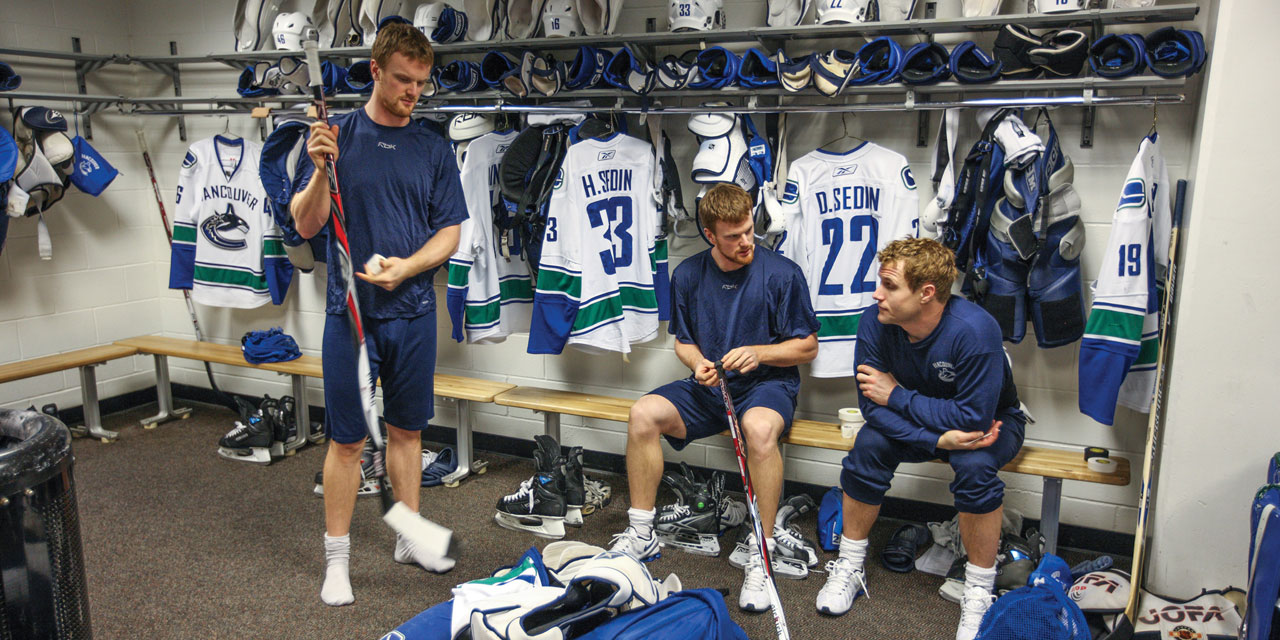 But don't worry: On the twins' line, you're family
LINDEN Playing with those guys, you are the third brother.
JENSEN I never felt uncomfortable when I played with them. They really make you feel part of everything. As soon as you get lucky enough to play with them, they right away take you aside to go over stuff with you and make you feel part of that line.
DALPE I didn't feel like a third wheel. I was just like, Don't mess this up. [Laughs.]
KLATT I loved playing with them. They're obviously way better than I ever was, but we were all very similar in the way that we played. Our games matched very well.
KING When I scored my first NHL goal, they were the guys who went and got the puck.
RYAN KESLER (2003–14) Some of the funnest hockey I played in my life.
The key to success with them? Just get open.
JENSEN The thing I got told by pretty much everybody on the team: "Close your eyes, get to the net, keep your stick on the ice and they'll hit it." I mean, they're amazing passers.
LINDEN The most successful guys who have played with them—some maybe aren't the most talented guys—are the guys who are able to find the open areas and go to the net.
DALPE I think you've just got to take advantage of your situation if you're on their line.
KESLER Really all you have to do is get open and they are going to do their magic, and when they see you they put it right on your tape.
HANSEN You try to create space for them. If you can pull a defender away from them, so they come to you, they'll have much more room. If you can provide some traffic in front of the net—anything that gives them space to do their thing.
NASLUND You've got to be ahead of the game, like they are, to have a chance at success.
KLATT You need to be humble and you need to be unselfish to play with them. Because that's them.
KING I just tried to stay out of their way, to let them do what they do.
RADIM VRBATA (2014–present) They have a chemistry on their own, so as the third guy you just kind of fill in and read off them. They don't try to beat players one-on-one or overpower anybody. They like to use short little passes and get open for each other.
Even though they're probably better than you, the Sedins are willing to adapt
LINDEN One of the first things they said to me was just, "Find a hole. Just go find somewhere to be open. Let us handle the puck. We don't need three people to do that, so you go find a hole."
SMOLINSKI It was easy and difficult to play with them. I was fortunate to be in the league back in '95—I played with Mario Lemieux, Ron Francis and Jaromir Jagr; very, very high-end players—and it was the same thing: difficult to play with them because they're thinking on different wavelengths. So at first you're just figuring it out. Sometimes you're trying too hard to get them the puck, and you're going against the grain a little bit.
[But] they're very forthcoming. They always want to help. Anything they can do differently, they try.
DALPE I remember one time it was a TV time out and I was super nervous, like, I gotta get these guys to talk, I gotta pass to them all the time. Hank looked at me calmly and was like, "Hey Zac, just play and we'll adjust to you. Don't feel like you have to overcompensate and kinda play out of your shell. Just do what got you on this line and we'll take care of the rest." And I was like, That's a huge relief. You try to get the superstars the puck and sometimes try to make plays you shouldn't and it doesn't work out. When Hank said that to me it was like a breath of fresh air.
JENSEN I never felt uncomfortable when I played with them. Right away, they let me know all the things I needed to do to try to keep up, their little systems. It's tough to keep up with them because they're just so smart, and they know where the other is all the time.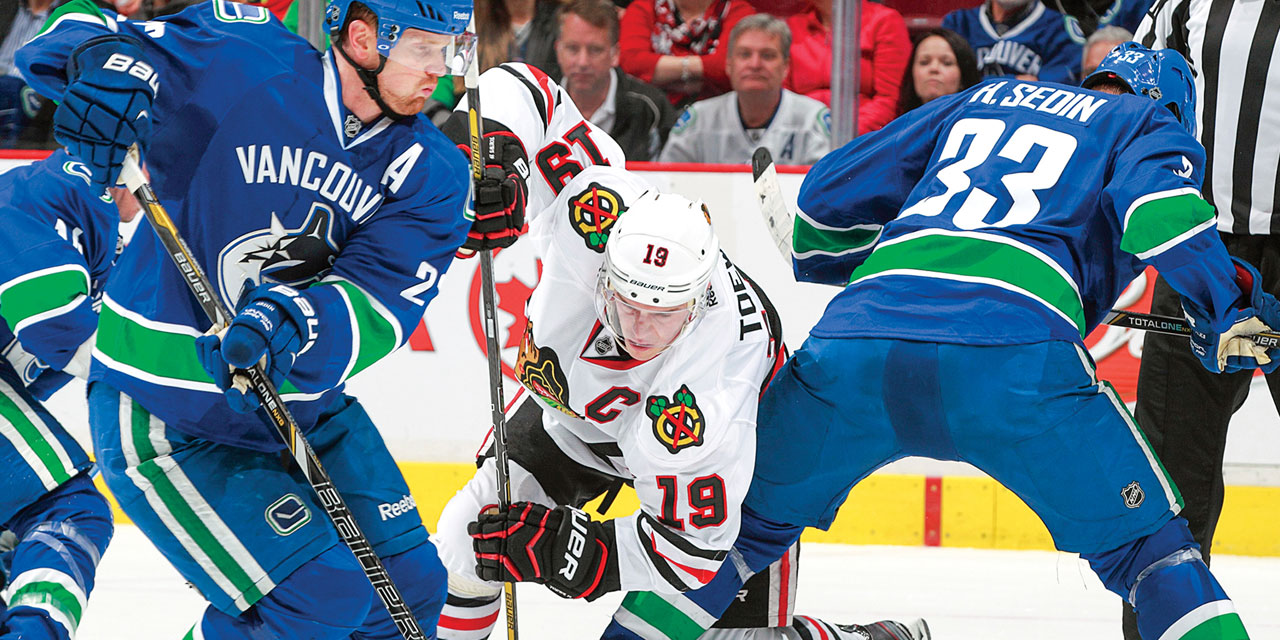 Communication is key. Even if they don't communicate.
SMOLINSKI They're not very vocal players. Normally everyone wants you to talk. You're like, "Hey, over here! Hey! Hey!"
DALPE I think they don't really need to talk. They've just played together so long that they kinda know, like muscle memory, where the other is gonna be. But for the third guy on the line, they were like, "Hey, just get open and we'll get you the puck." So there wasn't much talking.
KING They like to communicate on the bench—talk about plays they'd like to run, where we should be, where we could be.
LINDEN Between the two of them on the ice, there's no communication. They don't need it.
ALEX BURROWS (2005–present) They communicate like dolphins. They don't really talk on the ice. It's only sounds, and it sounds like dolphins.
Call it "Twintuition"—Henrik and Daniel's uncanny ability to each know where the other is.
VRBATA It's unique. You play with guys who might have chemistry because they've played together a couple years. But [the Sedins] have been together their whole lives, and you can see that sometimes it's like they have one mind.
SANTORELLI They make these plays where you're just like, Wow, I can't believe they just did that!
KING They'll make a behind-the-back pass or a no-look pass and it's almost like the one just kind of feels where the other one is. I don't know if that's something to do with being twins, but it's impressive.
KLATT They have an absolute overabundance of hockey sense.
KESLER You try to get on the same wavelength and think like they think, but they think the game so well. It's hard to do that.
BURROWS They see each other. They're able to make passes where no one would think they'd be there, but they still make it. It's a lot of fun.
HANSEN Their chemistry—I don't think you can find that anywhere else in the league.
JENSEN It must be some twin thing.
Speaking of which, how hard is it to tell them apart?
SMOLINSKI If they were in a police lineup, I couldn't tell you which was which.
NASLUND Initially I needed to see them side by side.
DALPE Somebody told me this—and it sounds super creepy—but they have different-shaped faces.
JENSEN Danny's face is a little … he has a slimmer jaw and head than Hank.
DALPE I was like, OK, but I just see one of them, so how can I compare the face shape to the other if I only see one? So now I don't know who it is. At the end of the year I was getting lucky and really good at guessing.
SMOLINSKI You'd just say hello. You wouldn't even try to say their name, because—I'm sure they're used to it; they'd just go along with it, because they've just been doing it all their lives. I wouldn't even try to ask them their names. I'd just say, "Hey guys!" [Laughs.] You know, "Hey Seds! What's up?"
BURROWS The first, I'd say, couple weeks or months, it was tough to tell them apart. But now it's easy. They don't even look the same for me. Even on the phone I'm able to tell them apart now.
SANTORELLI I feel like I can tell them apart.
STEVE BERNIER (2008–10) I think Henrik is bigger. So when you see them together, you know.
LINDEN I can just tell by the way they carry themselves, and their overall facial expressions are very different.
KLATT It didn't take me very long to figure out. I'm married to an identical twin, so it's just normal to me. I could just tell which one was Hank and which one was Danny. You look for little things, you pick up on little things.
SMOLINSKI Once you knew the guy was playing centre, you knew who he was because he was the one playing centre. [Laughs.] But you think you got it down, and then you don't see them on a day off and you come back the next day and you're like, Yeah, I totally forgot.
JENSEN I mean, they do really look similar. Even on the ice, everything's the same—their numbers are almost the same; they skate the same; everything's the same. There's still some times when they quickly walk by and you're like, "Hi Hank," but it's Danny.
DALPE John Tortorella would still mix them up. He would come in and be like, "Hank or Danny or whoever you are!" It was funny. They would just laugh.
VRBATA It's getting better, but there are still days that I don't know which one I'm talking to. [Laughs.]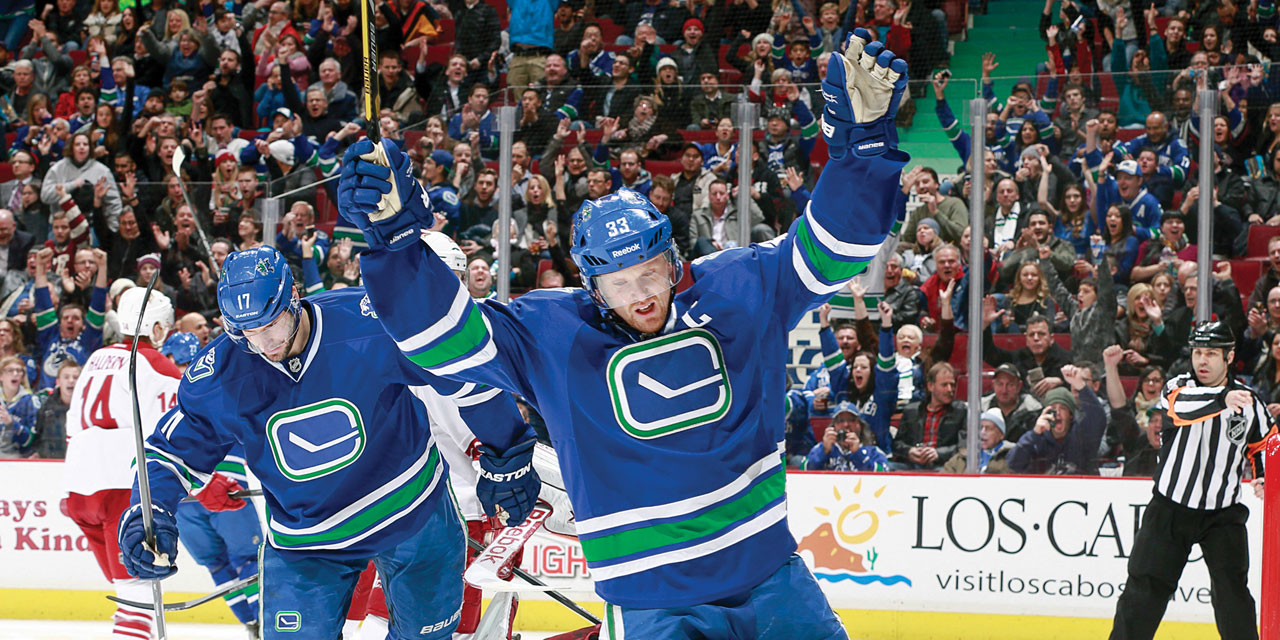 Over time, getting to know them, the differences in their personalities start to show up. Kind of.
BERNIER I think Daniel is more outgoing and talks a little bit more.
NASLUND Henrik comes across as the more social person, the more outgoing and outspoken. Henrik laughs probably a little bit more.
SANTORELLI I think Daniel has more of a mean streak, maybe. But they're both great people.
DALPE They're really down to earth. You have a sense of ease around them. They're laughing, they're having fun—it makes you laugh and have fun.
BERNIER Daniel is scared of flying—ah, no, sorry—Henrik is scared of flying, and Daniel is not. Or maybe it's the opposite. [Laughs.] But I know that they are different.
KING Henrik was my roommate on the road while I was with the Canucks. We all got to hang out quite a bit, going for dinner or that type of thing. It was great because I got to know both of them personally. They're just normal guys.
Whatever happens while you skate with them, you'll be a better hockey player for having done it
KLATT I still get it every once in a while if I run into a person who was familiar with it, they'll call me "The Triplet." I think it was kind of a disservice to [the Sedins]. But it didn't bother me. I kinda liked it. I'm just honoured to be able to say that I played with them.
NASLUND If you look at the pattern of the guys who have played with them regularly, they've had career years with Henrik and Daniel.
SMOLINSKI Being on a team with them makes you a better player. It's a great feeling to be on their wing because you're playing with some world-class players. You have to raise your game to do that. You have to do some things that you normally don't do, and you have to be able to do it. I was just happy to, at one point, be their teammate.
JENSEN You get comfortable; you get confidence, too. That's a big thing in hockey, and when I played with them, that was what I felt. Just playing with them gives you momentum.
DALPE It was weird. Once I got on their line, this confidence came out of me that I hadn't seen really in my NHL career. I was like, Oh, this is what it feels like to be confident with the puck. [Laughs.] I don't know where I found it, but I kinda had a bit of swagger. I was surprising myself. I'm not saying I'm a bad hockey player now, but definitely during those games, I felt like I was a little more skilled.
KING The twins were definitely the major factor in me receiving [rookie of the month in November 2003]. It was probably the biggest highlight of my career. There's no question I have high praise for them, because without playing with those guys and the talent they had, and the chemistry we had on our line, there's no way I would have accomplished that.
DALPE I don't want to offend my brother—I used to play with him back in the day— but when it comes down to it, those guys have been the best I've ever had the privilege of being on a line with. I can say I scored a goal assisted by Daniel and Hank. I'm definitely gonna be bragging about it.
LINDEN We'll never see anything like this again.
With files from Dan Robson and Dan Murphy
Photo credits: Jeff Vinnick / NHL / Getty / Vancouver Canucks