Summer is over and the rush of adrenaline NHL fans got from the draft, free agency and subsequent trades has faded. Teams are back on the ice, knocking off the rust in pre-season and rosters will soon be finalized as the games begin to count this week.
Not only do all 31 general managers have to put together the most competitive team possible with the parts they're working with, they have to stay on budget.
Some GMs navigate the salary cap like a Sherpa scaling the Himalayas. Others not so much.
Look at Detroit's predicament right now for example. This isn't meant as a critique of Ken Holland but what the Red Wings are currently spending relative to the talent up and down their roster is askew whereas Tampa Bay has as much talent as any team in the league and they've still got room to add a quality piece or two if required.
This year's salary cap was set at $79.5 million, so as a fun little exercise before the regular season gets underway we wanted to see just how star-studded a cap-compliant roster could be under 2018-19 restrictions.
The NHL prides itself on parity but with a hard cap it's tough realistically building a team so loaded to the gills with stars that it's ostensibly an all-star team – *cough* NBA *cough* soft cap *cough* Golden State Warriors *cough* – but it is possible.
We decided to sift through every NHL roster, put on our cap management caps (whoa, a cap cap!) and see which players have the most bang-for-your-buck value.
To make things more difficult we excluded players on entry-level deals. Otherwise you'd end up with a videogame-calibre squad that would require little in-depth thought to assemble.
With the average age of NHLers getting slightly younger each year, the inherent value of players on ELCs continues to grow. That means you could have McDavid, Crosby, Ovechkin, Hedman, Doughty and Price as your core then sprinkle in the likes of Laine, Matthews, Marner, Boeser, Barzal, Provorov, Werenski and other young studs and still fit everyone under the cap.
That's not as fun a task and there's actually no guarantee that team would be better than what we've come up with.
There are no pigeons, no pylons, only beauties on this team.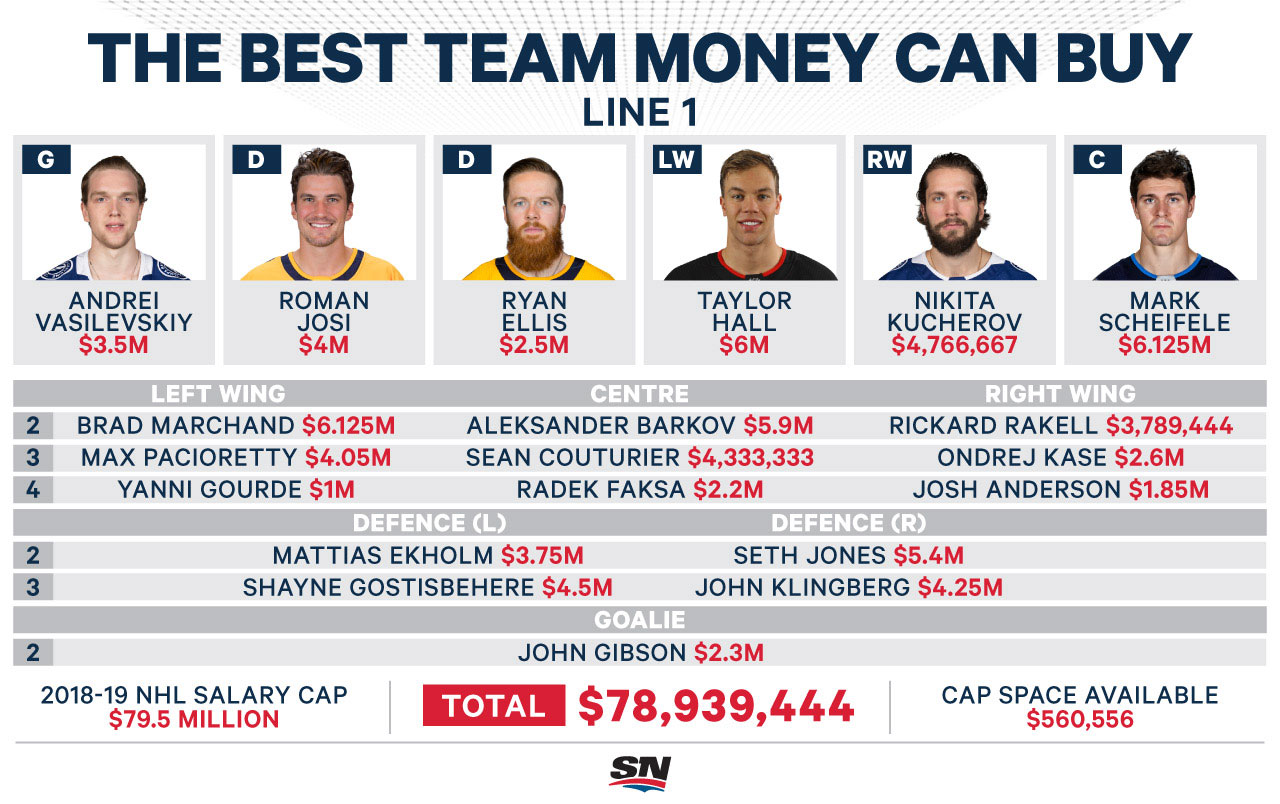 The first question you might have is: how can you build any type of best hockey team without including the consensus best player?
Here's some math. Connor McDavid had a cap hit of $925,000 in 2017-18. He registered a league-high 108 points which means the Oilers paid $8,564.81 (rounded to the nearest cent) for each McDavid point.
Let's say, for argument's sake, McDavid scores 108 points again this season. On his new $12.5-million cap hit, each point would cost the Oilers $115,740.74.
It's also why Sidney Crosby, whose $8.7-million AAV is absurd value, didn't make the roster. Instead, we went with a bit of a Golden Knights approach and focused on depth of attack instead of front-loading a team with superstars.
Here's a breakdown of why these specific lines and pairings were put together and what they bring to the table.
LINE 1
Taylor Hall – Mark Scheifele – Nikita Kucherov
Even if you were to create an All-World roster of the absolute best hockey players on the planet at this moment and you were given zero salary restrictions, it's highly probable each of these three stud forwards would make the cut.
Kucherov is coming off his first 100-point campaign and has finished top eight in Hart voting two years running, Hall is the reigning Hart Trophy winner, while Scheifele is regarded by hockey insiders as an unheralded superstar. All three made appearances on our "Top 100 NHL Players of 2018–19" list with Kucherov, Hall and Scheifele coming in at No. 10, No. 11 and No. 13 respectively.
This line has speed for days with few wingers able to make high-level skill plays at the velocity at which both Hall and Kucherov operate and few have the hockey IQ Scheifele possesses. Hall had 41 more points than his next closest Devils teammate in 2017–18, so we can only imagine what he'd be like playing beside two elite talents.
When building a team like this it becomes rather difficult to maintain depth if you have more than a handful of players whose cap hits exceed $6 million. Hall is right at that number and will be for the next two seasons. Scheifele is locked in at a cap hit just north of Hall's on a deal Kevin Cheveldayoff can hang his hat on until it expires in 2024. Kucherov has one more year on his bargain sub-$5-million cap hit before his well-earned eight-year, $76-million deal kicks in at the start of next season.
The Russian is a left shot who plays on his off-wing but his usual centre is Steven Stamkos, a righty. Stamkos doesn't have trouble getting Kucherov the puck and vice versa so we're confident him and Scheifele would thrive.
Connor McDavid, Evgeni Malkin, Sidney Crosby and Patrick Kane are the only players with a better points per game average than Kucherov over the past three seasons. Those four stars happen to have each won the Hart. Could that be a sign of things to come for Kucherov? If he continues to improve year-over-year like he has then it's only a matter of time.
These are the three most offensively gifted forwards on the roster so putting them on the top line was an easy choice.
LINE 2
Brad Marchand – Aleksander Barkov – Rickard Rakell
Our first line is all about offence but our second line gets it done in their own end while still putting goals on the board.
Say what you will about his frequent cheap shots and aptitude for confusing human faces for tootsie pops but Marchand's production is undeniable. The pesky Bruins star is behind only Alex Ovechkin and Vladimir Tarasenko in total goals since 2015-16 and is second in even-strength tallies over that stretch. His $6.125-million hit is tied with Scheifele's as our most expensive salary but it remains an absolute steal. He has the luxury of playing on the NHL's most dominant line with Patrice Bergeron and David Pastrnak, and when he represents Team Canada swap Pastrnak for Crosby. Marchand is accustomed to and knows how to play with smart players because he's one himself. That's why we figure he and Barkov would gel so well.
The depth of this roster and the fact we have multiple centres capable of playing a shutdown role would free up Barkov to show off more of his offensive chops. He isn't a point-per-game-player just yet (he had a career high 78 points in 79 games last season) yet this Finn has perhaps the league's most underappreciated skill set — at least when it comes to centres.
"He's our best player, game in and game out," Panthers GM Dale Tallon said this off-season when Barkov was named team captain. "Nobody works harder off-ice, his preparation is second to none and his attention to detail is second to none. He's just 23 years old. He's an amazing young man."
Put Barkov between a pair of 34-goal scorers from a year ago and you get magic. The Ducks have a few contracts on their roster they probably regret at this point; Rakell's is not one of them. The Swede was one of 22 players to score at least 34 times in 2017-18 and Rakell had a lower cap hit than all with the exception of William Karlsson and Anders Lee, plus Patrik Laine, Connor McDavid and Auston Matthews, all of whom were on entry-level deals.
[snippet id=4234155]
LINE 3
Max Pacioretty – Sean Couturier – Ondrej Kase
With Couturier we've got one of the elite shutdown centres in the NHL. The Flyers standout finished second in Selke voting this past season and also had a career high 31 tucks and 76 points. It doesn't get much better than that when it comes to two-way play. His cap hit is lower than other budget-friendly third-line centre options we considered like Nazem Kadri ($4.5 million AAV) and Mikael Backlund ($5.35 million AAV).
Just like Philly's new mascot, Couturier's grit level is plentiful. Exhibit A? The former Drummondville Voltigeurs star had five goals and nine points in five playoff games last season, including a five-point effort during which he played through a torn MCL!
Pacioretty has been on one of the NHL's best value contracts since 2013 and his cap hit is only going to cost Vegas a hair above $4 million this season. You can play him in all game situations and that's why he earned a big raise that'll kick in next season.
Kase is a relative unknown compared to his teammates here but as Sportsnet's Rory Boylen pointed out this summer he's a breakout candidate to watch this season. He finished eighth in goals per 60 minutes at 5-on-5 and at just 22 he's bound to keep improving.
(Note: Pacioretty's AAV is $4.5 million but $450,000 of his 2018-19 salary was retained by the Canadiens in the trade so that's why he's listed at $4.05 million here. Even with Pacioretty's full $4.5-million hit this team would remain under the cap.)
LINE 4
Yanni Gourde – Radek Faksa – Josh Anderson
Putting together an all-star-calibre team without going over budget and without the aid of ELCs means we needed a budget line and we think we've got a good one here. Realistically, this could be a solid second line on certain teams in the league right now.
Keeping with the mindset that we want a well-rounded team, Faksa flourishes in his own zone and when the opposition has the puck. The 13th-overall pick from 2012 is coming into his own and finished seventh in Selke voting in his third season with the Stars. His defensive zone start percentage of 66.6 in 79 games last year speaks volumes to how valuable and reliable he has become. Dallas is lucky to have him at $2.2 million for the next two years.
Laurel Yanni Gourde is a bit of a utility man for the Lightning and in terms of bang for your buck there weren't many players who performed better than Gourde in 2017-18. Twenty-five goals and 64 points as a rookie, positive possession metrics, a positive giveaway/takeaway ratio, durability. All for the low cost of $1 million. He's a pending UFA so if he has another season like he did last year you can expect him to at least quintuple his cap hit on his next deal.
One year ago we were talking about Anderson making headlines as a holdout but by the end of the season his performance erased any early-season negativity with 19 goals in 63 games. He won't become an RFA for another two years and we couldn't pass up adding 30-goal potential to our fourth line.
DEFENCE
PAIR 1
Roman Josi – Ryan Ellis
In order to boast three quality defence pairs in addition to four forward lines we kept off superstars like Erik Karlsson and Drew Doughty whose cap hits in 2018-19 are easily digestible at $6.5 million and $7 million respectively.
But look at it this way: the pair of Josi and Ellis, who have ingrained chemistry from their years playing together in Nashville, adds up to the same price of one Karlsson. You might not get the name value or sell as many jerseys but you get more overall production.
Ellis is in the final year of having a $2.5-million cap hit but Josi is locked in at $4 million for another two.
PAIR 2
Mattias Ekholm – Seth Jones
As you might've gathered by now, this blue line is an unofficial love letter to David Poile and the Nashville GM's unmatched ability to draft stud defencemen. Jones is one he drafted then traded away and his $5.4-million price tag is our most expensive on the back end but since he has legit Norris potential it's still a snip. It's a shame for the Blue Jackets that Jones is out to start the year after spraining his knee.
Ekholm can do a bit of everything and adapts to whatever his partner is doing. When P.K. Subban jumps into the rush Ekholm covers for him and the same would be true if he played with Jones.
Both have plenty of size and strength to complement their long strides and silky skating ability, so going up against the league's best power forwards wouldn't be a problem for them. This would be our shutdown pair. Their long, active sticks and ability to cut off angles would frustrate opposing forwards to no end.
[snippet ID=3322139]
PAIR 3
Shayne Gostisbehere – John Klingberg
If you enjoy seeing offence from the defence you'll like watching this duo put in work. Klingberg finished second in points among defencemen last season and sits fifth in scoring since he entered the league in 2014.
Gostisbehere, meanwhile, ranked third in points per game and with his uncanny ability to get the puck on net through traffic is an easy choice to be our power-play quarterback. His 33 points on the man advantage led all blueliners a year ago.
You won't have this pair on the ice against a team's top line, but when you're down on the scoreboard and need a jolt of offence this is who you'd turn to.
GOALIES
Andrei Vasilevskiy – John Gibson
Vasilevskiy would be our starter here with Gibson backing up but it's really a 1a/1b situation with two of the best goalies aged 25 or younger.
Vasilevskiy led the NHL in wins and shutouts to go along with his .920 save percentage and 2.62 goals-against average. Gibson didn't have the team success Vasilevskiy did but his .926 save percentage and 2.43 GAA were better.
The combined cap hit in the crease is only $5.8 million, which is less than teams like the Oilers, Devils, Red Wings, Senators and Canucks, all of whom struggled to keep the puck out of their own net.
All salary figures are courtesy of CapFriendly and if you're interested in building your own custom rosters with cap settings you can customize, check out their Armchair GM feature.
There were plenty of tough omissions but this team can get to the net, back-check, put up crazy points, kill penalties, light up a power play, defend a lead. It's not an overly physical group but with a surplus of speed and skill wouldn't need to be.
It's a team built for the modern game but one we're confident could thrive in any era.
[relatedlinks]