Think Silicon Valley and a few things come to mind: Google, Apple, Facebook—and hockey?
By Dan Robson in San Jose, Calif.
Photography by Cody Pickens
n hour before puck drop, Steve Vonderach arrives at his team's dressing room to prepare for the game. He says he needs to stretch but in truth he just can't wait to get to the rink. Vonderach is his team's silver-haired leader. The oldest; the veteran. He has anticipated this evening all week. He has played it out in his mind, preparing for every possibility, ensuring that he is ready for anything that comes in the 60-minute battle that awaits him and his men on the ice. He goes through his routine. He checks his sticks, surveys his gear. He sits on the right, closest to the door, where you can hear the angry cries of heavy metal pump-up music from the opponents two doors down.
Less than five years ago, Vonderach, a nearly 60-year-old corporate lawyer, couldn't even skate, let alone stickhandle. Today, he's a long way from where he started but is still mastering the finer mechanics of unleashing a slapshot. A quick survey of the room reveals similar stories for most of the team. A few learned how to skate when they were young; none of them played the game until they found each other. But here they sit, united as proud members of Hector's Pool Service, the reigning runners-up in the EEE division of the Sharks Ice Adult Hockey League, one of the biggest beer leagues in North America. Now graduated up to EE, the team named for a fictional pool company featured in a dressing-room joke is making a serious push to advance again. They are only 12 levels from the top, where former junior and college players skate in the A division. They've made it here. Who knows how far they could go?
Hector's Pool Service marches to the ice, each player with the name "Hector" sewn across the shoulders of his sweater. The Hectors huddle around the bench as their opponents, Rogue Squadron, prepare for the faceoff. Pre-game-speech duties go to one of the Pool Service's young stars, Daniel Palay, who implores his teammates to play with pride and skill—not only to secure a W, but also as a matter of honour. "Let's show them that we actually know how to play hockey," he says. "And that we aren't just a bunch of fools."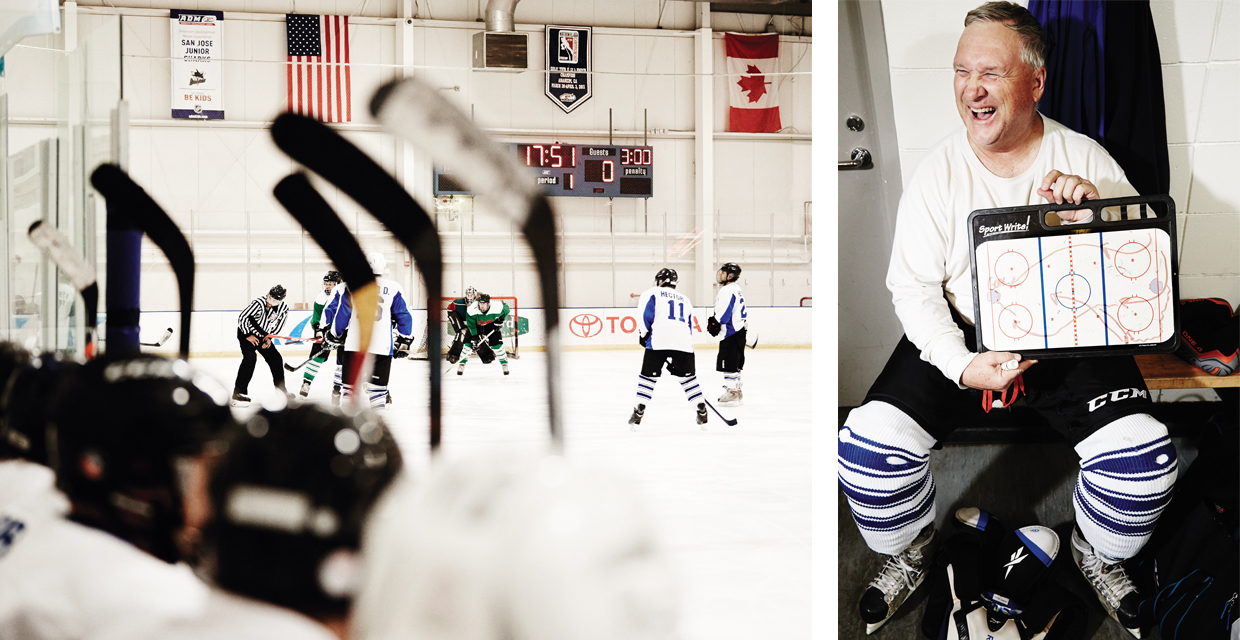 It's Tuesday evening, but in Silicon Valley, every night is hockey night. In the sunny centre of the tech universe, disposable wealth and a large population of transplants have created the perfect climate for a traditionally northern sport to thrive. Hockey is growing faster in California than anywhere else in North America, and the dividends of the sport's spike in popularity are starting to arrive in the NHL, in the form of players like Matt Nieto, Beau Bennett and Kevan Miller. In just two decades, the Bay Area has transformed from empty ice and no competitive leagues into the home of one of the largest, most intense beer leagues in the United States. This is how hockey became Northern California's game.
When Robert Savoie arrived in San Jose back in 1994, hockey was still very much a niche sport, played almost entirely by people who had moved from the northeastern U.S. or Canada. Savoie was a 30-year-old who'd grown up just outside of Quebec City and moved to California with his wife when she took a job as a microbiologist. As a kid, he'd played the game the way it was traditionally meant to be played—on frozen ponds and in frigid, poorly insulated rinks—and he had continued on into junior and college hockey. The San Jose Sharks had come to town just a few years before Savoie arrived, which gave the sport a boost, but very few people knew how to play. There weren't any competitive leagues—games had to be organized with like-minded puck-heads at one of the few rinks in the area—and newcomers looking to learn the game in a meaningful way were pretty much out of luck.
When the Sharks first arrived in San Jose, the city built a practice facility with two ice pads just south of the downtown core. Still searching for a place to play pickup, Savoie was invited by his friend Gaetan Duchesne, who was closing out a successful NHL career with the Sharks, to check out the new arena. The facility wasn't used for much beyond Sharks practices, public skates and shinny, but in it Savoie saw potential for growing the game. By the following year, 1995, he had accepted a job as the facility's hockey director. When he launched the adult recreational league that same year, it consisted of just 10 teams. The two sheets of ice usually sat empty. "Let's just put in this way," he says. "Things were not very busy when I started."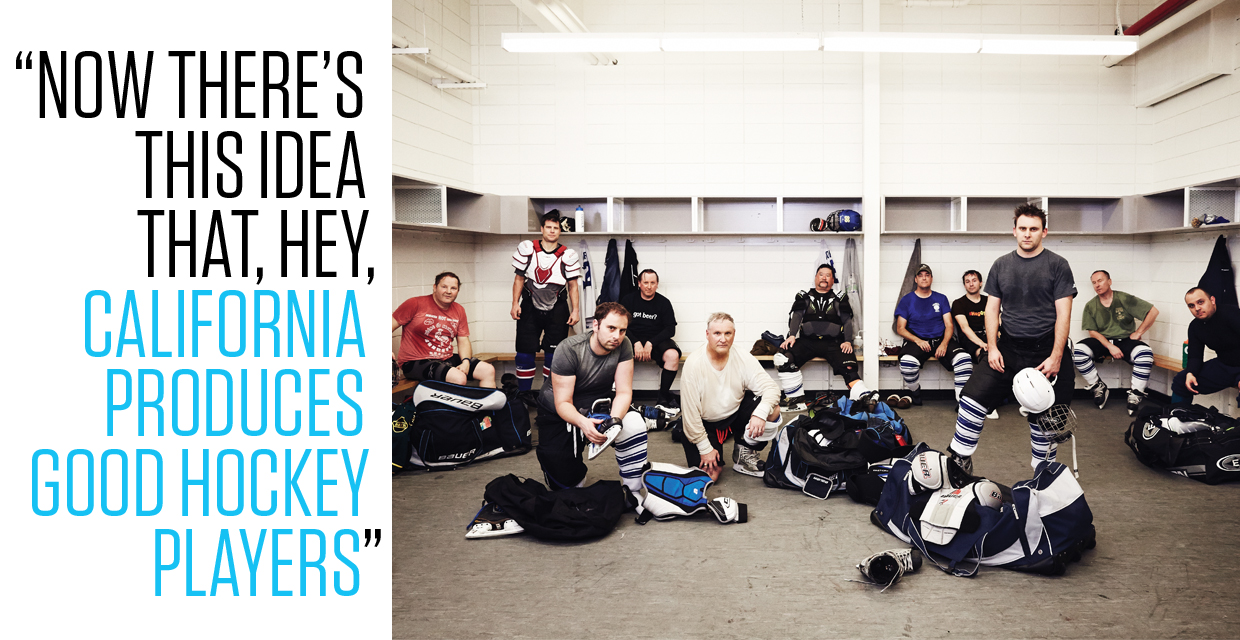 According to USA Hockey, in 1991 there were approximately 11,000 registered hockey payers in the Pacific U.S.—a region that included California, Oregon, Washington, Nevada, Hawaii and Alaska. At the time, Wayne Gretzky was a member of the Los Angeles Kings, instantly making the team relevant. The Sharks had just arrived in San Jose, and two years later, the Anaheim Mighty Ducks joined the league. Hockey was making headway. By 1995, the number of registered players in the Pacific region had more than doubled, just clearing 25,000. A fraction of them played in California, but that fraction was expanding. Over the next few years, the explosive growth of hockey's popularity in California played itself out in a microcosm at the twin-rink in San Jose. While the adult league expanded, Savoie also worked to develop a grassroots hockey program. In 2000, he took a team of 10-year-olds to a tournament in Edmonton. "We got creamed," he says, sitting in his office at Sharks Ice. "But now if we play teams from the East Coast, we compete with them. That's the difference in 15 years."
And now the program boasts an alumnus in the NHL. Matt Tennyson played midget AAA for the Junior Sharks, after his father took a job in the Bay Area. Tennyson grew up in the northeast playing in Minnesota, Michigan and Wisconsin. He wasn't sure what level of hockey he expected when he first arrived in San Jose, but the Junior Sharks became the first AAA team he played for. Travelling across North America playing against top-calibre teams kick-started Tennyson's career. He went on to play for Western Michigan University, and then signed with the Sharks as a free-agent defenceman in 2012. After spending three seasons in the minors, the 25-year-old has been used sparingly on the San Jose blueline this year. "It's pretty cool that I can be the first one to do it," Tennyson says of his full-circle Bay Area route to the NHL. "I think as it grows there will be more and more kids that it happens to. I know it's possible."
But that accomplishment was unfathomable when Salvatore Barranco was an 11-year-old playing peewee A on a team Savoie coached in 2000. Now, as the participation development manager for Sharks Ice—and the coach of a team that incudes Savoie's 10-year-old son, Phillip—Barranco sees a clear path from the program to high-level hockey. "Now there's this idea that, hey, California produces good hockey players," says Barranco. "The amount of kids that want to play is incredible—and still growing."
When he was a kid, Barranco watched wide-eyed from the bleachers as the San Jose Sharks practised in the time slot before his team. All of the Sharks' skates were open to the public, and sometimes the pros would stay to practise with the youth teams. The accessibility of those NHL stars was key to getting youth hooked on the game, Barranco says. Kids could regularly interact with the pros they dreamed of becoming. And players often looked to make the area their permanent home when their playing days were done. Former Sharks Curtis Brown and Kyle McLaren both coach youth teams, with Brown in charge of hockey development for all 2,000 players in the Junior Sharks minor hockey program. Retired all-star Evgeni Nabokov has a young son playing with the Junior Sharks, and helps out with goalie instruction at all levels. Last year, the Sharks AHL affiliate, the Barracuda, relocated to San Jose from Massachusetts, giving young players and fans in the area even more access to professional hockey. And just as they did in the earliest days of Sharks Ice, pros still regularly come out to practices as guest instructors for youth teams.
The growth of Sharks Ice from a modest (and mostly empty) two-rink arena to a constantly packed four-rink facility parallels the statewide surge in hockey participation. By 2002, there were 18,600 registered hockey players in California. Last year, that number had grown to 26,383—sixth highest in the United States, behind Illinois, New York, Massachusetts, Michigan and Minnesota. Tyler Shaffar, the guy in charge of the Sharks Ice Adult Hockey League, has witnessed the boom first-hand. When he started the job a decade ago, there were 68 teams playing in the adult league. Today he manages scheduling for 4,000 players on 181 teams across 17 skill levels—from the lowest, Senior EEEEE, to Senior A. (The Sharks also run an adult league at a twin-rinks complex in downtown Oakland, which has another 82 teams.) "The guys who grew up in the area are still playing adult hockey. And now they're having kids [who play hockey, too]," says Shaffar. "It keeps growing… If we opened up another rink tomorrow, it would be full."
Hector's Pool Service has a 2–1 lead over Rogue Nation at the end of the first—a period of slow hockey, but certainly not bad hockey. For a group of guys who learned the game in the past five years, the constant practice has paid dividends. During a quick huddle on the bench, they voice impassioned near-nonsensical verses in the language of puck:
"D, way to step up!" Palay tells the team. "Forwards, they're taking away all our passes in the neutral zone. This goalie gives up a lot of rebounds. Five, six feet into the zone, fire it off the pads. Far-side forward—crash. Centre—crash. Chip it up and chip it in."
"First forward on the forecheck, let's go," Vonderach adds. "Let them cough it up!"
Catching his breath on the bench a short while later—with Pool Service now up 3–1—Vonderach reflects on the joy given to him by the game he found so late. "This is the best mid-life crisis ever," he says. "I'm 59 and a half. My wife asked me, 'Can't you just buy a car?'"
No, a car could never give him what he gets here. Hockey is in his bones now, even if he's still figuring out how it works. He plans to engrave "Steve also played…" on his tombstone, an idea he got from the emails he sends to the team recounting the action after each game: Daniel scored two goals. Brian had one. John had three assists. Steve also played. At the end of each game, the team gives the head of a pool skimmer to the player of the game. A puck labelled the "Stephen J. Vonderach Pre-Memorial Award" goes to the player who "also played."
Because it's really the only hockey centre in the area, there's an almost-small-town feel to hockey at Sharks Ice. Several of the players on Hector's Pool Service are at the rink up to five days a week, between their kids' ice time and their own. Stanley's Bar and Grill, which sits on the second level with a view of each ice surface, is like a second home.
In that sense, Silicon Valley has managed to emulate the kind of hockey community you might find in Humboldt, Sask., or Truro, N.S. But being the tech capital of the world, it also has quirks you're not likely to find in small-town rinks. The tech talents of players in the area have been put to good use. One player designed a program to connect score-keeping to a central computer system, instantly collecting data from the score clocks to provide real-time updates on the league's website. And, unlike the rinks in Humboldt and Truro, it's also possible to find yourself suiting up alongside a billionaire tech tycoon.
For years, Scott McNealy was a regular in the Sharks Ice Adult Hockey League. McNealy co-founded Sun Microsystems, which was part of the wave of successful start-ups, including Apple and Oracle, that emerged from Silicon Valley in the 1980s. (Sun was sold to Oracle in 2010.) McNealy grew up playing hockey on a pond in his backyard in Michigan, and brought his passion for the game with him to California. All four of his sons learned how to play with the Junior Sharks. Three of them still play at the AA level, while his eldest, Maverick, has moved to on Stanford, where he is currently the No. 2-ranked amateur golfer in the world.
McNealy first played in the league on a Sun Microsystems team called the Sun Dukes (Duke was the mascot for Java, the programming language that Sun invented). Later, he joined other teams to get more ice time. In fact, the lack of ice time in the area irked him so much he eventually built his own arena on his sprawling estate in nearby Portola Valley. At first he covered it with an inflatable dome, but the sounds of clashing sticks and pucks slamming into the boards annoyed his neighbours, who complained to the city. He appeased them by building a permanent roof over the rink to contain the noise. McNealy's arena offers a prime view from the top of the valley and was built with a complex cooling system that sits next to the Zamboni room. There's a dressing room for guests, but McNealy's own equipment is kept in a lavish dressing room he shares with his sons. Beyond being a place where current Sharks like Joe Thornton and Patrick Marleau come to play pickup, the private arena serves another useful purpose: The varsity team from Stanford, McNealy's alma mater, often uses it for practices because the university doesn't have its own rink.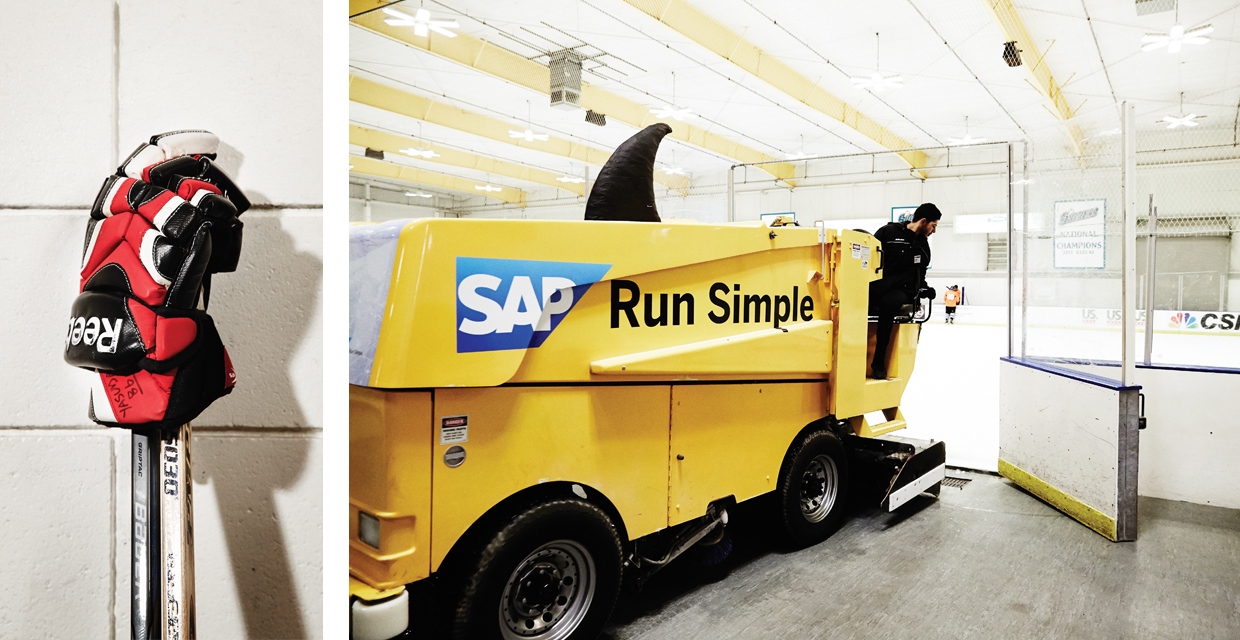 A leg injury a few years back put McNealy's competitive hockey days on hold, but that hasn't taken away his passion for the growth of the game in California—and pretty much everywhere else people think it can't survive. He's on the Sharks board of directors and has shared his theories for developing the game at the grassroots level with Gary Bettman. McNealy told the commissioner that the best way to grow hockey in non-traditional markets is to have NHL players and owners agree to a tax that would see both sides pay to build more rinks in areas where there just aren't enough—like San Jose before Sharks Ice. "That's all they need to do. If you build the rinks, [people] will fill them up," McNealy says. "If you get kids playing hockey, their dads will take them to the game. They will watch it on TV and all the rest of it."
In San Jose, at least, the theory holds true. In a little more than two decades, a region with zero hockey traditions has come to show as much passion for the game as any city in the northeastern States or Canada. Just watch Hector's Pool Service as they celebrate a hard-fought 6–4 victory with the clock clicking toward 11 p.m. Sweat dripping, they extol each other on the finer points of their games, and a new recipient of the MVP pool skimmer is declared: "JT had a big day with a couple of dingers!" says one. "I like JT!" another agrees. "Yeah, I like JT!" And so John "JT" Gonzaga, a 29-year-old roller-hockey convert, accepts his prize to the hoots and claps of his mates. Next, the Stephen J. Vonderach Pre-Memorial Award goes to forward Mikey DeBoard­—a unanimous decision—who had a goal disallowed and thus remained stat-less.
Showered, the victors take their celebration upstairs for a customary round at Stanley's. They could be any team, any day of the week in San Jose: the Dekes of Hazard, No Regretzkys, Buck Tooth Angry Dolphins, or any of the entire division's worth whose names are unprintable sexual innuendos. They are all teams with their own histories, their own traditions, their own pursuits of beer-league glory. The Pool Service toast their accomplishments—a united ragtag group of accountants, lawyers, stay-at-home dads, Apple designers and at least one professional video game player. The proud hockey-playing Hectors toast another win on their rise up the Sharks Ice Adult Hockey League standings. It's just another Tuesday night in Silicon Valley. A hockey night, like every other.
This story originally appeared in Sportsnet magazine's Overly Confident Predictions Issue.