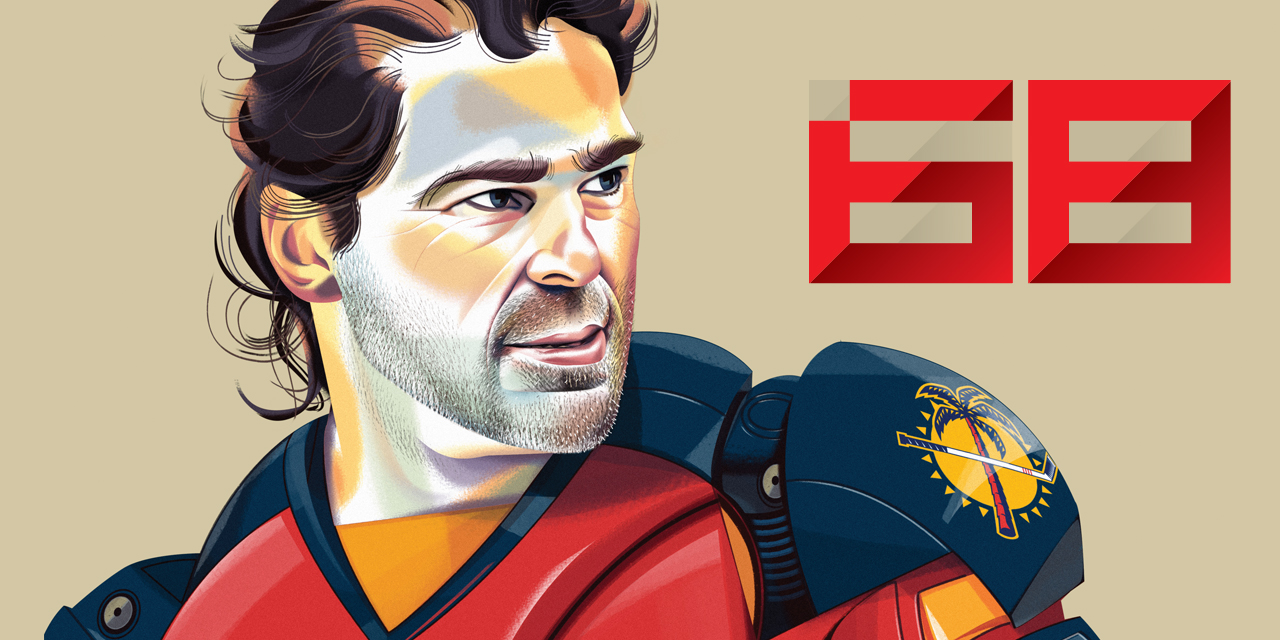 The story of a hockey superhero
By Kristina Rutherford, Ryan Dixon and Gare Joyce
Illustration by Nigel Buchanan
Jaromir Jagr keeps reminding us that his career is incomparable. It's not just because he's bringing back his mullet, or because he's led the Florida Panthers in scoring for most of the season, or because he keeps breaking records. If you're 43 years old and have been playing longer than many of your teammates have been breathing, if you're one of the best ever and you basically invented hockey hair, if you've won everything there is to win and you keep proving wrong those who say your age will catch up to you, if you've been called both a sulk and misunderstood, then you are—and there's no contesting this—the most interesting man in hockey. The only way to do justice to a career like Jagr's is to talk to a whole bunch of people who have lived through it and seen it firsthand—so we did. Teammates, coaches and adversaries, past and present—and Jagr himself—shed light on the incomparable No. 68.
THE EARLY YEARS
Jaromir Jagr was born Feb. 15, 1972, in Kladno, Czechoslovakia, where he lived on a farm with his parents and his sister, Jitka, until he was 18 years old. Jagr comes from a line of Jaromirs, named after his grandfather and his father.
Jaromir Jagr
There was no chance at all I would have an easy life unless I played sports or was a singer. Singing? Not a f–k… Not a chance. [Laughs.] That's the way it was, you had a better life if you were a sportsman or a singer in our country during the communist years. So I had only one chance—to be a sportsman. My parents decided—well, my dad decided—this was the only way we could have a better life.
ROBERT LANG
A fellow Czech player who played against Jagr when they were kids
Kladno had Jags and this other kid. They were just dominating. It was always a big thing when we would play them because our team was really good, and with Kladno it was sort of a showdown against two big individual guys. It was always tense.
Jagr attended a school in Kladno for kids who were good at hockey and serious about their training. When Jagr was 10, he played up, skating with players who were one, two or even three years his senior. Sometimes Jagr would come to practice with his age group at 1 p.m. and stick around until dinnertime to play and practise with all the other teams. The school had two teams for 10-year-olds, and Vlad Havluj coached the squad Jagr did not play on.
VLAD HAVLUJ
Compared to his age group, he was a good size. I wouldn't say big, but he was strong, the body frame was good, like a hockey player. Off the ice, when we did long-distance runs, he was almost heavy. But sprints or spurts, he was good.
LANG
We had guys who shadowed Jagr or paid special attention to him. Even when we were little, he was a big, strong kid who could control the outcome of the game.
HAVLUJ
His dad had a farm, which was eight to 10 kilometres from his home. So his dad took a bike, Jaromir ran, then they did work on the farm, then they'd go back. His weight room was in nature.
JAGR
When I was seven years old, I started doing squats. I did 1,000 a day, every day. And when you do that daily—now people work out, but back then nobody really did it—I just skyrocketed. For three to four years, I played with my age group, and two years later I was playing with [guys] four years older than me and I was still better than them.
HAVLUJ
He was good on the ice with those guys because he was so smart and good. But out of hockey, socializing was difficult for him. Those guys were dating girls, and he was playing on the sand.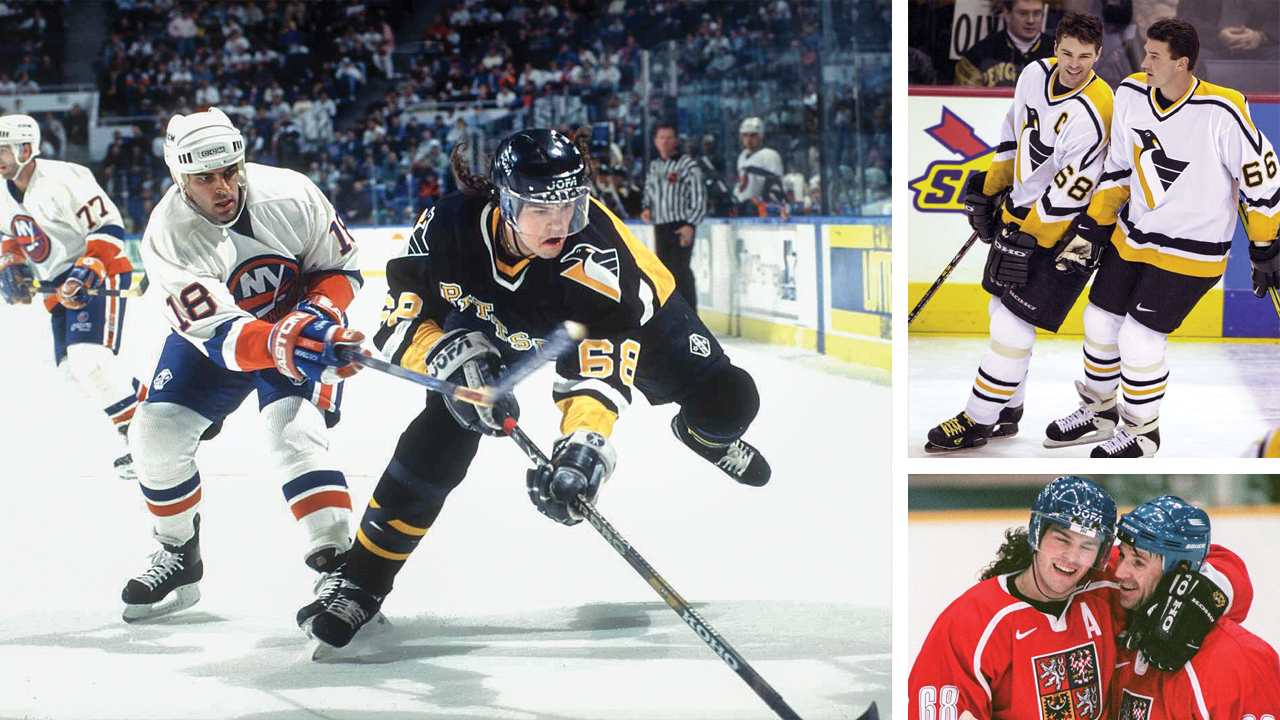 WELCOME TO THE NHL
The Iron Curtain was falling in 1990, the year the Pittsburgh Penguins selected Jagr fifth overall in the NHL Entry Draft, making the "Kid from Kladno" the first-ever Czech-born player who didn't have to defect to play in the NHL. Jagr had a short mullet, and he didn't know a single word of English. The Penguins set him up at a school in Pittsburgh to learn the language before the 1990–91 season started.
JAGR
After the draft, I went home for three weeks to pack some stuff, then they wanted me to come back and go to school. That was the toughest thing I'd ever done. The system of the school still doesn't make sense to me now. You go to the school, you sit there for eight hours, you get no break, you don't speak any words of English, and the teacher's switching every 45 minutes. And they're speaking to you in English, a language you never heard. You can't even look at a dictionary because they don't have one. It was from Monday to Saturday, then I had Sundays off. I think I was supposed to go there for six weeks; I think I quit after four.
RICK KEHOE
Then an assistant coach in Pittsburgh, now a scout with the Rangers
We knew a lot about him when he came over. He was supposed to be a big, strong kid who could skate and handle the puck. When you're 18 years old and you're going to play in the NHL—a lot of guys have that billing, but he lived up to it.
In his NHL debut, Jagr began the game on the first line and ended it on the fourth.
JAGR
I had a pretty good pre-season game, so coach thought I was ready. But I wasn't. [Laughs.]
KEHOE
Like any kid, he wanted more ice time. The thing with Jags was that he practised hard. He was quiet when he first came over. But he always liked to stay on the ice. I remember [Penguins coach] "Badger" Bob [Johnson], it'd be a game day and he'd come over and say, "We gotta get him off the ice, we have a game tonight." And Jags would just want to stay out there and practise.
RON FRANCIS
Centre with the Penguins from 1990 to 1998 and current GM of the Carolina Hurricanes
He kept a low profile in the dressing room in his early years. He was still finding his way. He liked to smile and joke a little bit, but he was learning a new language and learning about a new culture.
A couple of months into Jagr's career, Pittsburgh traded for Jiri Hrdina from Calgary, partly so Jagr would have another Czech guy he could talk to on the team. The press called them "Czechmates."
KEHOE
We called [Hrdina] "George." When he came, I think it made it a lot easier for Jags because he had someone to talk to in his own language. The communication gap was closed then because George could [relay] all the stuff to him.
Language issues aside, Jagr had the greatest hockey mentor in the world, he says, in teammate Mario Lemieux. Jagr learned mostly by watching No. 66, who in Jagr's first three seasons won a pair of scoring titles and the Hart Trophy, in addition to a bunch of other hardware.
JAGR
Who you gonna learn from? You gonna learn from the best. It's no magic about it.
KEHOE
[Lemieux and Bryan Trottier] created room for him, which made it a little easier sometimes. Back then, the rules were a little different—they could clutch and grab and ski on you and whatever else.
JAGR
I always wanna be the best. When Mario was there, I knew it don't matter how good I'm gonna be, I'm still never gonna be better than him. That guy was the most talented player. People don't even know. Those people [Jagr looks around his dressing room], they don't even understand how good he was. It's great you got Ovechkin, you got Crosby, those guys, but man, [Lemieux and Wayne Gretzky] were on a different level.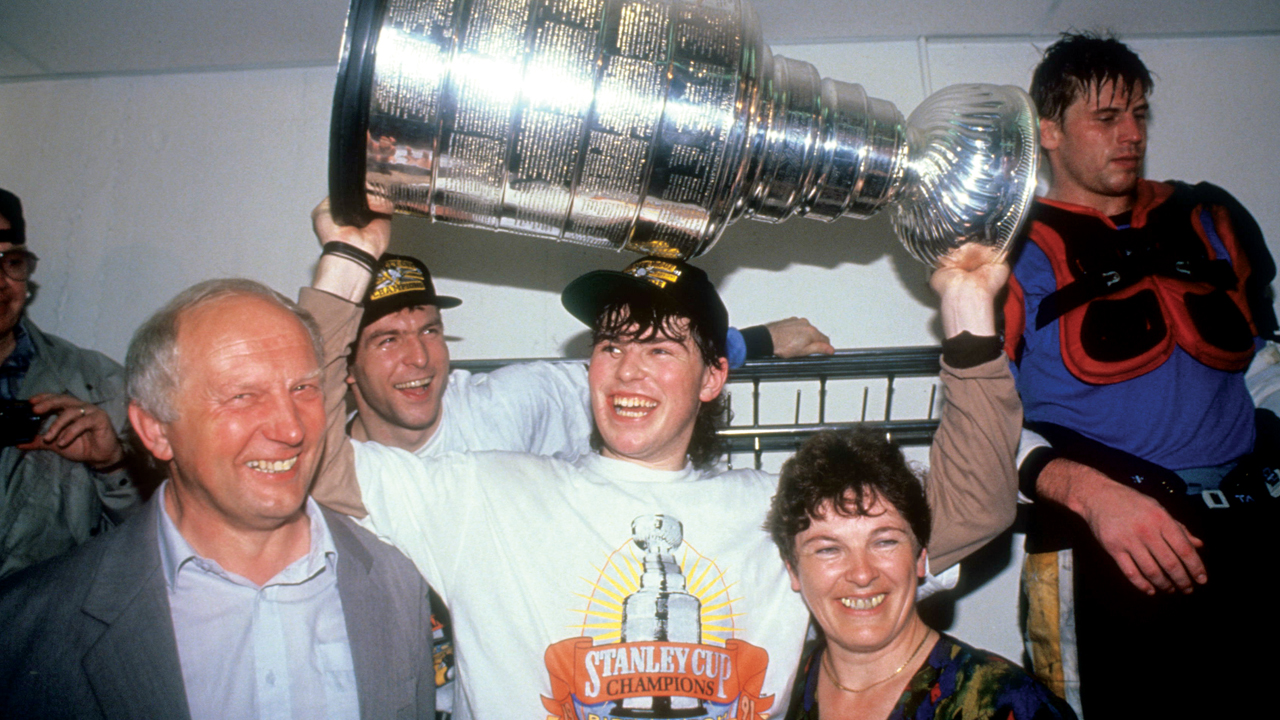 FRANCIS
The biggest challenge for him is that he wanted to be good, and he wanted to be good right now. He struggled at times understanding the process—that it wasn't just going to happen for him every night. Other people would see him and think he was frustrated and selfish in that way but he was driven, he wanted to be a bigger piece and a better player. And he wanted that now.
KEHOE
His strength and talent matured and he became that player. He could do almost anything he wanted. The only thing he had trouble doing back then was skating backwards. [But] we didn't want him going backwards.
KEVIN CONSTANTINE
Former coach of the Pittsburgh Penguins
He had no interest in skating backwards because that was a defensive set of skills. I think he feared that if he skated backwards someone might ask him to play defence.
The Penguins won the Stanley Cup in Jagr's rookie season, the first of back-to-back league titles. In game one of the 1992 Stanley Cup Final, Jagr scored one of the most memorable goals of all-time. After the game, he told the press: "I don't know enough English to describe that goal." It came late in the game and tied the affair 4–4 after Pittsburgh had fallen behind 4–1.
KEHOE
I think everybody—on our team, anyway—just kind of stopped and let him do his thing. That's what it looked like, because everybody kind of got out of the way and it was just Jags and the Chicago players.
JAGR
It was a nice-looking goal because I beat some guys on the way to score, plus it was very important. It was a big goal because we tied it at four, and Mario scored with 10 seconds left to win the game 5–4, and [then] we swept them.
Jagr's popularity off the ice boomed during his first couple of years in Pittsburgh. He was a big personality, known for his long flow and for driving fast. He even read the weather report on the local radio station—his English vocabulary was growing, thanks in part to playing Scrabble. Fans started calling him Mario Jr., an anagram of Jaromir and a nod to his mentor.
JAGR
Everybody in the world wanted to be some kind of popular or important at least one time in their lives, see how it is. I would lie if I said I didn't like it. I think some reporter asked me what kind of sweet stuff I like; I said I like KitKat. So people start sending me KitKats. [Smiles.] I was pretty popular in Pittsburgh. Sugar gave me a lot of energy. It kind of motivated me, too, to work a little harder, because if I didn't do it, I would be very fat. [Laughs.] I always ate so much sweet stuff, and it didn't really bother me much, my body took it well compared to other people.
LANG
We would carpool every now and then. I think especially in Pittsburgh later, he preferred to be driven instead of driving. That saved us all a lot of grey hair.
JAGR
I don't like driving at all. I was speeding. It's not about "I wanna be fast"—I just don't want to be on the road. I didn't know it was dangerous. [Laughs.] When you're young, you get so confident and you got no fear, that's the way it is. It's an advantage and sometimes it's a disadvantage.
Kevin Constantine was hired before the 1997 season, and one of his first announcements to the team was that everyone would wear full gear for practices. Back then, coaches had to ask players to sign off on team rules, and players had three days to do so. For the weeks leading up to the team's first practice, Constantine was asked repeatedly by the press if he was going to make Jagr wear a helmet at practice. That's when he realized it might be an issue.
CONSTANTINE
Jaromir was always the last guy to come onto the ice for a practice. And so I was out there, this is my first practice, second opportunity to coach in the NHL. Excited, nervous. And not knowing whether our star player was gonna put his helmet on for practice or not as I was skating around. Out Jaromir comes for the first practice, no helmet. So there's the hair flowing as he's starting to skate around. The old days everybody skated laps around touchin' pucks, passin' pucks around. I decided I gotta make him put a helmet on. I'm an ex-goalie so I don't skate all that well. I think he knows I wanna talk to him so I started speeding up my laps and he started speeding up, I think to stay away from me. It took another 10 laps for me to catch up to him. The practice didn't get going for another five minutes so I could catch up to Jaromir and ask him to please put the helmet on. And his answer was—I'll never forget—he said: "Coach, you said we had three days to sign off on your rules." And I said, "Yeah, you do but we're gonna wear helmets in practice, so I'd appreciate it if we could get started on that now." He reluctantly went in and put a helmet on. And I think that was the end of Jaromir practising without a helmet. I think.
LANG
That thing didn't go over well. [Laughs.] But in a couple months it was water under the bridge.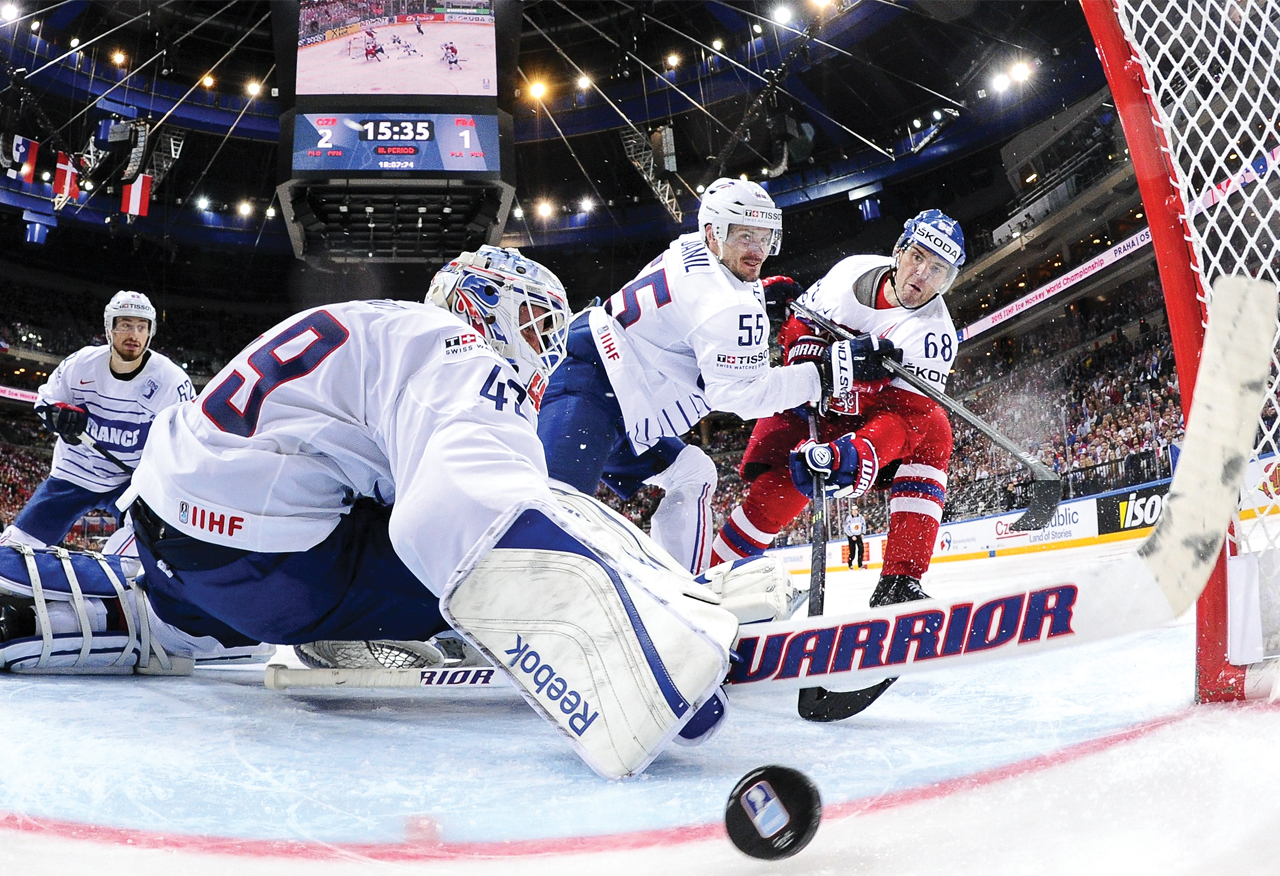 PLAYING WITH AND AGAINST JAGR
LANG
Also an occasional linemate of Jagr's for four seasons in Pittsburgh (1997 to 2001)
He could turn the outcome on his own. Oftentimes, it really was like a man playing with kids. And it's not just boosting his ego; you can look at the record books. I think when he would get in the zone when he was in Pittsburgh in his prime, there was not a better player at the time.
SCOTT HARTNELL
Jagr's linemate for most of the 2011–12 season in Philadelphia, now with the Columbus Blue Jackets
Meeting him for the first time, I was expecting a guy who has put up all the points and all the All-Star Games and stuff like that to have a sense of entitlement and just be rude—you know, one of those players. But lo and behold, he was the nicest guy I've ever played with.
TOMAS PLEKANEC
Who played with Jagr for the Czech national team at the past two Olympics
He doesn't talk much on the ice. He'll nod and smile.
LANG
He always, with whoever it was, wanted to make sure they knew the way he likes to do it and the way it would work.
FRANCIS
People would see him off the ice smiling and coming off easygoing, but that's a facade that a young player might go with. The reality was that he was a great student of the game.
JAKUB VORACEK
Right-winger who played with Jagr on the national team, and with the Philadelphia Flyers in 2011–12
I had a poster of [Jagr] on my wall growing up in Kladno, like every kid born in the '80s and '90s. The first time I played with him was in 2010, at the worlds. We played the Russian dream team in Russia and we had only a couple of other NHL guys. I'm 20 and I'm playing with the guy who was a poster on my wall. It was amazing.
JONATHAN HUBERDEAU
Current linemate with the Florida Panthers
I was pretty nervous. I had his hockey cards back home. One practice, I brought them, it was funny. First time I met him, I said, "Hi, I'm Jonathan, nice to meet you," and I was playing with him on the ice. I wanted to get him the puck as much as I could. [Laughs.]
LANG
His personality was basically being so mentally tough that you know it's gonna hurt, you're gonna get abused a little bit out there, but he wouldn't care. I think in his mind, he decided, well, "I'll burn them by scoring goals or make good plays for my teammates to score, and that's basically my way of evening the score."
ALEX GOLIGOSKI
Jagr's teammate in Dallas during the 2012–13 season
If he's got the puck and he's got his back to you, you're not really going to get it back, so you just kind of wait for him to move it before you can do anything. He's got that long stick, and he's so strong.
LANG
I don't think there was ever a time he didn't want the puck. I think he could be on his deathbed and he will still be like, "Hey, give me the puck."
HAL GILL
Recently retired defenceman whom Jagr identified as one of the toughest to beat
In the old days, you could lean on a guy and hold him and poke him. I laugh because the last time I played against him in New Jersey two years ago, I was pushing and leaning and he fell down, which he never does. I got a penalty for it. I guess that was his way of saying, "Hey, they changed the rules, you can't do that anymore." But it was funny because he never would fall down.
LANG
He was not fun to be around if the game didn't go well.
FRANCIS
Some guys—guys with Jaromir's talent—they're going to get a little more leeway and no one on the team resents that. The fact is Jaromir could do some things that the rest of us couldn't.
GILL
Strength-wise, there's no one better on their edges, leaning, using his body to gain space. When I knocked him down, I knew he fell on purpose, because no one knocks him down. We had a lot of battles, and I'm sure he made me look like a fool, but I try to black that out and get back at it.
CAM RUSSELL
Defenceman on the 1991–92 Blackhawks
If he was on the ice, the coach was screaming at me to get off.
JAGR
I had one huge advantage: I loved to play on the boards. I didn't mind the physical stuff. I didn't mind getting hit. I felt like I was one of the strongest. That's the way I was built—we had a farm, so I had to work on my farm since I was four years old. When you're in a gym and you're tired, you can quit. On the farm you can't—the job has to be done. Hockey was just fun for me compared to this hard work. I had to help my parents to do anything on the farm. This is the way we kept our lives better than other people's in the communist years.
HARTNELL
His work ethic on the ice and off the ice was like, "Wow, this guy's got all the skill in the world and can score almost at will, and he's that determined every day to put in the work to get better." It was a very eye-opening year for me.
CONSTANTINE
He really never took a slapshot the first three years of his career. It's hard to believe. But what happened was the NHL started giving out the Maurice Richard Award to the leading goal-scorer in the league, and Teemu Selanne won it [in 1998–99]. Jaromir was disappointed he didn't win that. Selanne had a tremendous half-slapshot one-timer, so Jaromir spent hours before and after practice working on that specific skill with one of our assistant coaches because he wanted to figure out how to beat Selanne in terms of total goals.
HARTNELL
I remember him coming to me in practice. I was having a bad practice, and he called me out in front of a couple of guys, telling me to wake up and practise better, because that's how we're gonna play in the game. I was kind of taken aback a little bit. I was thinking, like, "Talk to me with a little more respect than that." But he opened my eyes. I had to hold myself accountable for every day that I put on my skates. I had to be the best Scott Hartnell I could be, because he was always on. I took that to heart and I tried to be the hardest-working guy on the ice and to score every time I shot the puck. Yeah, no big deal. [Laughs.]
HENRIK LUNDQVIST
Jagr's teammate for three seasons with the New York Rangers
When I met him, it was my first year in the league. Jagr was obviously one of the guys you looked up to growing up, even though I was a goalie; he was one of the best players in the world back then—and still is. It was a big deal to meet him and to get an opportunity to play on the same team. I remember one of our first trips with the team, during training camp. I looked on the list to see who I was rooming with on the road, and it happened to be Jagr. Obviously, as a rookie, to get to room with one of the best players in the world, it was nerve-racking. [Laughs.] I remember calling my brother and telling him: "I'm sharing a room with Jagr!"
During the 2005 World Championship, Jagr carried the Czech team to a gold medal with a broken pinky. He entered the triple-gold club, having won the Stanley Cup, World Championship and Olympic gold in 1998 in Nagano.
JAGR
Yeah, it's still there. [Laughs.] [Jagr looks at his pinky, and it's still mangled.] I got it fixed but I played through it. And the bone just didn't grow the right way. They had to re-break it after the championship. That's OK. At least I have the memory. [Laughs.]
Kevin Weekes was the backup to Lundqvist in New York for the 2005–06 and '06–07 seasons, so he was the sacrificial lamb during practice. He'd badger Jagr, saying, "Your shot has no velocity today," and Jagr would nod and say, "OK, we'll see." He'd shoot pucks on him, practice would end, then…
WEEKES
Even after those extra pucks, he'd be like, "OK, it's on." He'd go back into the locker room, take off all his gear, put on a Rangers tracksuit, grab his skates, two sticks and his gloves, then come back. "OK, let's go." He'd shoot on me for another half-hour. We'd finish, I'd work out, he'd work out, but what I didn't know is then at night he was coming back to the rink. He'd drive back out to the practice rink [which was about 45 minutes away] and practise by himself. And none of us knew this. We had no idea.
HARTNELL
He's so hard to get off the puck once 
he gets his huge butt stuck out there in the corner.
LANG
His big butt? You know what's even harder? To find jeans for him. I mean come on, let's face it.
JAGR
Yeah, that's true. I do have trouble.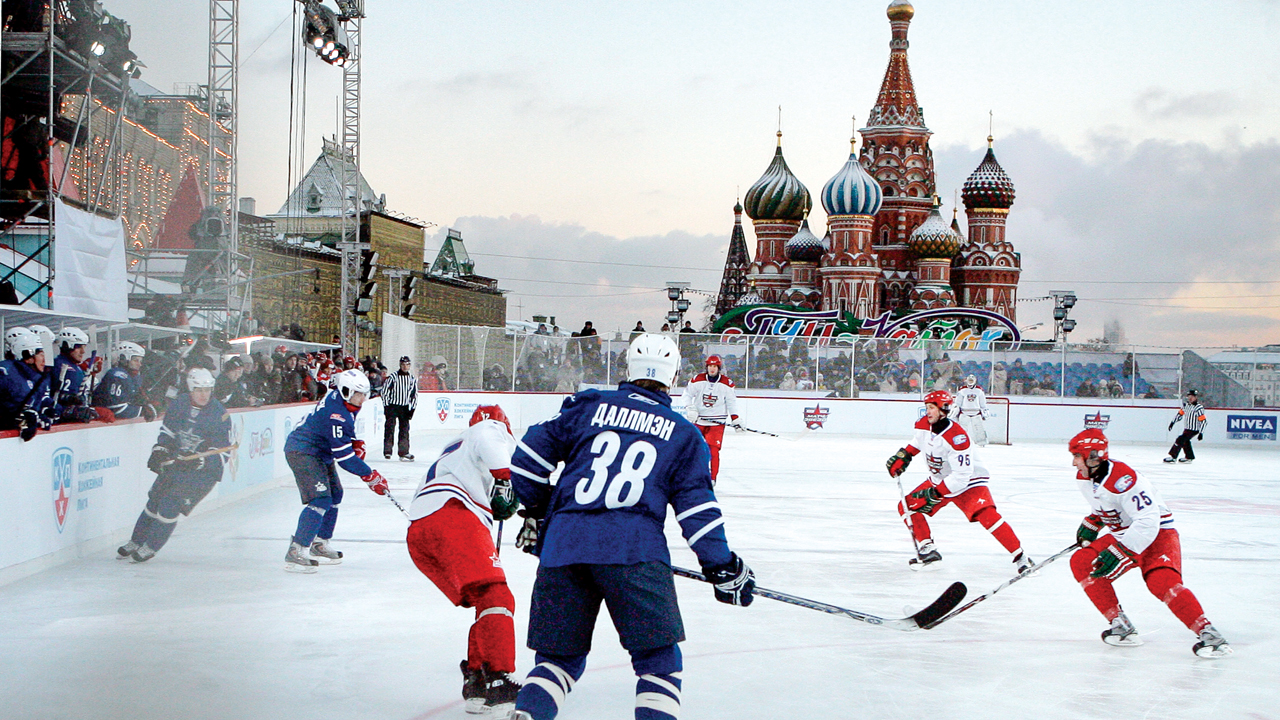 LIFE AFTER PITTSBURGH
Jagr was traded to Washington ahead of the 2001–02 season and later signed what was then the richest contract in NHL history: $77 million over seven years, with an option for an eighth. But in Washington, Jagr was often criticized for not putting in a full effort, and his production dipped. After putting up 121 points in Pittsburgh the year before and winning his fifth scoring title, he notched 79 in his first season with the Capitals. He was called a "coach-killer."
JAGR
I don't wanna go back to those years. It doesn't matter how I felt. It doesn't matter what I say right now. People still aren't gonna understand until they're in exactly the same situation I was. It's not an excuse. I tried my best, and people don't see it that way, but I always did, no matter what.
LANG
Who was reunited with Jagr in Washington during Jagr's second season there, 2002–03
It was definitely a time that I don't think he enjoyed as much.
JAGR
I'm proud of myself, so I don't wanna go on the ice and embarrass myself; it's the last thing I wanted to do. When I feel like I'm doing that, I'm not playing anymore. I love hockey, but I don't love it that much to go and embarrass myself.
Jagr was traded to the New York Rangers in the middle of the 2003–04 season and sat down with management to discuss how he'd get back to being the best player in the world. After that half-year and a lockout, he put up 123 points in the 2005–06 season and nearly won his sixth Art Ross Trophy, but was edged by Joe Thornton and his 125 points. Jagr, at 34, still won the Pearson Award and led the Rangers to their first playoff appearance since 1997.
JAGR
I feel like they put a good team on my shoulders, and that's what I love. All the responsibility. So once again, I don't wanna be embarrassing myself. And when they put the responsibility on me, I don't wanna be embarrassed for the team. And it worked well. [Coach] Tom Renney gave me the freedom, and I took advantage of it.
LUNDQVIST
Our team was kind of built around him. My first year, he almost won the scoring title. Everything went through him, the coaches and the players. He was such a big part of the team. We were going as far as how well he was playing, pretty much. Especially that line with [Michael] Nylander and Jagr, that first and second year.
JAGR
Back then, I said to myself, "Oh f–k, I gotta score a goal," I did it. Well, not exactly that way, but close enough. And then if the coach saw it, he said, "Hey, do whatever you want." Because he knew I was gonna win the game for him.
LUNDQVIST
I remember especially my first year, him and Nylander on the power play. He scored the same way so many times. Nylander to Jags, one-timer and it was in the back of the net. His shot was—and still is—very, very good.
JAGR
If somebody gives you freedom, you have to know you're the man and you can make the difference. I don't need that freedom right now because I'm not the guy who can make a difference like I was in New York.
LUNDQVIST
I got a new place in New York my second year, and it wasn't ready for me to move in. I actually stayed at his place for three weeks or something. I'd only played in the league for a year, and he offered to let me stay—I actually stayed there with Petr Prucha. It was right before the season started, so he didn't show up until a week before camp. I stayed there for two weeks with Prucha, and then Jagr showed up, and a little later I moved into my place. He's a very relaxed and humble guy. It was a very nice gesture, for sure.
THE DEPARTURE AND THE RETURN
In the summer of 2008, Rangers GM Glen Sather opted not to re-sign the 36-year-old, and Jagr was an unrestricted free agent for the first time in his career. Jagr decided to return to Europe, signing a two-year deal reported to pay $5 million annually with Avangard Omsk of the Kontinental Hockey League, where he'd played during the lockout. Jagr spent three seasons playing in a league trying to build itself on superstars like him.
LUNDQVIST
I was surprised he left. You want a player like that to be here.
JAGR
One reason I came back to Europe, my parents sacrificed their life for me. The way I'm saying sacrifice, it's a different way than parents do it here for their kids today. Some parents say, "Oh, we sacrifice our Sunday to wake up with our kid." This is not sacrificing like in Czech.
KEHOE
They wanted to get their league off the ground, so they were paying some big bucks. It was pretty hard to turn down.
JAGR
I decided to go back, but I started missing the NHL—the full arenas, the excitement, the playoffs. You go there, there are some arenas it's only 3,000. It's just like, "What the f–k is this, what am I doing here?" [Laughs.] I'm used to a full arena—20,000 people, another million watching on TV when you play finals. There, it's like 3,000 watching you live and 500 on the Internet, so what am I doing here? So I said, "I'm gonna try to come back."
KEHOE
That's another thing that will be in the discussion when he retires, about the three years that he missed: How many points would he have gotten in the NHL? Where would he be on the scoring list if he'd stayed?
Jagr made his return to the NHL at the age of 39, signing with Philadelphia—Pittsburgh's state rival—for the 2011–12 season. He played most of the year on a line with Hartnell and Claude Giroux.
HARTNELL
Jagr would come up to me before the game, and he'd be like, "Scotty, Scotty. I feel so good tonight. I want the puck. So every chance that you have it, hold on to it and I'm gonna come and get it in the corner and we're gonna score a goal." And I was like, "Oh man, this guy's pretty confident." [Laughs.] And then 10 minutes later, Giroux would come up to me. He's like, "Scotty, I feel pretty good tonight. Get me the puck in the middle, I'm gonna get it right back to you." So I got these two all-stars wanting the puck and it's just me, Scott Hartnell, the plugger, you know?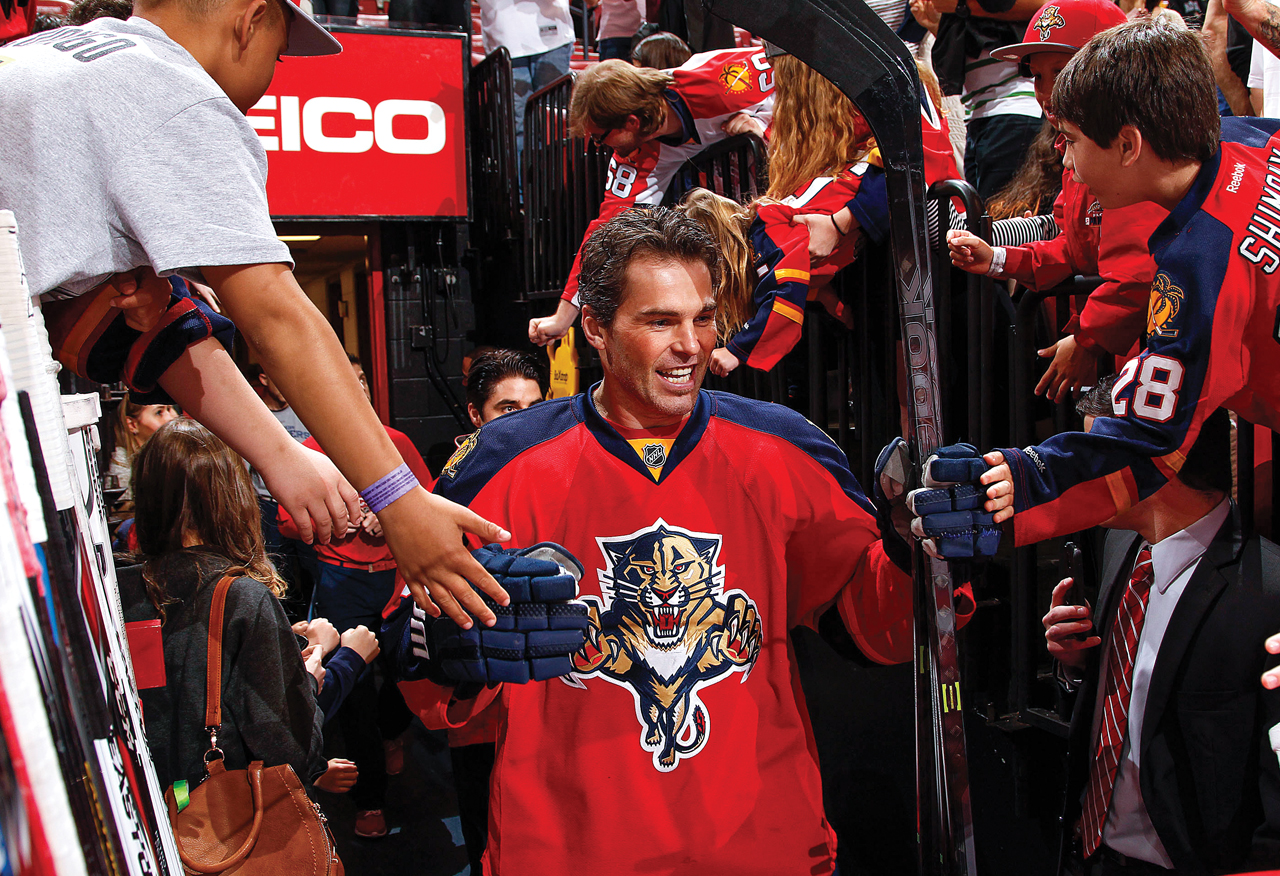 OFF THE ICE
GOLIGOSKI
He's kind of a goofy guy. He was a fun guy to be around.
LANG
Especially in Pittsburgh and Washington, he was very guarded. Not in a bad way, but that's just his personality, so unless you really got to know him, he would not be jerky or anything of that manner, but he would just be not really as open as some people naturally are.
LUNDQVIST
He was always laughing in the locker room.
VORACEK
When he came to Philly later on, it was great to be back with him. We were neighbours, and because he was so lazy I was his driver for a while. It's still a crazy feeling, you know, every day to be around a guy who was your hero, the most famous guy from your hometown. I think when he retires he can be president of the Czech Republic if he wants.
WEEKES
He'd discuss a lot of things, whether it's politics, government, culture—you name it. Very, very bright.
CONSTANTINE
My favourite moment with him is after he went on to Washington. I went to New Jersey for a brief two-month stint. We were playing a game against Washington in the Meadowlands, the old Continental Arena. I'm sitting in the coach's office. It's probably been 15 to 20 minutes since the game's over and the door opens. It was Jaromir. He had left the Washington Capitals locker room, worked his way through a couple layers of security to come and say hi. So I got up and went around the desk and put out my hand to shake it. He walked right through my handshake and gave me a hug. And a hug's different from a handshake, you know. It was just a cool moment for a coach and an ex-player.
LANG
I don't think he got the credit he could have. And I think partially it was up to him. I don't think he liked the limelight as much as some guys because of his upbringing and his personality.
JAGR
I always felt kind of different, and I was looking for answers all my life. Faith is the most important thing in the world. And it's helped me a lot, no question about it. Love and faith and, you know, God. It's so much power—you can use it if you know how.
WEEKES
He would always talk about a higher power when he was playing. There's an element of his life and his success on and off the ice he's very quick to attribute to that. He's probably the single most misunderstood player I ever played with my entire career. Some people call him eccentric, but isn't that what a lot of great people are?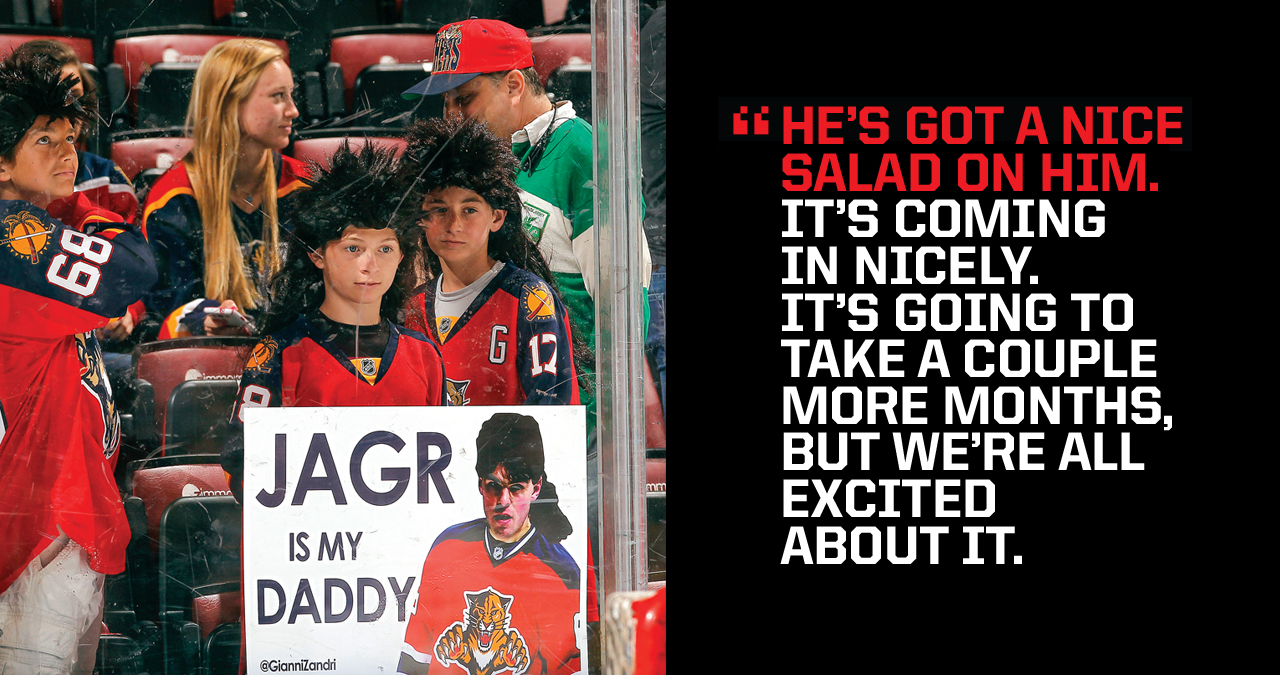 THE HAIR
A lot of hockey fans, when asked to picture classic Jagr, will think of that flow. And thanks to what Florida Panthers goalie and teammate Roberto Luongo swears was a joke, the mullet is making its return. Luongo asked Jagr to grow it back, and says it didn't take much convincing. The Panthers now post a regular update of Jagr's hair on their Twitter feed.
JORDIE BENN
Dallas Stars defenceman, Jagr's teammate in 2012–13
That's a legendary mullet. He made the mullet.
HARTNELL
We had some laughs about it for sure. He loved my hair. It reminded him a lot of himself.
JAGR
Well, first time I cut my hair, I think it was '98, '97–98. I was dating this girl. She wants me to have the short hair, so I did it.
LUONGO
He's got a nice salad on him. It's coming in nicely. It's going to take a couple more months, but we're all excited about it.
JAGR
I don't know. I said I might do it, and now I'm thinking I'm not gonna. [Laughs.] We'll see what happens.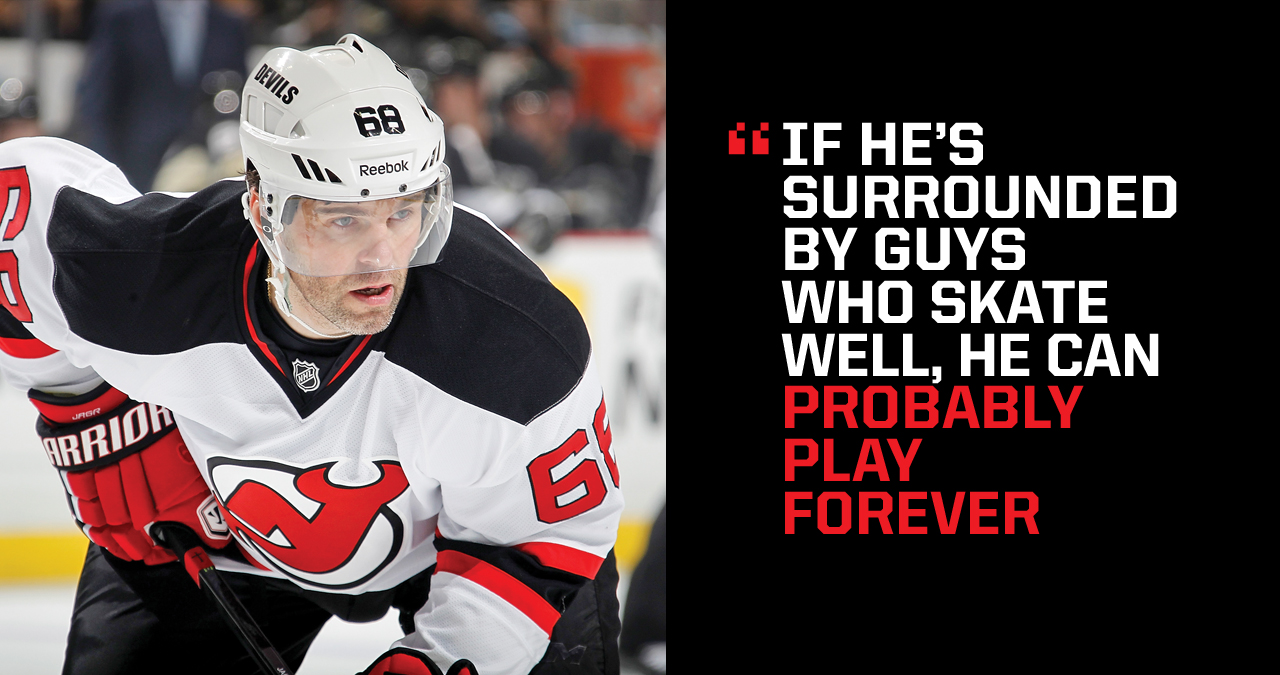 GETTING OLDER, BUT STAYING IN THE GAME
HARTNELL
The smile on his face every day is contagious. You look at him and he just gives you a little smirk, and it kind of brightens up your day. He's probably gonna play 'til he's 50, so I'm sure I'll have another chance to play with him down the road.
LUONGO
There are four or five of us who are over 35, and then there's Jags, who's almost a senior citizen. We don't let him get by with that one.
KEHOE
When his tank is full, he plays at a high level. Now that he's older, the tank empties a little quicker on him. So when he goes out there for 20, 25 [seconds], look out, things are going to happen. But he's still playing at such a high level.
DALE TALLON
Panthers GM
He's a physical beast, but that's not just good genes. He'll call up our strength coach out of the blue at night on an off day—after a morning practice, after dinner—and Jaromir will tell him, "Let's go to the gym. I need to get some work in."
WEEKES
He's going to play as long as he chooses to, whether it's here or, if people [in the NHL] say, "We don't want you here," he'll be like, "Cool. I'll go to the KHL and play. I'll go back to the team I own and play."
PLEKANEC
If he's surrounded by guys who skate well, he can probably play forever.
FRANCIS
As a guy who played until he was 41, I understand just how tough it is to play in the league as an older player. It's fantastic what he's able to do out there. And the fact is, it's tougher to play in the league in your 40s now than it was in my last years. The game's faster across the board.
TALLON
He's the biggest star the Panthers have had since Pavel Bure played here. You can't put a price tag on what his influence means to this team.
LUNDQVIST
That's one of the things that doesn't surprise me, that he's still so good. A lot of his game is about strength and understanding the game, so that's why he can hold on to the puck, make plays and score goals even though he's what, 43 now? When I saw the way he works out, his determination, how passionate he is about the game and how skilled he is—I'm just happy that I got to see that. I will always remember playing with Jags. One of the best to ever play the game.
JAGR
Why am I doing this? There are a lot of answers to that. First of all, I love it. Then, if I'm not gonna play hockey, I will still have to do something else, and then if I start doing something else, I have to start from the very bottom and learn, so why not do something that I know how to do?
And this is a great job. First of all, I don't think it's as hard as other jobs. You don't have to wake up at 6 a.m. and go home at 5 p.m. like my parents did. You can really enjoy it. If you do something great, a lot of people know about it. Or it could work the other way, too—if you do something bad, a lot of people know about it, but it's up to you. You make a lot of money.
But I think the important thing is I don't know how long I'm going to live. The time between when I quit hockey and I die, I want it to be the shortest. It's not going to be as exciting, that time. So as long as I can play, that's what I'm doing. If I can play 'til I die, that's what I will do. What else are you gonna do? Even if you retire, you will still have to go work out, and maybe harder than you do when you play hockey because you don't want to look ugly and fat. At least I don't want to.
With files from Eric Engels
This story originally appeared in Sportsnet magazine. Photo credits, from top: Bruce Bennett/Getty; Jim McIsaac/Getty; Gregory Shamus/Getty; Dima Korotayev/Getty; Jonathan Nackstrand/Getty