I'm scoring once, twice, three times I'm takin' hats
Men lie, women lie, progress is based upon the facts
— Saukrates, "Soul On Ice"
Damon Kwame Mason had been a radio announcer for 13 years, yet his dream was always film and television.
After his mother got diagnosed with cancer, Mason was sitting on her bed, telling her about his passion and how he had pushed it to the side in favour of paying the bills.
"Go for it," she told her grown son.
With his mother's blessing, Mason left the industry and city he knew. The Maple Leafs fan came home to Scarborough, threw himself into researching the sport he loved, and made his first film.
Soul on Ice—an enlightening and thorough documentary—examines the trials and triumphs of the black hockey player from the 1800s and into the future.
The movie debuted on Oct. 7 at Edmonton International Film Festival, where Mason's project won the audience's choice award for favourite film. It has since packed houses in Toronto, and there is an appetite to screen the doc in Montreal, L.A., Chicago, and New York.
If you have a chance to see it, please do. Soul on Ice is as important as it is entertaining.
"There's a lot more interest in hockey in minority families, and I don't want people growing up thinking P.K. Subban is the catalyst for why black hockey athletes are big," says the 45-year-old director. "There have been guys way before, and we need to celebrate those people."
We chatted with Kwame about everything from the century-old inventions of Halifax's forgotten Colored Hockey League to the perception of modern stars Evander Kane and Josh Ho-Sang.
---
READ MORE: Q&A with Willie O'Ree, the NHL's first black player
---
SPORTSNET.CA: Why did you make Soul on Ice?
DAMON KWAME MASON: In 2005 I moved out to Edmonton and was hosting a radio show. Once a week Georges Laraque would be a co-host of mine. Getting to know Georges, Raffi Torres and Jarret Stoll and hanging out with them, they were just such great guys to be around. I went to a lot of Oilers games. Looking at the physicality and speed up close and really analyzing it, I thought, How come more black athletes aren't playing this game? It would make sense. Imagine if LeBron James or Kobe Bryant or Shaquille O'Neal's parents said, "Hey, we're gonna put you in hockey"?
I started doing research and learned about the Colored Hockey League in Nova Scotia in the late 1800s. When I found out about it, I thought, I'm in my 30s. I've lived in Canada all my life and I don't know this information. How many other Canadians don't know this? That was the catalyst: I need to tell this story.
Why has the Colored Hockey League's importance been so under-reported. Is it simply a result of racism?
I don't think it's racism. That's a very powerful word. As human beings, we have to watch how we label that. I've heard in my community and others, people say, "I don't put my kid in hockey because it's a racist sport." That's a broad brush to put upon it. The reason why the Colored Hockey League was pushed to the side, you have to think about who's reporting the history of hockey and is that part of hockey important to them. Are they interested in it? War is won by the victors. If I'm a hockey historian, and most are predominantly white, they might not come across that information or they may not think it's important to tell their story.
It's a shame as Canadians we don't celebrate all our history as Americans do. I tell ya, if the Colored Hockey League was in New York or Buffalo in the late 1800s, you'd be damned sure Americans would be making amends to celebrate their contribution to their great game—just like they do with the Negro Baseball League and the Harlem Globetrotters. Canadians, we're selective with the history we celebrate.
"The sad thing about back then, they defined hockey as a white-boy sport." —Damon Kwame Mason
It's incredible that this forgotten league birthed elements of the modern NHL, such as the first slap shot and goalies dropping to the ice to make a save.
Think of the first slapshot. How they broke down that idea made so much sense. Players in the Colored Hockey League played baseball in the spring and the summer. They just wanted to keep their athleticism going through the winter so they played hockey. If you think of a person swinging a baseball bat. Then you go to the ice and the puck is on the surface, you're going to do the same motion as if you were hitting a baseball. That's why they called it the baseball shot at the time. The butterfly style of goaltending was also interesting. Those were things they used to entertain the crowd. That's something about blacks. We like to go over the top with something. You see it in a jump shot or a slam dunk compared to some white athletes. Blacks have this showboaty thing about them.
Watch: Soul on Ice: Past, Present, and Future trailer

Describe your personal relationship with the game.
When I was younger, I played two years of house league for the Toronto Aeros. The second year I was on the all-star team, but my main sport was soccer. I just didn't understand the game of hockey. I didn't have anyone to teach me the ins and outs of the game. It became something I watched with my family. I'm old school. I remember when there was no rap music.
Once rap music came in, I started hanging out with more black kids in my neighbourhood. The sad thing about back then, they defined hockey as a white-boy sport. As a young teen trying to fit in with your friends, you want to do the same things, and they didn't play hockey. It took me away from the game. It became a guilty pleasure I'd watch now and then.
When I got older and moved to Calgary, Alberta brought my love back. It was easier to attend games than in Toronto. When I saw Jarome Iginla play, I was like, "My goodness, I love this game."
Got crazy game, so no one can stop me
But ayo, I'm white, I guess my game is hockey
— MC Serch, "Back to the Grill"
So many players participated in this film, it's crazy. Was there a player you tried to interview but got denied?
I didn't get Jarome Iginla or P.K. Subban. Jarome's early run to the NHL brought a tension to the game. Calgary was the first place I saw a live NHL game. I was like, "Whoa, there's a black guy on that team." People were talking about how good he was. And P.K. is really bringing attention to minorities in the game. But due to scheduling and timing, I never got those guys. I tried to represent P.K. [by interviewing his friends and family]. One day maybe I can do a Part 2, because Jarome has a great story.
Herb Carnegie's story is compelling. He could've been the NHL's first black player but refused to go to the New York Rangers' farm team in 1948, citing discrimination. Do you think he should have signed?
That's a hard one. Selfishly, I would say yes. For example: Should I have sold my condo in Edmonton and moved back home to do this documentary? If I didn't do that, I wouldn't have done this movie. I could've just got a regular job. But to tell the history of this sport, I haven't had a paycheque in three years. Only because I wanted to share this story and talk to guys, like yourself, who would never talk to me unless I did this.
When I look at Herb Carnegie's path, he had to do what he had to do,. But, man, oh, man, imagine if he had got into the NHL. History would've changed. But—if he did play, would he have created the first hockey school in North America? Probably not. Would he have created the Future Aces philosophy and creed that has given hundreds of thousands of dollars to young kids to further their education? Probably not. So, you gotta look at the greater good.
Another thing that struck me are the gaps between black NHLers: Willie O'Ree arrives 10 years after Carnegie, and we wait 14 years after O'Ree for the second black NHLer.
Willie O'Ree is not the first player of colour in the NHL, by the way. That's a guy by the name of Larry Kwong, the old guy in the film who played with Herb Carnegie. He's the first player of colour. A Chinese man who played, like, one shift, 20 seconds [for the Rangers in 1948]. But Willie O'Ree broke the barrier for African-Canadians in the game.
What's really interesting to me is that it wasn't like Jackie Robinson. Once Robinson broke into baseball, Major League Baseball looked at him and said, "Oh, my God. There's guys even better than him out there. Let's stop being idiots and bring these players in." With hockey, it didn't happen that way. How do I explain that? Willie O'Ree wasn't a star like Jackie Robinson. If he was a rookie of the year or something, I think it would've opened the floodgates. At the same time, there were only six teams. So there weren't jobs for white guys, either.
Mike Marson had to deal with death threats when he played for Washington. How has the form of discrimination changed for the modern black player?
Karl Subban and I have struck up a friendship. We'll talk every now and then, and he'll tell me that when P.K., Malcolm or Jordan complained about any type of discrimination, he said, "Just imagine being Mike Marson. Now forget about what you're going through, because it's nothing compared to what these guys went through. Racism is a distraction from your ultimate goal. You have to stay focused."
The modern black athlete is smart enough to know the lessons of the past. They've all had great parents who have instilled a sense of pride and determined goals. They don't see race as a distraction. As you notice with Joel Ward and Wayne Simmonds, these guys just brush it off. They know in their heart of hearts, it was worse back then. This little idiot in the stands, I couldn't care less about you. You have nothing to do with my progress. The problem is yours, not mine.
That's the difference between now and then. Back then, they endured racism from fans and from opposing players. They were very courageous. They had a goal and nothing was going to stop them. All they wanted to do was play hockey. That's the beautiful part. There's a lot of guys who were good enough to play college or pro that got so frustrated with what was happening to them at the arenas, they had to quit.
A platinum chain, iced-out Rollie
Till no goalie can block me, this is black hockey
— Ras Kass, "Kings"
That idea of getting distracted is interesting. Did you catch Evander Kane's comments to The Hockey News? Kane said, "There are a lot of guys I could point to that everybody knows publicly who have done a lot worse or been accused of doing a lot worse things than I have, but they don't look like me." What do you think of his drawing attention to race in that context?
You cannot wrong a person for having his own thought. You can agree or disagree, but you have to give that person the benefit of the doubt that they feel something. Instead of shutting it down, you have to say, "Hey, man. Why do you feel that way? Give me examples." Essentially, Evander Kane is saying, "So I've taken pictures with money stacks on Twitter. I've never been accused of rape. What coverage is this person getting compared to the coverage I'm getting for little, small things?" He equates that to his colour. Sometimes you have to say to yourself, maybe he has a point. That's not on Evander Kane; that's on the people reporting about him. He's expressing himself. Now, do you express that to the media? In the hockey world, stuff like that you're supposed to keep to yourself—which is a shame. If a human being feels a certain way, why can't he express that?
"They'll have nothing to say about Evander Kane and Josh Ho-Sang when they get on the ice and they're rocking 30, 40 goals a season." —Damon Kwame Mason
Josh Ho-Sang is a ridiculous talent, yet he has a rep for being difficult. The poor guy slept in and got kicked out of camp this fall—
Rightfully so.
How much has race hovered over the criticism of Ho-Sang? Or is race besides the point?
That's a hard one. When I've heard people refer to his style of play as "Harlem Globetrotters," I go, "Why Harlem Globetrotters? Why do you say that? Why can't you say, 'He's too flashy'? Why do you compare him to an all-black basketball team?" That's weird to me.
But I'm a firm believer in taking responsibility for your own actions. I look at situations like, "OK. How do I contribute to how they perceive me?" Maybe Josh will start doing that. Maybe he'll take more responsibility for his actions. The best way to shut everybody up is to be productive, to score and be that guy. They'll have nothing to say about Evander Kane and Josh Ho-Sang when they get on the ice and they're rocking 30, 40 goals a season, 60 points.
There's attention on these guys because they're going to open the door. If they want to use race as a distraction, you'll see how it holds them back. But if they just think, OK, I'll prove you wrong… then it'll be big. If you got a bad attitude, you got a bad attitude. All Josh can do is be the best hockey player he can and take responsibility for his actions.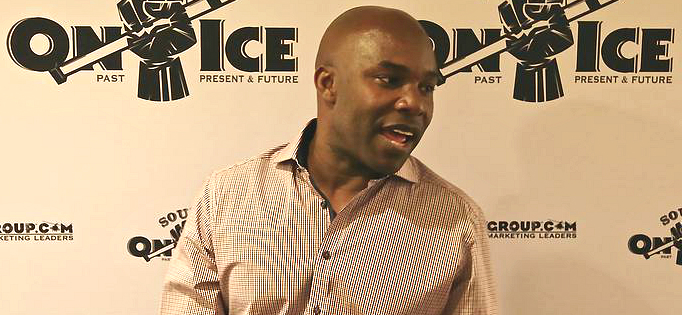 The song Saukrates wrote for the soundtrack is great. How did that come about?
I always wanted to work with Saukrates. He's my favourite Canadian artist of all time. When I was first trying to be a writer, I wrote a script about him, and when it never took off, I thought, "I want a song with high energy that will stand out." All I said was, "Can you put the words 'soul on ice' somewhere," and when he came with that, I was so grateful. He even makes reference to Jaden Lindo and Sidney Crosby in the song.
---
READ MORE: Luke Fox's Q&A with Saukrates and his connections to sport
---
Which is more responsible for the increase in black participation in hockey: grassroots programs or seeing black players succeeding at the highest level?
A combination of all those things. For a guy like Malcolm Subban, who looked up to Kevin Weekes or Anson Carter, they say, "Oh? They're playing, I can play." My generation, we maybe played, liked it, but maybe couldn't afford to stay in it. We're now having children who are 10, 13, 17, and they grew up playing hockey. They saw it as just a sport.
When I grew up, it was what the white guys play. Now you see parents putting kids in the game, and they feel very comfortable in the locker rooms. Financially, a lot of black families are better off than in the '70s and '80s. Black families have more disposable income.
From your research, do you sense the growth will continue, and we'll see even more black NHLers in 10 years?
Oh, my gosh, man. If you go to the arenas in Toronto, there's more minor kids playing—East Indian, black, Asian, they're out there. In 10, 15 years, the game's going to look a lot different. I have a feeling it'll make hockey more attractive to the United States.
In Los Angeles and New York, they've got kids coming up learning the game. Maybe they won't make it to the NHL, but when they have children, they're going to say, "I had so much fun playing hockey, let me put you in hockey." And they're only going to do better than their parents. Fifteen to 20 years, it will be great for us to see a shift. We'll look back at this day, and you'll say, "I talked to this guy Kwame, and he said this shift was going to happen."