Tyler Bozak has been a bit of a polarizing player for quite some time. After riding Phil Kessel to middling success with incredibly poor possession numbers under Randy Carlyle, tons of people wrote Bozak off as a boat anchor to an elite winger. Enter Mike Babcock, exit Kessel, and Bozak surprised pretty much everyone with two very strong seasons in two very different situations.
Two years ago Bozak was a leader on a thin team and scraped together a strong 57-game season with strong possession numbers for the first time in his career. Last season he was a second- or third-line centre depending on who you ask, and managed pretty even, but overall positive possession on an extremely deep offensive team.
This season, however, he's off to a horrible start, already minus-6.72 per cent Corsi relative to his teammates, and while he's on the ice the Maple Leafs are giving up goals twice as often as they're scoring them.
He and his most common linemates from last season in Mitch Marner and James van Riemsdyk have taken a big step back in their play, while at the same time been hit by the PDO bug with an on-ice save percentage below 87 per cent.
Part of their struggles can be left at the door of Frederik Andersen, who has had a tough start to the year, but how much?
One of the issues this line has had is that unlike last year, they haven't found the right balance of responsibility while playing without the puck. Let's take a look at loose puck recoveries at 5-on-5 to illustrate this.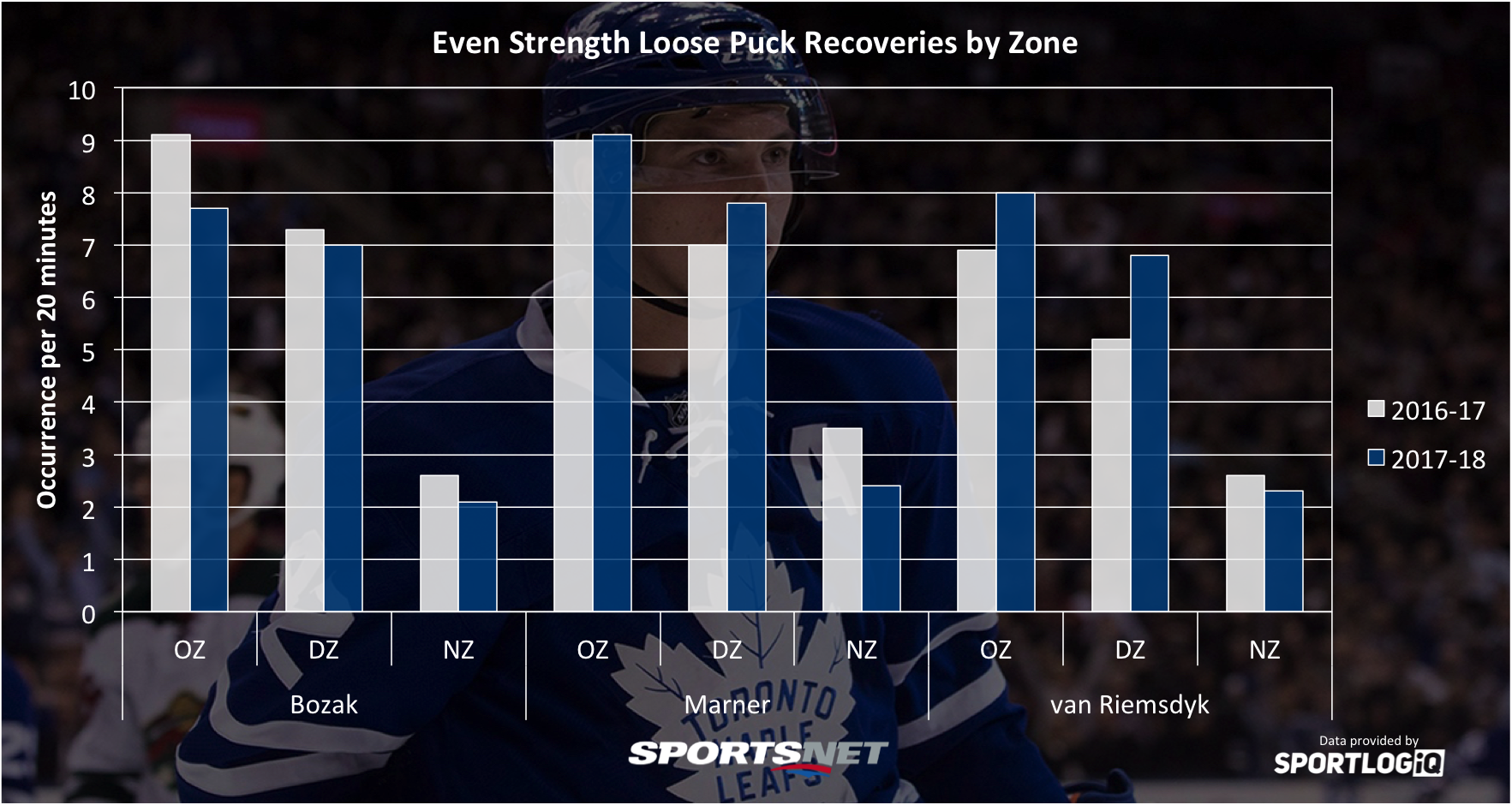 Compared to last season, Bozak is winning fewer loose pucks in every zone, while Marner is the same in the offensive zone, but significantly worse in the neutral zone. The struggles in getting to loose pucks from Marner and Bozak have led to van Riemsdyk recovering more loose pucks this season in the defensive and offensive zones, something he's not as good at, which forces him to play outside his comfort zone and handle the puck more often in transition.
As you might remember from my breakdown of the best left wingers in the NHL over the past three seasons, the weakest area of van Riemsdyk's game by far is his transition game, as he struggles to move the puck up the ice.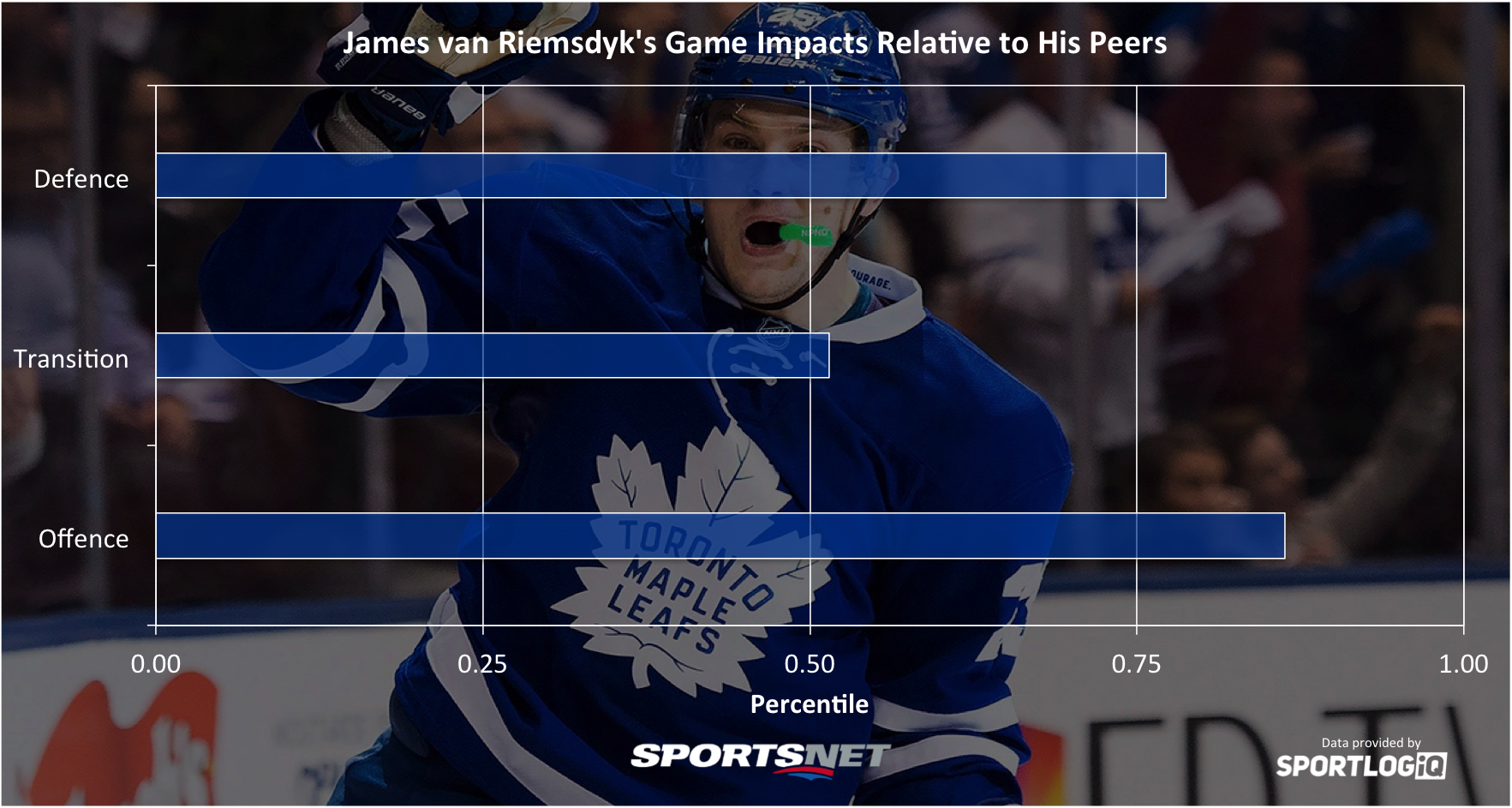 The change in interaction between these three players is a good example of how simple changes can cascade over a short period of time and lead to bigger problems, with one or two players' struggles turning a good line into a horrible one.
A bounce back isn't as simple as Bozak and Marner needing to recover more loose pucks — remember that was only an illustration of what's gone wrong here using just a single statistic.
This season has also seen Bozak's offensive numbers crater, as he's gone from creating 5.2 scoring chances for his teammates per 20 minutes played at even strength to just 3.5, despite the fact the Leafs as a team are creating five more scoring chances per 20 minutes at even strength this season. Even Matt Martin, at 4.2, has been involved in more scoring chances than Bozak.
One of the reasons Bozak has struggled to create offence is how often the puck is dying on his stick. One thing Sportlogiq measures is a very broad success rate of every play a skater attempts to make with the puck, from a pass, to a deke, to a shot attempt. When you add up all those plays and see how many of them succeeded in their goal, you get a skater's play success rate.
Last season Bozak was incredibly efficient in the offensive zone, succeeding on a team-high 58.8 per cent of his attempted plays with the puck. This season that success rate has dropped to 47.3 per cent, along with a three-point rise in his offensive zone turnover rate.
The big culprit for Bozak's drop in success rate and his increased turnover rate on offence has been his passing. Last season he completed 62.7 per cent of his offensive zone pass attempts, while this year he's down to 54.4 per cent. These struggles all make things tougher on his teammates, and as a result we aren't seeing the same mutually beneficial relationship from last season.
The question for the Leafs is whether these issues are short-term struggles or something bigger to worry about. Bozak has puck skills that make him effective in the right situation, so I don't think it's time to panic with him yet, but reducing his playing time while he's struggling won't hurt.
Already this season there's evidence that Babcock is searching for an answer with Bozak, as he's gone from playing just 19 fewer seconds per game at even strength than Nazem Kadri, to 1:42 less per game, and that number is likely to drop further as the Leafs ride Matthews and Kadri harder, put Patrick Marleau down the middle, and move Bozak to the fourth line.
There's still something salvageable here, but for now the best course of action is probably exactly what the Leafs are already in the process of doing.