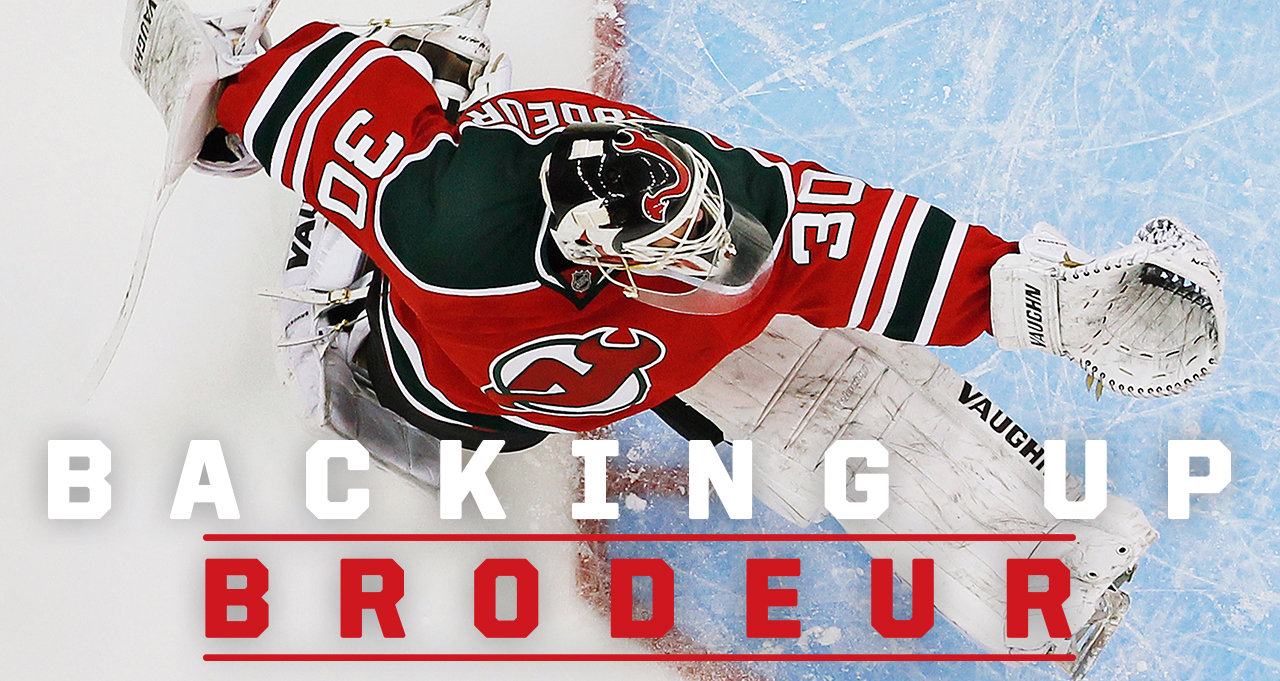 As Martin Brodeur's sweater rises to the rafters in New Jersey, four of the men who suited up behind him share their memories of No. 30
By Joe Pack
Martin Brodeur will be honoured with a jersey retirement ceremony Tuesday night in New Jersey, sparking a slew of memories and tributes to one of the best goaltenders of all time.
Keeping goal is inherently an individual pursuit: alone in the crease, the last line of defence, behind a mask. But often forgotten is the goaltending tandem, a partnership that never shares the ice. In Brodeur's case, his partners rarely even saw the ice. His prolific career and unparalleled stamina stapled New Jersey Devils' backup goalies to the bench.
So who are these partners, and what was it like to watch Brodeur's career from the lonely end of the bench?
Four former Devils goalies spoke to Sportsnet about the worst benches in the NHL, the circumstances that landed them in New Jersey and their unique perspectives on Martin Brodeur.
Mike Dunham
Mike Dunham was drafted in 1990—the same year as Brodeur—by the New Jersey Devils, 53rd overall. He played parts of two seasons with the Devils while playing four with the Albany River Rats of the AHL. In 1997, he shared the William M. Jennings trophy with Brodeur, appearing in 26 games. After being taken by Nashville in the 1998 expansion draft, he became a regular starter with the Predators and later the New York Rangers.
Marty and I go back to my first training camp, which was in the 1993-94 season. We were the same age and were drafted the same year, him in the first round and me in the third. We got along great that first camp before his rookie season—he used to drive around in a little sports car, a tiny old thing. He was, right from the beginning, a great guy, easy going. When it came time for me to crack the lineup [in 1996-97] there was a comfort level between us.
The year of the 1994 lockout, the Albany team had most of the Devils' coaches on the bench with us—Jacques Caron and Larry Robinson—and the NHL season didn't start until later. We went through a Calder Cup run where Corey [Schwab] and I were co-MVPs of the [AHL] playoffs, and then 10 of us went up to the NHL club as black aces. We got to be a part of the Devils' '95 playoff run, too, because their season extended longer. We had team meals with the guys, practised if Marty needed a day off—so there was a lot of bonding going on.
Marty was such a rare breed in that he was so easygoing before games and during games. He played like he was playing street hockey. If you ever looked at him after he made a save and was handing the puck to the ref, he always had a smile on his face, always laughing. He had that ability to just play hockey like he was a kid. He was never worried about giving up a goal. That's why he had so much success over such a long period of time: he never seemed stressed. I remember sitting in the locker room my first year watching him and just shaking my head as he drank Sprite between periods.
I said all the time that I wished I could be like that. It's not that he didn't have a care in the world, but he freed himself up to just play hockey. Like with anything in life, if you're freed up and you don't think about it, things seem to come naturally to you. He had that ability to stay relaxed the whole day. I always marvelled at that.
You watch his highlights: jumping around, making great saves, stacking the pads, diving pokechecks—he had a fun time playing and it showed.
That was nice of Marty in his book to say [his strongest push from a backup was from me.] Those first two years in the NHL I learned a lot. We had very good teams, so it was a lot of fun going into games expecting to win. My first NHL win was in Chicago and my parents got to fly in.
The old New Jersey building in the Meadowlands was always tough for the backup goalie because there was a spot on the bench where the glass stopped and the camera guys sat in a kind of penalty box. You really had to pay attention when guys rifled the puck around the boards because there was 10 feet of space without protection from the glass. You could get hit at all times. I used to catch two or three pucks a game to save our trainer's bacon. Even though I wasn't getting into a lot of games, I was still seeing game action.
Scott Clemmensen
Scott Clemmensen was drafted by the New Jersey Devils in 1997, 215th overall. In three stints with the Devils he played parts of four seasons between 2001 and 2015. After a rare injury to Brodeur in the '08-'09 season, Clemmensen appeared in 40 games, winning 25.
Playing behind Marty was a catch-22 in a sense because you're excited about being in the NHL, but you knew you weren't going to play a whole lot. You never wish an injury upon anyone but the season when Marty went down, it was an opportunity for me.
Marty was very good at being relaxed and staying involved with the game. He was always confident enough to do interviews before game time. His personality allowed him to be successful in that role where he was playing so much and, at times, not having a heavy workload in some games. It's not unlike a backup goalie going long stretches without playing. If you're confident and relaxed enough, you can feel comfortable regardless of the situation you're playing in.
The old Meadowlands was actually a very dangerous place to be a backup goalie. I got hit by a flying stick once and split my lip open. You'd be mostly watching the game on the scoreboard. In Montreal and Carolina, you're not on the bench at all but across the ice. Those are the ones where you feel like you're sitting in the crowd as opposed to be involved in the game.
Some of Marty's best performances were maybe masked a little bit by being so consistently good every night that you didn't really notice if he had a really good game. I don't want to take anything away from him, but it was rare to see the Devils outshot 42-18. When Marty was playing well, you'd almost forget how well he was playing because you came to expect that from him.
He was always very supportive of me. If he got pulled, he'd give me a tap on the pads as we skated past each other, and I always appreciated that about him—he wanted me to do well.
For me, playing at my best meant that I was comfortable out there and you can only get comfortable when you're playing routinely. When you're not playing frequently, how do you play your best? That was always the fight you faced as a backup. When I did play, I was constantly watching the clock. When you do that, the game seems to take a very, very long time. When you're playing regularly, you don't notice those little things.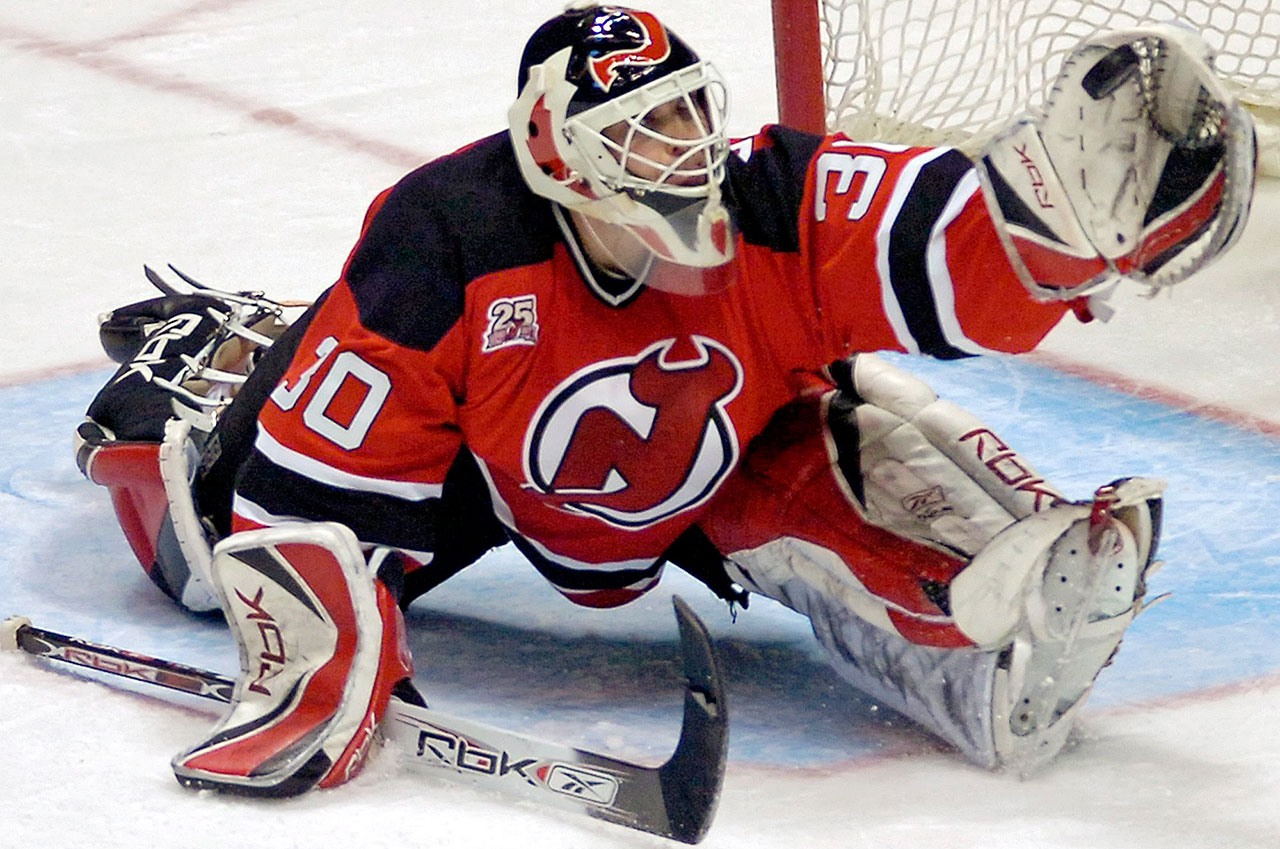 John Vanbiesbrouck
John Vanbiesbrouck came to the Devils late in his long career, traded to New Jersey in 2001. He appeared in nine games over two seasons and was with the club when the Devils lost to the Colorado Avalanche in the 2001 Stanley Cup Final. Vanbiesbrouck won the Vezina Trophy with the New York Rangers in 1986.
We actually got into a big brawl in the playoffs when Brodeur first got to New Jersey [in '91-92]. It was funny, Chris Terreri was playing the game but Martin got in the middle of it. I was wondering who this kid was. Chris and I knew each other, and so what were we going to talk about during a brawl? We talked about golf.
I got traded [to the Devils] at the [2001] trade deadline. I joined the team in Phoenix, and I think they wanted to give Marty a bit of a break. I think they wanted a backup for the playoffs who had a lot of experience—someone to help manage the dressing room and to be a good teammate.
When we got to the Final with Colorado, it was a big thing for me because [my career] was coming to an end. [My dressing room speech was about] accentuating the moment, and to be engaged because you never know if it's going to be your last chance. For me, I knew. It's nice to hear [that speech] affected him; we had a mutual respect for each other. It didn't work out—Colorado and Ray Bourque went on to win after we had them down—but the Devils were a fantastic team.
[Brodeur] really played the puck a lot—he was excellent at it, he was like a third defenceman—which got him involved in the game. With a goalie who handled the puck, he minimized the amount of time spent in the Devils' zone and the number of shots he faced. When you dumped the puck in against New Jersey, you weren't going to mount much of an attack. You had to respect him.
When we would talk, it would be more about life stuff—we didn't get caught up talking about technical things. Jacques Caron was able to create a goalie conversation. He was the central key to how the goaltending was going to be played and I just admired that right from the beginning, [that Brodeur] had somebody like that—I never did. The organization was at the top because of that.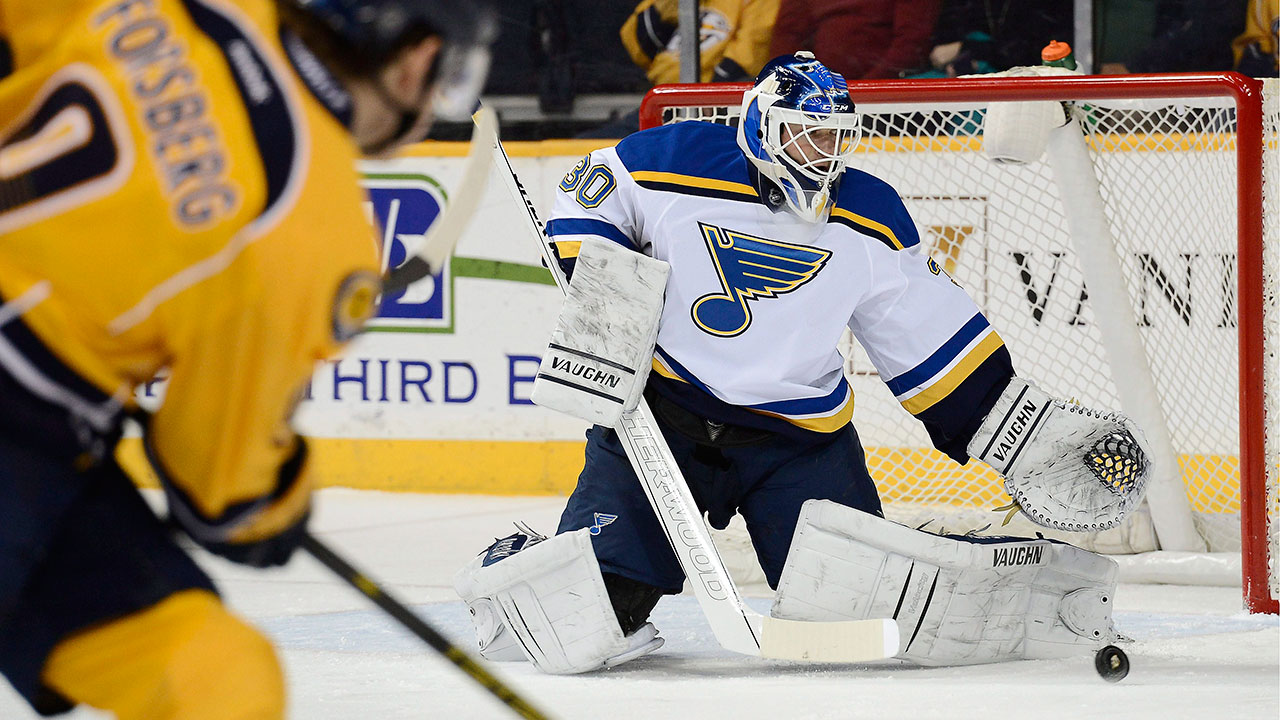 Chris Terreri
Chris Terreri was drafted by the Devils in 1983, 85th overall, and played parts of 12 seasons with the club. He split time with Brodeur in his rookie year and won Stanley Cups with the team in 1995 and 2000. Terreri is now the Devils goaltending coach.
I've known him his whole career and his demeanour has not changed a whole lot. [Watching him] you wouldn't know whether it was the seventh game of the Stanley Cup or a game in the middle of December. He had a quiet confidence.
Jacques Caron was so influential on both of our careers. I think his biggest influence on us was getting us to be more mobile in the crease. If you have that mobility, you're better able to make other changes. Marty made adjustments to his game as the game changed, whether it was equipment or style, and having that foundation allowed him to make those adaptations.
We've always had a good relationship. After I retired, being able to [coach] in the minors—to learn there and work with Jacques in training camp and ease into it—it made my adjustment easier. Marty made it easy on both of us because he's such a student of the game, such a good self-analyzer. He had such a tremendous knowledge base of the shooters and situations, of everything you can imagine.
In the 1991-92 playoffs against the Rangers, there was a melee at the end of the game and the benches cleared. I ended up with John [Vanbiesbrouck] and we stood on the side talking. There wasn't another goalie for Marty to grab, so he got matched up with Joey Kocur. We said, "You got him, Marty!" Most of the time, as a goalie, you kind of know the other guy and you don't want to get in the middle of everything else.
Back in the old Quebec Colisée, the backup would sit across the rink from the benches and you could eat hot dogs, and that was always a bonus. But if you're the starter and you get pulled, you don't want to end up in the stands.
[Brodeur] was so good. What I'll take away that maybe people don't see every day was how good he was in practice. His battle level when he would go after the first shot then the rebound was just incredible. You see it and you can't believe it.