BOSTON — Montreal Canadiens coach Claude Julien will make his first return to Boston Wednesday and while it's unclear how the fans will receive him, those who played for him have nothing but praise for their former bench boss.
"With the utmost respect," said Hall of Famer Mark Recchi. "He brought the first Stanley Cup to Boston in 39 years (in 2011), coached there 10 years, and he was a big part of getting that franchise back on the map. He was a big part of all their recent success and continues to be one—with all the players still there who came up under him. He instituted a culture of doing the right things. I have a deep and great appreciation for what Claude is all about. I think the people of Boston do, too."
Ahead of Julien's return to TD Garden, we spoke with Recchi, former Bruins pugilist Shawn Thornton and current players Zdeno Chara, Patrice Bergeron and Brad Marchand to get some stories about their former coach.
Celebrating heroes of the game, Sportsnet and Scotiabank unite to bring a 4-day hockey festival to Swift Current, Sask., and a 12-hour national NHL broadcast to Canadian fans coast-to-coast on Feb. 9.
Mark Recchi (years with the Bruins: 2008-11)
SN: How would you describe Julien's influence on your success in 2011?
Recchi: The great thing about Claude was that he got to the point where he just trusted everything we were doing. He knew we had his back. There had been a lot of talk at one point during that year that he wasn't going to be back and they were going to fire him. The one thing I noticed is that it didn't stress him out.
The crazy thing is that it never got into the room. It never got there. It was, 'No, he's our coach and we're going to play our butts off for that guy.'
To me, that said everything about what the team thought of him. It was a real good time, and I just went in and told him—we had a real good relationship—I told him the dressing room was good and not to worry about it, 'let's just stay focused here and we'll pull through this.'
The other thing is, he had a great knack for when to step in and when not to. That was the relationship we had as a leadership group with him. He had a great pulse of the room because he helped build it. Yeah, he could step aside, but he always interjected at the right time. He made his stamp when he needed to.
SN: What is it about him that made you say he's a great coach, but an even better person?
Recchi: Just because he is. He cares about people, he cares about their families. It's not just about coming to the rink and doing his thing. If there's something going on, he wants to know. He's a very straightforward guy, and he clearly cares, and he lets it be known and shown. I think that's important. It's a great thing. Some coaches won't show that they really care about players. He's about more than just the hockey part.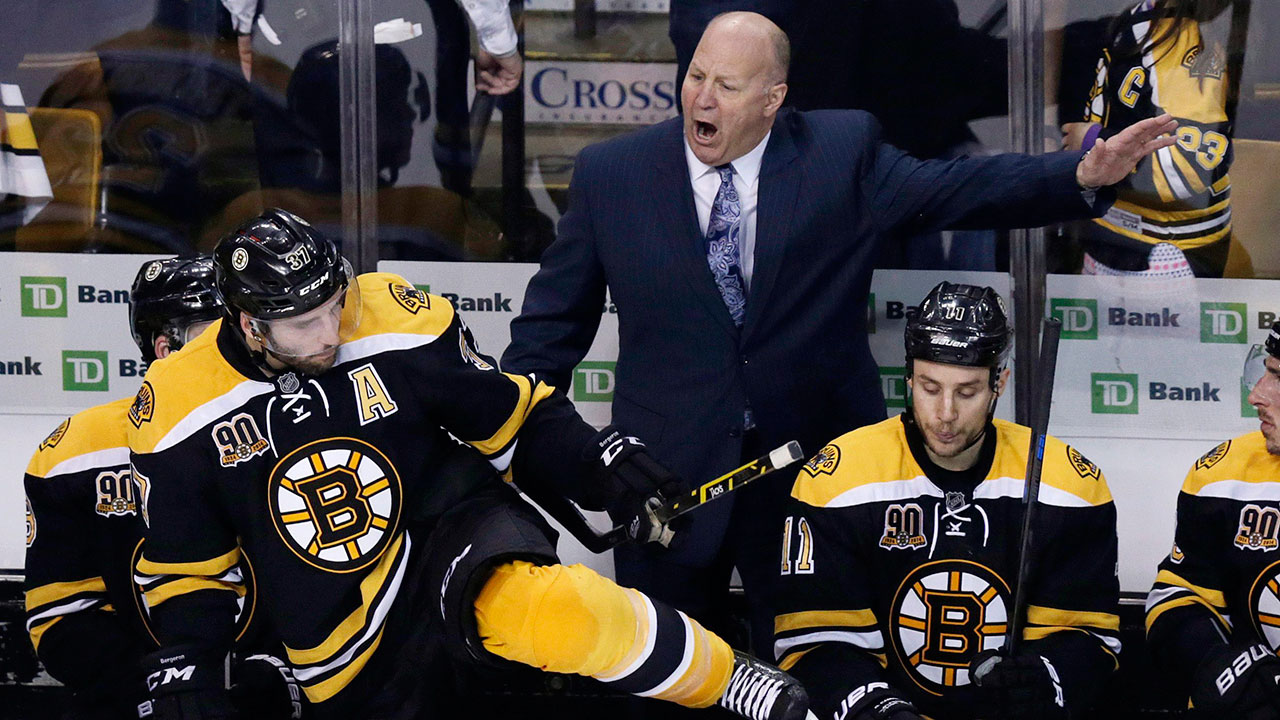 Former Boston Bruins head coach Claude Julien yells as centre Patrice Bergeron climbs over the boards. (Charles Krupa/AP)
Shawn Thornton (2007-14)
SN: What was your relationship like with Claude?
Thornton: We got along really well, believe me. But we had our moments, too. He always pushed me a little bit, and I always gave it right back to him. It was part of why we respected each other.
One funny story was when I took my option in the morning one time, and he came in and saw that I was taking my option. I was 35-years-old and I had fought a lot, and sometimes my body just ached or I didn't sleep the night before in anticipation of a fight. So he came into the room and chirped me, 'Oh, did you have one too many to drink last night?'
And I was like, 'See, that's why you'll never figure me out. Every time I skate for the optional I'm usually sweating [the alcohol] out.'
I flipped it on him by basically saying, 'If I'm taking an option, it means I'm healthy. If I'm taking the skate, then that's when you have to worry about me having a few beers the night before.'
He had no clue how to react. It was hilarious.
There was days he was tough on me, and I needed that. I will say he coached me very well. I will say I wanted a bit more ice-time here and there. Fourth-line guys always want more ice-time. But I knew what he was doing, and he was always trying to get the most out of me. It was normal that we would butt head sometimes because we were both strong personalities.
SN: You think he'll be celebrated when he returns to TD Garden? After all, he is coaching the rival Canadiens now…
Thornton: He is the all-time winningest coach in Boston. I think the people generally appreciated what he did while he was there. They had legit good teams almost every year that he was coaching. They overachieved in a lot of years—especially at the beginning of his run as coach. He deserves a good reception.
Zdeno Chara (2006-current)
SN: Aaron Ward (who was a defenceman with the Bruins from 2006-09) recently told a story on Joe Haggerty's Great American Hockey Show podcast about how you once got up on the team bus and defied Claude's order for the team to observe a curfew on the road following a bad loss to the Toronto Maple Leafs. What's your version of the events?
Chara: We were getting to Buffalo, and I felt the team needed a little bit of a break. Maybe more of a casual routine. I just wanted us to be a bit more together and not just getting to the hotel and going to the rooms and everybody just being alone. I felt like that night was a great opportunity for us to be together, to get away from the hotel, away from the rink, and spend some time, have a nice dinner and a few beers and watch a UFC fight. Claude understood. Everyone then relaxed a little bit and we regrouped and played very well that next game against the Sabres.
SN: What does that say about him?
Chara: I think the coach needs to feel that energy from his leaders to know what the players need, what they think. It's needed for the team in order to go in the right direction. And other times we know it's better to rely on the coach to make those decisions. There's a balance. He was good with that balance.
Patrice Bergeron (2003-current)
SN: What was the biggest thing Claude did to help you win?
Bergeron: He kept us accountable, kept us focused on the system, and he taught us to play the right way.
SN: Does any specific memory of the 2011 Cup run come to mind when you think of him?
Bergeron: There was a lot.
We went down 2-0 to Montreal and there was a lot of talk about him getting fired. It was the kind of noise we were able to ignore because he took us to Lake Placid, N.Y., and put us in a bubble. You could say that decision solidified the team. We talked about the USA Miracle team of 1980 while there. That reinforced to us that you're never out of it—even if you're down a couple of games. We all came together. It was a great move.
SN: Did you reach out to Claude after he was fired 11 months ago?
Bergeron: I spoke on the phone with him. We didn't get together, but obviously I reached out to thank him for everything he did for my career and talked about the things we accomplished together as a team. At that time he obviously didn't talk about going somewhere else. He was excited about spending more time with his family.
I wasn't surprised when he got a job a week later.
Jeff Marek and Elliotte Friedman talk to a lot of people around the hockey world, and then they tell listeners all about what they've heard and what they think about it.
Brad Marchand (2009-current)
SN: What's the main thing you took from Claude?
Marchand: We went through a lot of different things, but the biggest thing he preached to me was how to be a good pro and how to be consistent. That's one thing he preached a lot was that if you want to be in this league a long time, you have to be able to play and bring your best game every single night, or close to it. That was probably one of the biggest things I took away.
He wasn't hard with me, but he was hard on me at times. I knew why, and I expected that from him. He'd always say, 'When I stop talking to you, that's when you should be concerned.'
I knew that everything he was saying and doing was because he wanted me to be better, and on the flip side, the reason he was talking to me was because I wasn't doing my job. I had to be held accountable at times, and he was doing that. That's part of the game.
I think the biggest thing was he allowed me to go through the process. A lot of guys come up and they're thrown into a scoring role and expected to produce, and when they don't, they're kind of let go and it's onto the next guy.
He allowed me the opportunity to grow into that player and become comfortable with the all-around game, the defensive game, and protecting pucks and being a good two-way guy…instead of just worrying about points. He allowed me to have that opportunity and pushed me into that role. Wanted me to be more of a player. It was a process over seven-eight years, and it took me that long to get it, but I think I did.
SN: Did you ever push back?
Marchand: I'd give it to him every now and again. We get along really well on and off the ice, and we had a good relationship—laughed and joked around a lot.
I think I snapped back there one time on the bench when I was angry, and he let me know pretty quickly that was the last time I'd be doing that. He said, 'You do that again and you're going back to the room.'
I think that was the last time I did it.
SN: How will it feel to see the Bruins pay tribute to him?
Marchand: He deserves that video, and I'm sure a lot of people will be excited to see him again. I'm sure it'll be a memorable game for him.