BOSTON – Bruce Cassidy is the kind of coach who stands in front of reporters before a Game 7 and reads off his lines player by player. You see, accountability and honesty aren't just buzzwords in the Hub of Hockey.
The Boston Bruins live it every day.
So it was that the Bs arrived to work Wednesday following another unsettling loss to the Tampa Bay Lightning and didn't mask their concern at the state of this second-round series. They're only down 2-1 heading into Thursday's Game 4 at TD Garden, but they haven't looked anything like the group that dominated Toronto for large stretches of the first round.
These are desperate times. Cassidy acknowledged that he may resort to hard matching forward lines after being reluctant to do so during the regular season.
"We try to worry about ourselves first and we have all year," he said. "That's why we don't hard match, generally. We tried to build confidence into the group and trust, and now we're at the point where it's getting tested tomorrow. Like our guys got to be able to come through with whoever their matchup is because you're getting to the point now where you need to win."
Only the supernova trio of Brad Marchand, Patrice Bergeron and David Pastrnak has managed to play with the puck for a meaningful amount of time in this series. It's what they do. Beneath them, the Bruins are all in the red when it comes to shot attempts as they're ceding the battle to Tampa's second-, third- and fourth-liners.
This is how one-sided it's been: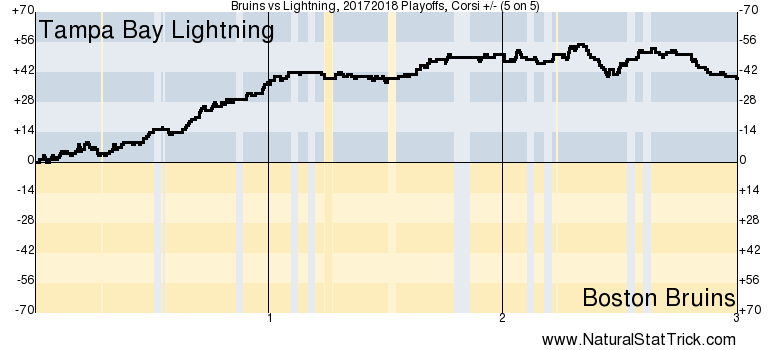 It's made for a surprising start to a series pitting the Eastern Conference's top two teams. The gap between the Lightning and Bruins was just one point over the 82-game season, but it's looked significantly wider than that with the chips down.
This best-of-seven could be over in a hurry if the Bruins don't find another level of execution in Game 4. They've managed to keep Nikita Kucherov and Steven Stamkos off the board – save for an empty-netter by Stamkos – but have seen their secondary stars get bested by the likes of Brayden Point, Ondrej Palat, Tyler Johnson, Yanni Gourde and rookie Anthony Cirelli.
"We were a good defensive team all year and it wasn't just Bergy's line, to be honest with you," said Cassidy. "Riley Nash did a great job, [Sean] Kuraly's done a good job, [David Krejci] and [Jake] DeBrusk are plus players. The onus becomes on them now to get their matchup. Obviously, we have to now look at it – if they can't get the job done do we hard match to then get the best possible advantage?
"Now that involves changing the flow of your game … but that's something that we definitely have to evaluate. How that's going to work out for us."
Cassidy was also expecting to "tinker" with his lineup. Inserting rookie Ryan Donato for just the second time this post-season seems like a good possibility given the need for more offensive punch beyond the big boys.
The coach found himself running a more instructional practice than usual on Wednesday – trying to refresh some fundamentals and highlight ways to get the attack started against an aggressive Tampa forecheck which often sees two forwards barrelling in at full speed.
"Pretty much every aspect of the game we just need to be better," said Bruins captain Zdeno Chara.
"It all starts on the breakout," added Krejci. "It's just up to you to make the right decision. They threw something different at us than Toronto, but we expected it. We know we've just got to be a little bit better. Make the first pass usually the smart pass, the right pass. That's what we've got to do."
Livestream every single game of the 2018 Stanley Cup Playoffs—blackout free—plus the Toronto Blue Jays, key Raptors & NBA Playoffs matchups and the 100th Mastercard Memorial Cup, all in one subscription.
They're also hoping to start playing with the puck more by regaining their usual edge in the faceoff circle. Tampa is 90-76 through three games. Part of the trouble is the frequency with which linesmen are kicking centres out of the dot for violations – with Bergeron, Boston's best faceoff man, getting taken out regularly in these playoffs.
He's struggled to adjust to a tighter standard than was enforced during the regular season.
"At this point now, I've got to be better and I have to bare down and I have to adjust," said Bergeron. "No, I don't necessarily know what's going on. But that being said, [Game 3] was better that way as far as me getting kicked out. I'm trying to talk to them and respect what they're asking me [to do].
"After that it's about me doing the job and winning the faceoffs."
To spend time around the Bruins is to gain respect for them. They own their stuff. No excuses or unnecessary subterfuge.
They dominated the NHL from Nov. 1 onwards and are suddenly getting dominated by the Lightning. It's brought about some self-reflection and an internal search for answers.
"Give them credit. They're forechecking well, they're reloading well," said Cassidy. "They outworked us [on Tuesday] night. There's no doubt about it. You see it in the video and we have to match that [Thursday] and get better clearly in that area, for starters."
Ideally they'd have a couple days to work through their issues, but this is the playoffs. There isn't much time to get it right.