Despite the Toronto Maple Leafs taking a 3-2 series lead in Boston on Friday night, it's tough to say that one team has a decided advantage in the series. It has been so back and forth every game that Game 7 almost feels like an inevitability.
However, there is one surprising development in the playoffs that's been good news for the Maple Leafs: the Bruins' top line hasn't been very effective at five-vs-five.
Overall the Bruins' top line still features their top-three point-getters in the playoffs, but Patrice Bergeron has one point at five-vs-five in five games, while Brad Marchand and David Pastrnak have three each.
The matchup between the Bergeron line and Toronto's John Tavares, Mitch Marner and Zach Hyman line has been of particular difficulty for the Bruins, but it's more than just that matchup. The Bruins' overall numbers just aren't looking great, especially compared to the regular season.
Marchand has been the exception in terms of goals scored, but while these three have been on the ice in the playoffs, the Bruins have been in the red for high danger chances and shot attempts.
To say that is surprising would be a gigantic understatement, as Bergeron, Marchand and Pastrnak have easily been the best line in the NHL for several years, maintaining sparkling levels of consistency both offensively and defensively.
The fall from their regular season numbers are startling, especially for Pastrnak, who has been getting his fair share of criticism in this series as something is clearly up with him.
Pastrnak had a big performance in Game 4, but outside of that, he has been struggling in a big way. And with the Bruins being a relatively top-heavy team compared to the Maple Leafs — their top line plays the most important third of each game — Toronto is getting the best of them during that time.
Contrast that with the series last season, when Pastrnak was scoring at will and the Bergeron line was running roughshod over the Maple Leafs with ease while shutting down some of their top scorers. The tables have turned here, at least through five games.
This line remains dangerous when it comes to controlling passes. Any time Bergeron is on the ice, it's going to be tough to get passes through the middle of the slot to connect; he's just brilliant at cutting those off or being in such a solid position that he even deters attempts to pass through him. Similarly, all three of these players are above average top-six forwards at making those passes, so the combination results in a huge advantage in puck movement.
However, the advantage they have there isn't as strong as it was in the regular season.
Looking beyond what's happening with these three on the ice, how do they break down as individuals offensively?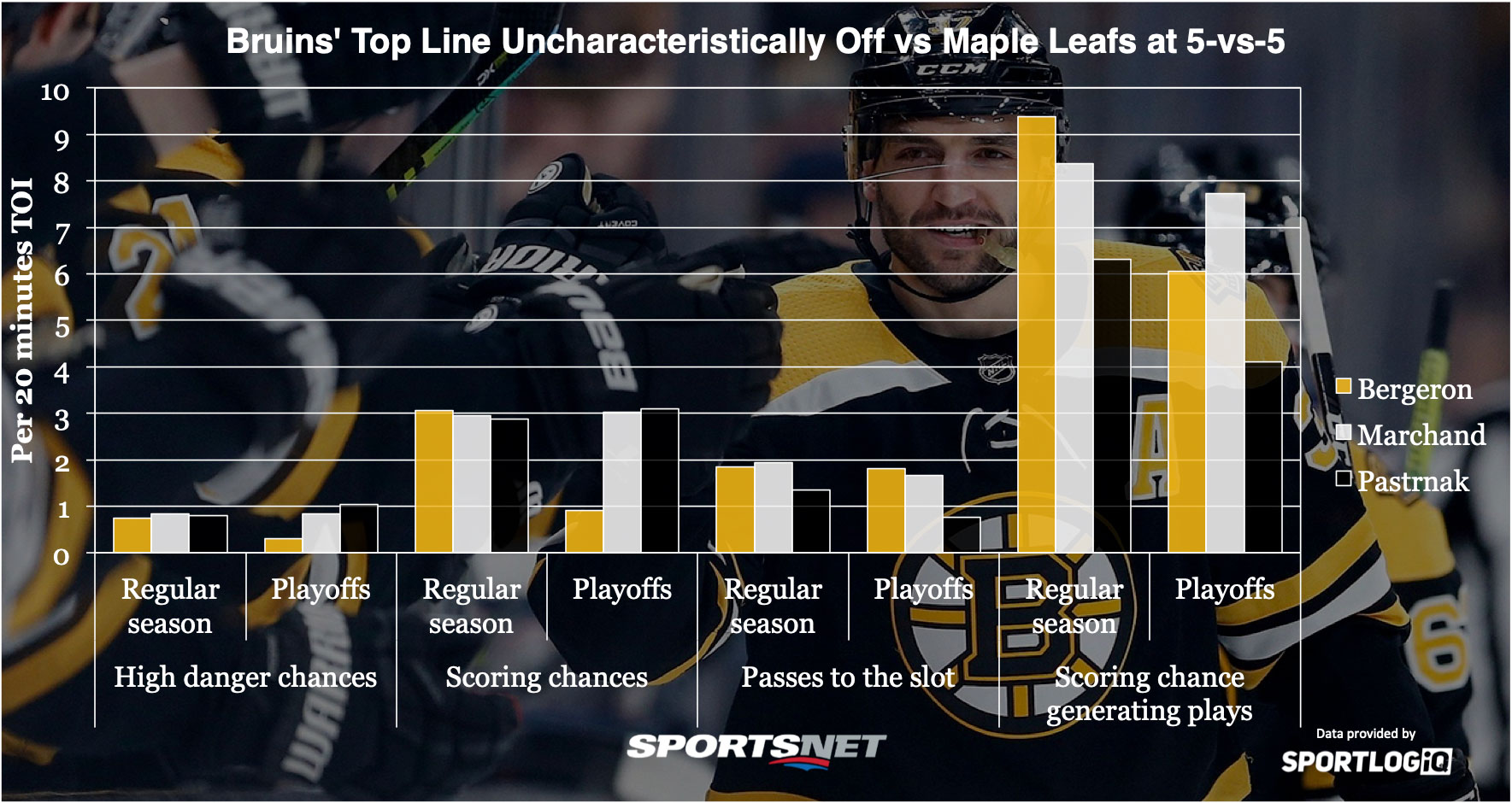 Looking at the individual contributions each player is making, Pastrnak is contributing lower-end third-line level scoring chance creation for his teammates, but his shooting numbers are rock solid, even better than in the regular season. Considering the playmaking prowess of his linemates, his offensive struggles shouldn't be a huge problem. However it's not just Pastrnak struggling offensively, Bergeron is too.
Normally a unique centre who gets a ton of high-danger scoring chances, Bergeron has been forced not just to the high slot in this series, but outside of it entirely. His scoring chance numbers are just under 30 per cent of what he was producing at five-vs-five in the regular season.
While Bergeron's slot pass numbers remain strong, his overall playmaking has taken a huge hit as well. Over a third of the scoring chances he regularly creates for teammates have vanished.
Marchand looks like he's doing the same thing he always does, and while his numbers have taken a slight hit in a few areas, I think that's due to his linemates struggling more than anything he's doing.
All of this could probably be salvageable for the Bruins if this line were still getting it done offensively, but Pastrnak's struggles here once again become apparent. The Leafs are lighting him up defensively, and while they still can't create the puck movement they want in the defensive zone, Tuukka Rask is facing higher quality shots while this line is on the ice than he's used to by a significant margin.
If the Leafs can continue exploiting a matchup that the Bruins are used to winning with relative ease, this might finally be the year where they slay the dragon.