COLUMBUS, Ohio — All these years and games later, Zdeno Chara is still playing in the shadow of his childhood hero.
In fact, the Boston Bruins captain took a moment during this second-round series against Columbus to send Jaromir Jagr an Instagram message saying that he grew up wearing his No. 68 sweater on the streets of Trencin, Slovakia.
"We didn't get that much coverage of the NHL but we knew guys coming out of Czechoslovakia back then," Chara said before Monday's Game 6 at Nationwide Arena. "You were very much aware of the type of player that Bobby Holik, Jaromir Jagr, Peter Bondra. So we saw how much impact [Jagr] had right away at age 18 when he came to Pittsburgh and winning a Stanley Cup, so you're idolizing guys like that.
"As a kid, playing the street hockey, you were pretending to be one of these guys and kind of playing those games, scoring those big goals. So, yeah, I was one of them. I had a huge — I don't want to say crush — but he was the guy everybody loved to be. Young age, so dominant, so strong, scoring big goals at the right moments."
The memory came after Jagr posted a photo from the Great Wall in China, where he's presently visiting while helping out the national team. Jagr is the hockey ambassador for the 2022 Olympics in Beijing.
In his post, he spoke of seeing his hero Mario Lemieux play at the 1985 IIHF World Hockey Championship in Prague and how that helped motivate him to push for the sport's highest level. Together, the pair eventually ended up winning back-to-back Stanley Cups for the Penguins in 1991 and 1992.
Chara had his own dreams come true when the Bruins acquired Jagr at the 2013 trade deadline and went on a run to the final, where they lost in six games to Chicago.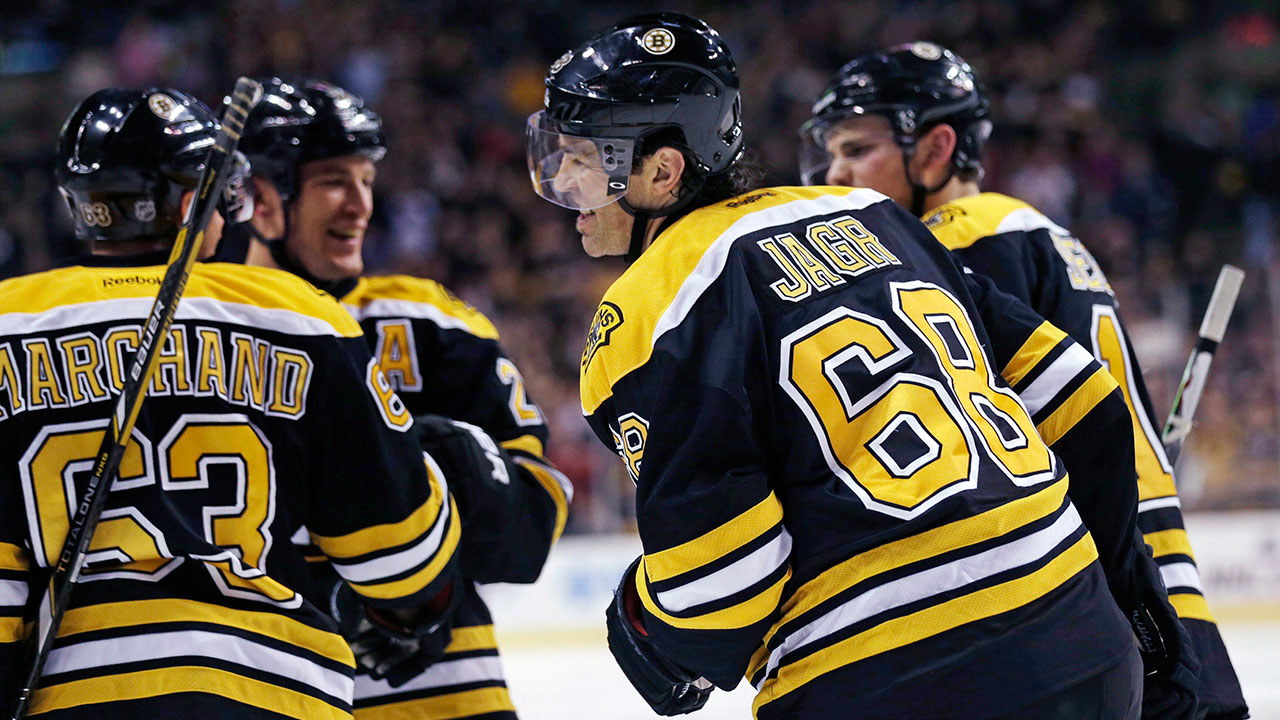 "That was pretty cool that 20-some years later almost we got to play together," said Chara. "After battling him for so long, finally we were on the same team and became good friends. We stay in touch; once and awhile we get in touch and we talk about things, so it's cool."
At age 42, Chara is now the second-oldest player in the NHL, five months younger than Pittsburgh's Matt Cullen, and recently signed a one-year extension with Boston. He already has 1,485 NHL regular-season games on his resumé and will suit up for his 172nd in the playoffs on Monday.
You'd never know it when you see Chara logging the second-most minutes among the Bruins during these playoffs at 22:20 — something head coach Bruce Cassidy has tried to curtail in the name of preservation.
"He would play 30 minutes every night if he could," said Cassidy. "He prides himself, he's in great shape. We've tried to progressively get him over the last few years closer to 20 [minutes per game]. It's an arbitrary number some nights but that's kind of what we've used simply for the long haul of the season."
Jagr remained in the NHL until last year and played professionally for Kladno in the Czech second division at age 47 this season.
That's a path Chara can continue to follow. He speaks with reverence about the 2,500-plus games his mentor has played in professional hockey and is showing no signs of wanting to stop his own career any time soon.
"What's my secret? I love the game, I love playing in it, I have a lot of passion for it," said Chara. "Yeah, enjoying being out there and competing."
[relatedlinks]