The Washington Capitals are an exceptional team. Despite playing in the toughest division in all of hockey, they are on the cusp of their second Presidents' Trophy in as many seasons. In trading for Kevin Shattenkirk, they have now added the best defenceman on the rental market to a team that was already a Stanley Cup contender.
The question now is whether Shattenkirk takes them from contender to champion.
The only way to answer that question is with four grueling rounds of playoff hockey. Just making it to the final might require Washington to beat the best coach in hockey, last year's champions and the best goaltender in the game. All that can be said with certainty now is that Shattenkirk gives the Capitals their best chance at surviving that journey.
To see the ways in which Shattenkirk helps, it's instructive to look at how the Caps ran their blue line in last year's playoffs, particularly since the seven most used defencemen last spring are all still with Washington:
The Capitals chose to lean heavily on four defencemen, so heavily that even with Brooks Orpik missing six games the third-pairing guys couldn't get close to top-four averages.
The primary benefit of such an approach is obvious. The best players play more.
The drawbacks are equally apparent. There's a risk in overworking those top defencemen, especially in a series with multiple overtime games. It can also be difficult to adapt on the fly if somebody gets hurt or suspended.
The addition of Shattenkirk will give Washington some depth in the event of someone getting hurt. That he's spent a lot of time on righty/righty pairings in St. Louis is an additional item in his favour, because it allows him to advance regardless of which defenceman in front of him gets hurt.
With everyone healthy, he'll help the Caps in at least two other ways. First, he'll certainly be taking over top power-play duties, allowing John Carlson and Matt Niskanen to play more elsewhere. Second, he should dramatically improve the team's third pair.
Shattenkirk is without peer as a power-play defenceman. Since the 2012-13 lockout, he ranks first among the most-used defencemen in points/hour and the race is not a close one: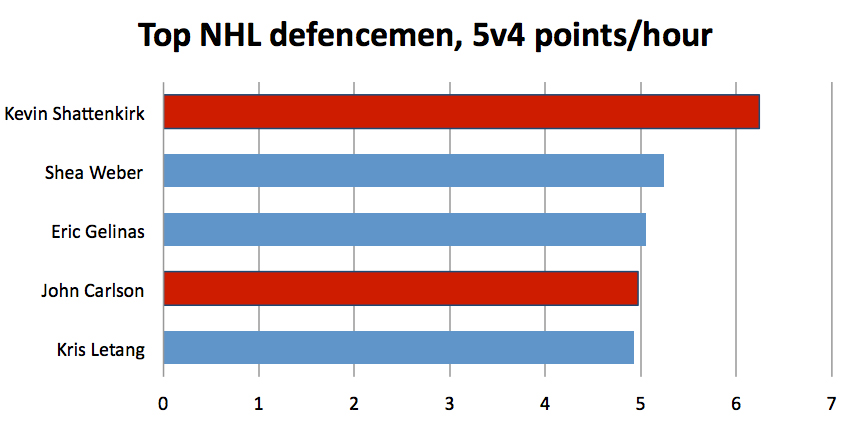 A really good power-play defenceman, like Duncan Keith, can score four points/hour. A great one, like Shea Weber, might top five. Shattenkirk is well over six. Even on a team with two of the league's better point men (Carlson and Niskanen, who is also a top-15 defenceman by this metric since 2012) he'll be a substantial upgrade.
It probably doesn't mean that Carlson and Niskanen will see their overall ice time slashed. Instead, they'll be able to play an extra minute or two per game at even-strength.
Even with a capable top-four that plays a lot of minutes, the third pairing will be on the ice sometimes. That matters, especially if Washington draws opponents like Toronto, Pittsburgh and Minnesota over the course of the playoffs. All of those teams are potential opponents, and all are known for having three formidable offensive lines.
With Dmitry Orlov now firmly ensconced in the top-four, the Capitals will likely deploy Orpik and Shattenkirk as their third pairing, although presumably there's some chance of Nate Schmidt finding his way into the rotation at times. As a side benefit, this bumps Taylor Chorney to eighth on the depth chart and greatly reduces the likelihood of Washington having to send L.A. a pick for Tom Gilbert (with the return on that deal having been conditional on Gilbert getting playoff ice-time).
[relatedlinks]
Over the years, Orpik has been most effective playing with a puck-moving defenceman, and better with a right shot than with a lefty. Shattenkirk has been effective in a variety of roles and with different partners, but was probably at his best during a long-running and productive partnership with Barret Jackman, a physical left-shot defender who played a simple game with the puck. At least on paper, it looks like a spectacular match.
It should also go some way toward addressing a problem from last year's playoffs. Orpik really struggled in the second round when matched against Pittsburgh's third line, which in Carl Hagelin and Phil Kessel had two of the league's best skaters. The Pens out-shot Washington by more than a 2:1 ratio in that matchup. Having Shattenkirk's speed should reduce this vulnerability.
Having an elite puck-mover on the third pair should also reinforce the moves the Capitals made in the summer. The additions of Lars Eller (trade with Montreal) and Brett Connolly (free agent) gave Washington the kind of depth they didn't have up front a year ago. Now, no matter which pairing they play with, they'll have at least one defenceman on the ice capable of launching the attack.
There's no such thing as certainty in the playoffs, and even the addition of the trade deadline's best defenceman doesn't guarantee a championship. What can be said is that this year's version of the Capitals is significantly better than last year's team, and last year's team wasn't very far from beating Pittsburgh in the second round.
If there had been doubt before the trade, there isn't now. Washington should enter the post-season as the favourite to win the Stanley Cup.