When P.K. Subban and Montreal Canadiens general manager Marc Bergevin left Friday's arbitration hearing, emotions were raw. Hours of opposing arguments don't often set the stage for find common ground.
But 24 hours later Subban and the Habs reached an agreement on not just any contract but one for US$72 million over eight years. It's the kind of long-term commitment that will make everyone quickly forget about the tensions of these negotiations that culminated in arbitration.
"I think that it sends a strong message to me that they want me here and they appreciate everything I've done to this point and they believe in me as a player," Subban said on a conference call Saturday evening. "I think I've always believed that, but obviously in this process and coming out with this result, now everybody else understands it and can see it as well and doesn't have to speculate about how the Montreal Canadiens feel about me."
Subban, who will count $9 million against the salary cap through the 2021-22 season, has made no secret how he feels about Montreal. Collective bargaining agreement be damned, the 25-year-old said he would've signed for 20 years if he could have.
Before Friday's hearing, the first since Shea Weber in 2011, this kind of contract would have looked predictable. It makes Subban the highest-paid defenceman in the league, ahead of Weber of the Nashville Predators ($7.8 million) and Ryan Suter of the Minnesota Wild ($7.5 million) but also comes in the first year of a new Canadian television-rights deal that is expected to make the salary cap grow exponentially.
"Realistically we can't all predict where the cap is going to be in Year 2, in Year 3, in Year 4, in Year 5, but we can look at recent history and where the cap has gone in terms of increases," Subban said. "I think that we also look at current players and what they've signed for and the market. That's what our game's driven on now is market value and how you perform and what other teams are doing."
Subban's 155 points since his first full season in 2010-11 ranks seventh among players at his position. He won the Norris Trophy as the NHL's best defenceman during the lockout-shortened 2013 season and had 10 goals and 43 assists in 2013-14.
"A key element of our group of young veterans, P.K. plays with a high level of intensity every time he steps onto the ice," Bergevin said in a statement. "Despite his young age, he carries a great deal of experience and brings contagious energy to the team. Defencemen of his level are a rare commodity in the NHL."
Next season and in 2015-16, Subban will make $7 million. He'll get $11 million in 2016-17 and 2017-18, $10 million in 2018-19 and 2019-20 and $8 million in 2020-21 and 2021-22.
His $9 million cap hit for next season trails only Alex Ovechkin of the Washington Capitals ($9.54 million) and Evgeni Malkin of the Pittsburgh Penguins ($9.5 million). In years beyond, the matching $10.5-million cap hits of Jonathan Toews and Patrick Kane take the lead.
But Subban, who credited Habs owner Geoff Molson for his "monumental impact" during negotiations, also said he was conscious that Montreal needs salary-cap space to build a Stanley Cup contender. He said this contract leaves "more than enough room" for the front office to do that.
"It was just a matter of getting something done that was fair value for myself and fair for the Montreal Canadiens," Subban said. "The player always wants to be paid fairly but you also want to be able to win a Stanley Cup. It's important to do that, and to do that you need to have good teammates."
One key to this for Subban is that he can now concentrate his focus on a Cup after securing what he called "financial stability" for himself and his family. An arbitration award would have paid him handsomely, but that would have been only for one season, and Subban could have been a restricted free agent again next summer.
That was a distinct possibility if the sides waited for the arbitrator to render a ruling, even though Subban said he never had a doubt that a long-term contract would get done. Instead, Newport Sports agent Don Meehan and Bergevin resumed talks to beat the arbitrator to the punch and eliminate any uncertainty.
"I knew that even before the arbitration that something was going to get done," Subban said. "We were always working on a long-term deal. These types of deals don't get done overnight, they don't get done over a few days. It takes months sometimes to get these deals done. I'm happy that it's done now and everybody's happy about it."
Despite the aura of negativity that comes from any arbitration hearing, Subban again called the process of going through it an "educational experience." He also lauded the professionalism of Bergevin, Molson and the Habs throughout.
"When you hear different things about your game and the critiques and so on and so forth, I think that stuff can be positive as well," Subban said. "I think a lot of people need to understand that arbitration isn't always a negative process. It can be a positive, as well, and I really saw that it was. I saw it as a positive step for the process."
Most importantly for Subban, his family, his representatives and the team, it wasn't the final step in this process. Because he was set to be an RFA for the next two seasons, any no-trade protection cannot kick in until 2016, but this contract ensures that Subban won't test the market in that off-season.
Subban brushed off even the thought of that.
"When you suggest the fact that I was so close to UFA and unrestricted free agency, obviously that comes in to play, he said. "But realistically, guys, I didn't want to be anywhere else. It didn't matter to me how close I was to UFA because I wanted to be a Montreal Canadien for a long time."
Any fears that arbitration would ruin the climate between Subban and the Habs faded with this deal. But the Toronto native insisted that there was never anything personal and that the entire process was about business.
"I think we were all on the same page right from the start," he said. "Maybe it took a little bit longer than people suggested that it would take, but in the end it got done. Decisions were made, like I said, that we would all have to deal with, and at the end of the day these decisions came to the table once again, and the decisions on both sides were smart and well-calculated and ultimately the best thing for both of us was to get this deal done."
August 2, 2014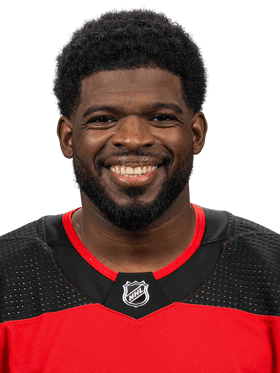 ---
SIGNED BY
Montreal Canadiens
SALARY CAP HIT
$9 million