Elmer Benning had a story to tell, and there's no better place to tell it than the pre-game media meal.
"So I'm at my car dealer the other day," begins the patriarch of an Edmonton hockey family, a 76-year-old hockey man who has spent the past 46 seasons roaming the West as an amateur scout for the Montreal Canadiens. "I say, 'I wanna buy a new car from you, but I want $5,000 for my trade-in.'"
Normally on a night like this, Benning would be at a Western Hockey League rink somewhere, writing down the lines and kibitzing with the other scouts. But tonight he was at Rogers Place with wife Liz, three generations of Bennings on hand for an NHL game between the Vancouver Canucks and Edmonton Oilers.
Their eldest son is Jim Benning, general manager of a Canucks club that was taking on the Oilers, for whom grandson Matthew Benning plays defence. But before the game comes the hockey talk, and he's not done telling his tale.
"So the guy says, 'Well, what do you have to trade in?' I tell him: 'It's a '95 Toyota Camry. Never had the transmission or engine opened up even once, except for filters and oil changes and such.'"
Benning's story is reaching its climax.
"So he says to me, 'You want $5,000, eh? What's the mileage?' And maybe I'm a little greedy, but I look at him and say, 'She's got a million kilometres on 'er.'"
One million kilometres.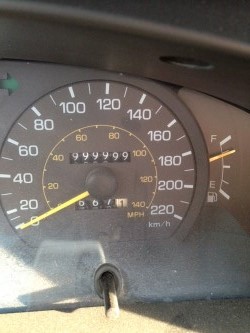 How many icy prairie highways did that little four-cylinder navigate over the past 20 years? How many prospects has our Camry pilot scouted for Canadiens GMs, from Marc Bergevin all the way back to Sam Pollock, Benning's first boss in Montreal?
One million kilometres.
That's 25 trips around the earth's equator. It's a drive to the moon and back, then another quick eight round trips from Edmonton to Sydney, Australia.
How many stops for a Tim Hortons coffee, or moose that (luckily) didn't cross the highway at the wrong time? How many junior barns faded away in that Camry's rearview mirror, the parking lot beginning to empty moments after the veteran scout had snuck out with a couple of minutes left on the game clock?
"I bought it when the '96's came out," Elmer said later, over a cup of coffee at a Timmys in Morinville, Alberta, just down Highway 37 from his farm near Onoway. "I never bought new stuff before, but I buy this new Camry. This old mechanic that worked there—he called me Sonny—he says: 'Sonny, if you go to synthetic oil after 12,000 km, you'll never wear this car out.' I'll never forget that.
"It wasn't nuthin' fancy. A four-cylinder. It had lots of power, and 99 per cent of the time I'm by myself. As it got older, every fall I took it into this mechanic that we knew. I'd say, 'Al, I'm gonna put lots of miles on this car this winter, and I don't want it to stop along the road somewhere.'"
That old car got Elmer Benning through 20 years of junior hockey rinks from British Columbia to Manitoba, less than half of one of the longest running scouting gigs in the game today.
"The motor and transmission were never opened," he beams, the way old men do. "Never hit a ditch, never hit a deer!"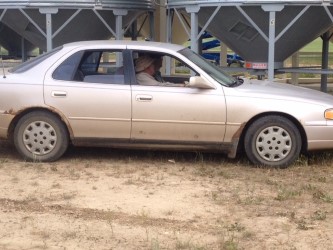 •••
In 1970, the World Hockey Association had yet to arrive in Edmonton, let alone the NHL. Benning was a fireman in a North Edmonton neighborhood called Delwood, quietly raising four boys (Jim, Mark, Brian and Craig) with beautiful, hard-working nurse Liz. Across the country, legendary Canadiens GM Sam Pollock was asking his scouts about a draft-eligible player he'd heard about. The Canadiens scouts looked through their notes, looked around the table at each other, and it quickly became clear to the wily Pollock that his boys didn't have a clue who this player was.
"Mr. Pollock says, 'You guys go out and hire scouts, so we know every player!" recalls Benning, relaying the story he'd heard when the Habs brought him in. There have been some solid Tier II (now Junior A) players out West, like Zarley Zalapski, Troy Murray and Mark Messier, and Benning knew every one of them.
"Mark was tough at 16 years old. He was born a man," recalls Benning.
The Canadiens drafted none of the aforementioned, but like every scout that lasts as long as Benning, there is always a memorable find or two. Of course, the Humboldt, Saskatchewan-born farmer isn't keen to list his greatest success.
"Carey Price," blurts out Liz, Elmer's wife of 54 years, when it becomes clear her husband isn't going to take any credit for the Canadiens best draft pick since they landed Larry Robinson 20th overall in '71.
"Well, Trevor (Timmins , V.P. of Player Personnel) gave me credit for being a big influence on Carey Price," admitted Benning, who first saw the young goalie at age 16. "I flew to Tri-City quite a bit. I just said, 'I really, really like this guy.' But it wasn't me. They came in and made a final decision."
"Elmer really stepped up and believed in Carey, and it helped us ignore all the chatter around selecting a goalie that high," said Timmins, who took Price fifth overall out of the Tri-City Americans in '05. "He really supported drafting a goalie, even though we had goalie depth at the time, with Jose Theodore, and Mathieu Garon in the minors."
The depth of Benning's humility is on display when you dig in on what he saw in Price. He won't come off as the smartest scout in the room, and he would never take more than his share of all the credit for the find.
"Tri-City was an average hockey team, and he was really competitive," he recalls. "He just stopped the puck, and he didn't overplay his net for a young guy. The odd time he got caught out of position, but they all do that…"
Another name out of the Western League that Benning pushed for? You might have heard of a kid named Ryan Getzlaf?
Benning loved Getzlaf, and drove that Camry down Highway 2 to see the Calgary Hitmen play time after time. But against his urging, the Canadiens took Andrei Kostitsyn that year at No. 10, and Getzlaf went 19th to Anaheim. There were plenty of hockey men who mistook Getzlaf's momentary lapses in attention as a passion issue, but Benning's eye saw past it.
"Elmer, he puts a lot of emphasis on character and competitiveness," said Timmins.
"When he goes to watch a hockey player," said Jim, who learned the scouting game from his Pop, "he's trying to figure out how smart they are. How they read the game. When I first started in the business, that's what he preached to me: sometimes the difference between players is how they think the game. Hockey sense."
Timmins has had Benning watching the West for him for his entire 19 years in Montreal. He'd likely walk away himself before he pulled Elmer's credentials. "He's a hard working, honest, loyal, dependable employee. And a friend of mine," Timmins said. "They don't come much better than Elmer Benning in this business."
Of course, Benning was filing scouting reports when Timmins was in diapers. "We'd mail 'em in every week," he laughs. "It would be a sheet of paper, and they'd have different things that you'd have to mark off (on each player). Skating, vision, talent, competitiveness… You'd grade those areas and send them in. A copy would go to the Canadiens, and I'd keep a copy."
Today, laptops, email and analytics have changed the scouting landscape immeasurably. And Benning doesn't have to drive far to see the one kid he really likes these days.
"He's the hardest working guy I've ever met," said Matt Benning, Brian's boy whose sister plays defence for the University of Alberta Pandas. "He was a fire fighter for all those years, and put my Dad and uncles through hockey. Now he's a farmer. Definitely a busy bee."
Benning misses old travelling partners like Gerry Melnyk, a true gentleman who scouted a few decades for the Flyers but passed away in 2001. Maybe if Benning had car-pooled up to Flin Flon, Manitoba with Melnyk, Bobby Clarke (Melnyk's big find) would have been a Canadien instead.
At 76 however, Elmer isn't putting on as many miles anymore. He doesn't drive home from Calgary after a game the way he used to, and though the assignments still come from Timmins, they're shorter now, and closer to home.
After some 7,500 games scouted, he's still a guy you want to sit down with at the pre-game, or ask about a player between periods. "I still enjoy when I go to a game," he says.
That's good Elmer. Because we still enjoy running into you there.