MONTREAL — Karl Alzner says joining the Montreal Canadiens gives him a better chance to win a Stanley Cup than he had with the Capitals in Washington.
He was thrilled to sign a US$23.125-million, five-year contract as a free agent with the Canadiens on Saturday.
"The possibility of winning it with the Canadiens is something," said Alzner, who will cost $4.625 million per season against the salary cap. "I'd love to go to the promised land with this team."
Whether Montreal has the right pieces to win a Cup will have much to do with what general manager Marc Bergevin is able to find on the free agent and trade markets. His first big move was landing Alzner, a six-foot-three 219-pound stay-at-home defenceman who looks to be an upgrade on Alexei Emelin, who went to the Vegas Golden Knights in the expansion draft.
But Bergevin, who put off talking to media until Sunday, was still trying to convince free agent right-winger Alexander Radulov to ink a new deal, while veteran defenceman Andrei Markov was also testing the market. The GM is believed to be seeking a scoring centre as well.
Bergevin was able to sign four depth players who may or may not play in the NHL next season. They include defencemen Joe Morrow and Matt Taormina and centres Byron Froese and Peter Holland.
Alzner, who turns 29 on Sept. 24, has played his entire nine-year NHL career with the Capitals, who drafted him fifth overall in 2007.
With Washington strapped for salary-cap space, Alzner sensed it was time to move on. Several teams showed interest, but the only one he chose to visit was Montreal.
A talk with Bergevin and other team employees, a tour of the Canadiens' training facilities and a chat with defenceman Shea Weber helped close the deal.
"I see potential," Alzner said of his new team. "There's a lot of good players, good young guys and one of the best goaltenders (Carey Price) and defencemen (Weber) in the league.
"So there are pillars there that get you excited for the future and there is an opportunity next season to be a serious threat. In Washington, we had a good team but we couldn't get over the hump."
The Capitals were eliminated in the second round of the playoffs six times while Alzner was there, including the last three seasons. The team built around superstars Alex Ovechkin and Nicklas Backstrom finished first overall in the regular season, only to suffer more post-season disappointment.
"It's very emotional to leave Washington," he said. "That part is difficult, but at the same time, I want to win.
"That's why we all play hockey, and it was frustrating to keep getting eliminated in the second round."
Alzner doesn't score a lot, with 117 points (19-98) in 591 career regular-season games. He had 13 points and was plus-23 in 82 games while on the rebound from off-season surgery last season, when he said he only started to feel at his best late in the campaign.
He led the Capitals with 162 blocked shots while averaging 19:47 of ice time per game last season.
On the plus side, the Burnaby, B.C., native has not missed a game in the last seven seasons.
He joined a team that topped its division with 103 points last season only to be ousted in the first round by the New York Rangers, largely due to a shortage of offensive punch.
Alzner should play on one of the top-two pairings, either with strong puck-mover Jeff Petry or the more conservative Weber.
Montreal added defenceman David Schlemko, also a left-handed shot, in a trade with Vegas last week for a 2019 fifth-round draft pick.
On Saturday, Bergevin added 24-year-old Morrow, who got into only 17 games for Boston, for one year. He gave a two-year, two-way contract to Taormina, who had 60 points and won the Eddie Shore Award as the AHL's best defenceman last season with Tampa Bay's farm club in Syracuse. He has 12 points (4-8) in 59 career NHL games.
Froese and Holland, both 26, were signed to two-way contracts for 2017-18 and one-way deals for 2018-19.
Froese played four NHL games split last season between Toronto and Tampa Bay. He has two goals and three assists in 62 career NHL games and will likely play this season with the AHL Laval Rocket.
Holland, a first-round pick by Anaheim in 2009, played 40 games for the Arizona Coyotes last season after starting the campaign in Toronto. He has 35 goals and 81 points in 243 career NHL contests.
July 1, 2017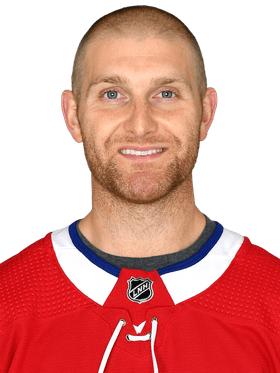 ---
SIGNED BY
Montreal Canadiens
CONTRACT TYPE
Free Agency
SALARY CAP HIT
$4.625 million