VANCOUVER — When he finally made it back into the lineup from the press box, Michael Del Zotto discovered his Vancouver Canucks uniform had been tampered with. Someone had stitched an 'A' on to his jersey.
"From the outhouse to the penthouse," Del Zotto smiled.
The 28-year-old isn't exactly on the top floor of the National Hockey League. Del Zotto is on the Canucks' third defence pairing, getting the chance to play again because of injuries last week to top defencemen Alex Edler (knee) and Chris Tanev (hip).
But compared to where he was, the view for Del Zotto is spectacular.
After averaging 21 minutes of ice time at the start of the season when the Canucks split two games against the Calgary Flames, Del Zotto was suddenly a healthy scratch.
He played all 82 games for Vancouver last season after he signed a two-year, $6-million (USD) free-agent contract to provide experience and leadership to the Canucks. Even when the defenceman's advanced statistics were unflattering, Canucks coach Travis Green stuck with Del Zotto the entire season, citing his physicality. Del Zotto's 244 hits led the Canucks by 87 and ranked him fifth in the NHL.
Then, after two games in early October, he was out of the lineup without any real explanation. Green said Edler was always going to be a lineup regular, and it was up to Del Zotto, Derrick Pouliot and Ben Hutton to compete for the other two spots on the left side.
Pouliot is 24 years old, Hutton 25. Del Zotto, who has played 571 times in the NHL and should be at the peak of his career, sat out for eight straight games.
"I understand the direction the team is going," Del Zotto said during his press box period. "I understand the numbers we have here, my age, my contract, all the stuff that goes into it. It is what it is."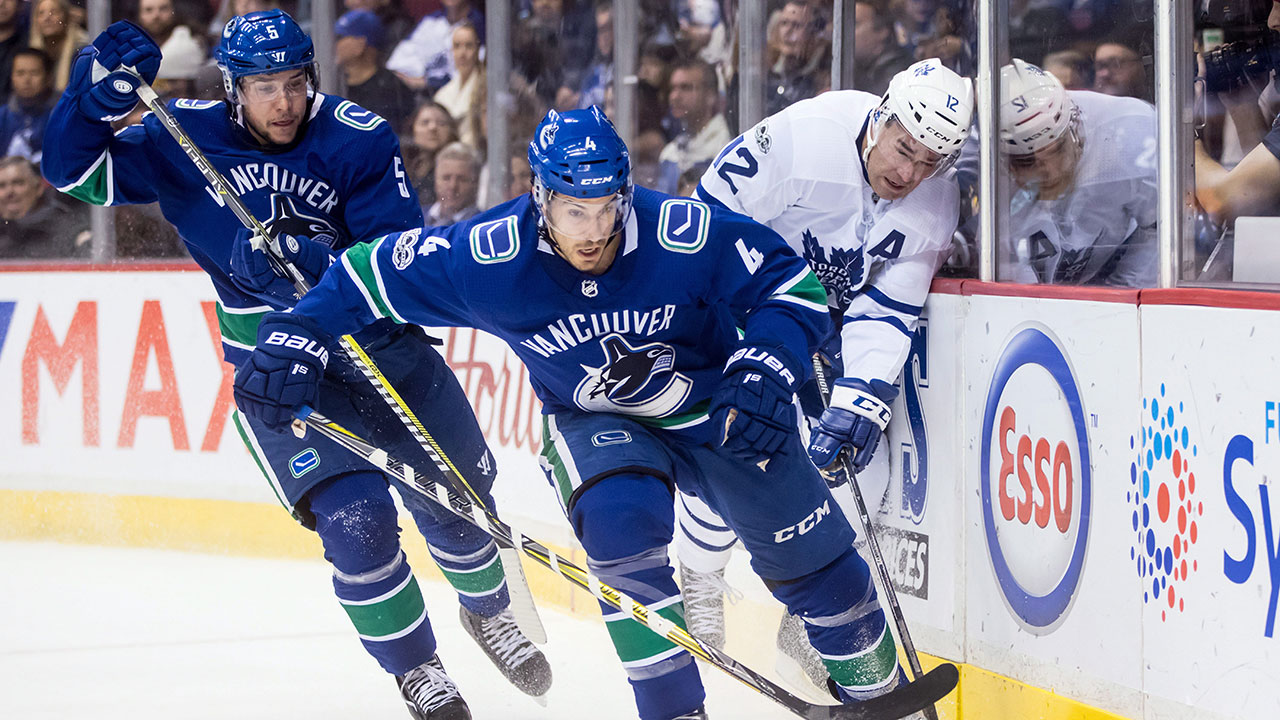 He added Monday morning: "You like to think ice time is performance-based. (But) whether I'm playing, what situations I'm playing, power play, penalty kill — none of that is in my control. What's in my control is making the most of the minutes I'm given. I think I've done a really good job of that.
"Even before I sat out, I thought I did a really good job of that. Some of that stuff is pretty frustrating with the stuff you can't control, especially with the amount of work I put into being a professional every single day, including the extra things that go unseen away from the rink. This is part of the business — I understand the direction of the hockey club and what they want."
Then on Monday night against the Minnesota Wild, Del Zotto delivered a solid 14:18 of ice time that included two blocks, three hits and a strong play inside the blue-line that forced Charlie Coyle into a turnover and allowed the Canuck to tee up Elias Pettersson's one-timer for the winning goal in a 5-2 victory.
And this is why, with Edler and Tanev out, Del Zotto has been elevated to alternate captain. He is a pro's pro, a guy who shows up with the right attitude, works relentlessly every game and practice and does what he can to help his teammates.
It's what could keep Del Zotto in the NHL even if it appears his future with the rebuilding Canucks is as limited as his contract, which expires on July 1.
"What I was told last year before I signed here is they wanted me to come as a veteran presence," Del Zotto said before the team took a day off on Tuesday. "And now with Tanny and Eagle out, having an 'A' on my jersey, that's something I have earned with the qualities I bring on and off the ice. So there is that. But you also understand the direction of the hockey club and the business side of it. I can't do anything about that.
"If I was going through this at a young age, it probably would be tougher — not knowing the business and not being as mentally strong as I am now. But it still wouldn't make it easy. You work so hard and put so much into it every single day, in the off-season as well. I always tell myself I need to be able to look in the mirror at the end of every single day and know I gave everything I have to be the best possible player and person I can be. I'm happy with that."
[snippet id=4265743]
Del Zotto again leads the Canucks with three hits per game. His defence partner, minor-league call-up Alex Biega, also had a strong game against the Wild, directing four shots towards the Minnesota net and making a good lead pass to Jake Virtanen on Vancouver's second goal.
Edler is out another 3-5 weeks, but the Canucks insist Tanev is day-to-day, which means he could play Wednesday at Rogers Arena against the Chicago Blackhawks.
"I never question myself," Del Zotto said. "Ask anyone in the room — I try to come to the rink with a smile on my face every day. I take pride in being the type of teammate I am, the type of leader I am, trying to help the young guys be quality professionals. I never question my ability or the type of person I am. I was happy with my first two games and I've been really happy since I came back."
[relatedlinks]