CALGARY — Ted Green, the former Bruins defenceman, used to say there were two lies told most often in hockey: "You're only going down to the minors for a week," and, "Don't worry honey, my roommate is a heavy sleeper."
Lie. It doesn't just refer to the angle at which the shaft meets the blade. Not at this time of year.
MORE STANLEY CUP PLAYOFFS: | Broadcast Schedule
Rogers GameCentre LIVE | Stanley Cup Playoffs Fantasy Hockey
New Sportsnet app: iTunes | Google Play
In the NHL, April brings tulips that speak with forked tongue. Hockey people will do anything to win: Lie, cheat, whatever it takes to get a break.
Like Friday night in Vancouver, where the Vancouver Province's Jason Botchford relayed Derek Dorsett's post-game account of how Vancouver defenceman Dan Hamhuis ended up being the third man into that Game 2 scrap between Dorsett and Calgary's Derek Engelland. According to Dorsett, the officials were so taxed that they actually asked Hamhuis go in and assist poor Dorsett to settle Engelland down. (Editor's note: The ref I spoke to Saturday is still laughing at this.)
"Deputy Dan Hamhuis," as the Province deliciously nicknamed him, went in and made peace, and you could tell this because he didn't throw any punches at Engelland. That was Dorsett's story, and it was a whopper.
"I love it!" said former Flame Jim Peplinski Saturday. "That's a world class excuse."
Peplinski recalls the time he got into it with Claude Lemieux, and had his finger bitten right down to the bone. Blood was everywhere.
"Lemieux said to the ref, it was Denis Morel, 'I didn't bite his finger. He bit his own finger!' I remember saying to Denis, 'If I was going to bite my own finger to get a powerplay, I probably wouldn't have bitten it down the bone.'"
On Saturday Engelland was absolved of one of the three game misconducts he was handed, and Flames coach Bob Hartley received a $50,000 fine for sending out the big boys late in a 4-1 loss. Of course, in his post-game address Hartley wasn't quite sure what had happened.
"With all the glass and all the fans standing up, I didn't have a good vision," he said, his nose growing.
Last week the Ottawa Senators may have utilized the Hubble Telescope to detect what they were looking for, an (ahem) micro-fracture in the afflicted wrist of Mark Stone. It was a quest for evidence, with a P.K. Subban suspension at stake. The Sens were going to find that damage no matter what.
Subban dodged the suspension, and Stone had two assists in Game 2. Not bad for a guy who was a candidate for amputation 24 hours before.
Any Swede who tells you they were trying to win that game against Slovakia at the Turin Olympics? He's lying.
Any visiting player who gives "the finger" to the crowd after scoring a goal, then says it was a glove malfunction? He's lying too.
"I don't know if my glove got caught up, but I can assure you, that's not part of who I am," Andrew Ference told reporters after that game in Montreal. Some time later he penned, "I am guilty myself of trying to blame a middle-fingered celebration after a goal in Montreal on a glove malfunction … Facing the media and a possible suspension after the fact proved to be too much for my self-accountability."
There was the time Marty McSorley speared Mike Bullard in the groin so hard in a playoff game at Northlands Coliseum that Bullard left on a stretcher. The next day, McSorley claimed amnesia. Couldn't remember a thing. His coach, Glen Sather, never got a real clear look at the incident. It occurred right in front of the benches.
But wait, there's more. The Flames said Bullard nearly lost a vital organ, and demanded a suspension. Poor guy may never be the same, might never father kids, they said.
"Terry Crisp was our coach," Bullard told me years later. "They take me off on the stretcher, and into the room. I say to (trainer) Bearcat Murray, 'We need a win here. I'm OK. Go tell Crispy.' He goes out to the bench and says to Crispy: 'Bully's says he's OK. Do you want him?' And Crispy says, '(Hell) no. He hasn't done a goddamned thing yet anyway. Leave him in the room.'"
Ed Belfour let in seven goals in Game 1 of the 2000 Stanley Cup final against New Jersey, then blamed cold medicine for having dulled his reflexes. Was that a fib? We don't know. Did he have "a billion dollars" the next October to give to that arresting officer when he was out on a bender? We don't know about that one either.
Remember Shaun Van Allen? He was concussed so badly one night in Washington that he couldn't remember his own name. "Good. Tell him he's Wayne Gretzky," said Green, whose Oilers really needed the help.
---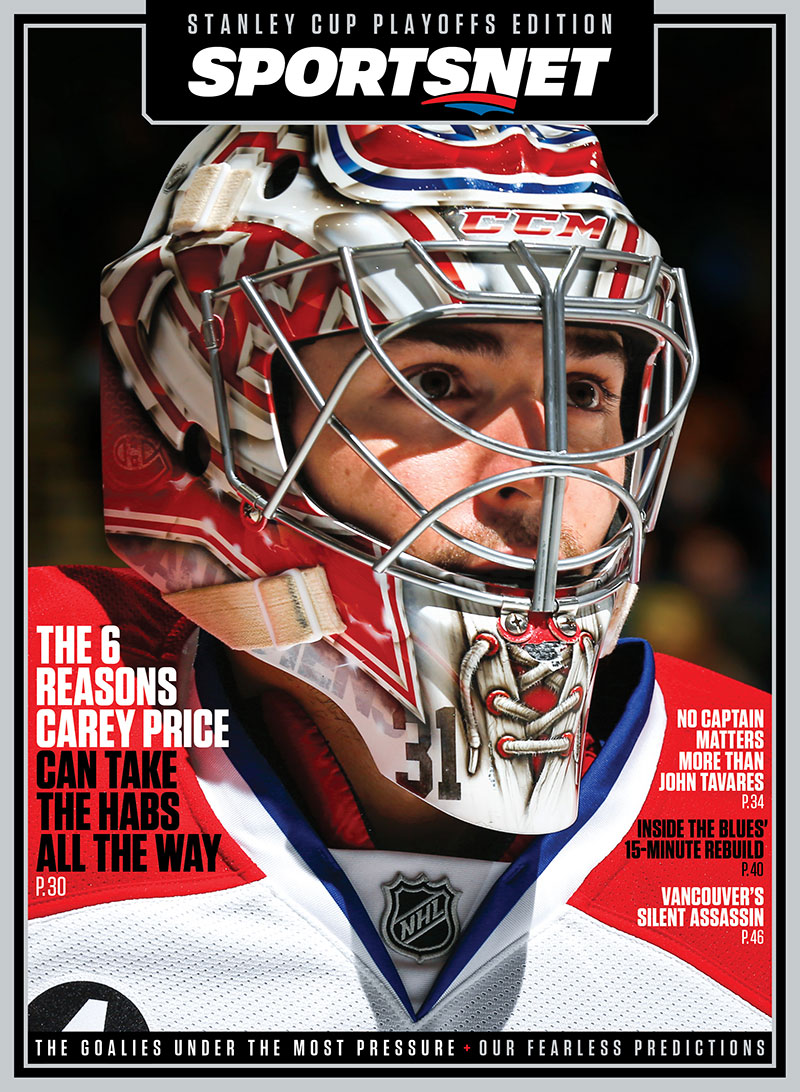 Sportsnet Magazine Stanley Cup Playoffs
Edition: The six reasons why Carey Price can take the Montreal Canadiens all the way. Download it right now on your iOS or Android device, free to Sportsnet ONE subscribers.
---
Of course, there won't be a team at the upcoming draft who didn't have the kid they select rated higher than where they got him. "It's a miracle he was still available at No. 15," they'll say.
And of course, the NHL really sent out that memo back in 1999, when Brett Hull scored the Stanley Cup winning goal from inside Dominik Hasek's crease. Poor Director of Officiating Bryan Lewis had to face the media that night and concoct the story of the mystery memo that, somehow, only the Stars ever admitted to receiving.
Remember when Raffi Torres caught Brent Seabrook with that head shot behind the net, but escaped suspension when the NHL declared the hit had occurred in some heretofore unknown "hitting zone?" Have you ever heard of this hitting zone, before or since?
In the end, Sherriff Engelland and Deputy Dan are both in the Game 3 lineup, and Hartley's fine will get paid by the first 5,000 beers that get sold in Game 3 at the Saddledome.
But the Flames will say he paid it himself. They wouldn't lie about that, would they?