VANCOUVER – No one has decided yet the right place for Quinn Hughes to play next season. The good thing for the defenceman and the Vancouver Canucks is there are no bad choices.
Whether the dynamic seventh-overall pick plays in the National Hockey League for the Canucks, their minor-league farm team in Utica, N.Y., or back at the University of Michigan, Hughes will be supported in his development and should continue to build his strength and game.
Hughes is the kind of puck-carrying, power-play-running defencemen Vancouver has rarely had since joining the NHL in 1970, and the rebuilding team is desperate for players who can excite fans and help lift the Canucks out of their lowest ebb in two decades. So there is immense interest on the West Coast about what Quinn and the Canucks will decide for next season.
Both sides would love for him to be capable of playing in the NHL next fall as an 18-year-old. But Hughes is five-foot-10 and 170 pounds, and the Canucks haven't had a first-round pick play for them the season after his draft since Ryan Kesler in 2003-04. And Kesler, also out of college hockey, spent the first two months of that season in the American Hockey League.
The last Canuck to make the opening-night lineup as an 18-year-old was Trevor Linden, now the team's president of hockey operations, 30 years ago. Canuck winger Brock Boeser, second in Calder Trophy balloting this spring, spent two post-draft seasons at the University of North Dakota before turning pro after his sophomore year and making his NHL debut at age 20.
Hughes, whose late birthday (Oct. 14, 1999) allowed him to play a full season at Michigan before his draft, believes he's ready for the NHL.
"I don't want to be naive or anything, but I think I'm ready right now," he told Sportsnet on draft night three weeks ago. "I know it's a hard league. I feel very confident, feel like I can help the Vancouver Canucks."
[relatedlinks]
But Michigan head coach Mel Pearson and former assistant Jeff Tambellini, who left the Wolverines to become coach and general manager of the Junior-A Trail Smoke Eaters, both told Sportsnet since the draft that Hughes would benefit from another season at college.
He would be one of the best players in the NCAA, play for Team USA at the world junior championship and might still be able to play for the Canucks at the end of next season.
That's a good option. But so would be turning pro and moving up in caliber while working daily under the keen eyes of the Canucks' player development department.
Ideally, Hughes would spend the summer training in Vancouver, getting stronger and fitter in order to compete for an NHL spot at training camp. Ideally, October is when the decision should be made on where he plays — after Hughes goes to camp and plays pre-season games with and against NHL players.
But while the Canucks can wait until then, Hughes and Michigan can not.
Pearson said on Sportsnet 650 radio this week that he hopes Hughes will make a decision by the end of next week.
Hughes understands Michigan's urgency, explaining after last Thursday's Canucks prospects game: "They have incoming freshman. They need to know what I'm doing."
What Hughes probably would prefer not to do is spend next season in the AHL. If he isn't ready for the NHL, it's understandable that he'd likely rather return to Michigan, where his family lives, and play with friends and peers while trying to help the Wolverines win a national championship.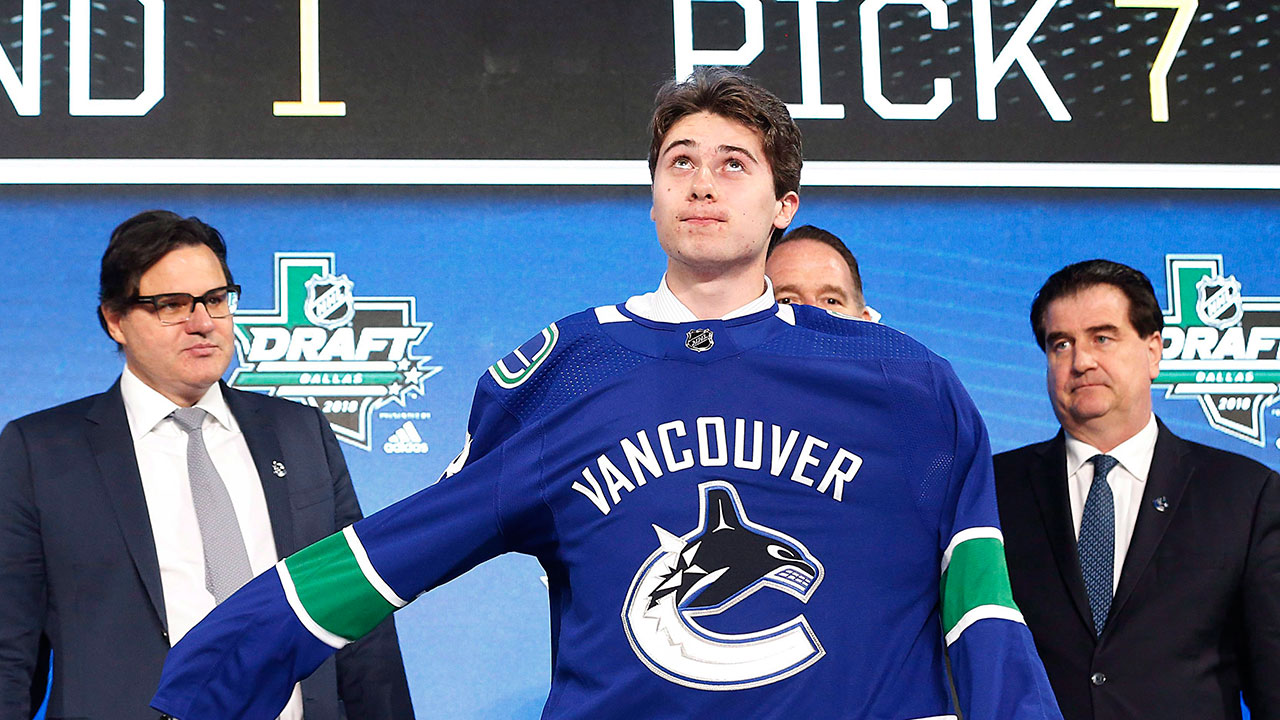 But he said he'll listen to what the Canucks say is best for him and Vancouver general manager Jim Benning reiterated this week that Hughes and his advisor, agent Pat Brisson, have not made turning pro conditional on an NHL roster spot.
"They're having conversations from their perspective – Pat, Quinn and the family – and we're having conversations in our group," Benning said. "At the end of the day, we all want to do what's best for his long-term development. He's going to be a special player for us for a long time and we want to make sure we're all on the same page."
Nobody doubts Hughes' ability to skate or handle the puck at the NHL level. But the Canucks want to make sure he is strong enough physically to handle professional hockey. Colorado Avalanche defenceman Samuel Girard played in the NHL last season as a 162-pound, 19-year-old. But he spent the season after his draft developing back in the Quebec Major Junior Hockey League.
"We don't expect Quinn to defend physically; he defends by moving his feet and having a good stick position," Benning said. "But. . . you gotta have the physicality to withstand an 82-game NHL schedule and defend with some (physical) conviction every now and then. You've got to be able to knock a guy off the puck.
"We all know what a great skater and how smart he is, but we just want to guard against if he's not physically ready to play in the NHL. We don't want to put him in a position where he could lose confidence. So his family and his agent, all of us, are just trying to figure out what's the best step for him."
Benning said Canucks coach Travis Green spent time Hughes last week. After speaking with Brisson twice last week, Benning hoped to have another conversation with the agent this week.
Free agents Virtanen, Stecher
The Canucks GM is unconcerned about ongoing contract negotiations involving restricted free agents Jake Virtanen and Troy Stecher, who are both coming out of entry-level deals.
Stecher, who spent his first two pro seasons with the Canucks after signing as a free agent out of college, filed for salary arbitration and has a July 29 hearing scheduled. Virtanen, a winger who struggled to establish himself in the NHL after being drafted sixth-overall in 2014, was ineligible for arbitration.
"We've still got all summer," Benning said. "I don't talk about contract negotiations through the press, but we're going through the process and we still have lots of time to figure out contracts for them."
Salary-cap space is not an issue. Capfriendly.com shows the Canucks with $12.85 million of cap room for next season.