After signing defenceman Ben Hutton to a two-year contract extension earlier this week, Vancouver Canucks GM Jim Benning is turning his attention to Bo Horvat and is also searching for more scoring.
According to Elliotte Friedman on Saturday's Headlines segment on Hockey Night in Canada, Benning is aiming to re-sign the 21-year-old Horvat to a long-term extension, but the comparables for any such deal are interesting.
"I searched around for a couple of comparables and these are a couple of names I came up with," Friedman said. "Two players who signed long-term deals this year, Victor Rask and Rickard Rakell and if you look at their numbers, this is in their entry-level contracts, they've scored at a higher rate than Horvat…
"But when you look at year number three, you look at Horvat, he is trending upwards."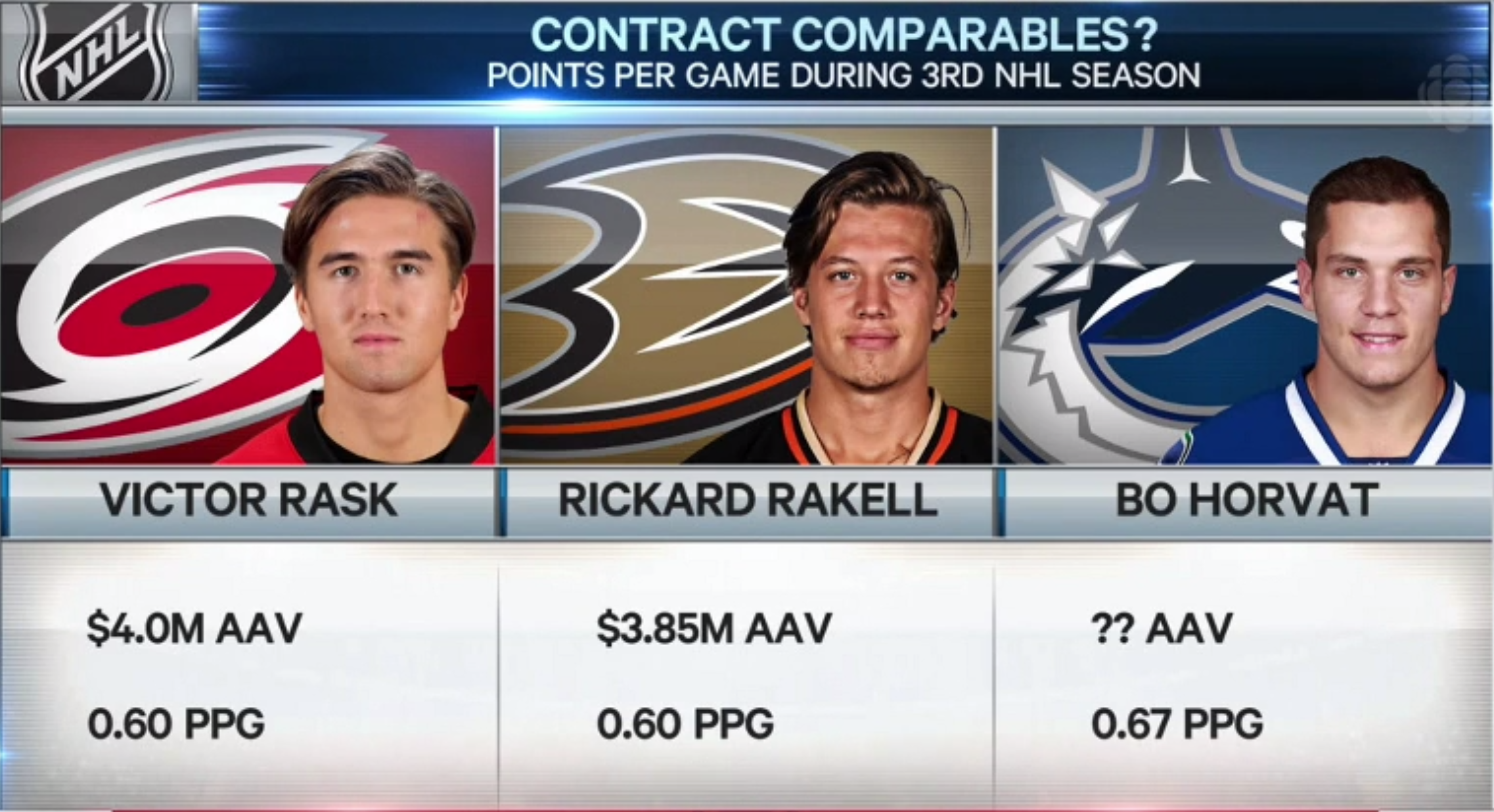 "The biggest question is, he's represented by Newport, and when you look at their history, their history is to wait. And I think if Horvat continues to score at the rate he's scoring at and you look at the future in Vancouver, and he's got a chance to be a big point scorer there, I think the Canucks are going to need to come up with a really big number to sign him to a long term deal right now."
It's interesting to look at Horvat's great start to the season and consider that the Newport Agency that represents him may wait until locking up an extension. If he keeps scoring at the pace he's at, he may be able to command more than the $4 million Rask got or the $3.85 million Rakell got.
However, Horvat currently has a shooting percentage of 21.9%, which is nine points higher than his career average and sixth-highest in the NHL among players who've played at least 20 games. Odds would suggest his scoring pace will slow rather than remain consistent. He's already nearly halfway to his goal total from all of last season.
Meanwhile, Nick Kypreos suggested that, despite Vancouver's placement near the bottom of the NHL standings, they're not giving up on the season and are in fact looking to acquire more scoring.
"It doesn't appear Jim Benning and the Vancouver Canucks are ready to mail it in any time soon, they're looking for scoring," Kypreos said. "A lot of teams are looking for scoring. Of course, you're going to have to move something substantial. Teams are calling for Chris Tanev right now, but Vancouver is saying he's not available. You can pick as many as you want on defence here, but that's one player we're not prepared to go down that route with just yet."