WASHINGTON — The Capitals have signed centre Lars Eller to a $17.5 million, five-year contract extension.
Eller will count $3.5 million against the salary cap through the 2022-23 season. General manager Brian MacLellan announced the deal Saturday.
The 28-year-old Dane was in the final year of his contract with the Capitals and would have become a free agent on July 1.
"This club and this city has been a great fit for me personally, for my family," Eller said. "There's just so many things that have been good about it. It's been good for my career. I've found my game here, especially this year."
Eller has 11 goals and 17 assists for 28 points in 53 games this season, three points shy of his career high. In 576 NHL games with the St. Louis Blues, Montreal Canadiens and Capitals, Eller has 96 goals and 113 assists.
The signing solidifies Washington at centre. Eller has played on the third line the past two seasons behind centres Nicklas Backstrom and Evgeny Kuznetsov. Backstrom is signed through the 2019-20 season and Kuznetsov through 2024-25.
"Everybody in the league is dying for centermen," Capitals coach Barry Trotz said. "And we have a lot of them. … Those guys are assets in the organization. Every good team, it doesn't matter what sport, if you're strong up the middle, you've got a chance."
Washington traded two second-round picks to Montreal for Eller at the 2017 draft. Eller grew frustrated during his six seasons with the Canadiens.
The No. 13 overall pick in the 2007 draft by the Blues, Eller was traded to Montreal in 2010 and never settled on a role as he moved between centre and wing and played up and down the top three lines.
"I don't like to go back to talk about it, but it was a different situation in Montreal," Eller said. "I have more stability here. I get to learn from some of the best players in the league looking at (Kuznetsov) and (Backstrom) every day."
Eller was one of three significant Capitals unrestricted free agents, along with centre Jay Beagle and defenceman John Carlson.
"Lars had a good year last year," MacLellan said. "This year, he's taken his game probably up a notch. There's a little more offence involved. He's playing more second power play. He's done really well and I anticipate it to be like that going forward."
MacLellan said Washington would do "everything we can" to re-sign Carlson, who ranks fourth in points among NHL defencemen (42), but wouldn't comment on where those negotiations stand other than to say the two sides have had contract discussions.
Eller was tempted by the chance to explore free agency before deciding the fit was too good in Washington, the search for more money elsewhere not worth the uncertainty that came with it.
"In my case I'm only going to have one time to be (an unrestricted free agent) when I'm still in my 20s and that's a once-in-a-lifetime opportunity," Eller said.
"But looking at the options, I wanted to stay here. It's a good fit for me on the team. The team is going to be competitive — not just this year, but the next couple of years with the core that they have."
[relatedlinks]
February 10, 2018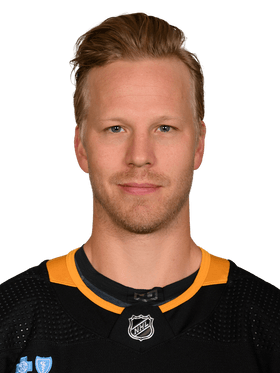 ---
SIGNED BY
Washington Capitals
CONTRACT TYPE
Contract Extension
SALARY CAP HIT
$3.5 million