Heading into the playoffs, one of the more interesting storylines is the goaltending controversy in Washington. Braden Holtby has had a very tough season, but after finishing fourth, first, and second in Vezina Trophy voting the previous three seasons, it's tough to completely write him off.
Meanwhile, Philipp Grubauer is having his best season with a career-high of 34 appearances so far, which follows up a strong 2016-17 playing backup to Holtby.
Grubauer's .925 save percentage is significantly better than Holtby's .908, yet when Holtby starts, the Capitals still win 62.3 per cent of their games, while only winning 55.5 per cent of the games Grubauer starts. That doesn't make much sense, especially if Grubauer is getting typical backup goalie games against weaker teams, so let's dig deeper and see how these goaltenders have performed.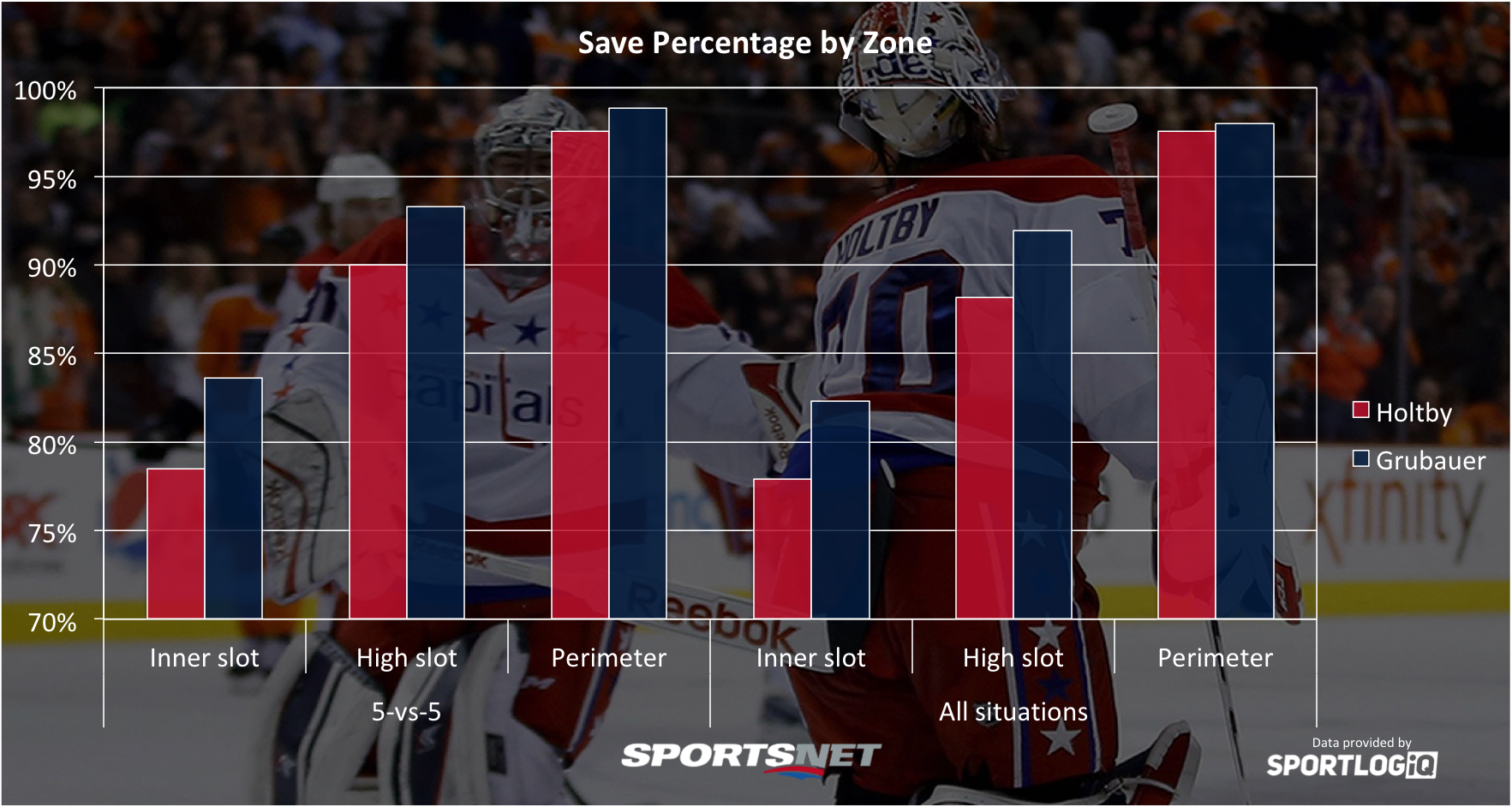 Breaking down save percentage by shot locations, Grubauer has a significant advantage over Holtby this season in all areas, but that gap is biggest in the inner slot or high danger area, and dissipates as shots get further away.
Holtby has typically been extremely strong in the high danger area, so these struggles are new this season.
There are more factors in shot difficulty than just location, though, and goaltenders can exhibit some level of control over the difficulty of shots they face by corralling rebounds.
Rebound chances are much more difficult for goaltenders to stop, so controlling shots that aren't too dangerous to prevent a subsequent high danger shot is a large component in effective goaltending. By looking at how often goaltenders give up rebounds on shots they face, we can see how much they impact their own shot quality.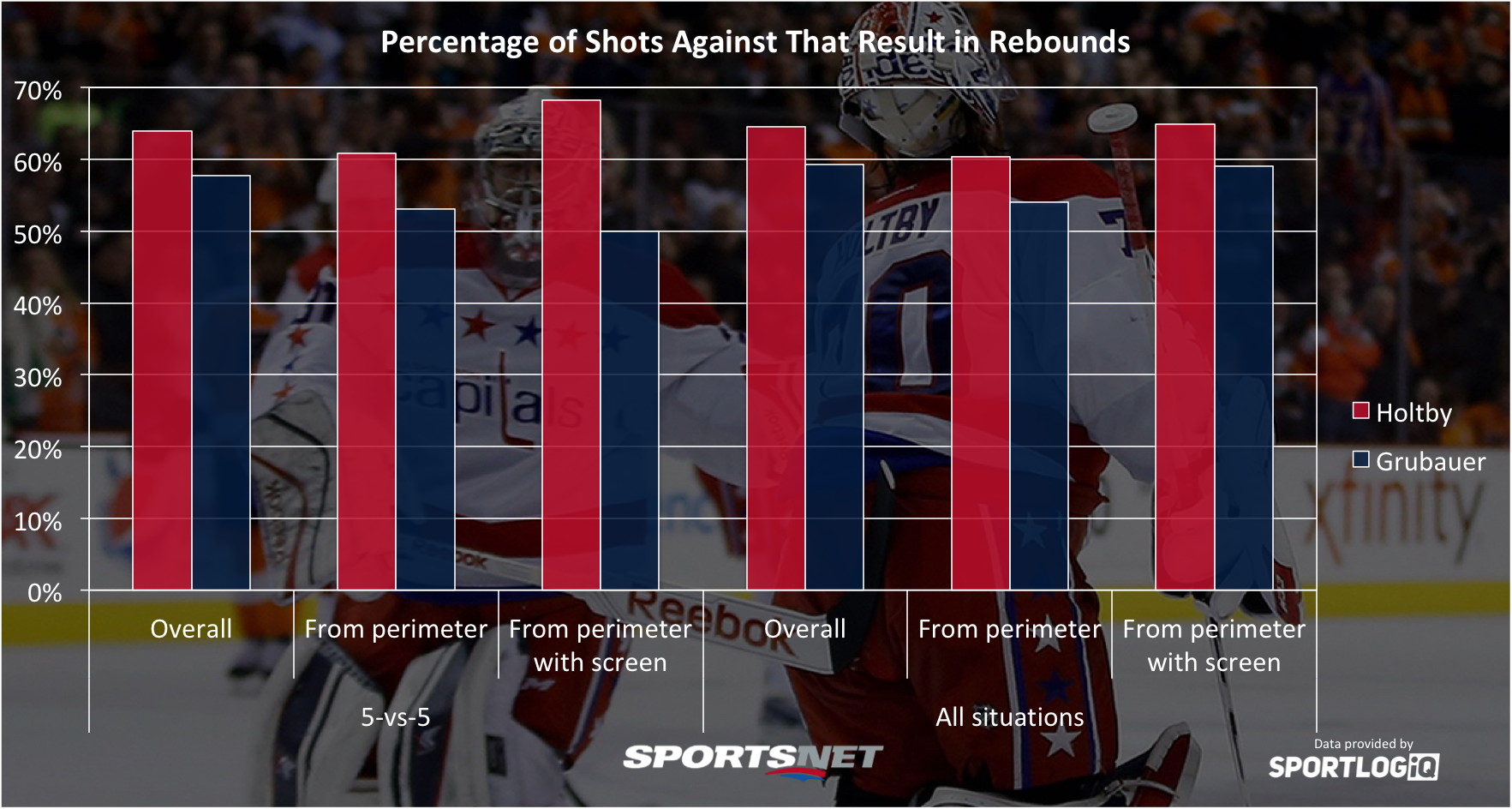 Once again, Grubauer is leading in all areas and in all situations when it comes to rebounds. Whether the shot is from the slot, or a screened shot from the perimeter, the Capitals are less likely to have to fight for a rebound when Grubauer is in net this season.
The gaps aren't huge for the most part, but those little advantages can be the difference between a win and a loss.
All this data together is making a pretty strong case for Grubauer to start when the Capitals face off for Game 1 in the first round, but we should also look at the overall quality of shots both goalies face. What if Grubauer has just had an easy go of it?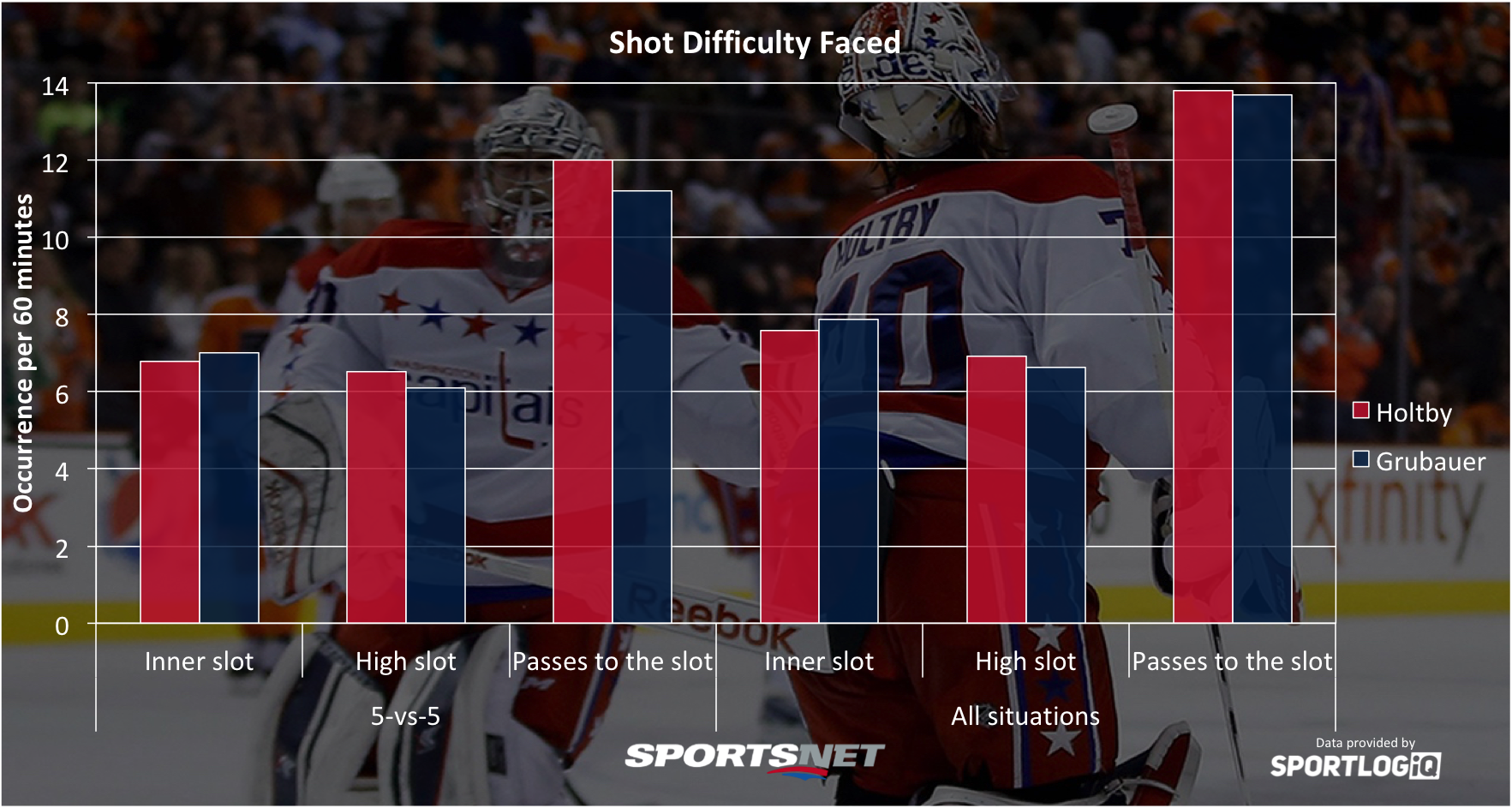 Since they play on the same team, you don't expect there to be a big change in the kinds of shots each goalie faces, and there isn't, with Grubauer facing more high danger chances, and Holtby facing more from the high slot, and a little bit more pre-shot movement.
At even strength I would say based on this that Holtby faces slightly tougher shots, because pre-shot movement is where the biggest gap is and that's a huge indicator of shot difficulty and expected goals. However, in all situations the gap in passes to the slot faced is tiny, which would lead me to believe Grubauer is actually facing the more difficult shots. And remember, because of his rebound control, he has an impact on scoring chance suppression.
I don't think there's enough of a gap in shot quality to get past the huge gap in save percentage each goaltender has provided this season, and despite Holtby's history as one of the league's best goaltenders (fourth-best according to the numbers), if the Capitals wish to overcome their less-than-stellar play this year and win a round of playoff hockey, they should look to Grubauer.