The Washington Capitals are the 2018 Stanley Cup Champions, just like I predicted last year, but not this year. This year I said they weren't Cup contenders… Oops.
Looking back at their regular season performance, it's not surprising that I, and a lot of others, had written them off. Here is the graphic I used to illustrate their season: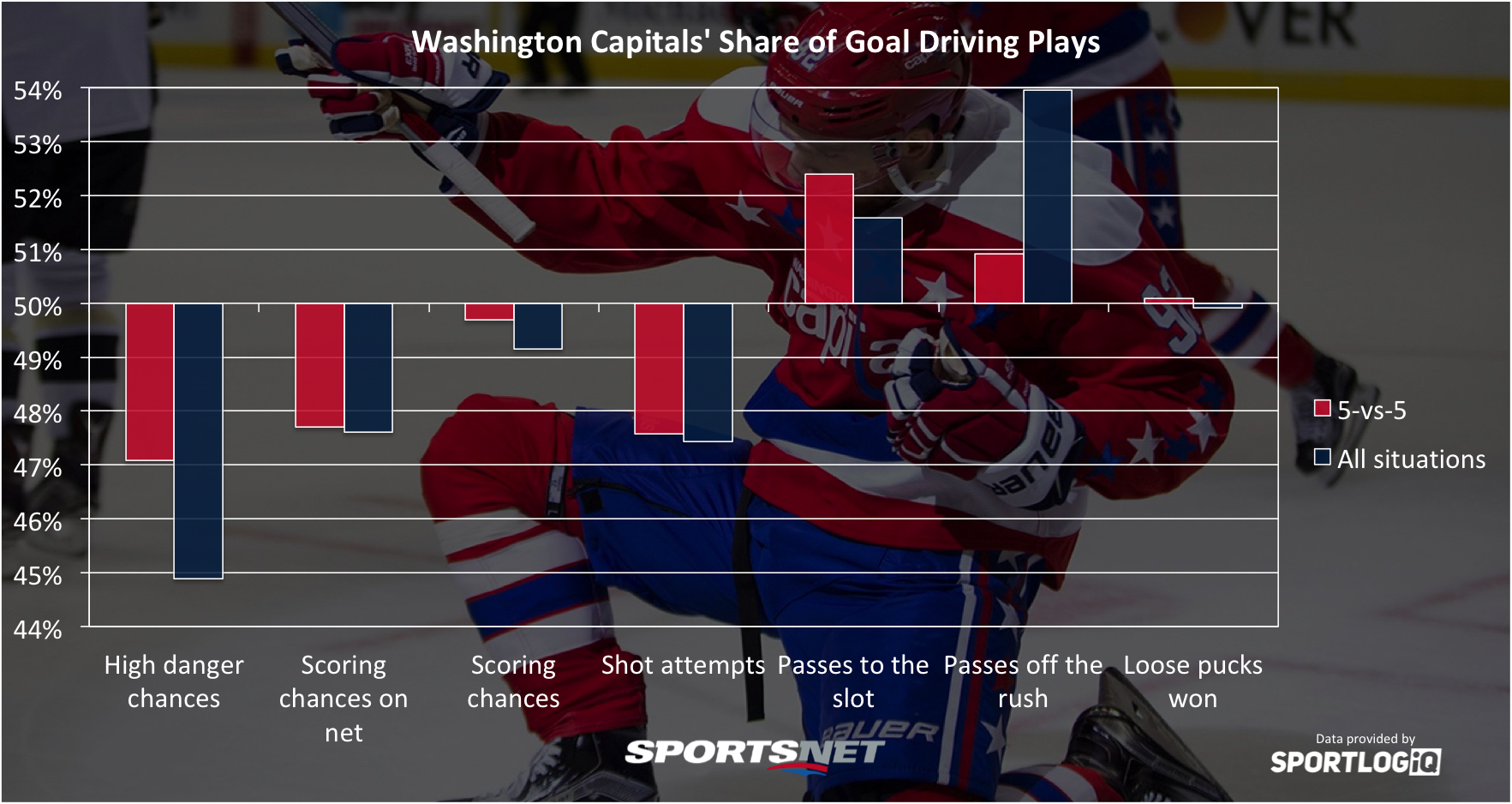 The regular season Capitals weren't just a bad Corsi team that people made poor assumptions about, they were outchanced overall and from the high danger area all season at even strength and on special teams. Their playmaking ability did remain strong, however, both as they gained the zone off the rush and once they were in the offensive zone and wanted to get into the slot.
Still though, there were other teams that were stronger there, including most of their playoff opponents.
Dimitri Filipovic provides entertaining and thoughtful dialogue about the game of hockey with an analytical edge. Not as nerdy as it sounds.
I thought about whether the Capitals were playing possum a little bit in the regular season, but that didn't make much sense given the year Alex Ovechkin put together. I think the logic of relying on a 32-year-old superstar to drag your team into the playoffs and then be your best player through the playoffs as well isn't one most teams would plan, though most players aren't like Ovechkin. He's a near-tireless machine of a man who has rarely been injured in a 13-year career that would make him a first ballot Hall of Famer if he retired today.
I don't think the Capitals took it easy in the regular season, but when the playoffs came around, they absolutely flipped a switch. Just look at the changes in their 5-on-5 play, remembering that in the playoffs all their opponents had vastly superior regular season numbers. There were no easy games.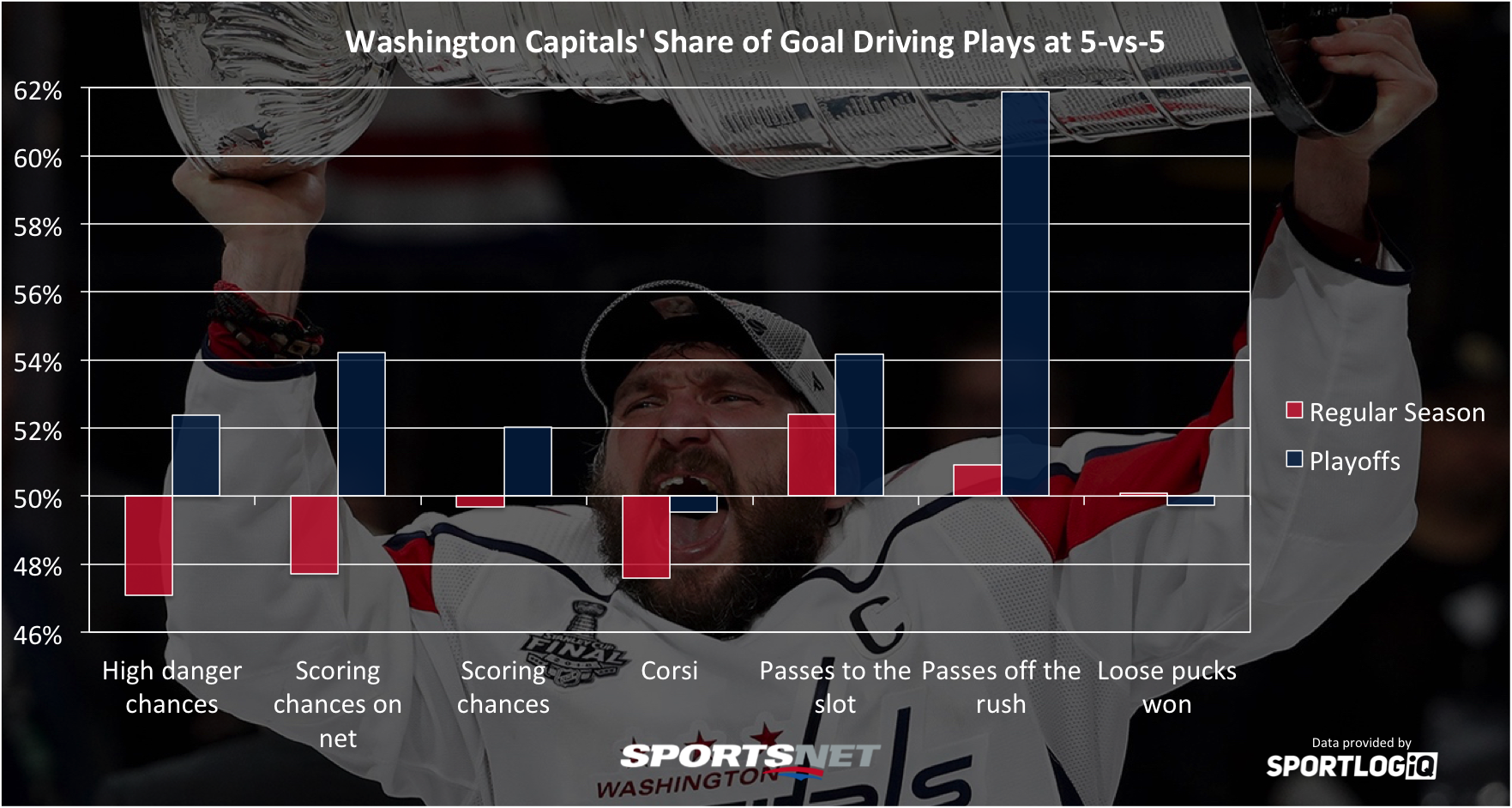 The Capitals went from being outplayed quite significantly to outplaying their opponents by an even more significant margin, with their passing in the offensive zone continuing to be their biggest strength.
Washington didn't just get better offensively either. Their commitment to defence was impeccable, cutting down passing lanes and, especially in the Stanley Cup Final, not allowing one of the best rushing teams in the NHL to attack that way.
How the Caps were able to flip that switch and go from a middling regular season team that won a bunch of close games to grab a division title, into a two-way juggernaut that controlled the game at 5-on-5 through high-level plays is tough to know. However, they weren't a Cinderella team that rode good fortune to a Stanley Cup — they outplayed their opponents in every series.
It isn't like the Capitals had an easy road either. They had to slay dragons against a Penguins team that looked primed to win a third straight Stanley Cup early in the playoffs, and a red hot Sidney Crosby who scored nine goals and 21 points in just 12 playoff games. Washington had to take out the top seed in the East in Tampa Bay, and another division winner in Vegas.
They faced elimination twice against the Lightning, and in every chance they had to eliminate an opponent, they made no mistakes and got the job done.
One of the side effects of the Capitals' excellent defensive play was Braden Holtby regaining the confidence he lost during a subpar regular season. This was an enormous factor throughout the playoffs, with Holtby making series-defining saves that kept Washington in games in the rare times they lost focus.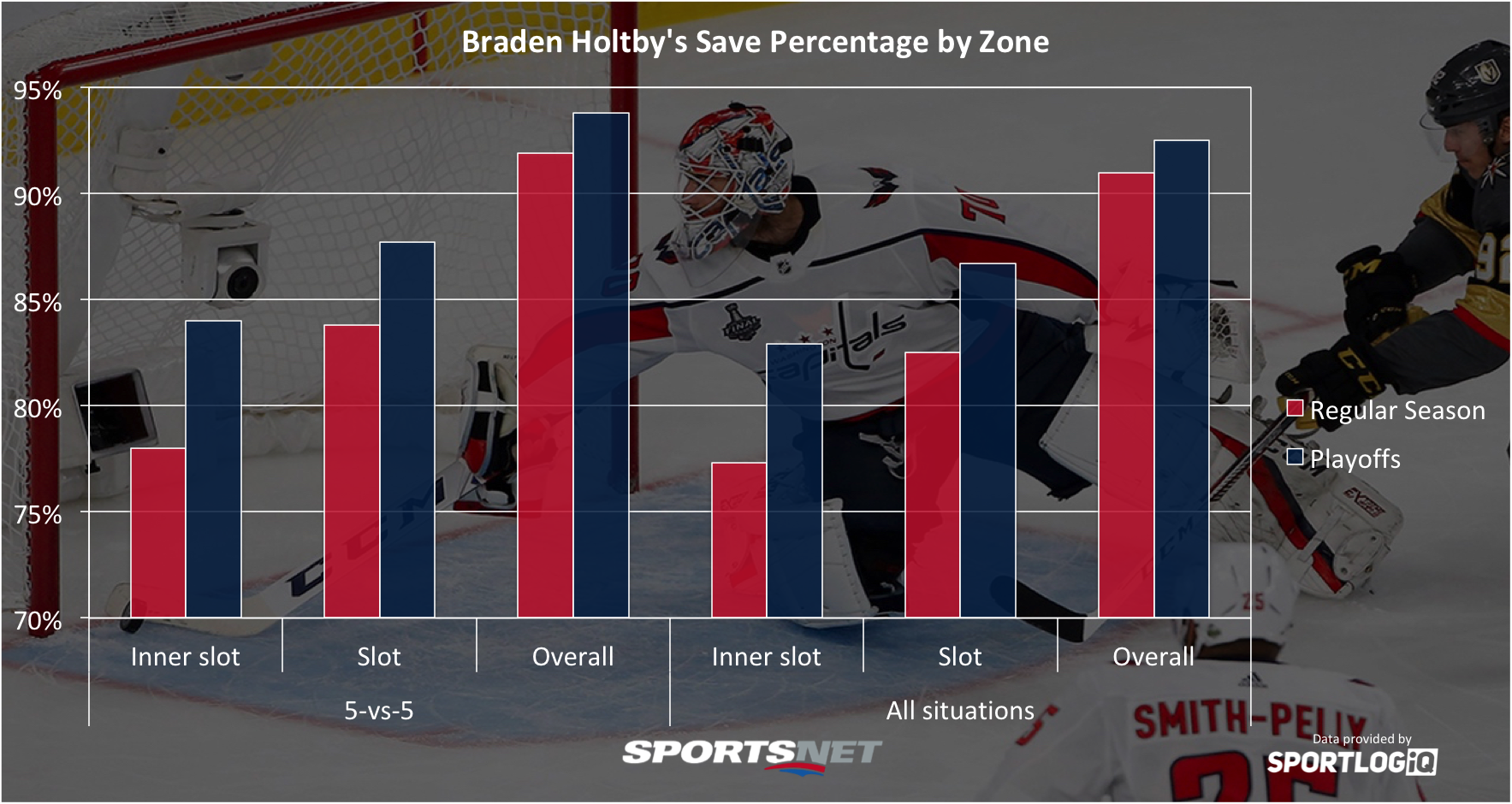 The biggest change for Holtby in the playoffs was his inner slot, or high danger, save percentage, where he went from a slightly below average goaltender in the regular season to one of the best in the post-season.
If you talk to any NHL player off the record, current or retired, they will tell you that when a goalie isn't stopping shots for them, the whole team plays nervous. Whether that's true empirically or not deserves some investigation, but is there any doubt that Washington was confident Holtby was going to make the big stops in this playoff run?
The lasting image of Holtby this season will be his unbelievable stop on Alex Tuch that he not only saved, but controlled the rebound on as well.
That play sort of sums up the entire playoff run for the Capitals, because it wasn't just their best players being themselves, it was redemption stories like Holtby's that drove them through teams that were better on paper.
There are plenty of examples of Alex Ovechkin leading by example, like drawing a penalty call and scoring on the power play himself. Evgeny Kuznetsov and Nicklas Backstrom played through wrist and hand injuries and still made gigantic contributions. Their best players were on their games.
No championship team is short on great stories, but this Capitals team winning is such a long time coming that they all seem more powerful. Whether it's Lars Eller somehow sitting third in playoff scoring chances and then scoring the most important goal of his career to clinch a Stanley Cup victory, or Devante Smith-Pelly scoring massive playoff goals after bouncing around the league the past couple years, this Capitals win is pure hockey happiness.
Just look at Ovi's face.