When a goalie is handling the puck, it's like a lit fuse. This is especially true for a gunslinger like Mike Smith, who can connect with an absolute bomb…
or have it blow up in his face…
There's a tendency to associate high-risk goalie puckhandlers with skill at playing the puck. If I asked you who the best puckhandling goalies are in the NHL right now, I'm betting Smith is the first who comes to mind, followed by Ben Bishop (another lover of the long bomb), and maybe Pekka Rinne (who enjoys nothing more than rimming the puck up the boards after stopping one behind his net). The big plays they make stand out in memory, and their occasional gaffes are forgiven as a small price to pay for a very useful ability.
So, if I were to ask you which of these active goalies has the most career points (goals and assists), who would you pick?
A. Pekka Rinne
B. Ben Bishop
C. Carey Price
D. Mike Smith
If you're anything like the 112 respondents to my Twitter poll, you overwhelmingly chose Smith (50 per cent), followed by Rinne (21 per cent), Bishop (21 per cent), and Price (8 per cent). In fact, you may be wondering what Price is even doing on this list.
And that's precisely what I'm here to talk about.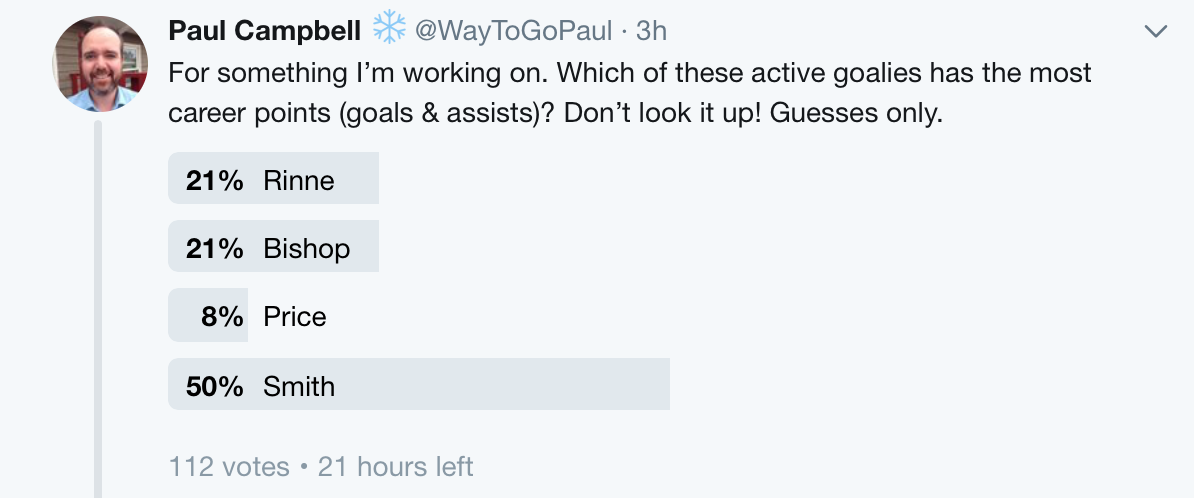 Surprisingly, Price leads all these goaltenders with 12 career points, followed by Smith (11), Rinne (10) and Bishop (7). These totals don't tell us anything definitive about how well these keepers handle the puck, but they do suggest the way we evaluate that skill needs some work.
Measuring success
The goaltenders listed above were chosen because they handle the puck more than any other goalie. Whereas the average goaltender played the puck 9.58 times per 20 minutes last season, Smith and Bishop played it 13.8 times, Rinne 13.5, and Price 12.9 (thanks to Andrew Berkshire for providing this SportLogIQ data, referenced here and below).
In terms of effectiveness, the average goaltender connected 79.67 per cent of the time, meaning he achieved what he attempted, whether it was a quick outlet, setting the puck for his defence, rimming it out of the zone, or hitting a streaking forward with a long bomb. Bishop (75.3 per cent), Rinne (78.7 per cent), and Smith (78.7 per cent) all fell below average in how effective they were.
Price (81.4 per cent), meanwhile, exceeded the average. There's an important stylistic difference at work here, which separates Price from the others.
Two ways of being an elite puckhandler
It's obvious that even elite goaltenders can be poor puckhandlers: Henrik Lundqvist has been an elite goaltender for more than a decade, but he's always been a liability with the puck on his stick. What's not obvious is that there's more than one way to be very good at most goaltending skills and playing the puck is no exception.
Smith prefers the high-risk, long-range pass (or shot!), epitomizing the "bomber" style of puckhandling. Price, on the other hand, prefers quick passes that have far lower risk and shorter range, which we might call the "archer" style (a term a bowhunter like Price would no doubt appreciate).
You might intuitively expect bombers to score more points than archers because they connect on passes so much further up ice. However, because their passes are higher risk, they're less likely to be completed. Archers, on the other hand, don't set players up at the far blue line very often, but they complete more passes and give their teammates more opportunities to get the goalie an assist.
A bomber's primary skill is the strength and accuracy of his shot: Smith's goal featured above is a perfect example of a powerful, rapid launch with superb technique. Clearly not every goalie, even at the NHL level, can shoot the puck like this.
An archer relies more on his dexterity in closer quarters. Watch Price deal with this tricky situation that most goaltenders would be better off avoiding:
Seeing his defenceman under pressure and unlikely to handle the flipping puck cleanly, Price deftly taps the it down and settles it for him. Then, noticing the forechecker about to overtake him, Price makes a quick backhand pass behind the net to his other defender, giving his team a better chance at exiting the zone.
Another key to the archer's success is the ability to move the puck very quickly, including one-touching it to a defender when possible. Price demonstrates again:
This is a relatively risky play (don't try this at home, kids!), but Price makes it work because he's instantly able to move the puck to the waiting defender. Any delay on the pass or inclination to hold on to the puck for even a second would have, at best, led to Price having to fire the puck into the corner. At worst, he would have been stripped and scored on.
As is so often the case when it comes to goaltending, the splashiest plays tend to stand out, causing us to miss the subtle effectiveness of a more conservative approach. Once you know what to look for, however, you can start to see the position with far more discerning vision and pick out who really are the best puckhandling goalies.
[relatedlinks]