TORONTO – Let there be snow.
Let there be wind and cold and anything else that might help Leo Komarov feel like he's back home in Uusikaarlepyy, Finland this New Year's Day.
To have known the Toronto Maple Leafs winger as a boy was to know a cherub-cheeked lad who spent every free hour working his way toward the NHL in freezing temperatures. Like the players of the past, he skated on a natural sheet of ice – unprotected from the elements.
"I grew up outdoors," said Komarov. "We didn't have an ice hall at all so I played outside until I was 16."
That he will be the exception rather than the rule in Sunday's Centennial Classic matters not.
You see, the Maple Leafs and Detroit Red Wings are commemorating something much larger than themselves as they go outdoors at Exhibition Stadium. This certainly isn't how Auston Matthews learned the game back in Scottsdale, Ariz. but it will connect the 19-year-old to those that came before him at the outset of the NHL's centennial.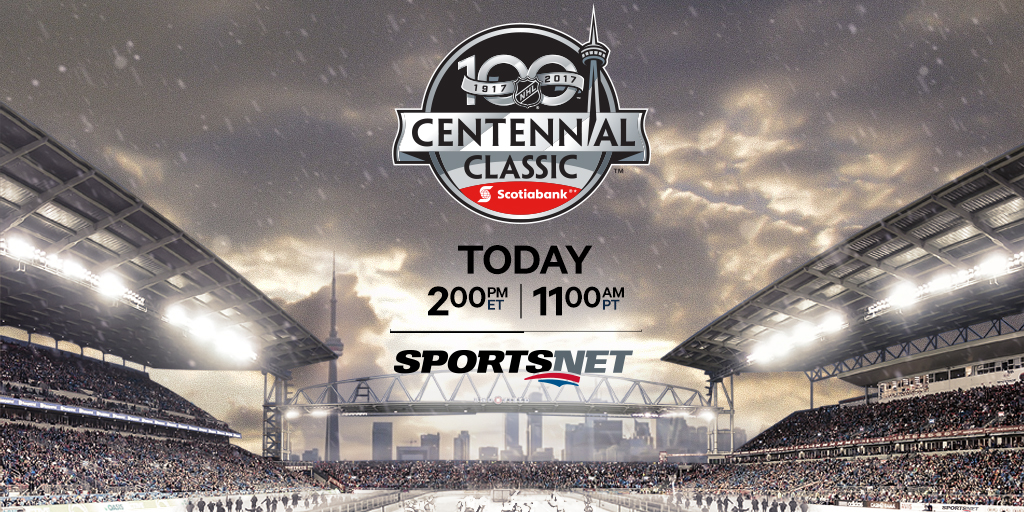 Think about it: 100 years. A huge number. A massive moment for the league.
The symbolism is represented not only in the way they've decorated this converted soccer pitch but also in the significant number of legends on the grounds. Wayne Gretzky will be in attendance on Sunday afternoon along with the first 33 players (or a family member) to be recognized as part of the NHL's top-100 list.
On Saturday morning, Leafs coach Mike Babcock laid out his gameplan for beating Detroit in front of a packed room that included his current players, those participating in the alumni game that afternoon and 13 members from Toronto's 1967 Stanley Cup champion.
"That's what this game is all about," said former Leafs star Lanny McDonald. "I don't care if you played five years, 10 years, in some cases 20-plus years, this means something. It means a lot to all different generations.
"Mike Babcock and Brendan Shahanan are brilliant, to have the chance to have their current players hanging out with the guys that won the Cup in '67? Yeah."
If we have come to learn anything about these outdoor games, it's that they offer a rare opportunity to step back in the middle of a hectic season. Life comes at you fast in pro sports but if you can't look around and smell the roses while skating in front of 36,000 screaming fans, when can you?
Both Babcock and Red Wings counterpart Jeff Blashill have emphasized the importance of savouring the moment.
"You also, I think, have to be able to go with the flow," said Blashill. "Kind of like a wedding: It's not always going to go perfect and you've just got to keep going and enjoy it."
The players from both teams had an opportunity to skate with their families on the temporary ice sheet over the weekend.
Dylan Larkin, the 20-year-old Red Wings winger, brought out his young cousin who lives in the Toronto area. Matthews posed for a photo near centre ice with his mother, Ema, and one of his sisters.
Wives, children, fathers, girlfriends, uncles, former coaches.
They will be scattered among the sweater-clad fans in the stands that surround the pitch. If the usual wind coming in off Lake Ontario kicks up, the stadium will pull closer for warmth while a national TV audience watches from the comfort of the couch.
"It's a beautiful atmosphere here," said Shanahan, the Leafs' president. "It's great ice. It's nice and cool – you've got a nice breeze coming off the lake – and it's just great for Toronto."
These teams played in front of 105,000 fans at the University of Michigan three years ago on New Year's Day. It's arguably the most iconic outdoor game ever staged by the NHL and it's one the players involved still speak about with reverence.
"For me, looking back when I'm done, that will be a game that I think I will always remember," said Red Wings captain Henrik Zetterberg.
Larkin was in attendance as a fan on that frigid afternoon and remembers buying a hot chocolate in the second period to try and warm up. Zach Hyman, the rookie Leafs winger, was sitting in the stands as well.
Now they're part of the show.
The Leafs prevailed 3-2 in a shootout at the 2014 Winter Classic, so having a shot to spoil Toronto's party in similar fashion "just adds an extra level" of anticipation, according to Zetterberg.
But more than the teams – more than the outcome of one regular-season game – this promises to be a celebration of a sport and the people who make it great. A chance to reflect on beginnings and dreams realized.
No wonder Komarov was saying "this is going to be one of the best memories," a full 24 hours prior to stepping into the winter cold and getting a glimpse of the stadium full of people.
It will be a moment that takes him back to simpler times.
About eight years ago, they finally managed to build an indoor rink in his hometown on the coast of the Bothnian Sea, and do you know what they did afterward?
They called it Komarov Arena.