Auston Matthews has been under a level of scrutiny he hasn't really faced in his young career.
The franchise cornerstone has undoubtedly struggled to make his presence felt in this series – with just one point in four games – which was all the more apparent in Game 4 when there was no risk of being matched up against Patrice Bergeron.
One thing that seems to be ignored in most of the breakdowns of his play so far though, is that Matthews missed 10 games near the end of the season with a shoulder injury, and he hasn't really been the same since.
Matthews has been one of the NHL's most dominant players in controlling the high-danger area of the ice in his young career, mostly through an incredible ability to generate offence with his own shots, and passes to his teammates. His assist numbers don't look too impressive compared to his goals, but that's because the player receiving those passes is more likely than not Zach Hyman.
Hyman is a very good, utilitarian player who has had a very good series against the Bruins, but elite goal scorer he is not.
However, since the shoulder injury Matthews suffered in February, his control of that area of the ice has disappeared. Just look at his regular-season and playoff splits.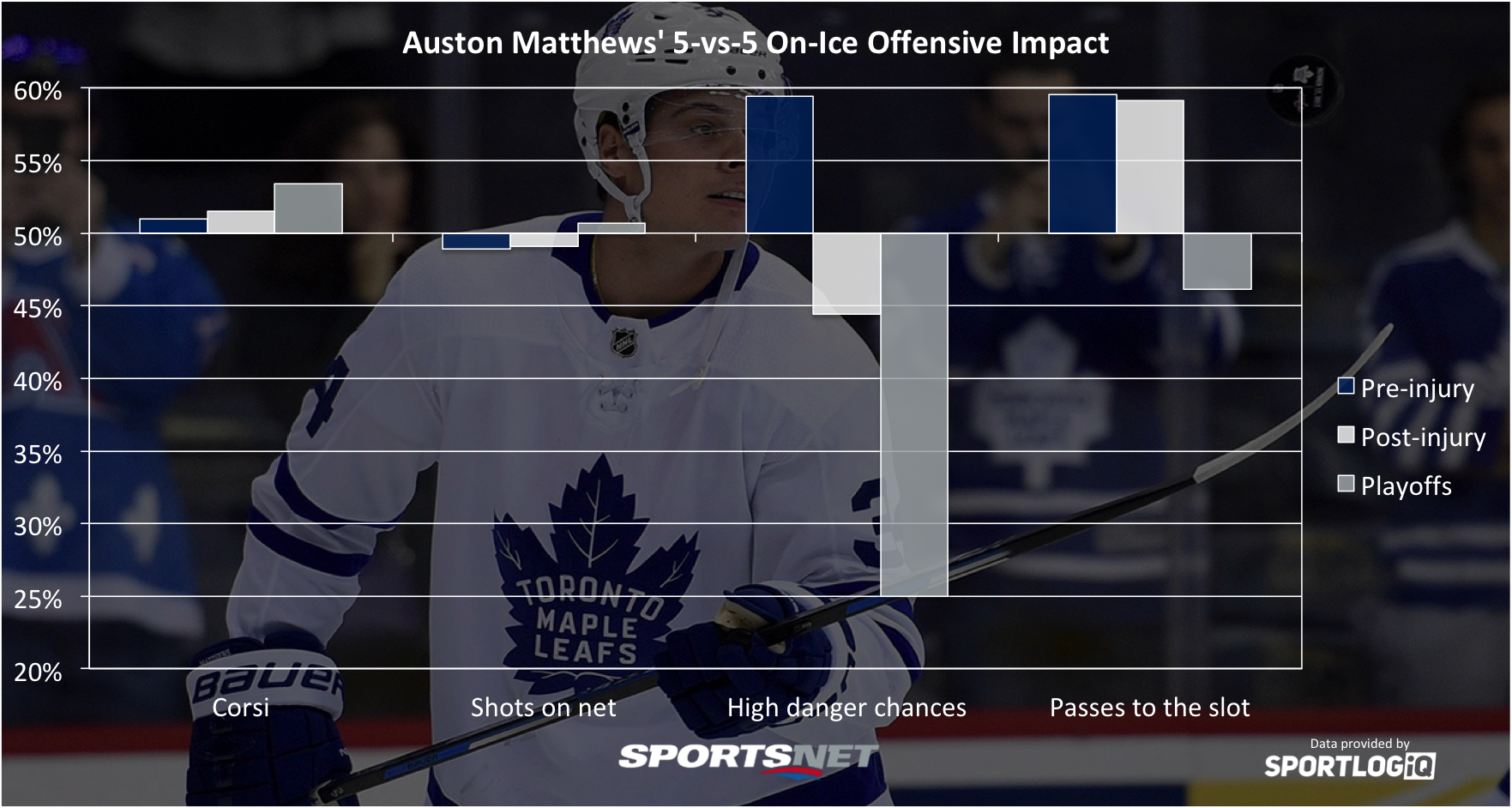 Matthews' control of shot attempts and shots on net has remained somewhat the same, and in the regular season his passing game didn't fall off much post-injury, but his line's share of high-danger chances has gone from one of the best marks in the entire NHL, to being outplayed in the last few weeks of the regular season, to getting dummied against the Bruins.
Some of the credit for this change has to go to the Bruins, specifically the matchup against Zdeno Chara, but a shift from controlling 60 per cent of those chances when you're on the ice to just 25 per cent can't just be about a matchup with a player as elite as Matthews. My guess is he's not completely healthy.
Even still though, these are on-ice statistics, so it's not all on Matthews, but we can look at his individual contributions with the same splits, and see what has changed in his personal tendencies.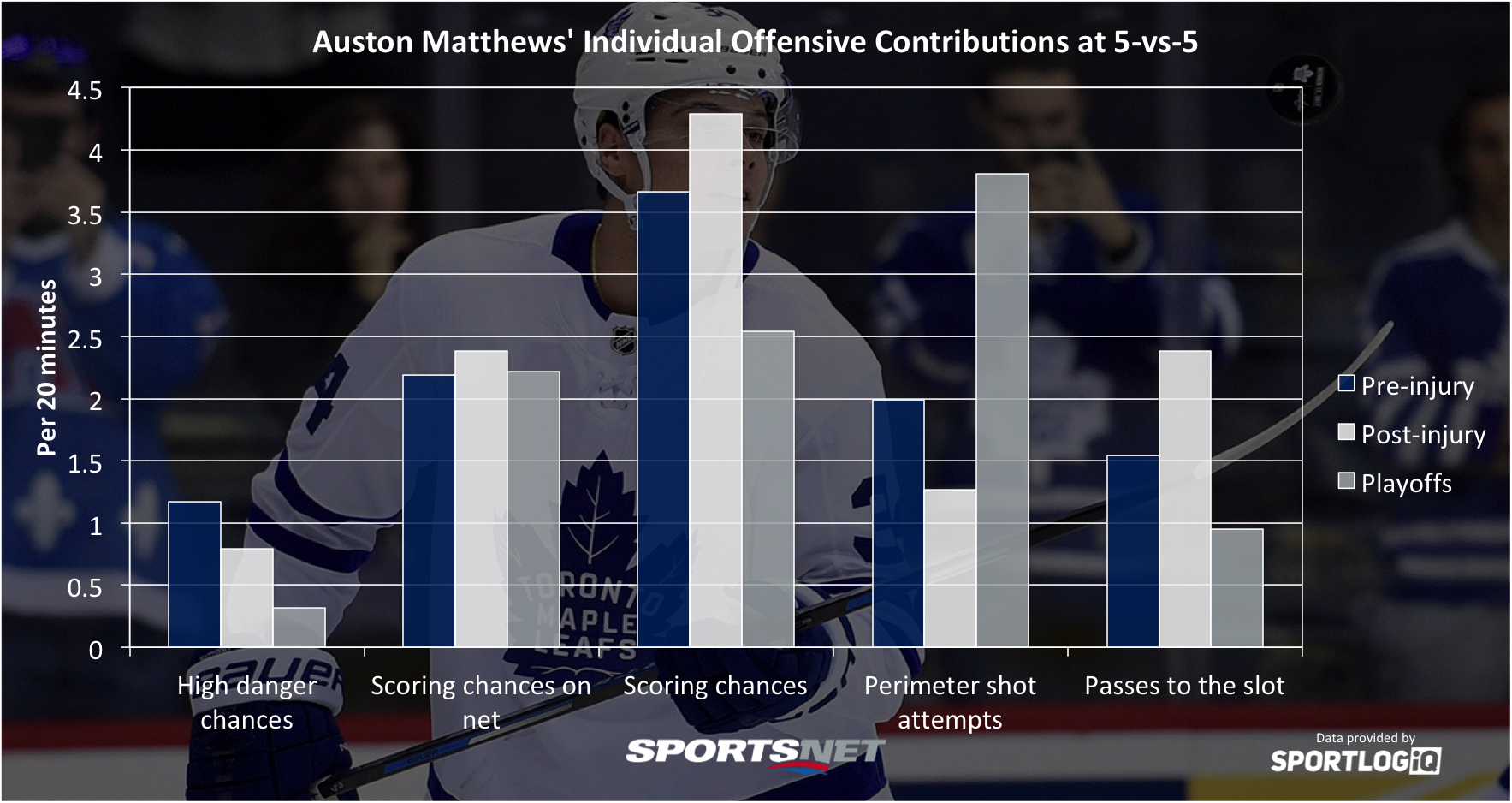 Before he was injured, Matthews was second in the entire NHL in shots from the inner slot or high-danger area after Patric Hornqvist, but he dropped to 83rd after his injury, and his playoff production from there would have him in the range of 377th in the regular season.
If you look at his tendencies post injury, Matthews increased his passing by a staggering amount considering how efficient he already was at getting passes to the slot, and drifted from the inner slot to the high slot for his shots, but remained very focused on getting his shots off from within the slot, rarely from the perimeter.
Perhaps he wasn't quite as comfortable with the battles near the goal mouth after the shoulder injury, but even with the drop in high-danger chances, his strategy wasn't bad, he was creating a ton of offence, even if it was of slightly lower quality when the shots were coming directly off his stick.
Livestream every single game of the 2018 Stanley Cup Playoffs—blackout free—plus the Toronto Blue Jays, key Raptors & NBA Playoffs matchups and the 100th Mastercard Memorial Cup, all in one subscription.
In the playoffs however, the high-danger scoring chances have disappeared, and so have nearly half of his scoring chances overall, with his shot attempts from the perimeter nearly tripling in quantity, and his passes to the slot being more than cut in half.
Again, you have to give credit to the Bruins for shutting Matthews down, but this is the first time in his career that Matthews has been a perimeter player, and I don't think that's simply due to good defence from the Bruins.
It's possible that frustration with not being able to get shots off in the slot or get shots through defenders could prompt a shoot-first player like Matthews to begin to pepper the net from further out in order to simply get shots on net and create a little, but of the shot attempts Matthews has taken from the slot, in the playoffs, 87.4 per cent of them have hit either Tuukka Rask or the net, so it's not like Chara and company are blocking every shot he takes, he just isn't getting into the slot.
Whether it's lingering effects of his injury or frustration though, the Leafs need more from Matthews if they're going to extend this series and put pressure on the Bruins, and with the addition of Nazem Kadri to the lineup, and the success the Plekanec line has had against the Bergeron line, the answer may be to load up his wings a bit. Mitch Marner is arguably the most important piece of the Plekanec line, so it's not really an option to put him with Matthews outside of double shifting, but having a player who isn't afraid of battles but has a bit more scoring ability than Hyman on that wing might be something to look into.
Whether it's Connor Brown, James van Riemsdyk, Kasperi Kapanen, or even Kadri taking a couple shifts on the wing, getting Matthews some scoring help could ignite him enough to carry the Leafs forward.