The Presidents' Trophy was first handed out in 1986 to the NHL's top regular season team. But it's more often the kiss of death than a predictor of post-season success. In the 34 years the trophy has been awarded, just eight of its recipients have gone on to win the Stanley Cup — the 2008 Detroit Red Wings were the last team to do it in a full, 82-game season.
So the fact the Tampa Bay Lightning took it home this season, becoming the second-quickest team to accomplish it in just 73 games, is the last reason why you should put them on the champion line of your Stanley Cup Playoff bracket. There's so much more to like about this team.
We decided to drill down a little more on these Lightning to try and find something else that sticks out as a comparable to past champs. Given that this team is still chasing the 1995-96 Detroit Red Wings' wins record of 62 and could very well eclipse it, we're using that season as a jumping off point (and remember, those Wings did not win the Stanley Cup).
We'll start by looking at goals for/against differential, shots for/against differential, power play and penalty kill success for every Stanley Cup winner since 1996 (league rank in parenthesis).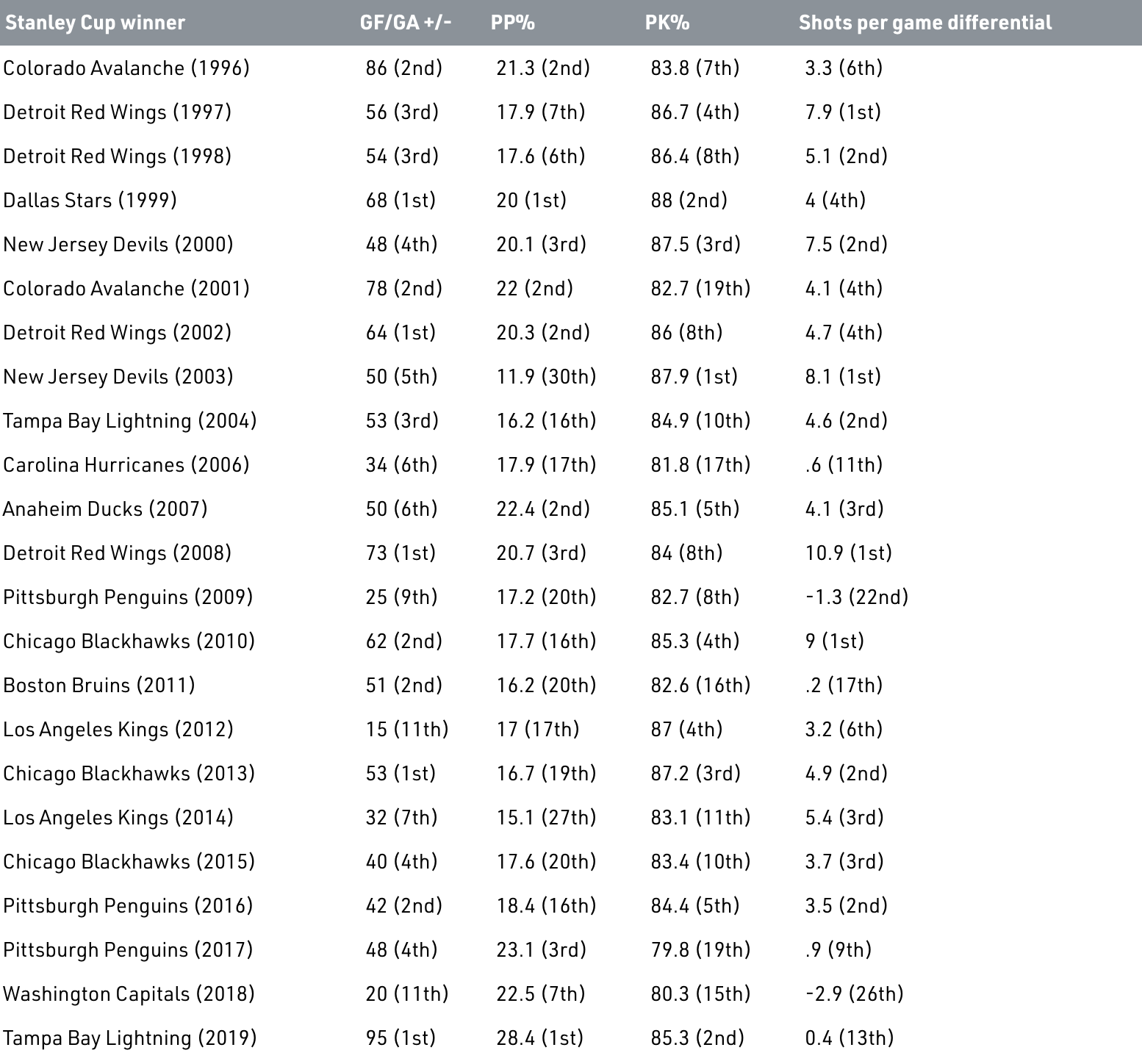 What you'll immediately notice is there's no one common theme stringing together all these winners. Part of the reason is the game has changed so much — first in the final years of the Dead Puck Era, then as the game emerged much more offensive from the 2004-05 lockout, and again in recent years as power-play opportunities have dried up to historically low levels.
This year's average of 5.90 man-advantage opportunities per game is the lowest on record and you can see how over the years regular season success in that department has become less and less an indicator of who ends up becoming Stanley Cup champion.
We'll take a narrower look at more recent seasons in a second, but before that there's one small sample trend worth pointing out. Since 1996, only three teams have finished a regular season with the league's best goal differential, best power play and a top-six penalty kill. Those teams are the 1999 Dallas Stars who won the Stanley Cup, the 1998 Dallas Stars who lost in the conference final, and the 2011 Vancouver Canucks who lost in the Cup final. Tampa Bay has a chance to become the first team in this time period to finish first in all three categories.
Judging by the table above, the most consistent category Stanley Cup champions have been strong in is goal differential. Only twice over the past 22 years has the eventual champion finished a regular season outside of the top 10 in this stat and only four times have they finished outside of the top six.
Keeping in mind regular season power-play success is becoming less of an indicator, let's take a look at just the 5-on-5 goals percentage for recent Stanley Cup winners. We'll use Natural Stat Trick for this exercise, which tracks back to the 2007-08 season.
This seems to be a far greater indication of playoff success in recent years. The 2012 Kings continue to be a major anomaly and remember, they were the No. 8 seed that season who rode a very hot Jonathan Quick. Washington is interesting because there were a number of seasons before 2018 where they had much better goal, shot and special teams numbers — this is a reminder why they were able to catch so many off guard by finally breaking through when we least expected.
So if goal differential is the strongest indicating stat in here, we must highlight how much better Tampa Bay has been than the second-best team this season. Not including the goal added for a shootout win (which shows up on NHL.com's stats page), the Lightning's plus-100 is 46 better than Calgary to this point. Only the 1996 Red Wings finished further ahead from the rest of the pack at plus-58. One other team finished even 30 goals ahead of the second-best goal differential team and that was the 2008 Cup-winning team from Detroit.
Going a step further, Tampa Bay is overturning third period deficits like almost no team before. It's a cliche, but very true that no lead is safe against the Lightning.
Tampa has trailed a game after two periods 20 times this season and have come away with nine wins in those situations for a .450 winning percentage. Only one team has pulled off more of these comebacks in NHL history: The 1981-82 NY Islanders were .500 when trailing after two periods and that was right in the middle of their dynasty run. Pulling off comebacks at this high a level is also a good indicator of playoff success.
Here's a look at the top five comeback teams in NHL history:
The only anomaly of the teams above played during the Dead Puck Era, when coming back at any point was a monumental task. The Lightning are not only easily the most offensively gifted team in the NHL right now, but they also benefit from playing at a time where comebacks are at an all-time high.
Even in this environment they stand out considerably from the pack. The second-best winning percentage this season when trailing after two periods are the Montreal Canadiens at .259 — the Lightning's win rate is more than twice as good as 28 NHL teams.
With so much change over the years, it's difficult to find one common thread between every Stanley Cup champion. A hot goalie can sink the hopes of anyone and this year's Lightning are not impervious to that.
But Jon Cooper's squad does appear to be unique in how much better they are than the rest of the league in some key stats. They're historic in goal differential, the way they pull off comebacks and how dominant they are at both special teams. Beyond all that, they also have a Vezina contender in Andrei Vasilevskiy helping to keep the goal differential what it is, and the winner of that award hasn't hoisted the Stanley Cup since Tim Thomas in 2011.
It'll be awfully hard to pick a team to upset Tampa Bay.