In case you hadn't heard, the Edmonton Oilers are struggling in an epic way. Only the Buffalo Sabres and Arizona Coyotes have fewer points in the standings and fewer wins.
Things aren't quite as bleak as the start of the Oilers' season when they went 4-8-1, but in their last 10 games they've still only managed a 4-5-1 record. To make things worse, predictive statistics like Corsi and expected goals used to have the Oilers at the top of the league, despite their record, but they're dropping off by those measures.
The axiom "Your best players have to be your best players" is held in high regard in hockey, especially when teams are struggling. So when a team with the expectations the Oilers had this season is performing at this level, fingers start to get pointed at the players who were expected to be difference makers.
Recently there has been a lot of focus on Connor McDavid's defensive play, specifically how often he turns the puck over compared to last season.
McDavid being the focal point of criticism for this struggling Oilers team is pretty absurd when you consider he's been involved in 46.7 per cent of the team's offence and is on pace for 100 points just like last season, despite the Oilers dropping from scoring 2.96 goals per game in 2016-17 to 2.61 this season.
But hey, maybe McDavid really has been a disaster with turning over the puck. And, despite the fact that he's the best driver of offence in the NHL, maybe he's giving up more than he gets because of it.
Luckily, we can verify that. So let's take a look at McDavid's turnover rate by zone and situation, relative to his teammates.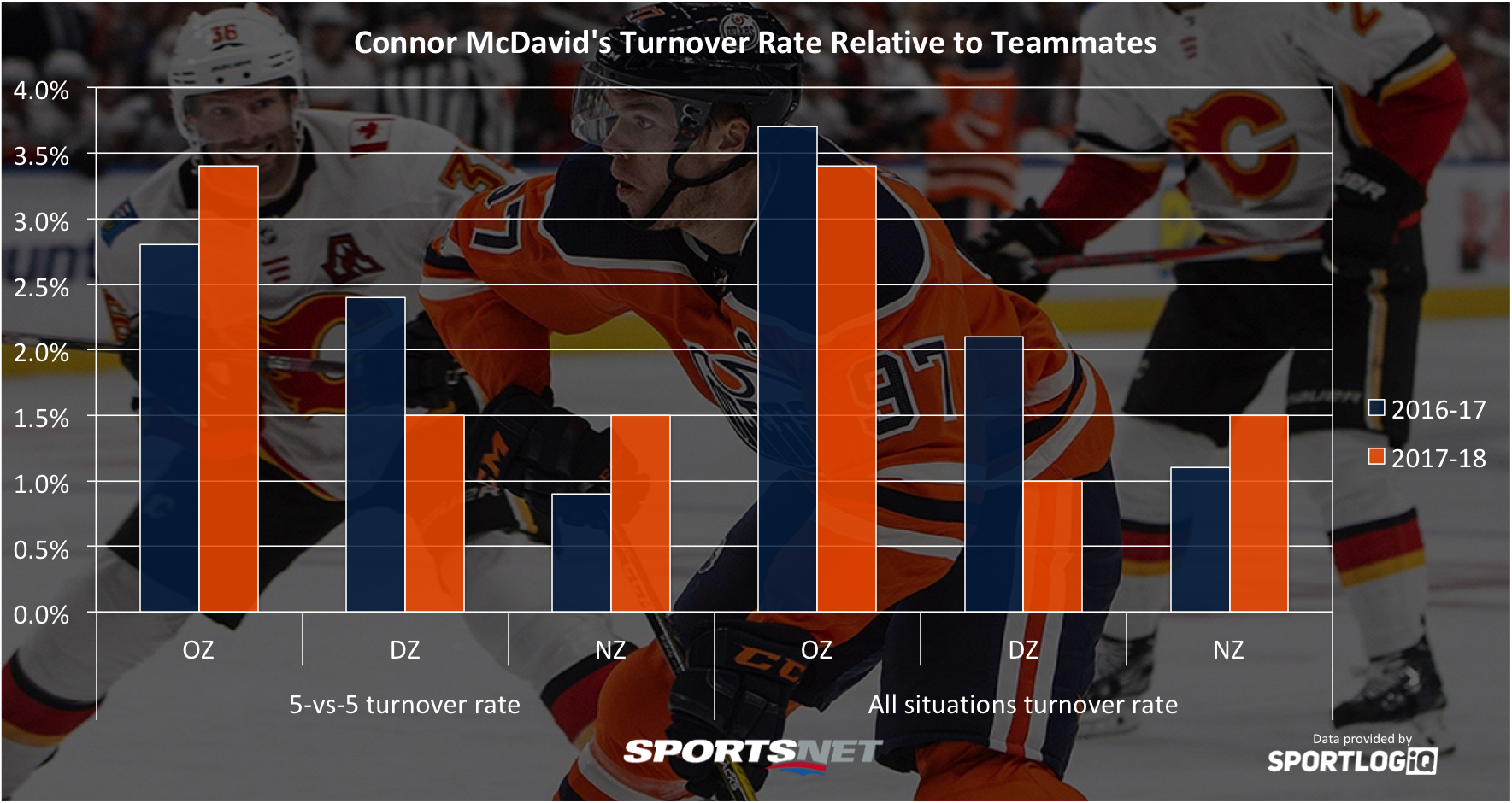 For the purpose of graphical aesthetics, turnover rates are inverted here so that positive numbers mean turning the puck over less than the team average.
As you can see, in no area, no matter the situation, is McDavid turning the puck over more often than his teammates are. In fact, McDavid's puck management is among the best in the entire NHL, despite the fact that he attempts more difficult plays with the puck than almost anyone else.
Compared to last season, McDavid is turning the puck over a little bit more often in the defensive zone compared to his teammates, but that may be due more to an improvement from other forwards than McDavid dropping off. Last season McDavid turned the puck over in the defensive zone on 11.9 per cent of his plays with the puck. This season he's turning it over 11.8 per cent of the time.
Others have improved while McDavid has stayed the same. He's still well above average, just not by as much as last year.
In all situations, it looks like McDavid has taken a bigger step back, but the main difference there has been the fact that McDavid has added an extra 32 shorthanded seconds per game, and lost three seconds of power-play time per game.
That 35-second swing per game may not seem like much, but it makes a big difference.
Even accounting for that slight change in role, McDavid's personal numbers remained consistent while other Oilers forwards turned the puck over less. His turnover rate in the offensive zone in all situations over both seasons is 18.7 per cent, while his defensive zone turnover rate rose from 11.8 per cent last season to 12 per cent this season—not a big change.
After looking at the area in which it appears McDavid might have taken a step back, we see that despite the Oilers playing a safer style and turning the puck over less often, the Oilers captain has been even safer still, improving his relative rates in the offensive and neutral zones at even strength.
It's natural for frustration to creep into analysis of a team's failings, and for some to point fingers at the players who are supposed to be game-changers, but in regards to McDavid suddenly being a problem due to careless play with the puck, there's just nothing there.
This is a case of massive failure for the 'eye test.'