TORONTO — 6:42 p.m. Packing two secrets and one wish, the man Edmonton Oilers general manager Craig MacTavish nicknamed "Lucky Bill Scott" is the first of the five to arrive.
Quietly, he and two lucky charms take an elevator up 10 floors to the Hockey Central television studio at CBC headquarters in Toronto. At the top? A golden ticket that should ensure the "Lucky Bill Scott" nickname sticks to Edmonton's assistant general manager forever.
Scott won't say what the items are. Not before, not after.
"We never reveal that, with the best example being the lucky loonie we had put into the ice at the (2002) Salt Lake Olympics when Canada ended a 50-year gold medal drought," Bob Nicholson told The Edmonton Sun Friday. "We never reveal. It's only good if no one knows."
No one knows. That's the fun part. That's the nerve-wracking, drive-yourself-goofy-playing-a-silly-draft-simulator part of the 2015 NHL Draft Lottery.

6:45 p.m. Anthony LeBlanc has played the online draft simulator 31 times.
"The first time I actually ran it, it came up Coyotes," LeBlanc tells me. "Then Coyotes didn't come up for about the next 30 times, and I was like, 'Ah, this thing's stupid.' As long as it comes up once tonight, that's all I care about."
LeBlanc is the president, CEO, co-owner and alternate governor of the Arizona hockey team. His club traded away its best assets in March in order to plummet down the standings and raise its chance of winning the lottery — i.e., Connor McDavid — to 13.5 per cent.
His group is the bubbliest of the NHL's five bottom-ranked teams, each of which was asked by the league to send a representative to the lottery. Three of them pose by the "NHL Draft Lottery" sign for a team photo at the check-in. LeBlanc wears a Coyotes-red tie he knotted to the voice of Frank Sinatra, one of his favourites.
"I was playing some Sinatra as I was getting dressed to come over here. I was looking through the roster … Ah! 'Luck Be a Lady.' That's the song I have to put on," he says. "I couldn't resist tweeting."
One of LeBlanc's best friends, Ken, was a neighbour of the McDavids. He remembers Ken telling him about this generational talent "literally" seven or eight years ago. McDavid would've been a 10-year-old.
LeBlanc doesn't carry a lucky trinket, but he did go out and buy something for the occasion.
"I went to school on Canadian finance ministers," he says. "Before they deliver their budget, they always get a new pair of shoes. So I got a new pair of shoes."
There is so much anticipation bottled in the man, he's nearly bursting out of them.
6:51 p.m. Tim Murray's tan shoes match his suit, which matches his tie — Sabres gold and blue. The GM who finished last on purpose this season enters the CBC building with a PR man. He remains on his phone while getting on his wristband and sent up the elevator.
He won't talk now but told the Sabres website Friday that he assumes he will lose, that it's just another day, that he'd be a basket case if he spent time worrying about the outcome, just over an hour away.
Murray also told the New York Times that he watches McDavid too much, thinks about him too much, that he can't help himself.
6:54 p.m. All business, all alone, Ron Francis is next up the elevator. His chances of winning (8.5 per cent) are the worst of anyone's.
"When he winds 'er up, the speed is, it's NHL speed already, and he thinks the game extremely well," the Carolina Hurricanes GM told The Hockey News of McDavid.
6:55 p.m. The 18-year-old man of the hour arrives, with his family in tow. A still camera and a video camera document his every step toward the studio. Someone in the entourage, nearly 10 deep, jokes at check-in: "Do these wristbands get us drinks?"
McDavid, however, goes straight to the back of the elevator, looks at his feet, says a few words to his dad, Brian.
The kid who grew up a Leafs fan, who allowed more than once that playing for Toronto would be "a dream come true," spent the day just hanging out with his family. Watched the Raptors lose in overtime, caught some of the NHL afternoon action.
"This whole draft lottery nonsense," he'll say afterward, "I'm excited to get this day out of the way and get on to the third round of the playoffs."
6:58 p.m. Brendan Shanahan is the last exec to arrive. When he spoke to the media Monday after culling his GM and bulk of the Leafs' coaches and scouts, his biggest (only?) smile of the press conference appeared when he was asked about landing McDavid: "That would certainly speed things up," the president said of his rebuild.
Shanahan's tie is Maple Leafs blue — the colour of McDavid's favourite team growing up. And on the club president's lapel is a green four-leaf clover pin.
"I figured I'd enlist whatever I had. I wasn't going to leave anything at home," Shanahan would say later, after the loss, placing his team fourth in the draft order. A smile. "I'm still proud of being Irish."
7:09 p.m. "Connor wants to see the machine!" a voice announces. And the three players — McDavid, Erie Otters teammate and friend Dylan Strome, and top-ranked defenceman Noah Hanifin — are led into a secure room on the 10th floor, just down the hall from the studio that broadcasts Hockey Night in Canada.
A security guard stands before you can even reach the room that holds the lottery machine. Cellphones must be placed inside padded manilla envelopes before entering — if you're permitted.
No photos are to be snapped of the machine, the balls or the door they reside behind.
A video of the ball selection process will be uploaded to NHL.com after the winner is announced on live television:
7:13 p.m. NHL deputy commissioner Bill Daly approaches McDavid as small clusters of men in suits, the players, a few media people and some family await the lottery in the hallway.
"Congratulations. Thanks for doing this for us," Daly says. "Did you meet the teams?"
"Nah," McDavid says.
"That's right. You're not drafted yet," Daly says.
7:14 p.m. Commissioner Gary Bettman presses flesh and stirs big laughs as he smiles and mingles. It's a cocktail of engaged, familiar chatter; awkward small talk; and silent nervousness. Also, there are no cocktails.
7:16 p.m. Friends McDavid and Strome share a conversation together. They're laughing and smiling, but speaking softly.
7:18 p.m. Tim Murray paces outside the studio holding a water bottle.
7:25 p.m. The players and their families are shown to a backstage room where they can watch the show.
7:27 p.m. George Stroumboulopoulos rehearses, then opens the show on-set. In three red chairs sit McDavid, Hanifin and Strome. Their half of the group interview is so soft-spoken it cannot be heard 12 giant steps away.
7:58 p.m. Dylan Strome's father watches the boys from the studio balcony and snaps a cellphone picture of the teenagers in Strombo's chairs. Live. On Hockey Night in Canada. The night's all about McDavid, he says, so the lead-up hasn't been nerve-wracking. It's been cool to get a tour of the studio, but for Dylan, the family figures he is going third or fourth in the June draft regardless. Then Strome's dad will have two sons in the NHL; Ryan will play Game 3 of the Islanders-Capitals series Sunday.
He tries to catch all of his sons' playoff games, but there's three of them — and he has a job. "There's work too," he smiles.
The golden ticket and "Lucky Bill Scott" have no bearing on the Stromes' night. One senses McDavid would rather share the stage, though.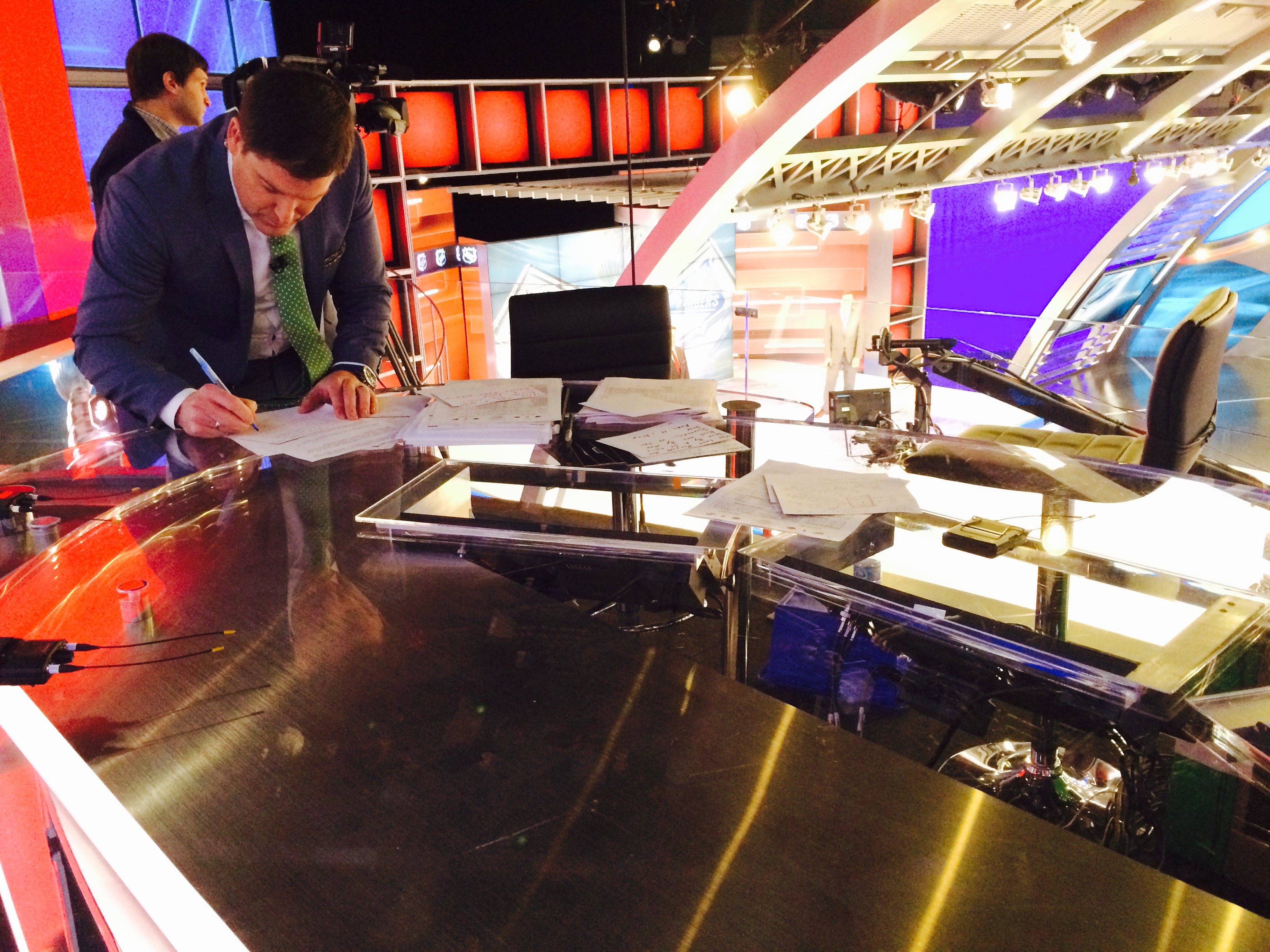 8:02 p.m. The players are escorted off set, and McDavid watches with his family. Connor's dad is just a little more stressed than Dylan's. "He's been anxious, and he's been losing a little bit of sleep," McDavid says.
8:04 p.m. A stack of 14 oversized cards, each bearing the logo of a lottery club, are presented to Daly in white envelopes. He'll reveal them one at a time, slowly, in order from the team with the worst chance to land the No. 1 pick (Boston, 1 per cent) down to the team with the best (Buffalo, 20 per cent).
A golden card signals the lottery winner.
"It was a pretty weird couple of minutes there. Just sitting in a room with my family, and they're flipping cards," McDavid says. "At any moment it could turn."
8:08 p.m.The Hurricanes and Maple Leafs retain their positions in the lottery — fifth and fourth, respectively — and we're down to three options: Murray, LeBlanc or Lucky Bill Scott.
"That's the fastest my heart's ever beaten," McDavid says later.
8:09 p.m. "We have a winner," says Daly.
MacTavish, watching on an iPad in Switzerland, starts yelling. His 11.5 per cent chance and his lucky assistant came through.
"Wow … wow," says a television executive watching overhead.
"So I guess it wasn't rigged," reads a text message on my phone.
"They've got some luck," Shanahan says later.
8:30 p.m. Oilers star winger Taylor Hall fires a beautiful tweet McDavid's way:
"That's obviously very nice. And if I'm lucky enough to play there and lucky enough to play with him, obviously that'd be very special," McDavid says.
Why would he be disappointed to go to Edmonton? He says if the Oilers pick him, it would be a dream come true.
"If it is Edmonton, I'll just be getting a coat."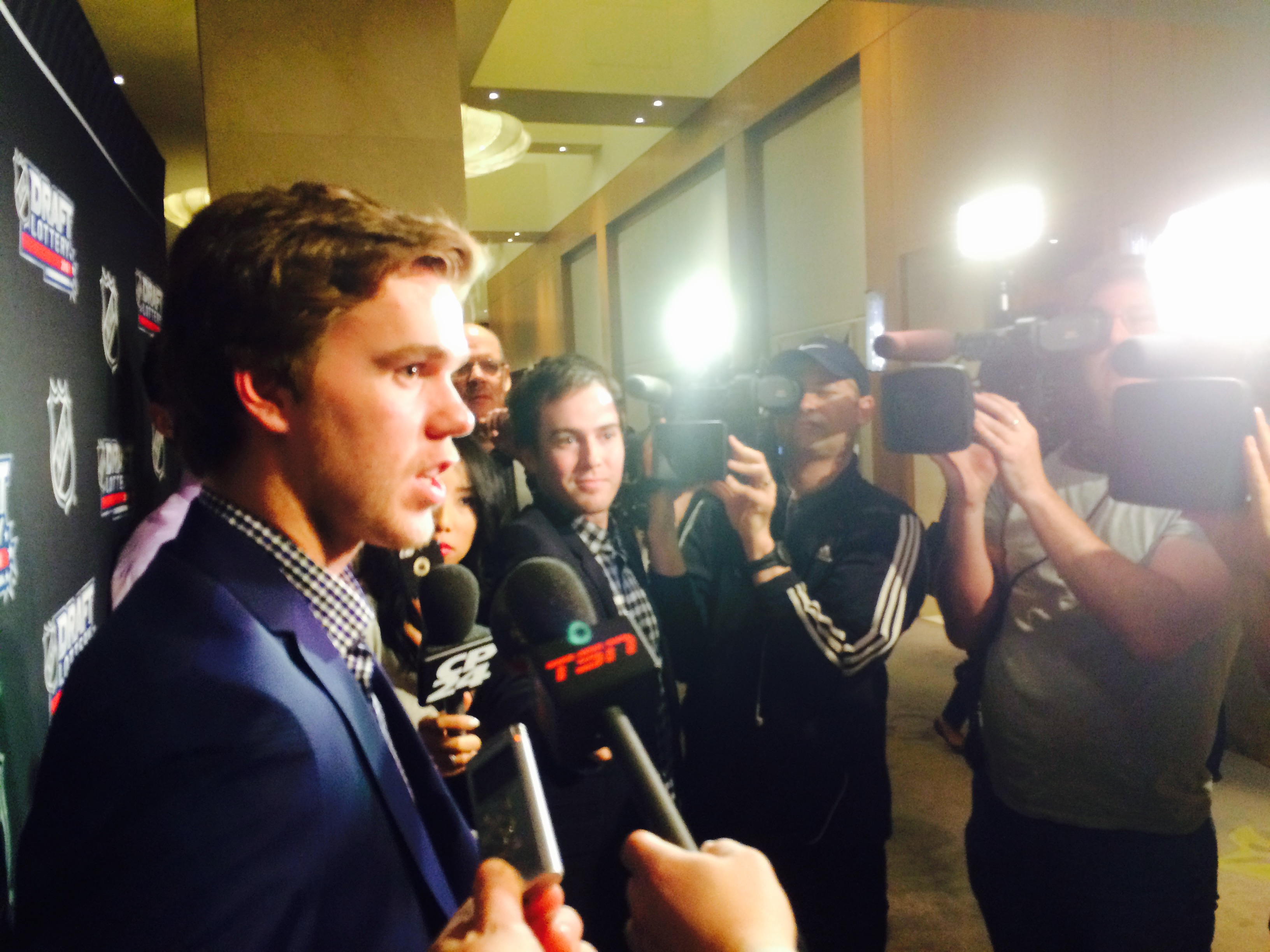 8:36 p.m. A frustrated Murray addresses a thick scrum of reporters in the Ritz, adjacent to the CBC building.
"It's almost like you're that world junior player getting that 6 a.m. call that you didn't make it again," he says.
"I voted against [the lottery]. I said that when we start getting better and aren't the worst team or finishing last, I would continue to vote that the worst team gets the best player. But I'm only one vote."
8:35 p.m. Lucky Bill Scott sits at a podium and says that his phone has been blowing up, that he doesn't want to announce McDavid as the Oilers' first-round pick right now because it's important for a young man to go through the draft day process.
8:41 p.m. The NHL gets MacTavish on the phone. He's asked about the odds of trading that golden ticket.
"What's less than zero?" MacTavish says. "No chance."
8:43 p.m. Strome, McDavid and Hanifin are brought on the dais before the gathered Toronto media. Jack Eichel, Murray's consolation prize, is on the phone and can be heard throughout the room. Most questions, of course, are directed at McDavid.
8:45 p.m. Eichel, who explained he had another obligation, is asked why he wasn't in Toronto for the lottery.
He responds, "I had a family thing. It's personal. Thank you."
8:49 p.m. Eichel is asked about McDavid.
"I don't really even know him," he says.
8:50 p.m. A cameraman asks the three players present to pose for a photograph.
"Smile, Connor," he says. "Smile."
Again, the camera guy implores the kid.
"Smile."
(photos by Luke Fox)