PHILADELPHIA — There's a black Penguins ball cap on Sidney Crosby's head, and he's still wearing half his equipment, sitting in his stall in the visitor's dressing room at Wells Fargo Center, his skates resting on a little black Penguins carpet.
Based on facial expression alone, you'd never guess the captain of the two-time defending Stanley Cup champions just had a four-point afternoon, that he'd led his team to a 5-1 drubbing of the Philadelphia Flyers.
No, it's only when some news is presented to Crosby that his previously straight face breaks into a bit of a smile, or some sort of smirk. And this news is really quite something: A group of fans here in Philadelphia spent part of their Sunday putting pictures of Crosby's face at the bottom of all the public urinals in their team's home arena.
Yes, that's right—the Flyers faithful in this Battle of Pennsylvania went there. And just how many urinals are in this arena? One security guard shrugged and said: "I gotta think there's more than a hundred."
That's a lot of Crosby faces in a lot of urinals.
And while the news that fans are relieving themselves on your likeness might disturb some, Crosby is not among them, or at least he's good at pretending he's not. No, the Penguins captain didn't have much of a reaction.
"It's not the first building that's happened in, so…" No. 87 said with a grin and a shrug. "I don't know if they stole that idea from somewhere else. But yeah, it's not the first time that's happened."
Ah, the life of a superstar. Pictured in urinals, booed the moment you set foot on enemy ice, booed as you're announced as the game's first star.
Yes, it was quite the Sunday afternoon for Sidney Crosby.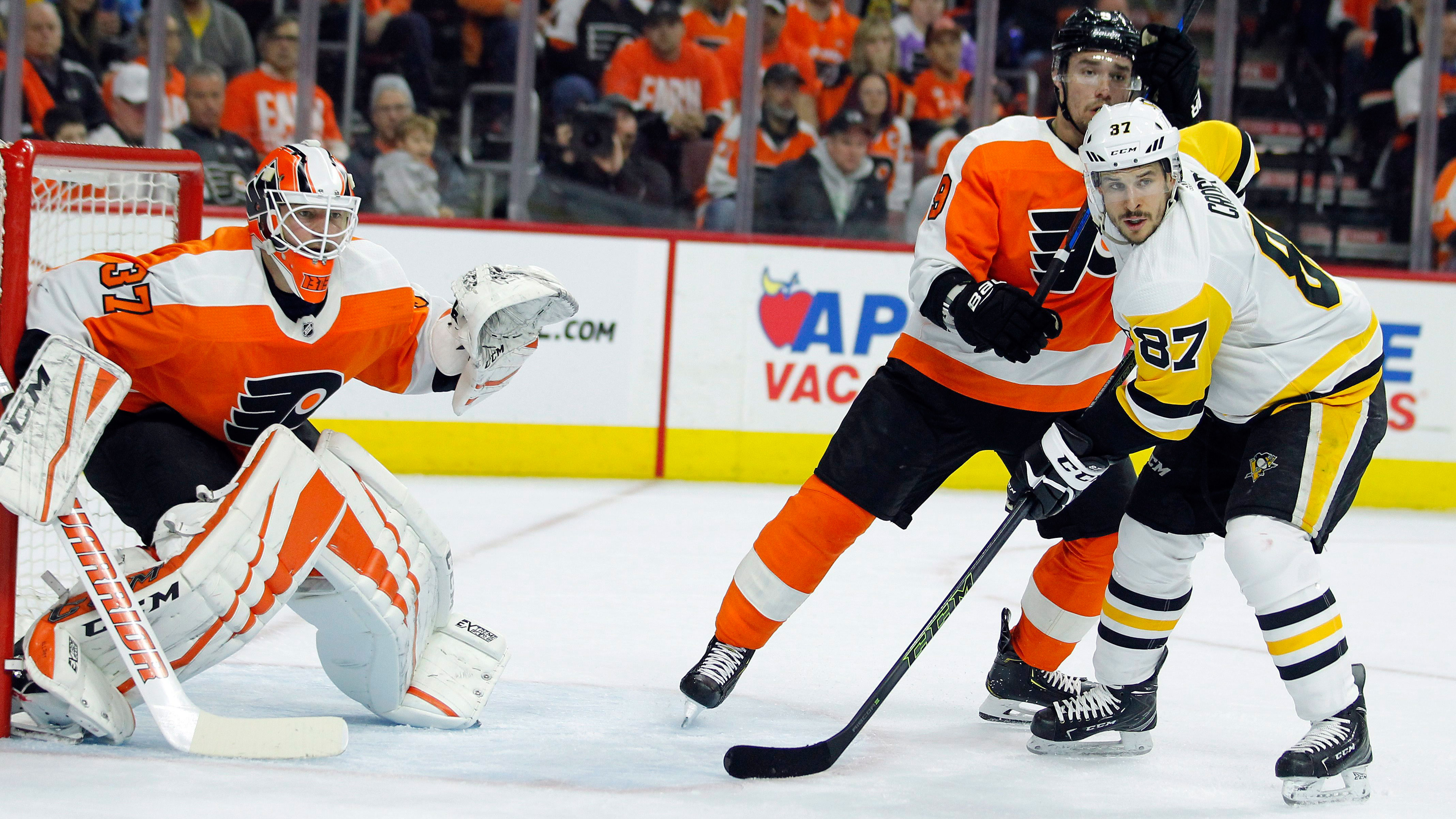 One game after he broke his stick on the Flyers' cross bar after missing a wide-open net on the power play, Crosby and his Penguins entered a hostile environment—the "Crosby Sucks!" chants began even before fans broke out in "Let's go Fly-ers!"—the captain had a goal and three assists to lead the Penguins to a 2-1 series lead in this heated state battle.
And so Game 2, which saw Crosby not only miss on an open net but also fail to convert on a breakaway attempt, obviously didn't rattle him much.
"I mean, you have to move on," he said. "You gotta turn the page, so it was good to get one early. I think that always makes a big difference as far as being able to forget about it."
Crosby's goal on Wednesday, the first of this game, was a big one.
It briefly sucked the air out of this raucous arena, and it had to be discouraging for a Flyers team that had the balance of chances in the first period. Rookie Nolan Patrick had his team's best, fewer than two minutes in, when he ripped down the right wing and manufactured a breakaway, only to see Matt Murray—who was stellar early on—come up with the glove save.
Pittsburgh didn't generate a shot until near the half-way mark of the first, but it wasn't long after that when Patric Hornqvist forced a turnover in the Flyers end, then poked the puck toward Crosby.
In one seemingly fluid motion, Crosby kicked it to his stick and skated around the net—his skates positioned at 10 and two—and snuck home the wrap-around. It's the type of goal that looks easy, until you see the replay.
The crowd went silent for a bit, and then came the boos and "Crosby Sucks!" chants.
As Penguins coach Mike Sullivan pointed out, that animosity from Flyers fans might actually be good for his captain, winner of back-to-back Conn Smythe trophies.
"I just think it's an indication of how competitive he is—I think he thrives in that environment," Sullivan said. "He has a comfort level in that environment and so, when stakes are high, in an away building, in important games, Sid tends to play his best. He's done that certainly from my experience, time and time again."
Until about six minutes into the second, the fans were really loud and the Flyers were right in this one. But Philadelphia got into penalty trouble against the NHL's top power-play unit, and it was basically game over. Derick Brassard made it 2-0 Penguins with the man-advantage early in the second, thanks to a patient pass from Phil Kessel, who earned his first point of these playoffs.
And then, in the space of five seconds, beginning at the 6:48 mark, the Penguins struck two more times to make it 4-0. Never in their history have the Flyers given up back-to-back goals so quickly.
First, it was Evgeni Malkin on a one-timer, again with the man-advantage, where Crosby recorded his first of three assists.
Seconds later, Crosby authored his prettiest helper of the afternoon. He won the faceoff back and immediately charged up ice, got the puck right back, carried it into the Flyers' zone on the right-wing, and then backhanded a saucer-pass cross-ice to defenceman Brian Dumoulin, who joined the rush and made it 4-0.
"We were just trying to play quick, and however it worked out, it worked out," Crosby explained. "Dumo made a great read to jump in the play there and give us some numbers on the rush. I think we were just trying to play fast and it ended up that we were able to get a good one."
A good one, indeed—The Flyers weren't coming back from a 4-0 deficit.
This in-state battle is just three games old and the Penguins captain has, to nobody's surprise, figured big: A natural hat-trick in the first game, a stick broken in frustration in the second and a four-point effort in the third.
The teams now have two days off, and then they'll be back at the Wells Fargo Center for Game 4 on Wednesday night. Crosby's expecting more of the same from these hostile fans. As he said, "It's a tough environment to come into."
And hey, that might be just the way the Penguins captain likes it—though he could probably do without the urinal humour.