Ever since the Maple Leafs rebuilt on the fly and started making the playoffs, the speculation has been that they needed to add at least one top-four defenceman to the roster.
Two and a half seasons into the Auston Matthews era, GM Kyle Dubas finally made good on that need by sending Sean Durzi, Carl Grundstrom, and their 2019 first-round draft pick to Los Angeles to acquire Jake Muzzin.
Muzzin has been a top-pair defenceman for the past five years with the Kings, winning two Stanley Cups in the process, so it's obvious he represents a massive upgrade for the Leafs.
One issue with Muzzin's reputation over the years is the question of how much of his performance that made him a darling of the stats-loving crowd had to do with riding Drew Doughty's cottails, and how much was of his own doing.
Today we explore some of the facets around Muzzin's game.
TRUTH OR FICTION: MADE BY DOUGHTY?
There are many cases across the NHL where players are bolstered by the presence of a linemate and made to look like a true game breaker when they're really not. Anyone who plays with a player like Sidney Crosby or Connor McDavid is going to see their statistics take an incredible jump, and the same is true for defencemen who play with an elite partner. Filip Kuba wasn't great with the Ottawa Senators, he just played with Erik Karlsson.
Is the same true for Muzzin? Let's take a quick look at Natural Stat Trick's Line Tool to get an approximation on how they impact each other's performance using Corsi.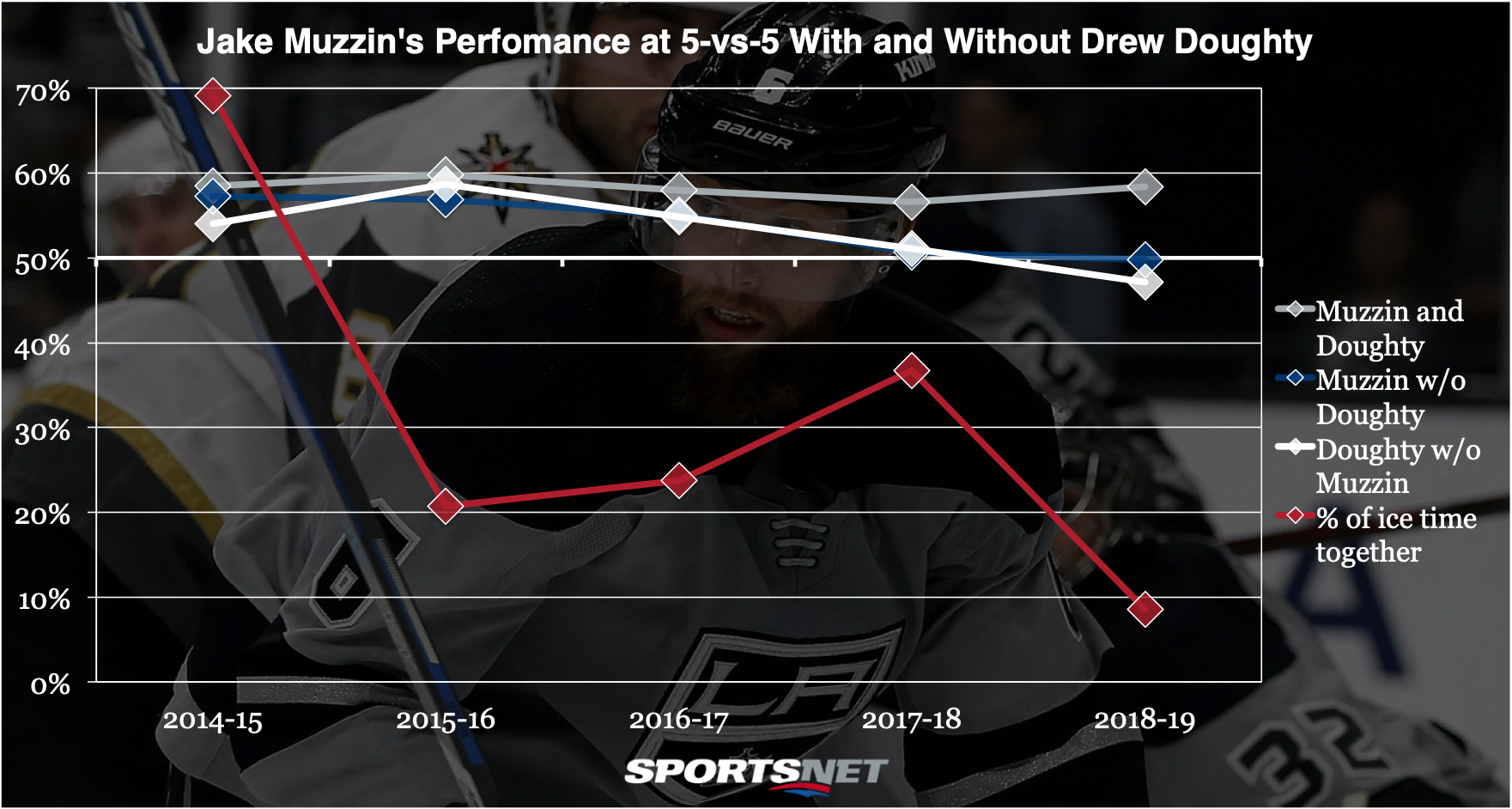 One thing I wanted to include on the graph was how much of Muzzin's ice time is actually spent with Doughty, because opinions in sports have a habit of being very slow to change, and that holds true here with Muzzin.
It's true that at one point in his career, Muzzin played the vast majority of his minutes at 5-on-5 with Doughty, but that hasn't been the case for a very long time, now — four years in fact. Meanwhile, Muzzin is still having about the same level of success as he had with Doughty.
When the two players were apart from each other, they were both worse off statistically than when they were together. In no season has that been more apparent than this one, where the Kings have been a horror show with both players off the ice. In the little time they have been together this season, Muzzin and Doughty have remained a dynamite duo even though the Kings aren't a great team anymore. When they're apart they've struggled to keep Los Angeles above middling.
Doughty plays tougher minutes than Muzzin, but there isn't much difference in performance between them when they're apart over a five-year sample, which is very strong evidence that Muzzin is a great player in his own right.
NO. 1 BENEFIT OF ADDING MUZZIN
I recently included Muzzin in an article outlining four defencemen the Montreal Canadiens should target in trade and while he showed well in the specific areas the Canadiens have needs in, isolating his top trait or traits is slightly different.
When I looked at Muzzin for the top-40 defencemen in the NHL over the past three seasons in September, he ranked 35th between Oscar Klefbom and Chris Tanev, but there wasn't one single thing that stood out about Muzzin — he was such a versatile player.
Muzzin ranked within the 75th percentile and 80th percentile among defencemen in offence, defence, and transition play, making him a whole package player.
He does clearly excel in puck battles, though it's going to be a combination of an ability to move the puck effectively, jump in on plays, and maintain solid positioning that truly benefits the Leafs. He's not a one tool or one zone player — he helps everywhere.
WHERE DOES HE FIT?
It was announced pretty much immediately that Muzzin would be playing with Morgan Rielly on the top pairing. That makes sense, if only to give some relief to Rielly, who has been struggling defensively in tough minutes with Ron Hainsey.
Ideally the left-handed Muzzin would be on his natural side, but he's played most of this season with Alec Martinez, who is also a leftie, so it's reasonable to think Muzzin can work effectively with Rielly.
There's nothing in the data that tells me he's more suited to play with either Rielly or Gardiner, but when he's not paired with Doughty, Muzzin is usually playing with defencemen of questionable caliber. Neither Gardiner nor Rielly are questionable talents, so as with Doughty, there should be no fear of him playing tough minutes with Rielly.
HOW IS HE TRENDING?
Muzzin is not on an expiring contract this season; he has another one left at a very reasonable $4 million AAV. This is not a pure rental for the Maple Leafs, so it's important to consider the direction Muzzin's career his headed.
Turning 30 years old in less than a month, there's some level of risk to that second year if you really want to split hairs and be overly conservative. But looking at Muzzin's play relative to his teammates over the past several years, there are no signs that would encourage concerns.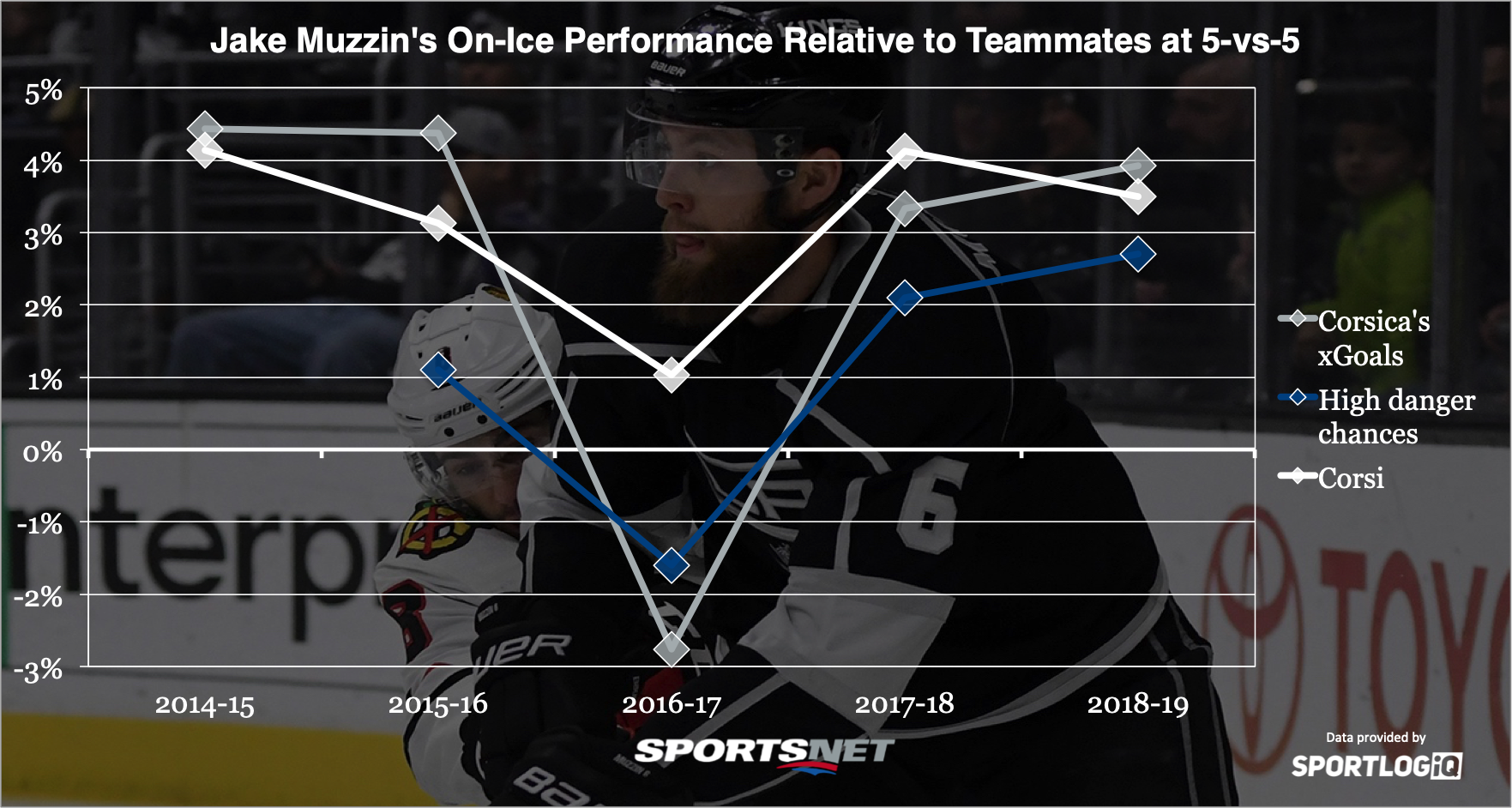 Muzzin clearly had a down season two years ago, but since then has been back to his typical level of performance, despite things sort of crashing down around him in Los Angeles.
We only have four years worth of data for accurate high danger chances, but it seems like Muzzin has been a more and more positive influencer on those as time has gone by. He has the highest differential relative to his teammates this season, which along with passing the eye test nightly, is probably why so many people have spoken so highly of him in 2018-19.
Muzzin is a player still performing at peak levels. If he were right handed you'd say he's the perfect fit in Toronto.
[relatedlinks]