After ranking the top centres, left winger, right wingers and defencemen relative to their peers over the past three seasons, it's time to move on to the goalies – the toughest position to quantify.
Before we get into it, you can check out 2016's top-20 here, and 2017's list here.
Along with the usual suspects of hockey analytics contributors I've mentioned in each piece of this series, I'd like to also give a shoutout to Chris Boyle and Paul Campbell when it comes to the goalies. They have helped me a bunch over the past few years drilling down what's important when evaluating the so-called voodoo magic of NHL goaltending.
Statistics for the goaltender position were gathered from SPORTLOGiQ, Hockey Reference, and the NHL's official website.
[relatedlinks]
As we did with the skaters, the qualifying bar has been lowered for goalies this season to include more of them. In previous years I used 75 starts over three seasons as the cutoff, whereas this season it's simply 75 games played. This gave a sample size of 48 goalies.
The weighting of categories for goalies is the same as last season, with 70 available points for performance-based statistics mostly built around various components of save percentages, and 30 points available for consistency — how often is a goaltender relied on and how well does he perform? The difficulty adjustment is done in much the same way it was for skaters.
Each season was weighted so that recent performances account for more of a player's total score, with 22.2 per cent for 2015-16, 33.3 per cent for 2016-17, and 44.5 per cent for 2017-18. If a player only played in two of those years they would see a weighting of 42.8 per cent for 2016-17, and 57.8 per cent for 2017-18.
Here are the statistics used in each category:
Performance: 5-on-5, power play, and penalty kill inner slot/high danger save percentage, high slot save percentage, corner point save percentage, centre point save percentage, low perimeter save percentage, percentage of shots from the perimeter with no rebound, percentage of shots from the slot with no rebound, and percentage of rebounds that go into the slot.
Consistency: Quality start percentage, percentage of available games started, and really bad start percentage.
Degree of Difficulty: 5-on-5, power play, and penalty kill high danger chances against, scoring chances on net against, scoring chances against, rush chances against, slot passes against, east-west passes against, passes off the rush against, shots with pass preceding against, slot rebound recovery rate, perimeter rebound recovery rate, perimeter shots against, and goal support.
Let's get into it.
20. Marc-Andre Fleury
Difficulty adjustment: -2.30%
Performance: 42.15/70 | Consistency: 18.37/30
Total: 60.51/100
Fleury didn't make the top-23 last year after a terrible final year in Pittsburgh where he posted below league average numbers and was relegated to a backup role. He followed that up with arguably the best season of his career in Vegas.
Fleury is an acrobatic goaltender who can put up show-stopping performances, but throughout his career he has been prone to being very erratic positionally when he's off his game. Fleury can play great and still somehow look foolish on each of the few goals he allows. It makes him one of the most fun goalies to watch.
19. Connor Hellebuyck
Difficulty adjustment: -2.57%
Performance: 43.23/70 | Consistency: 17.61/30
Total: 60.84/100
Last season was a breakout one for Connor Hellebuyck, who nearly doubled his scores for both performance and consistency to get into this year's top 20. Hellebuyck is a strong technical goaltender who keeps rebounds low and rarely allows weak goals.
One of the most important keys to Hellebuyck's game last year was he very rarely lost games for the Jets. Every goalie has an awful outing now and then, but Hellebuyck consistently put up decent to strong performances. He struggles a bit on shots from in tight, but the Jets' spectacular team defence helps keep those kinds of shots to a minimum.
18. Jimmy Howard
Difficulty adjustment: -0.14%
Performance: 42.59/70 | Consistency: 19.30/30
Total: 61.90/100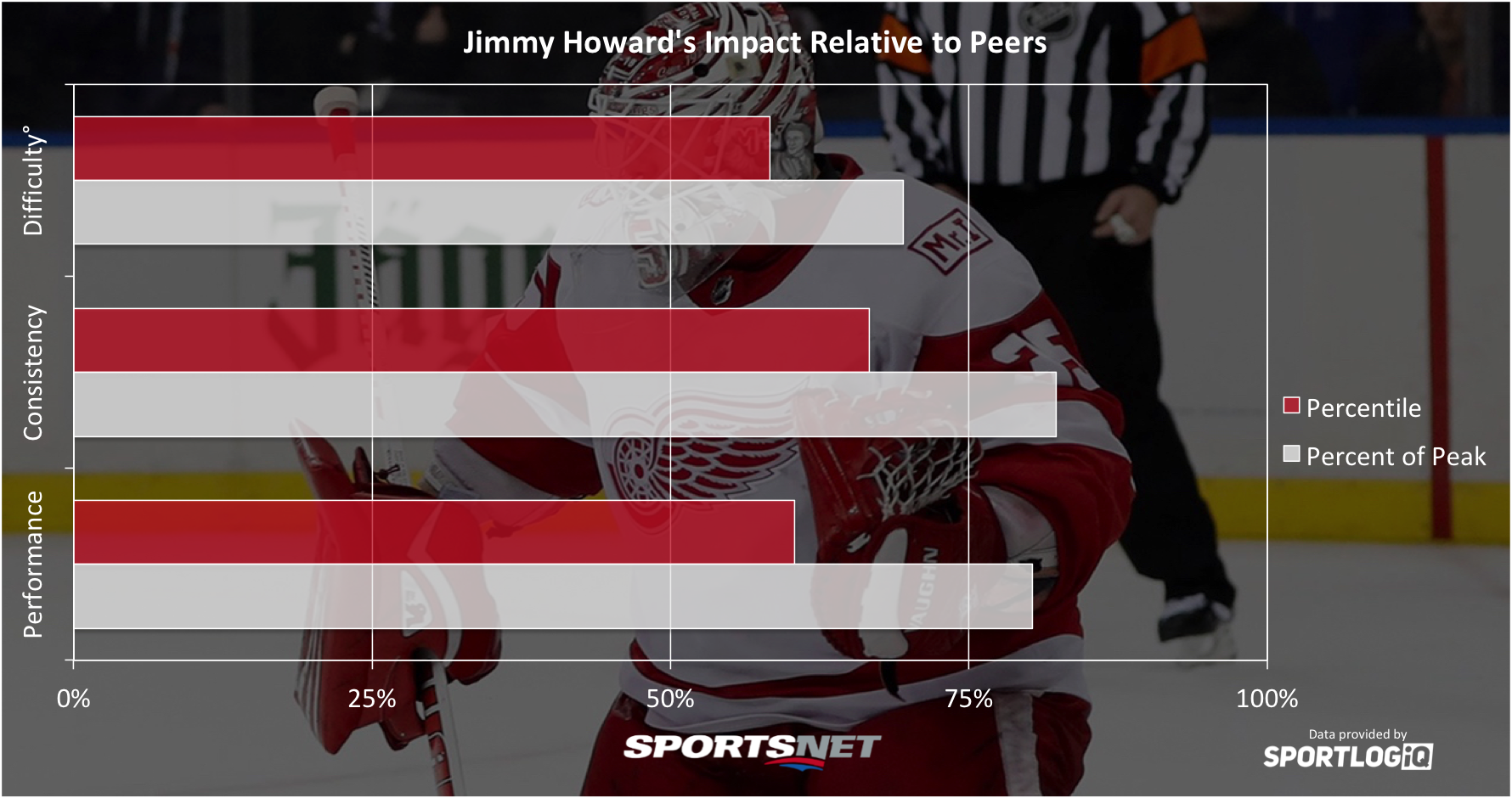 Howard's career has been all over the place, and at times he's looked done due to injuries and struggling to perform. But over the past two seasons he's actually played some good hockey despite facing more difficult shots as the Red Wings spin their wheels as a team.
Howard struggles to string together quality starts at times, but he also rarely has blow-up games that ruin Detroit's chances to win. At 34 years old his best seasons are behind him, but he's still a decent goalie.
17. Matt Murray
Difficulty adjustment: -1.72%
Performance: 43.01/70 | Consistency: 19.54/30
Total: 62.55/100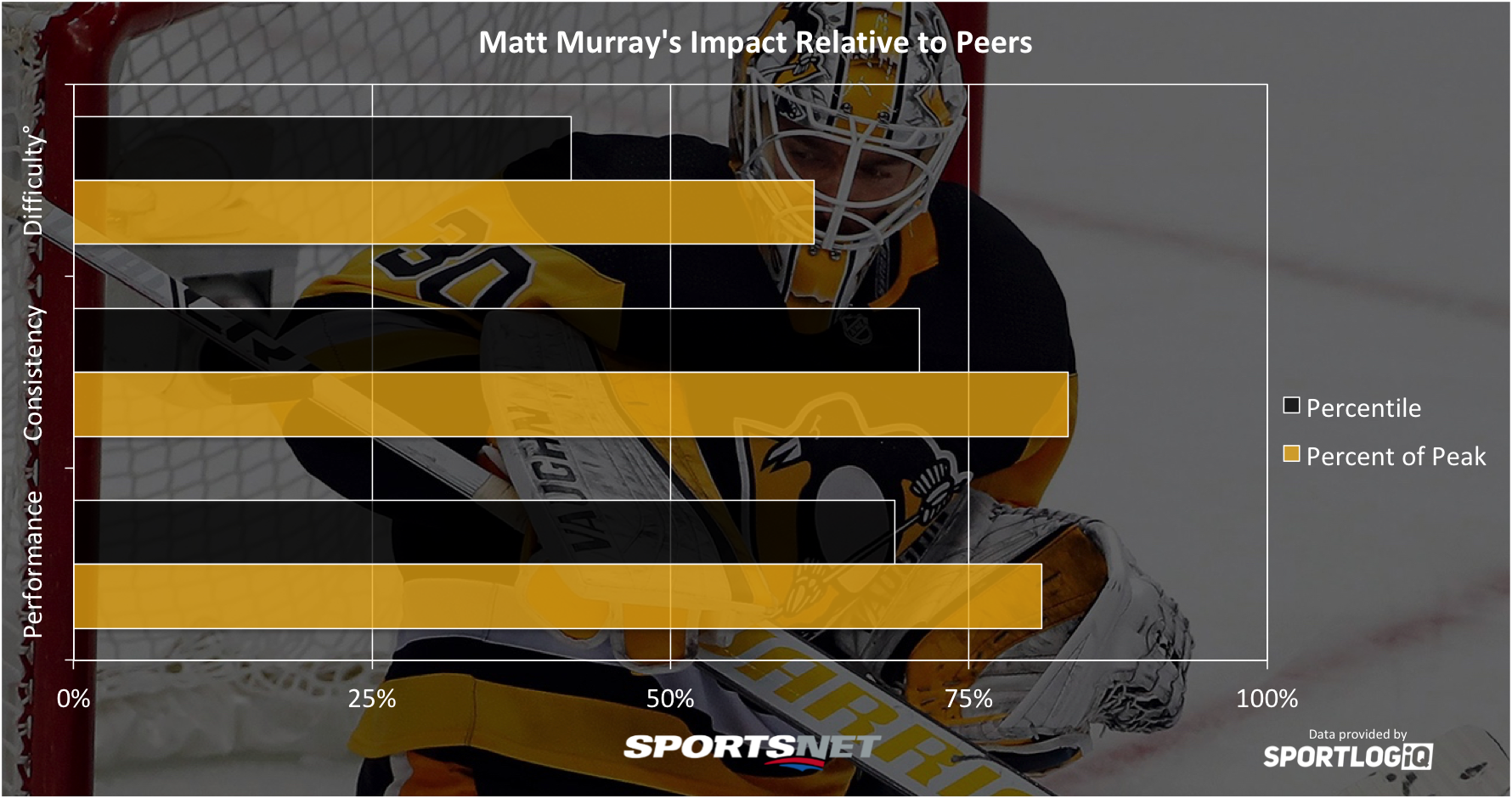 Murray is the first in a large group of previously good goaltenders who had disastrous seasons in 2017-18. Murray saw tougher shots than his first two seasons in the NHL as the Penguins were a bit more suspect defensively last season, but it wasn't the tough shots he struggled on.
Murray posted a respectable high danger save percentage last year, but was picked apart from the high slot and was fairly porous from the perimeter as well. He didn't just allow goals at a high rate from these areas, but also allowed big rebounds on simple shots. Those kinds of struggles seem mental more than physical, so he was a decent candidate for a bounce back season, though a concussion diagnosis makes that questionable.
16. Cam Talbot
Difficulty adjustment: +2.26%
Performance: 42.61/70 | Consistency: 20.11/30
Total: 62.71/100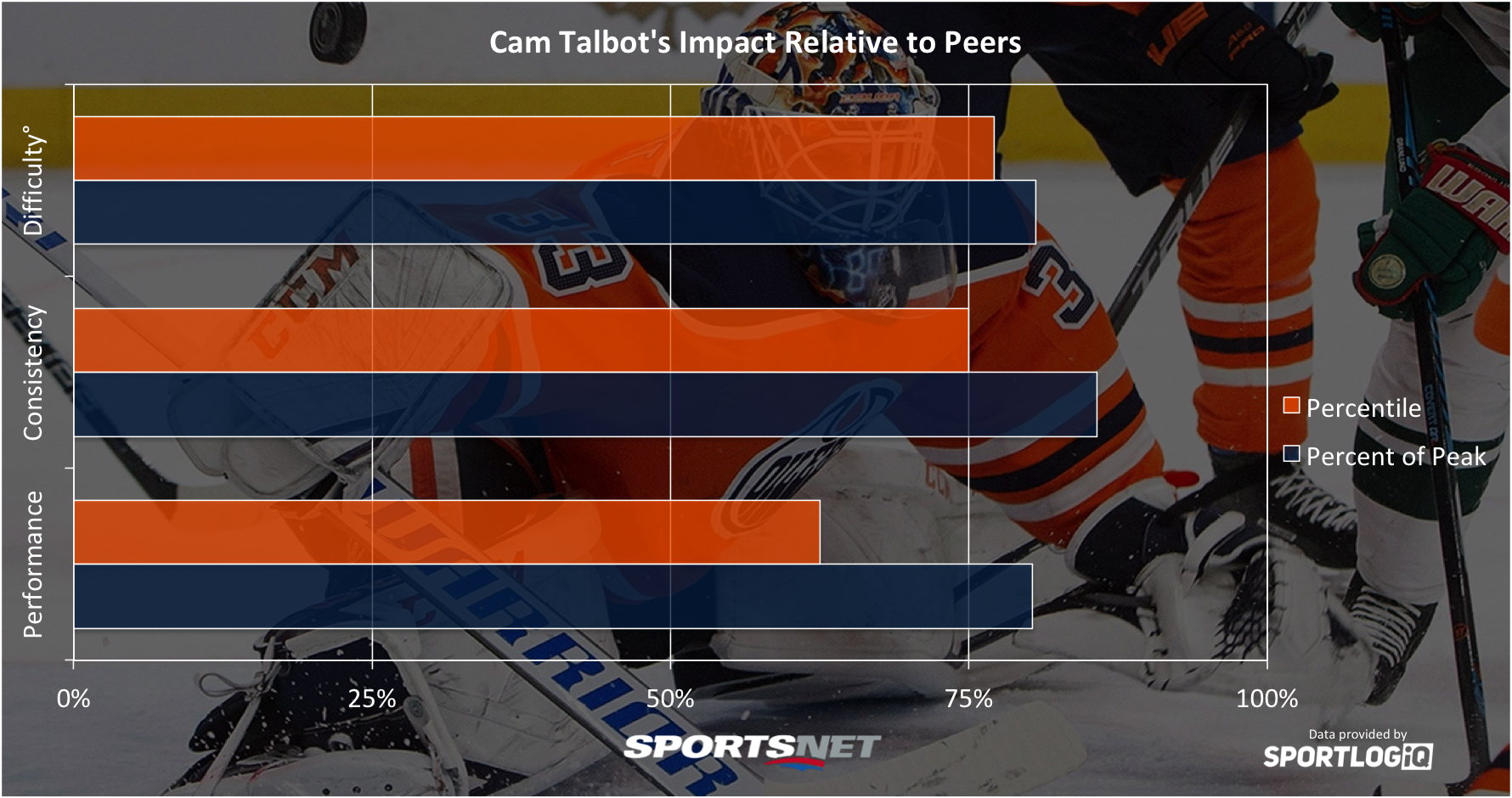 Talbot is another of the goalies who took a big step down last year. But while his performance cratered, he remained the single most relied upon goaltender in the NHL. No healthy goaltender was started more often as the Oilers turned to Talbot more than 90 per cent of the time he was healthy enough to play.
He faced far more difficult shots last season than the previous two years, specifically while the Oilers were shorthanded. His rebound control remains strong, and technically I think Talbot is still a very good goaltender. But he at least needs more rest and a bit better defence in front of him.
15. Brian Elliott
Difficulty adjustment: -0.14%
Performance: 44.56/70 | Consistency: 18.49/30
Total: 63.05/100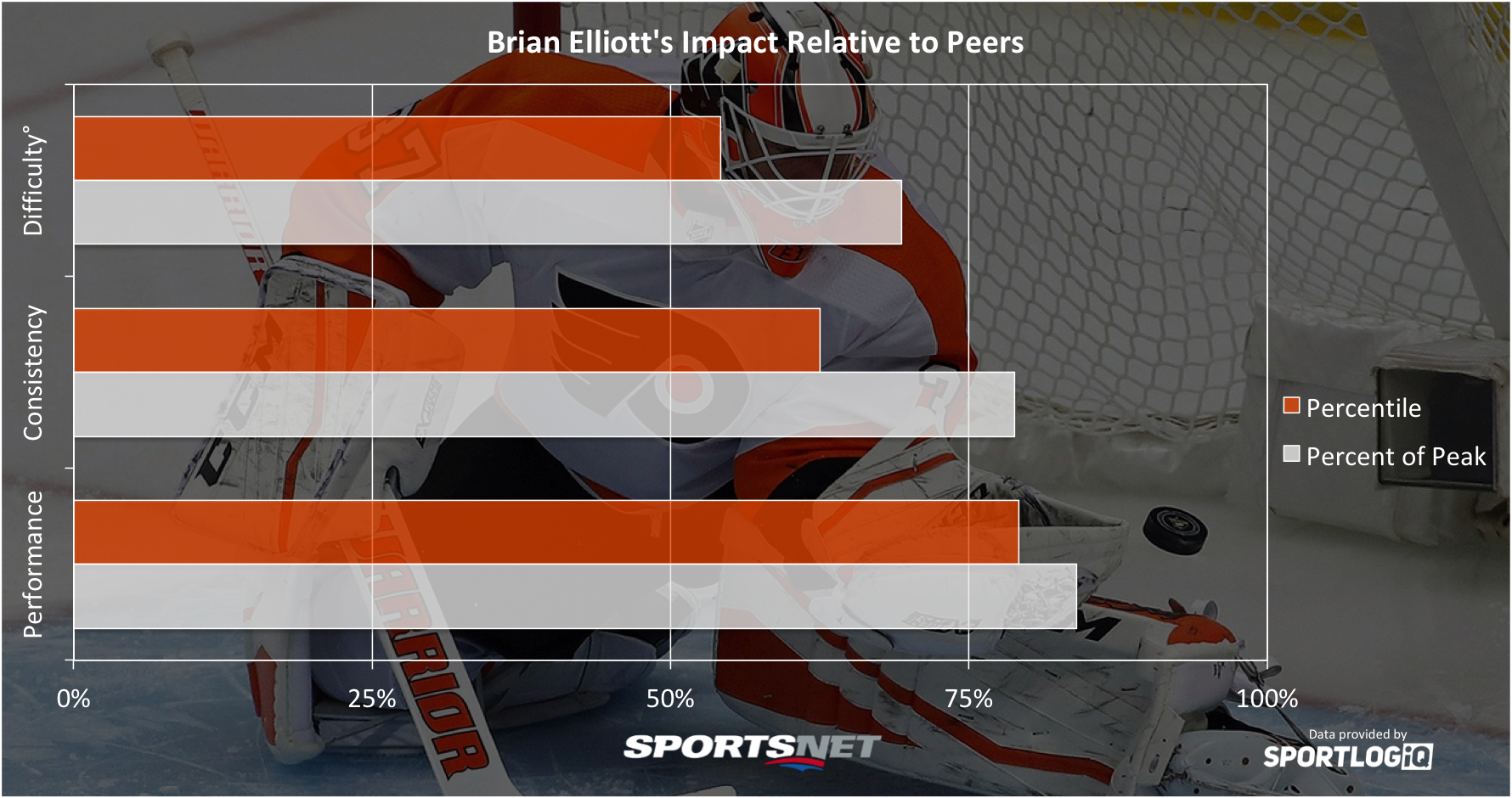 A few years ago Elliott was quite consistent in that he had an extremely high rate of quality starts, though he had a propensity to get blown out the rest of the time instead of just being slightly below average. As he's gotten older those blow up games have happened more often.
The result is that every game seems to be a coin flip — Elliott can be brilliant and win games on his own, or he can be a team's Achilles heel. He is a strong even strength goaltender who can stop high danger chances at a high rate, but weak goals always seem to trickle in as back breakers. He's a strange one.
14. Jonathan Quick
Difficulty adjustment: -8.09%
Performance: 42.67/70 | Consistency: 20.40/30
Total: 63.07/100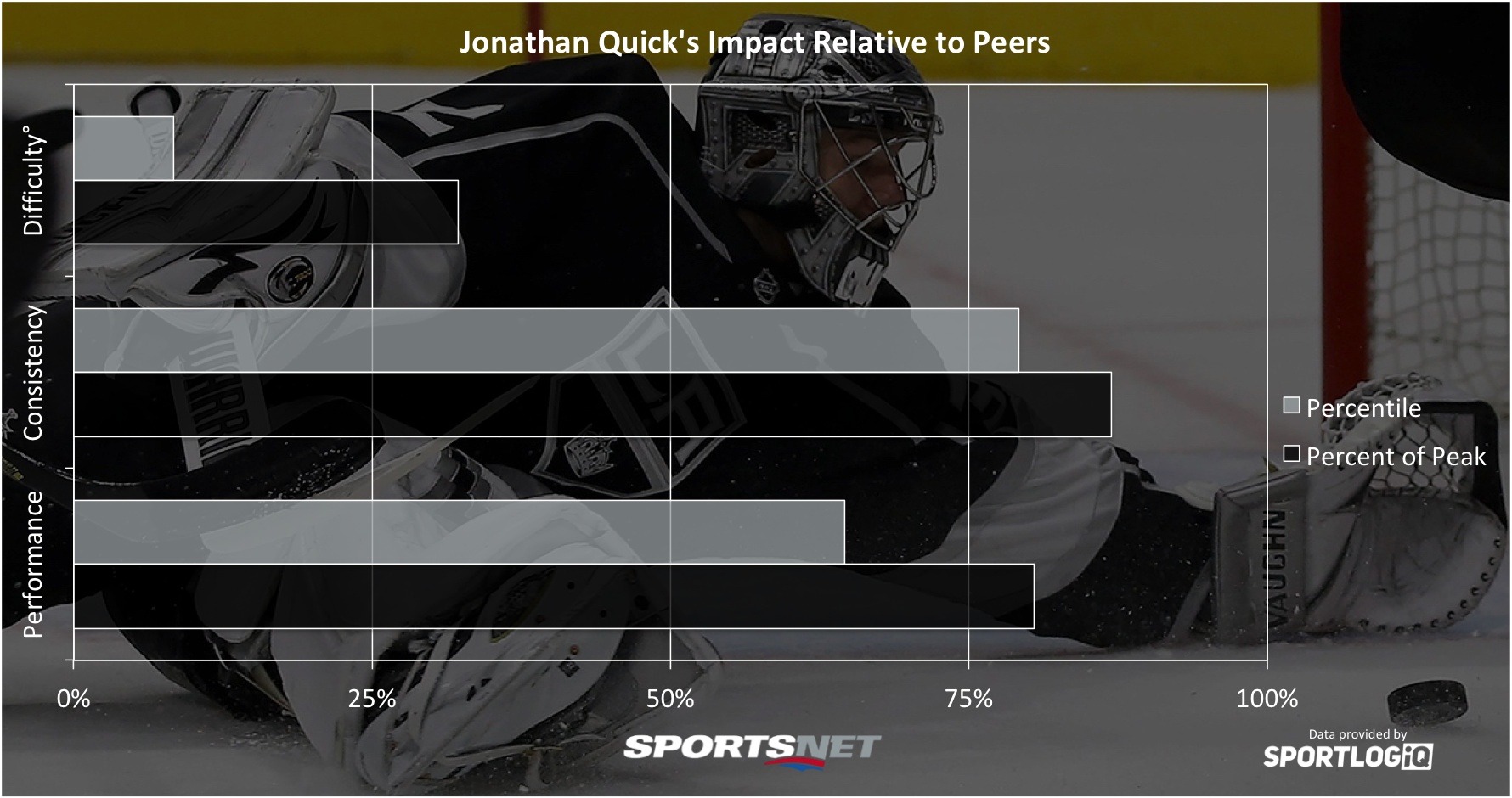 No starting goaltender in the NHL has more consistently faced easier shots than Quick, as the Kings play a choking style that clogs the passing lanes better than any other team. That advantage is lessening, but the shots he's facing are still more simple than anyone else is seeing.
That doesn't mean Quick is bad. He is an athletic goaltender who can get on runs of excellent play – last year's playoffs are a decent example because he was the only reason the Kings weren't run out of the building by the Golden Knights. But Quick's average performance would likely look a lot different on the surface if he played for a team that couldn't cover for his overly aggressive positioning and poor setups for secondary chances.
13. Braden Holtby
Difficulty adjustment: -2.02%
Performance: 43.27/70 | Consistency: 20.10/30
Total: 63.36/100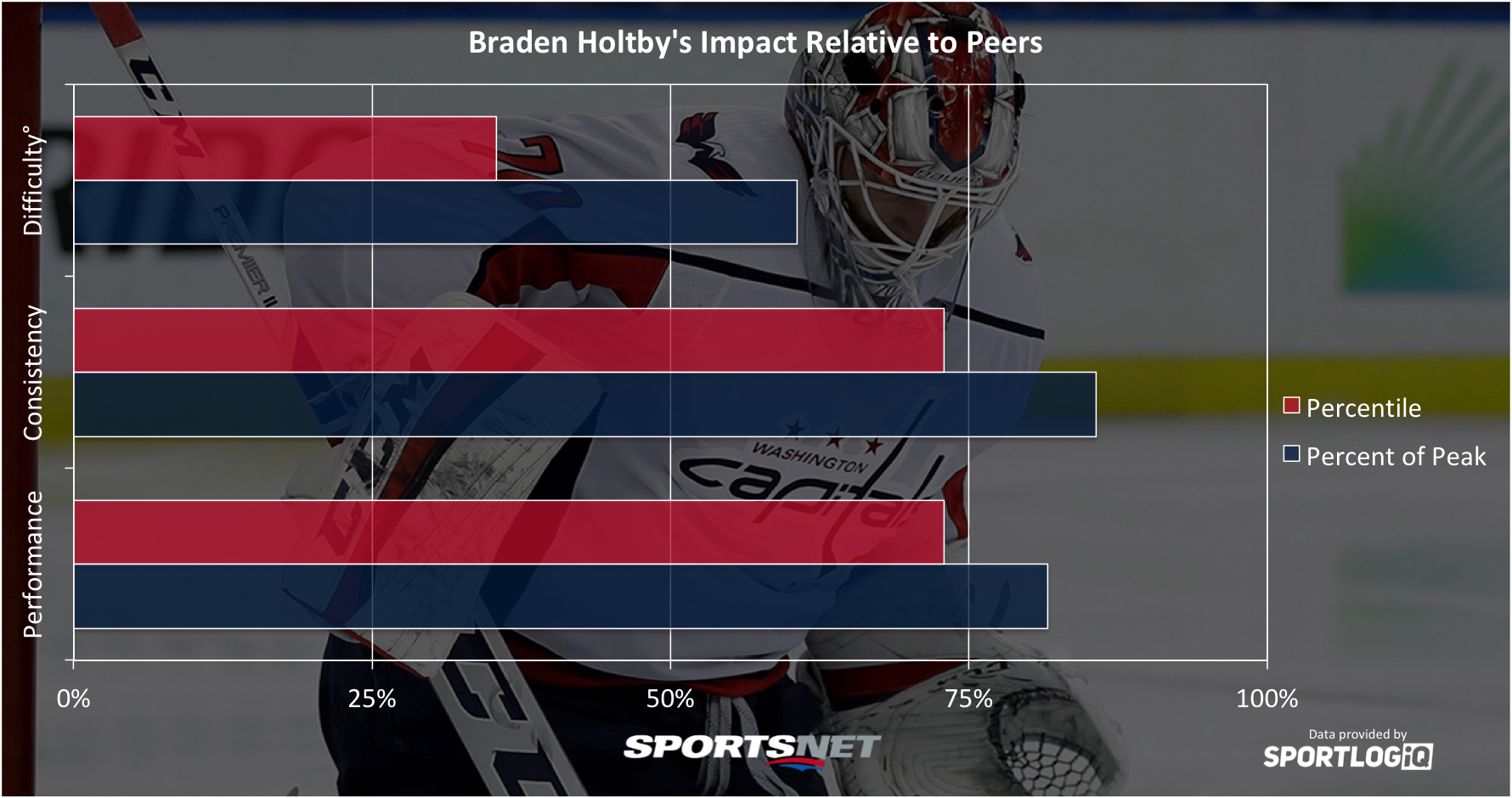 Another goaltender who saw years of great performances interrupted by a terrible year. Holtby followed the worst regular season of his career by winning the starting job back in the playoffs and then winning the Stanley Cup, so somehow I don't think he cares about the bad season anymore.
Holtby has been one of the NHL's best goalies essentially his whole career, but if there's one knock on him it's bouts of inconsistency. Holtby can be great for long stretches, but can also yo-yo from tremendous to terrible. His first two starts of this season are an example of this: a shutout followed by a loss in which he allowed seven goals.
12. Frederik Andersen
Difficulty adjustment: -1.75%
Performance: 42.22/70 | Consistency: 21.22/30
Total: 63.44/100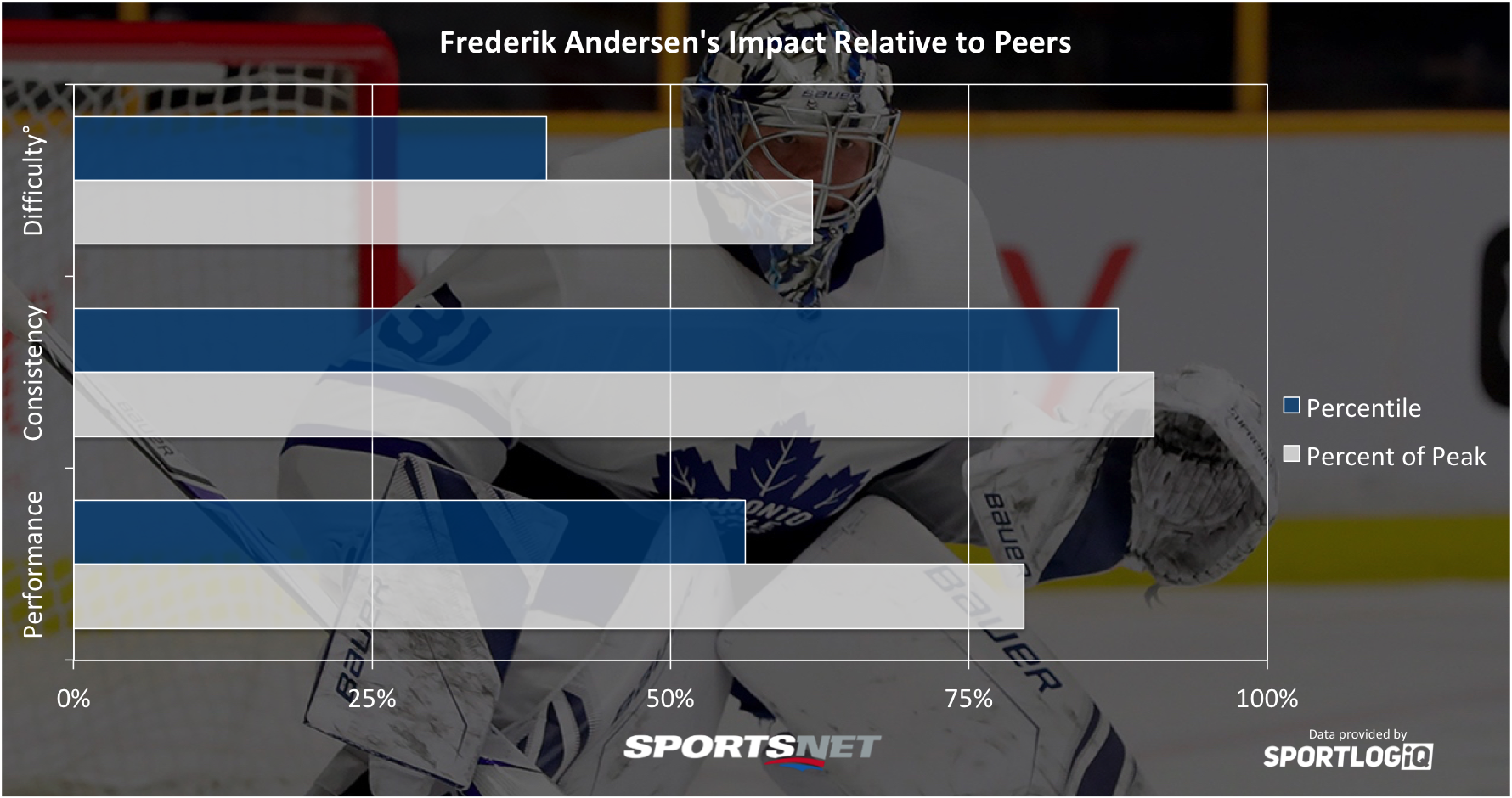 Leafs fans might be shocked to see a lower than average quality of shots faced for Andersen, but the Ducks were excellent defensively two years ago and the Leafs were very successful last season at cutting down dangerous passes in their own zone. This is a heavy component of shot quality.
Andersen posts decent save percentage numbers each year, but his strength lies in game-to-game consistency. Outside of the month of October, he is remarkable at giving quality starts and rarely gets blown out. Knowing their goaltender is extremely likely to give them a league average or better performance every night lets the Leafs take more risks on offence.
11. Mike Smith
Difficulty adjustment: +3.89%
Performance: 46.48/70 | Consistency: 18.20/30
Total: 64.68/100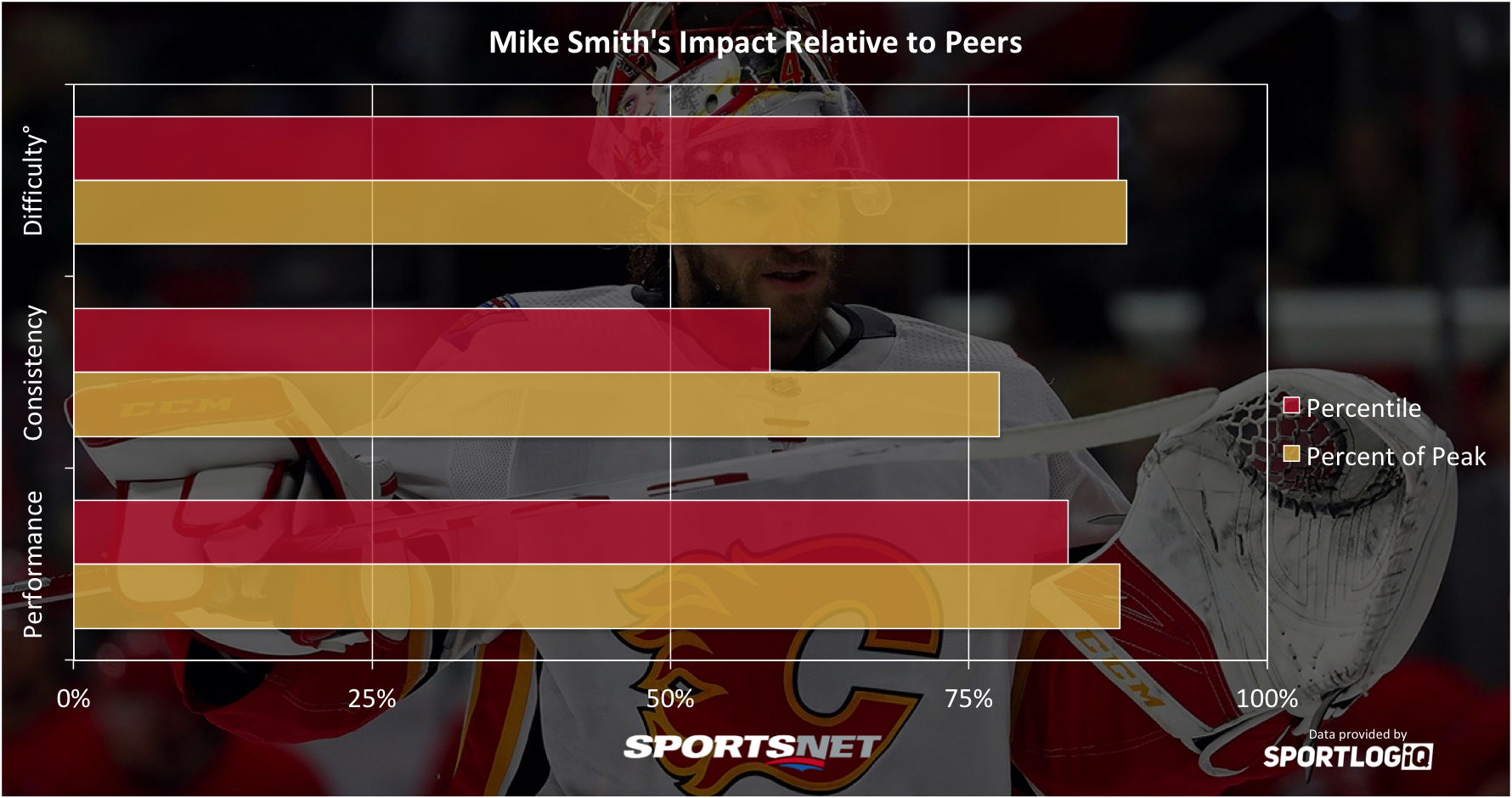 There are a lot of games where Mike Smith is a dominating force. He's one of the strongest first-shot goaltenders in the NHL who makes saves from dangerous areas at an absurd rate. But his recovery to make a second save is poor and that's a big deal because his rebound control isn't good.
With that said, he has consistently faced among the toughest shots in the league for the past few years, and despite a tendency to have a few too many blow up games, he's been strong for his teams.
10. Henrik Lundqvist
Difficulty adjustment: +2.29%
Performance: 43.88/70 | Consistency: 21.08/30
Total: 64.96/100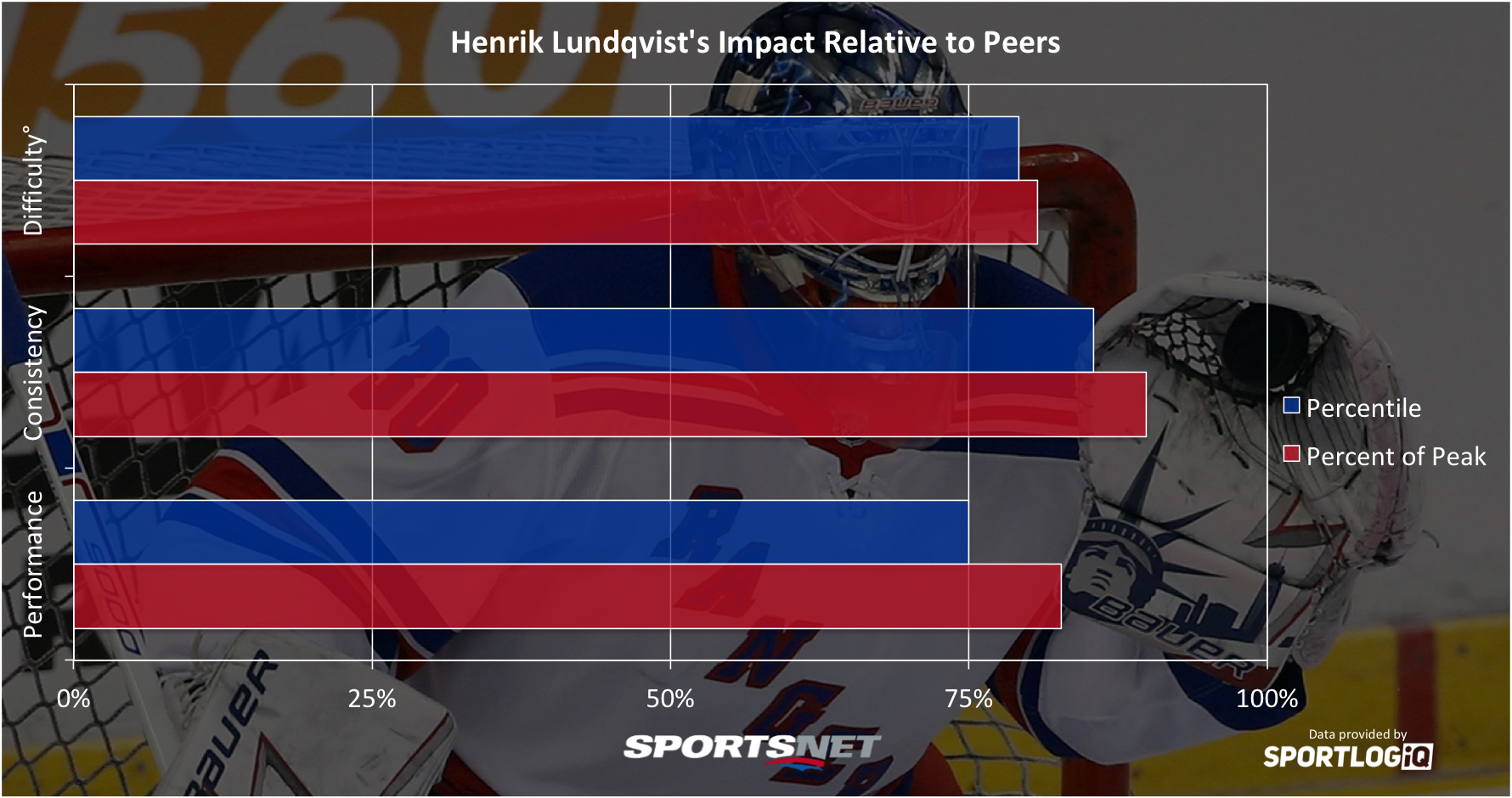 One of the best goaltenders in the history of the game, Lundqvist is starting to wear down a little bit at 36 years old. He has finished with a save percentage below .920 the past two seasons in a row, the first time he's done that since 2007-08 and 2008-09 when the league average save percentage was much lower.
Lundqvist actually improved last year over the season before, but age and years of lackluster defending in front of him seems to have taken a toll. He remains a consistent, far above average goaltender when you factor in the quality of shots he faces, so don't be surprised if a new system in New York leads to a bit of a save percentage revival for the King.
9. Devan Dubnyk
Difficulty adjustment: -7.04%
Performance: 45.97/70 | Consistency: 19.28/30
Total: 65.25/100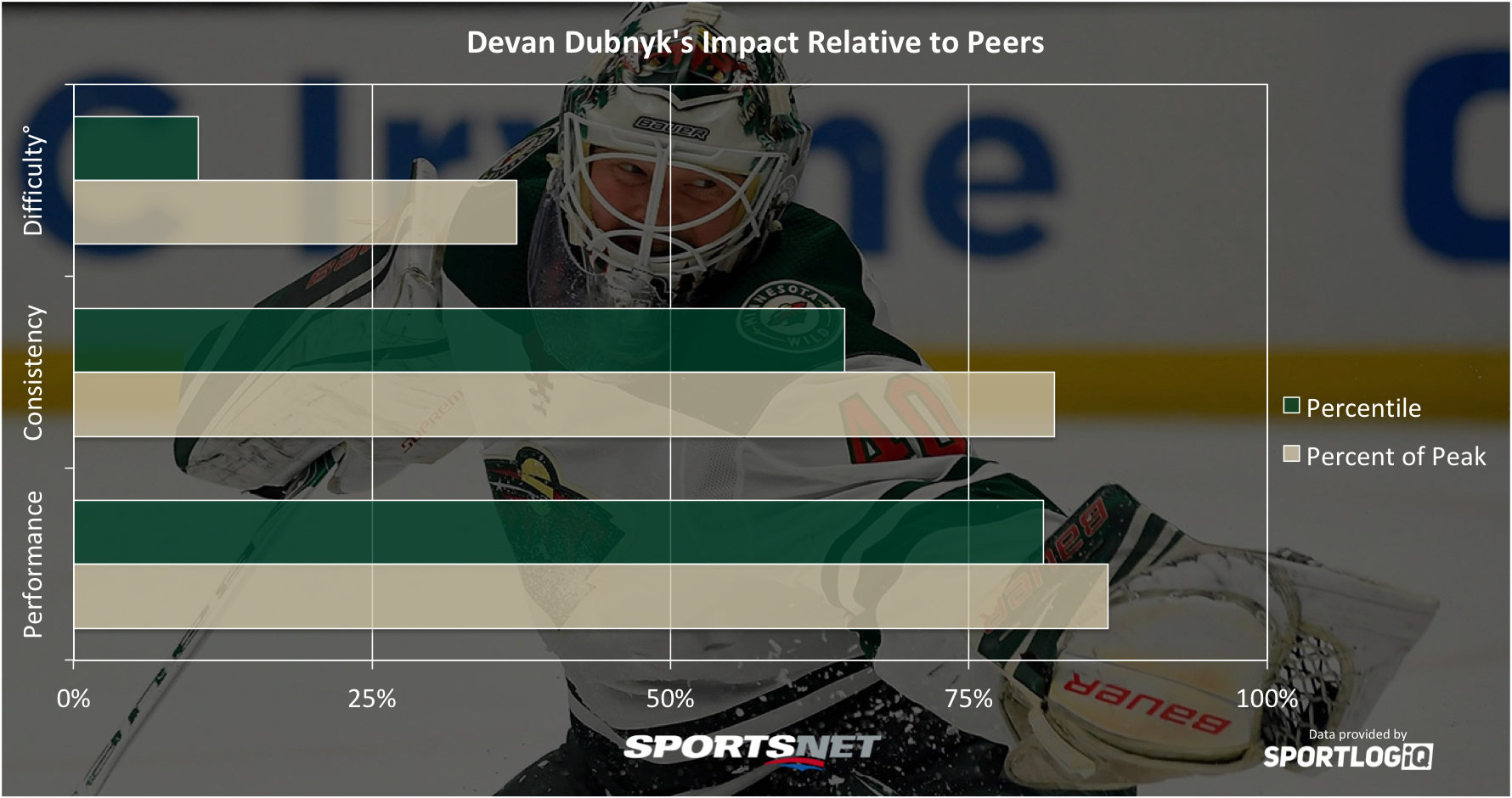 Devan Dubnyk's career renaissance in Minnesota continues. On the surface Dubnyk's play last season was just okay, but he was one of the top even strength goaltenders in the NHL with a high rate of quality starts and very few blow up games.
Dubnyk faces among the easiest shots of any starting NHL goaltender, which certainly goes a long way towards helping him be a consistently high performing goaltender. But there's also a certain kind of mental fortitude needed to perform at that level for such a long time at this position.
8. Ryan Miller
Difficulty adjustment: +4.01%
Performance: 49.41/70 | Consistency: 16.12/30
Total: 65.53/100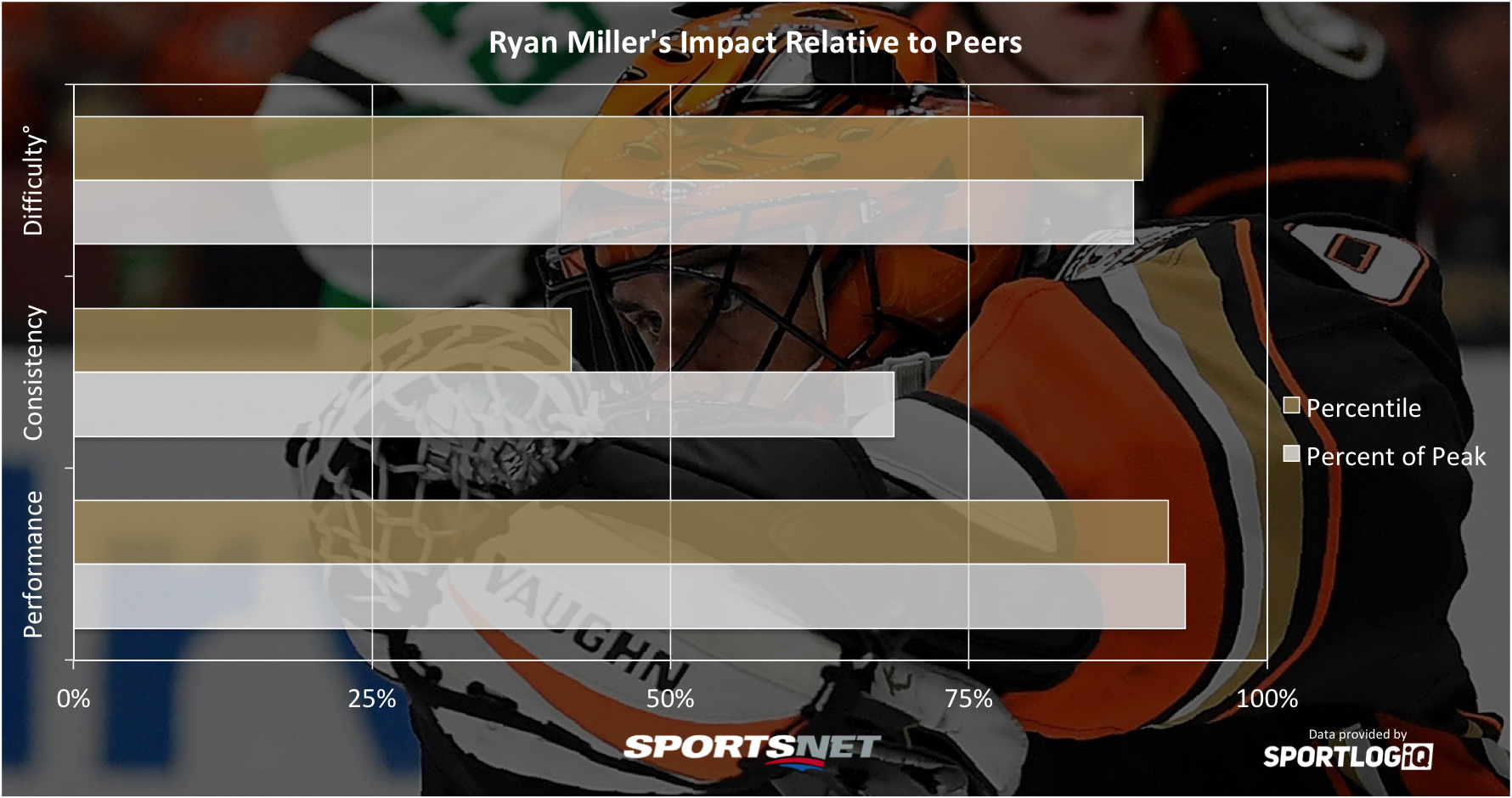 Once in a while you get a weird one that pops out when you're going just by the data. Considering the rest of Miller's career, though, maybe it shouldn't be that weird to see him ranked highly on this list.
At 38 years old, age has robbed Miller of some of his quickness, but after two seasons of absolutely brutal shots faced in Vancouver he went to Anaheim and faced tougher shots than Gibson and put up comparable numbers.
Miller actually posted the highest 5-on-5 save percentage in the NHL last year, and his high danger save percentage was right up there at fourth overall. It's much easier to accomplish that level of performance in fewer games, though, and the Ducks didn't rely on Miller too much. He is capable of phenomenal performances, but in a limited role.
7. Roberto Luongo
Difficulty adjustment: -1.04%
Performance: 44.25/70 | Consistency: 21.36/30
Total: 65.61/100
While injuries have been a problem for Luongo in his late-30s (and it hit him again already in 2018-19), his play hasn't. With the Panthers being a much better defensive team now than the first time he played there, Luongo has enjoyed a long stretch of time where people thought he was going to fall off, but he continued as one of the league's top netminders.
Usually, great goaltenders at the end of their careers still put forth strong performances, but the consistency falls off. But Luongo has been more consistent in each of the past three seasons than the one that came before it. He remains a master of rebound control and is excellent in the low slot, but he can be victimized a bit in the high slot.
6. Pekka Rinne
Difficulty adjustment: -4.47%
Performance: 48.05/70 | Consistency: 20.89/30
Total: 68.94/100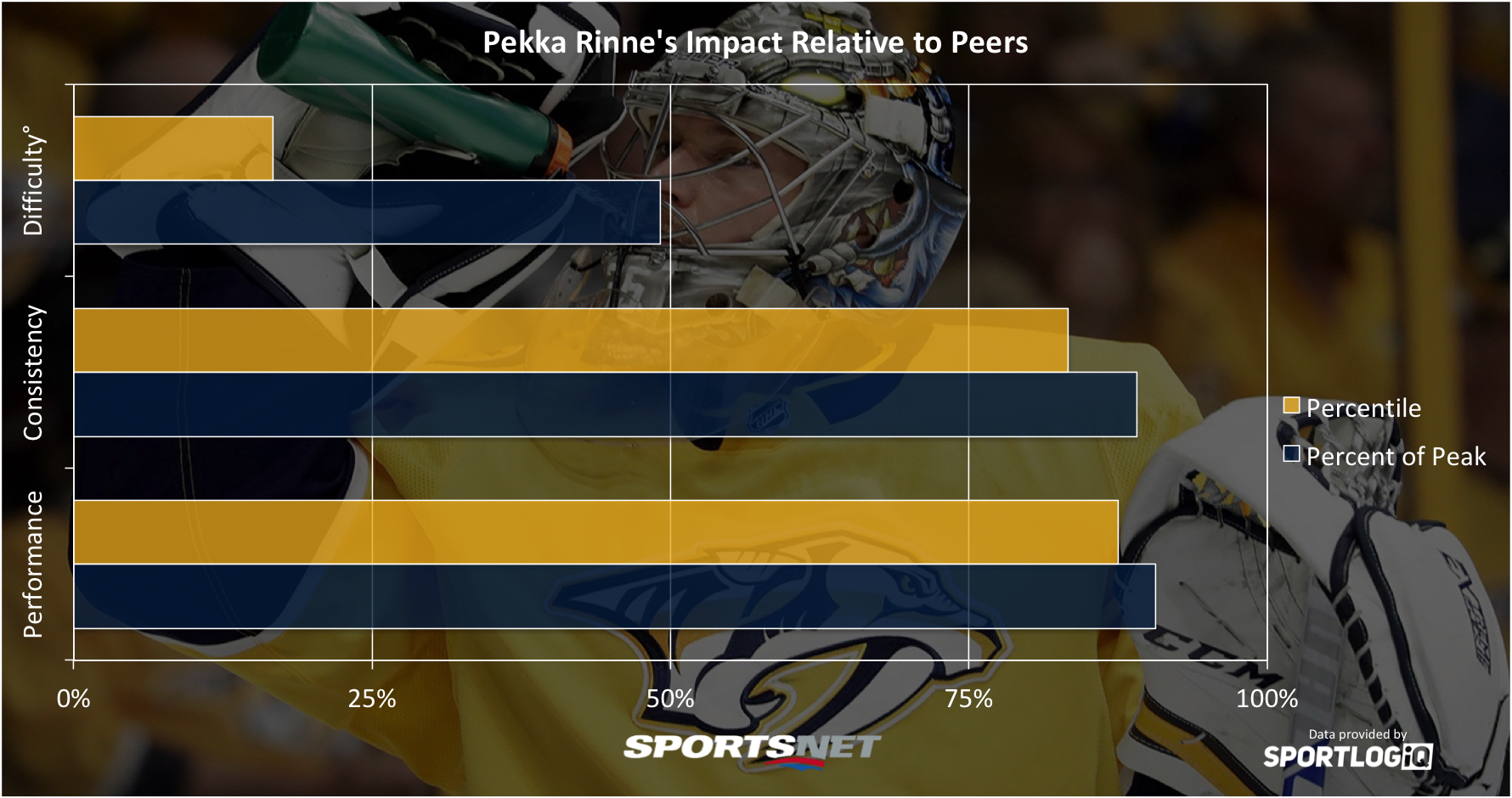 Rinne's entire career has come on a team that has mastered controlling defensive shot quality, but last year Nashville slipped a bit and Rinne had to face tougher shots than usual. He responded by leading the league in almost every goaltending category, including finishing with the best rebound control in the league, which cut down his own quality of shots faced.
Just a few years ago Rinne looked like he was done, posting far below league average save percentages while facing some of the easiest shots of anyone. But in 2016-17 there was movement back towards being among the top half of the league and last year he deservedly won the Vezina Trophy. While some goalies have game-to-game consistency where you don't know what you'll get from them, Rinne can be inconsistent season-to-season. Doubt him at your peril, but can you trust him?
5. Carey Price
Difficulty adjustment: +6.42%
Performance: 48.62/70 | Consistency: 20.81/30
Total: 69.43/100
The reigning champ of the goaltending position the first two years I did this project was dealt a double whammy this time — his Hart Trophy season dropped out of the three-year sample and the worst season of his career was added in. Price was awful in 2017-18, but I was a little surprised at how difficult his job was after deeper research.
No one faced more dangerous passes immediately preceding shots than Price last season, and that trend extends back over the entire three years of the sample. The Canadiens are uniquely terrible at clogging up passing lanes and preventing backdoor chances, which gives some context to Price's struggles. But remember Antti Niemi faced the same shots Price did and he was fine.
Something was up with Price last year, though so far this season it appears to no longer be a problem. It's going to be interesting to see if Price can re-establish the enormous gap he had between himself and the next best goaltender.
4. John Gibson
Difficulty adjustment: -2.17%
Performance: 47.30/70 | Consistency: 23.25/30
Total: 70.55/100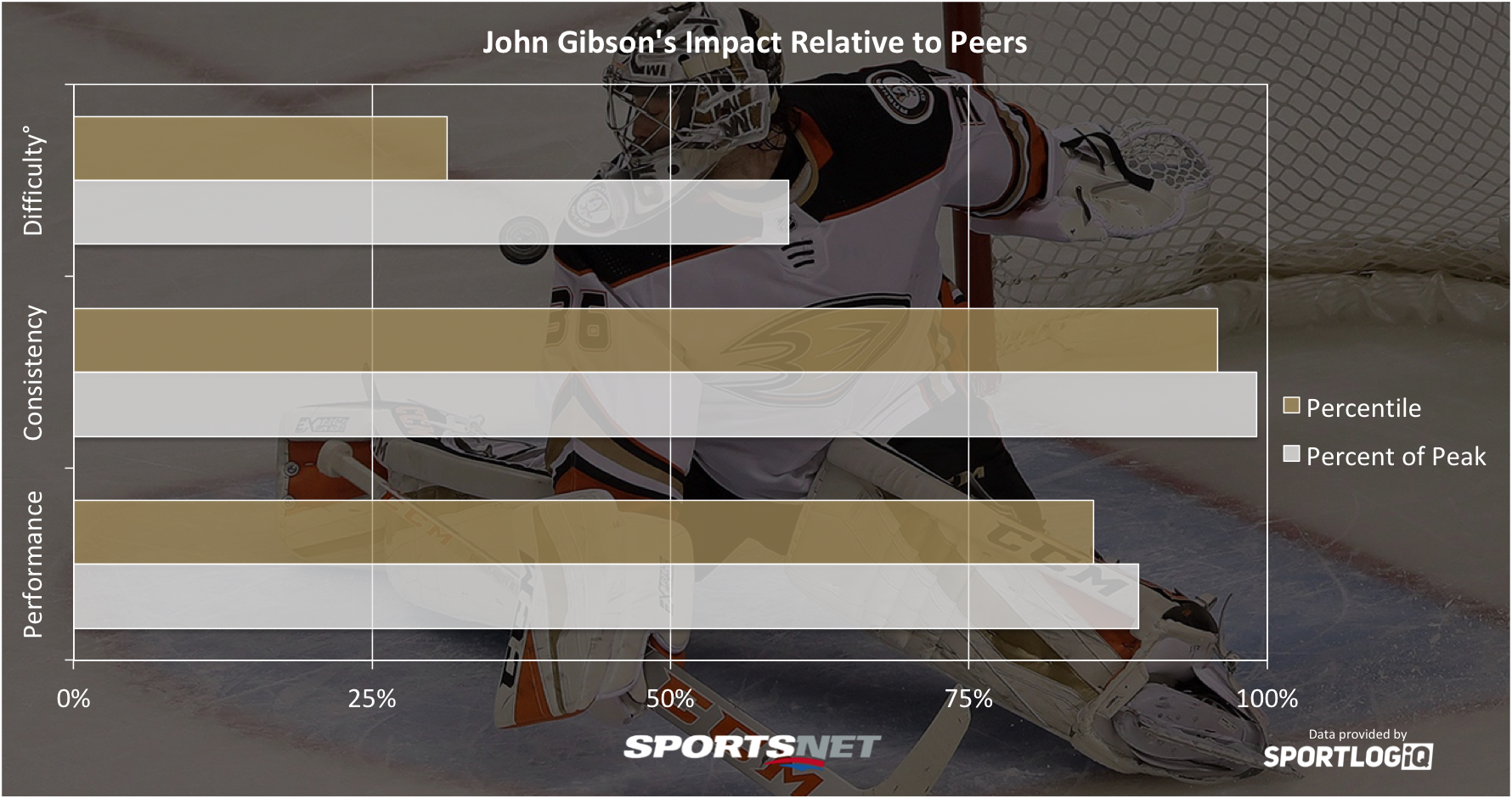 Gibson has seen serious improvement in each of the past four seasons and is now a top-five player at his position. His numbers are extremely strong and he is nearly unbeatable while the Ducks are shorthanded. But his consistency is what's most impressive to me.
Only three goaltenders last year put up a higher percentage of quality starts than Gibson, and nobody lost fewer games for their team. Sure, Gibson has bad games from time to time, but he was almost never bad enough in any start to take the Ducks out of games. For a team that struggled with injuries through most of last season and still made the playoffs, Gibson was the MVP.
3. Sergei Bobrovsky
Difficulty adjustment: -0.49%
Performance: 51.40/70 | Consistency: 22.63/30
Total: 74.03/100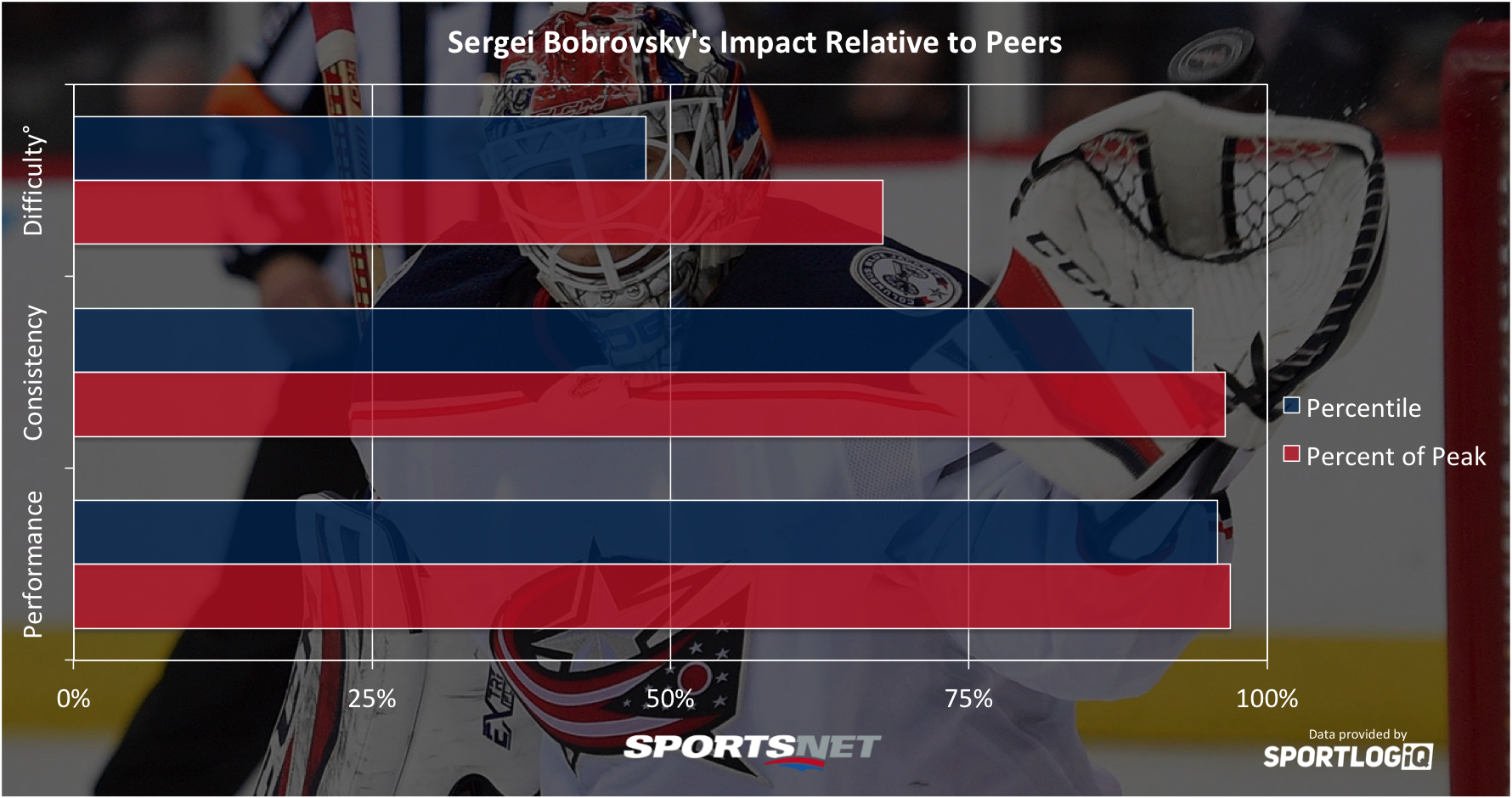 For whatever reason, public data and private data vehemently disagree about the shot quality Bobrovsky faces in Columbus, with my numbers ending up very close to league average shots faced. Regardless, Bob is one of the most consistently excellent goaltenders in the NHL.
Bobrovsky struggled a bit on special teams last year, but he was so excellent at even strength that his performance was still among the best in the league. He continued to give the Blue Jackets a chance to win almost every single night.
2. Corey Crawford
Difficulty adjustment: +1.79%
Performance: 50.89/70 | Consistency: 23.46/30
Total: 74.35/100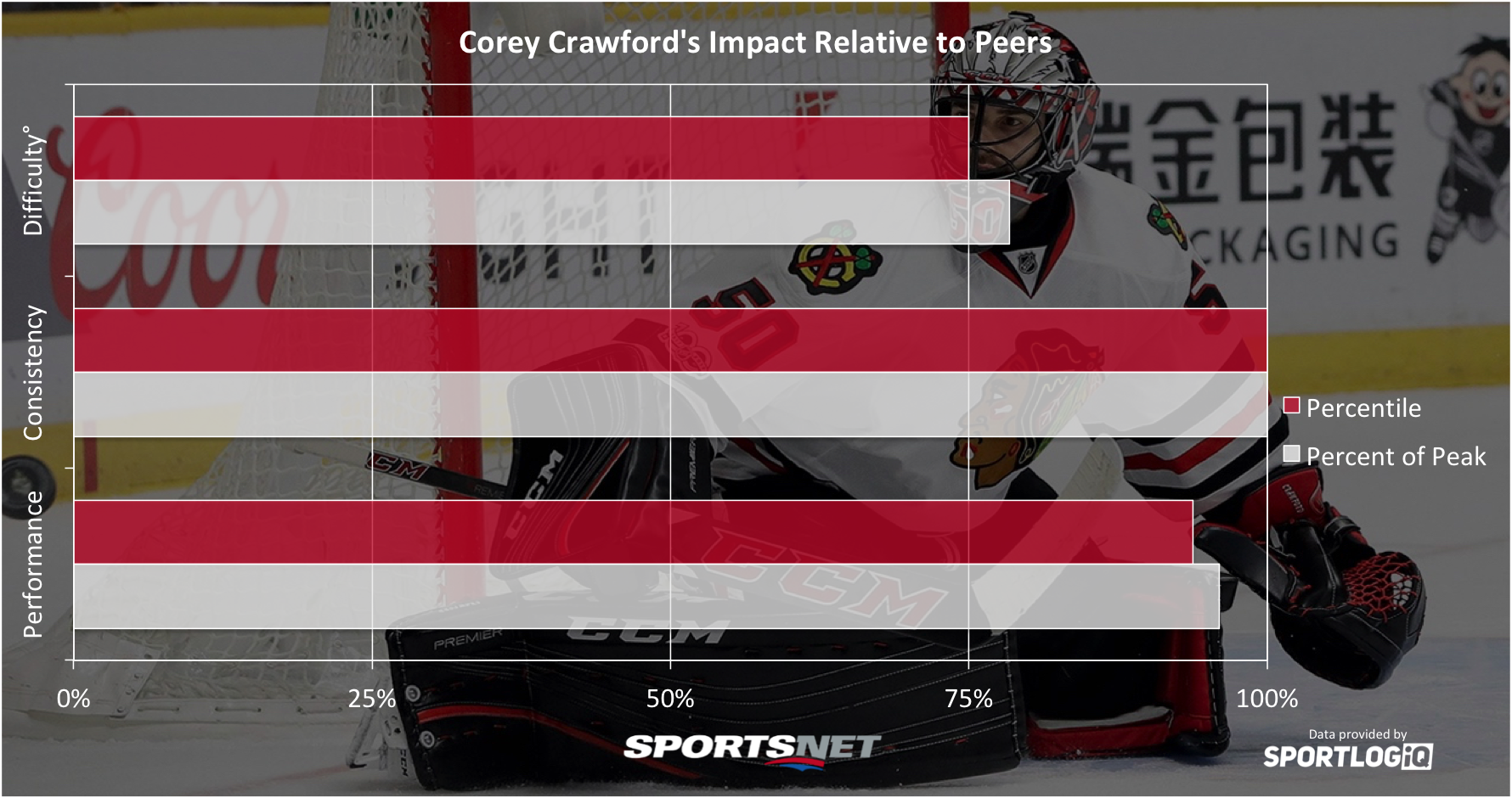 It appears Crawford is getting closer to game action, but the question now becomes whether the Blackhawks will get the goaltender back that they lost, or if post-concussion syndrome and vertigo will have negative long-term impacts.
As Chicago's defensive play declined, Crawford got better and he's been the NHL's most consistent goaltender the past four seasons — he almost never plays a poor game. The one weakness in Crawford's game is his rebound control, but he's so good at stopping pucks that it doesn't hurt him much.
1. Antti Raanta
Difficulty adjustment: +1.34%
Performance: 53.03/70 | Consistency: 22.32/30
Total: 75.35/100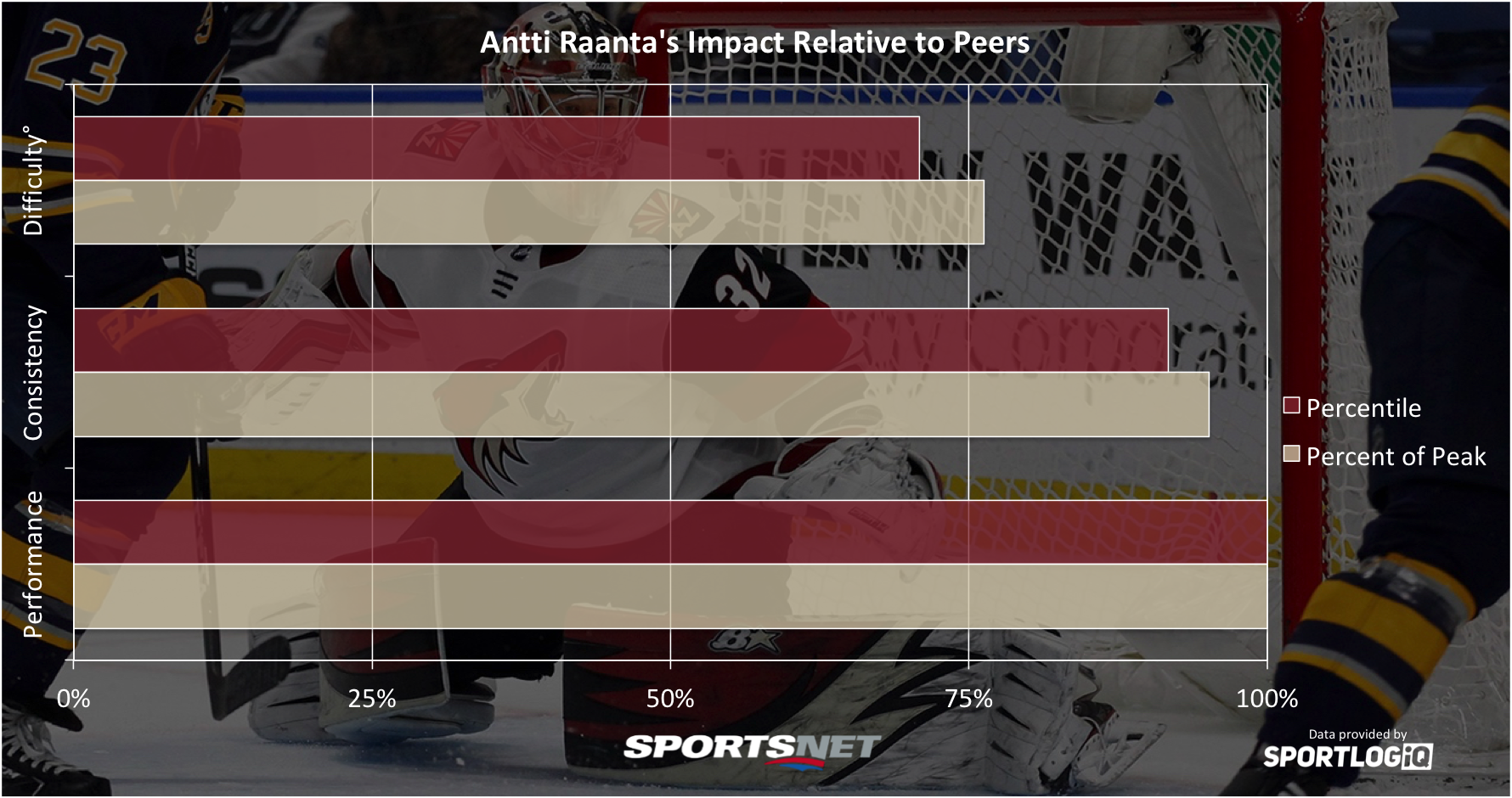 As a big fan of Antti Raanta's game, this one was still a bit of a shocker for me, but that's the way the numbers work out. Going from Corey Crawford's backup to Henrik Lundqvist's backup, it took a long time for Raanta to be given a true shot as a No. 1 NHL goalie. But even though his first season in Arizona was marred by injury he posted a ridiculous .930 save percentage for a bad team.
Like Crawford, Raanta's big weakness is his rebound control, which can lead to him facing more quality chances against despite his team's efforts, but he still stops pucks at an absurdly high rate. Last season was also a huge step forward for Raanta's consistency, as he led the league in quality start percentage and had among the fewest blow up games in the league.